So often "natural disasters" get a bad name, but ultimately "disaster" is subjective.
In Iceland, a volcanic eruption in the right place is cause for celebration, not alarm. Especially if you're a tour operator.
Recently, when the new Litli-Hrútur volcano erupted in Iceland in July 2023, it momentarily brought the country to the top of mind for people around the world, prompting heightened search activity and traveler interest: online travel agency (OTA) GetYourGuide's search demand data showed a ~10x spike in volcano searches in July (vs. prior months in 2023).
Tour operators who were quick to respond to the heightened interest by updating their tours or bringing new tours online benefited from a 500% uptick in weekly bookings.
How to Sell More Tours by Adapting to New Changes and Trends
You don't need a new volcano to take advantage of trending opportunities to attract new bookings! We spoke with GetYourGuide's Destination Manager for the Nordics, as well as local tour operator Icelandia, about making the most of the eruption in interest, and what other operators can learn from their experience.
1. Go With The (Lava) Flow: Designing and Adapting Tours
Icelandia was one of the companies to see booking numbers erupt with their volcano tours.
The latest eruption was the third in as many years, and with each subsequent eruption, Icelandia has adapted and refined their response, shares Icelandia Account Manager Svala Magnúsdóttir.
In the beginning, the tour was new: with the first eruption of the Litli-Hrútur rift zone in 2021, Icelandia started by offering shuttle service, then adapted this to offer tours once pandemic-era border restrictions were lifted. When that first eruption ended, these tours were adapted to sightseeing tours visiting the lava fields — and were thus ready to be quickly updated again with the new eruption.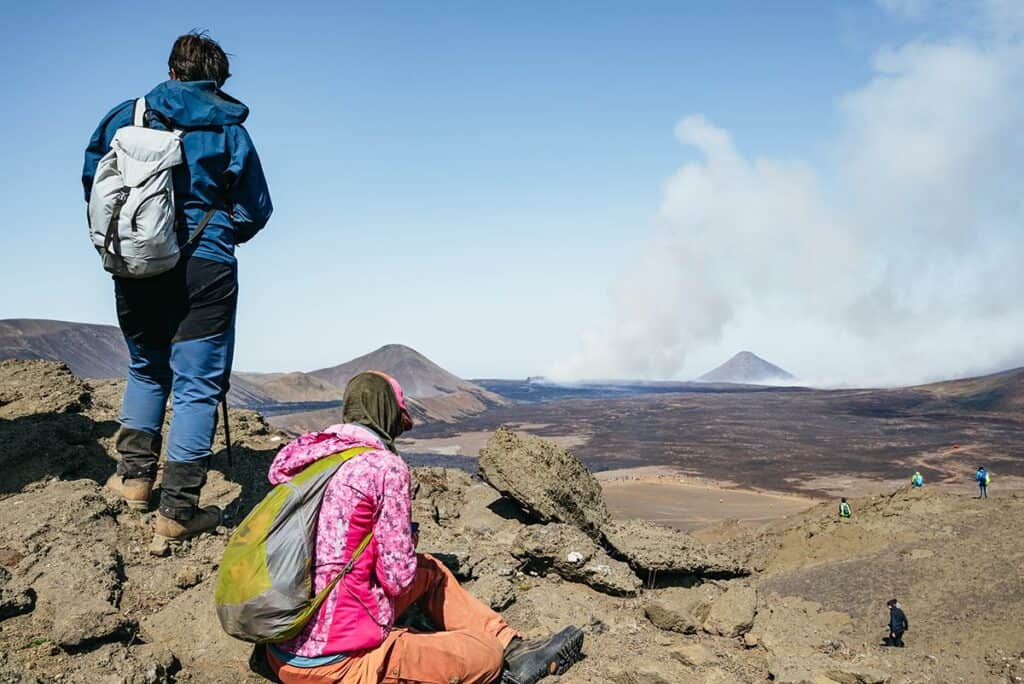 Icelandia has repeated the pattern now three times for three separate eruptions: once it's determined that the volcano is safe to visit, the tour is adapted, the tour description and OTA listings are updated, and customers are notified. "It's a lot of work especially for operations," shares Magnúsdóttir.
But the work is worth it. "It's like out of a fairy tale," says Magnúsdóttir of the volcano experience. "The response has been insane, the reviews are great, when they see the volcano some are crying, some are in complete shock." And booking numbers skyrocket, she adds.
Operator Takeaway: Consider whether to design a new experience or adapt an existing product to accommodate the new event, attraction or scenario. Sometimes it may make more sense to work with what you've got! And don't forget: safety first! Differentiating yourself by sending your travelers zorbing into an active volcano to their deaths will not likely earn you many positive reviews.
2. Take Advantage of Erupting Demand: Tracking News and Search Trends
"Maybe we'll get a volcano!" exclaims Allira Mayr, GetYourGuide's Destination Manager for the Nordic region, who looks for volcano news with an eager expectation probably rivaled only by children waiting for news of a snow day.
One of the reasons Mayr is so obsessed with volcano news is timing. When the volcano hits the news, she explains, the spike in search trends reflected increased interest in Iceland's newest volcano — and many of those viewers aren't content to simply read about it: if they see the right ad, social media post or story at the right time, they might jump on the chance to experience it in person.
A major spike in Google search trends around the time of the Iceland volcano's eruption
Even if you don't have a volcano handy, Mayr shares, there's many ways to find and create your own opportunities. For example, by challenging the status quo and finding new ways to do things — like a new spin on a northern lights tour. Or, finding opportunity in new places, for example by looking at flight paths, and the opportunity that new flight paths with new stopover destinations could create.
Operator Takeaway: Stay up to date on search trends and changes in your destination to identify potential opportunities for new experiences, or new things to add to your existing experiences.
3. Lava Travels Fast: Get Those Experiences Listed!
"It's here, it's here, it's really here!" The text messages from operators started coming in on July 10, 2023, and within 24 hours of the eruption, Mayr had reached out to all her key partners in the region, and had four tours to the new volcano listed on GetYourGuide. By the end of the week that number rose to 10.
"Of course we want to be the first ones," Magnúsdóttir says. While Iceland's tourism industry is somewhat small and community-oriented, there's an obvious advantage to being first to market with a new product.
For operators, getting tours live and updating your product titles and descriptions is key. "Make your products really clear that they have this 'new experience' as the focus," advises Mayr. "Make sure that the content is up to date, that it's easy for travelers to be able to find, that the title really demonstrates exactly what you're going to show the customer as well."
Optimizing your listings is essential, too. Refine your titles, tags, descriptions, and make sure the feature photo in particular reflects the new aspect of the experience, Mayr advises.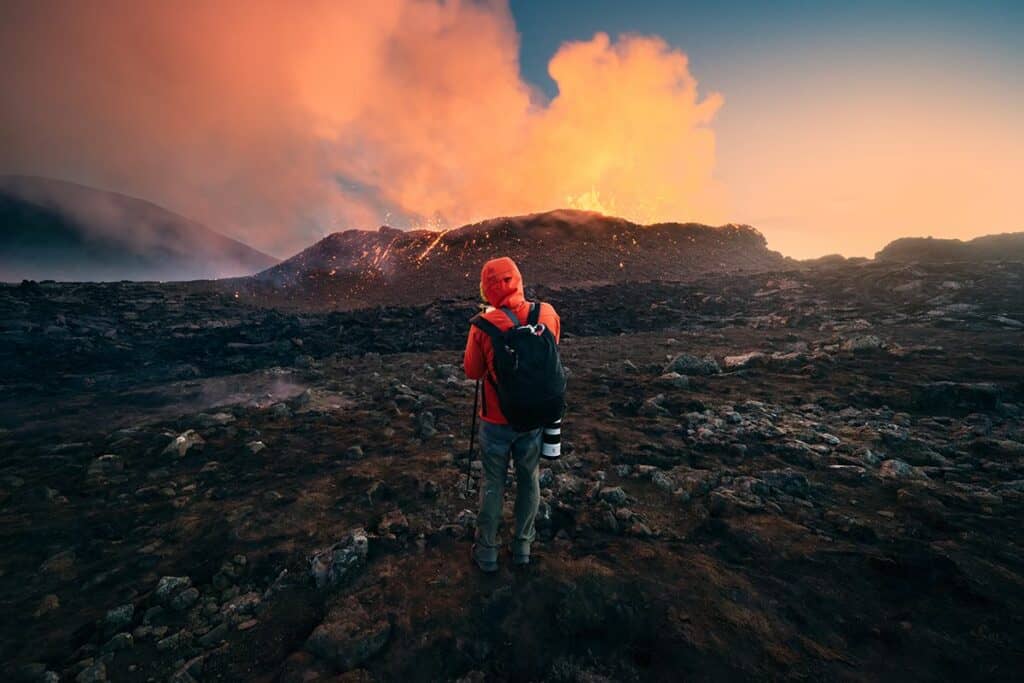 Operator Takeaway: With any new or updated product, be sure to update your content on both your direct booking website and your OTA listings. Edit your descriptions to focus on the new aspect of the experience, optimize your OTA listings, and put new photos up to draw attention to your latest offerings!
4. Volcanic Ash Travels Far: Sharing Your New Experience
Then of course, there's the marketing: "Scream and shout about it to the world and on social media," Mayr says. When people are searching for that latest trending volcano, they should also see the message "'we can take you there!"
Announcing tours to see the new volcanic eruption (Reykjavik Excursions is one of Icelandia's brands)
For small operators with limited marketing budgets, this can be where OTA partnerships really bear fruit. "GetYourGuide helped a lot with marketing on it," shares Magnúsdóttir, "getting us on everywhere like social media and everywhere." (Learn more here about how to make the most of OTA marketing).
Travelers experiencing the Litli-Hrútur volcano, on GetYourGuide's social media
Pay attention, as well, to how others are responding to your new experience. "Read each and every early review closely," advises Mayr. "Use customers' feedback to improve the quality of your offerings. Keep a close eye on the sellout rate, and optimize availability accordingly."
Operator Takeaway: Get the word out about your new experience through as many channels as possible, as quickly as possible, to maximize on the timeliness and increased interest in your destination. If all eyes are on you, make sure you're giving them something to look at!
Learn More at Arival
Explore Arival to learn more about OTA marketing strategies, how to make your OTA listings go viral, and getting found on search engines with SEO.
Even better, join us at the upcoming Arival 360 | Orlando in October 2023 or Arival 360 | Berlin in March 2024 to learn more about designing new experiences, working with OTAs, optimizing your tour descriptions, the latest trends in experiences and so much more. We hope to see you there!
Become an Insider Pro Access member today and get access to the full library of Arival research, plus many other benefits such as free consulting sessions, special discounts and 20% off in-person events, starting from $179 per year.
GET ON THE LIST!
Sign up to receive insights tailored for the in-destination industry as well as updates on Arival.
Sign Up
Header photo: Jonatan Pye / Unsplash