The problem with best practices for Search Engine Optimization (SEO) is that they don't stay the best for long.
"Things change every week, every month, every couple of months" shares Brennen Bliss, founder and CEO of Propellic, which helps travel and tour businesses optimize their search engine rankings. "We introduce data into the SEO process… so we can make strategic decisions based on what is working today, not what was working 10 years ago."
Bliss shared some of his insights on generating bookings through SEO in well-attended breakout sessions at Arival 360 | Las Vegas in October 2022 and Arival 360 | Berlin in March 2023.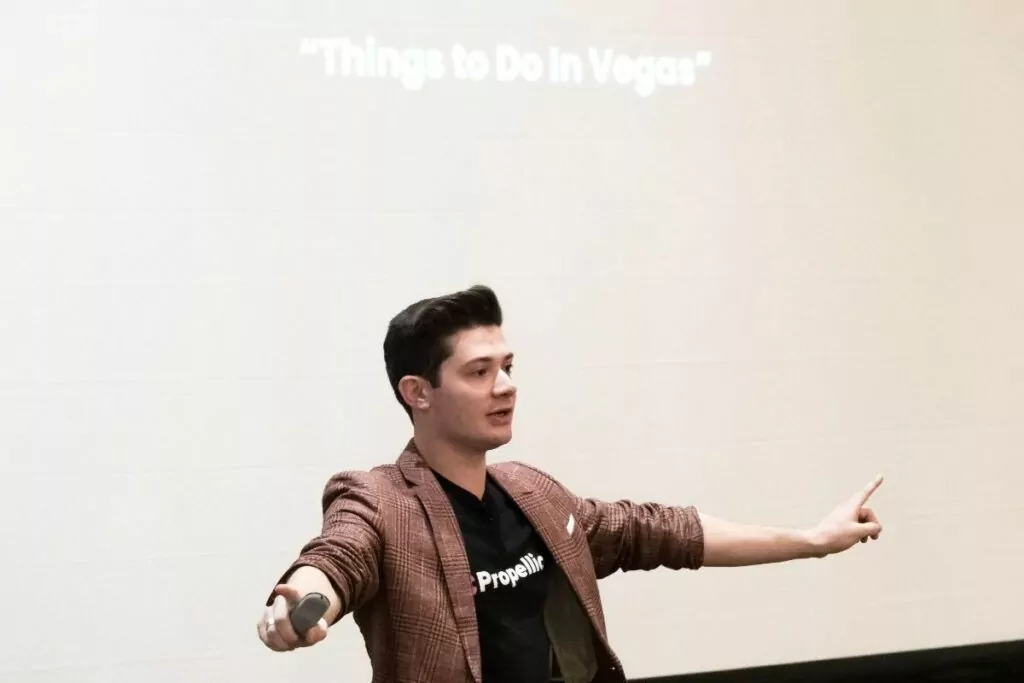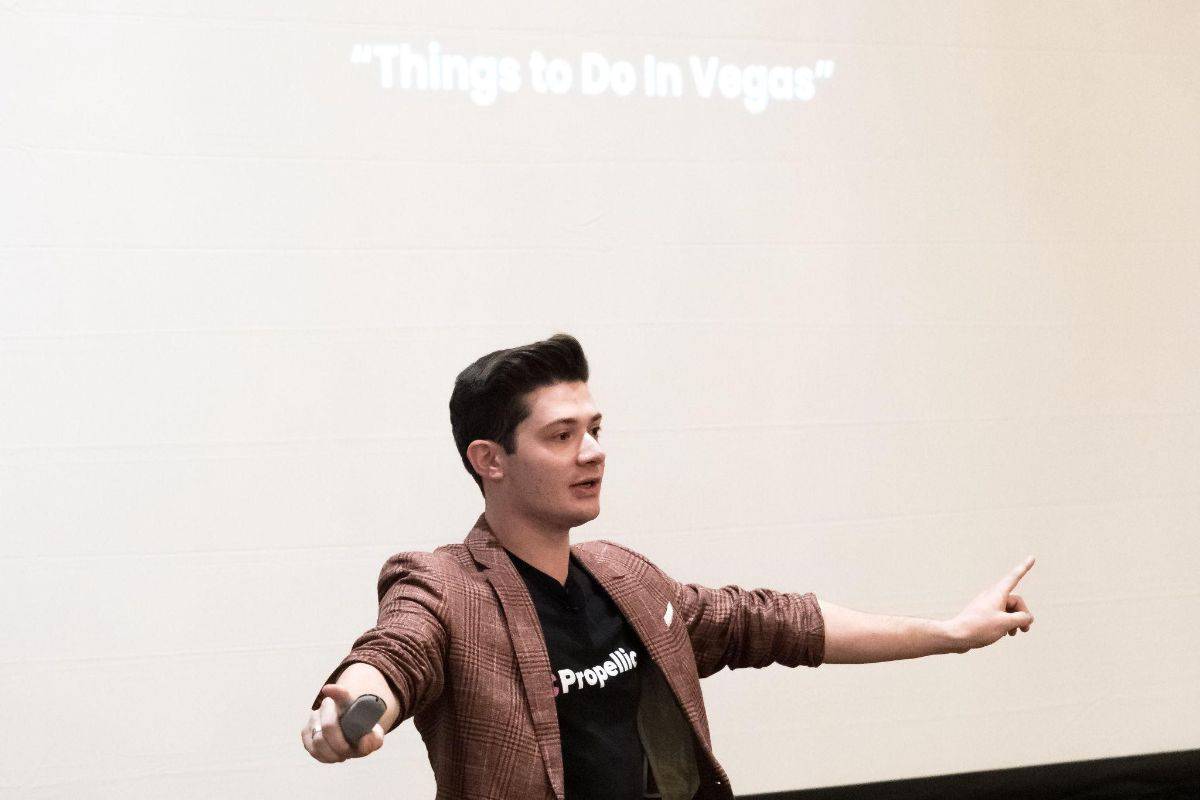 What is SEO for Tour Operators? SEO Explained in a Minute or Less
What does SEO even mean, exactly? And why is it important? Before getting into the nitty gritty, here's a quick primer on SEO for tour and activity operators from Bliss:
Top SEO Tips for Tour Operators
As defined by Google, "Search engine optimization: the process of making your site better for search engines." Essentially, SEO is trying to get higher in the organic section of Google search (without paying for ads) so you get more clicks (and therefore more organic traffic), Bliss explains. We've compiled a few of Bliss' top tips and insights on using SEO for your travel agency or tour business to generate more bookings below.
1. Start Simple: Claim Your Google Business Profile
"Make it very easy for Google to read and index your websites," says Bliss.
One of the first places to do that is in your Google Business Profile.
"Claim and complete every section," advises Bliss. "This is how Google figures out who you are and what you do."
Reviews are also an important part of your business profile — the more the merrier. What about negative reviews? Responding to reviews — whether positive or negative — can also have an impact on your SEO. Check out this Arival article for some tips on responding to negative reviews.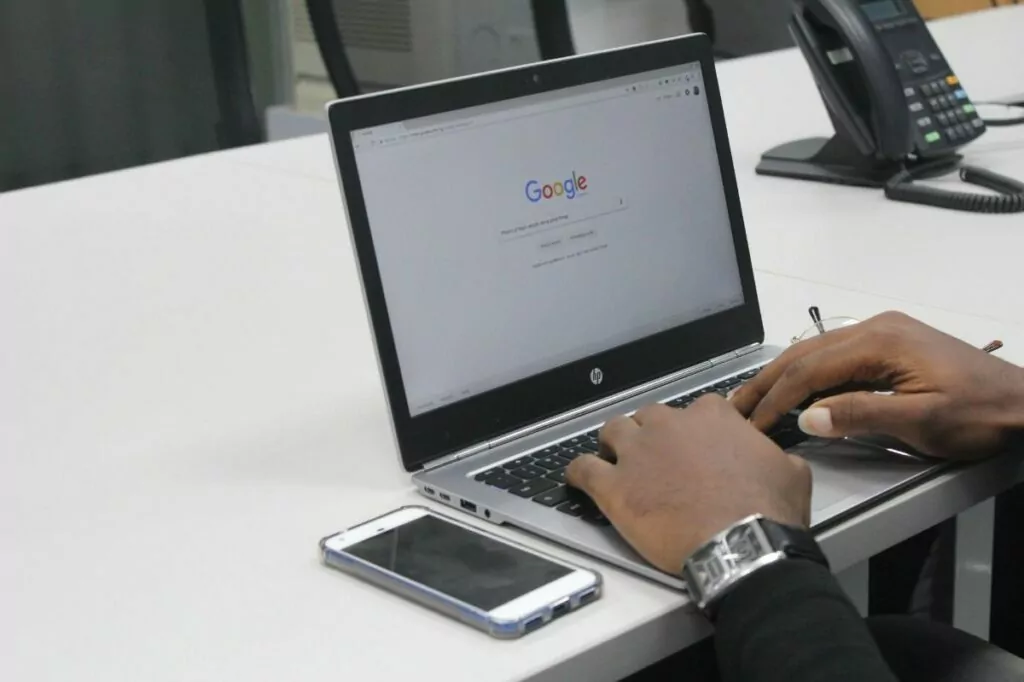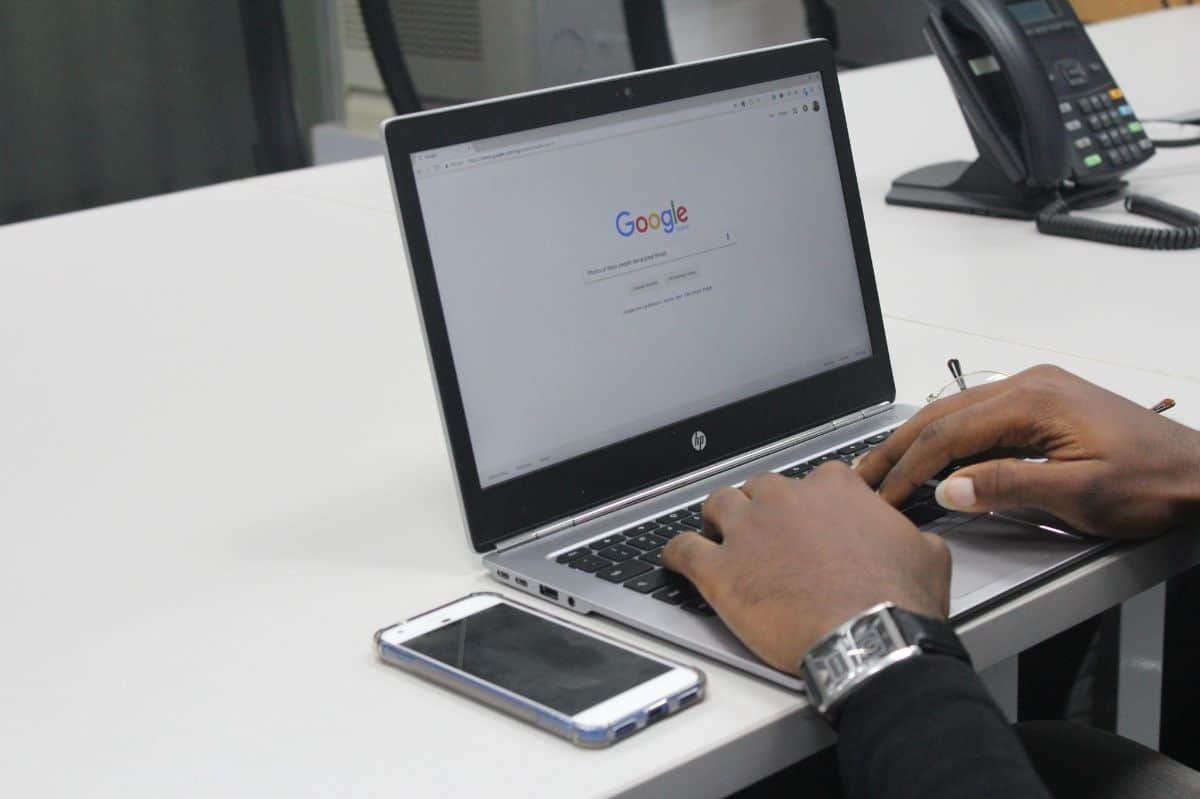 2. Build a Solid Foundation: Don't Skip the Keyword Research
Data-driven SEO starts with solid keyword research.
"Do not skip this step," cautions Bliss. "Do not just say 'I'm going to write this content and put it on the site.' Figure out what is important to target."
Keyword research involves selecting the keywords or phrases you're going to target. Bliss lists three important things to consider:
Search Volume
"Choose the keywords with higher search volume than ones with lower search volume" Bliss advises. Where do you start with choosing keywords and how do you find out their search volume? Here are a few tools Bliss recommends: Ahrefs, UberSuggest or Wordstream.
Competition
"Play in your league." Find out the keywords that are within your "difficulty range" and target those first: these are high volume, low competition keywords. Essentially what this means is finding and targeting keywords that a lot of people search for, but that not many other companies are targeting, so they are within your "difficulty range," or within the realm of possibility to see results in terms of moving higher up the search results page.
Commercial Intent
Prioritize keywords that target people who have the "intent to purchase." For example, if someone searches "best time to go to Vegas" they may still be in the brainstorming/dreaming phase, whereas if they search "segway tours in Vegas" they know exactly what they want to do, they intend to purchase a tour, and they're just looking for a tour.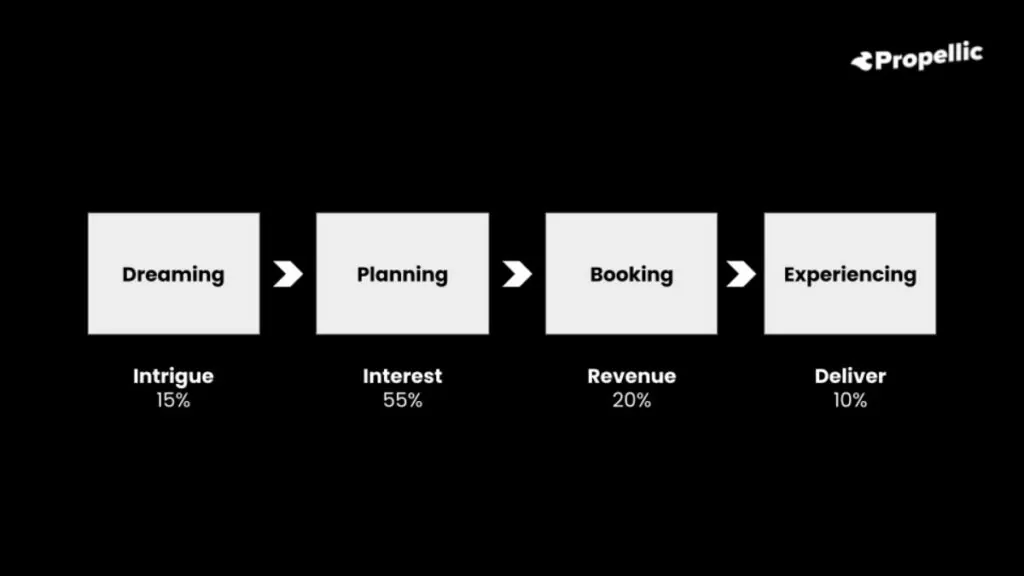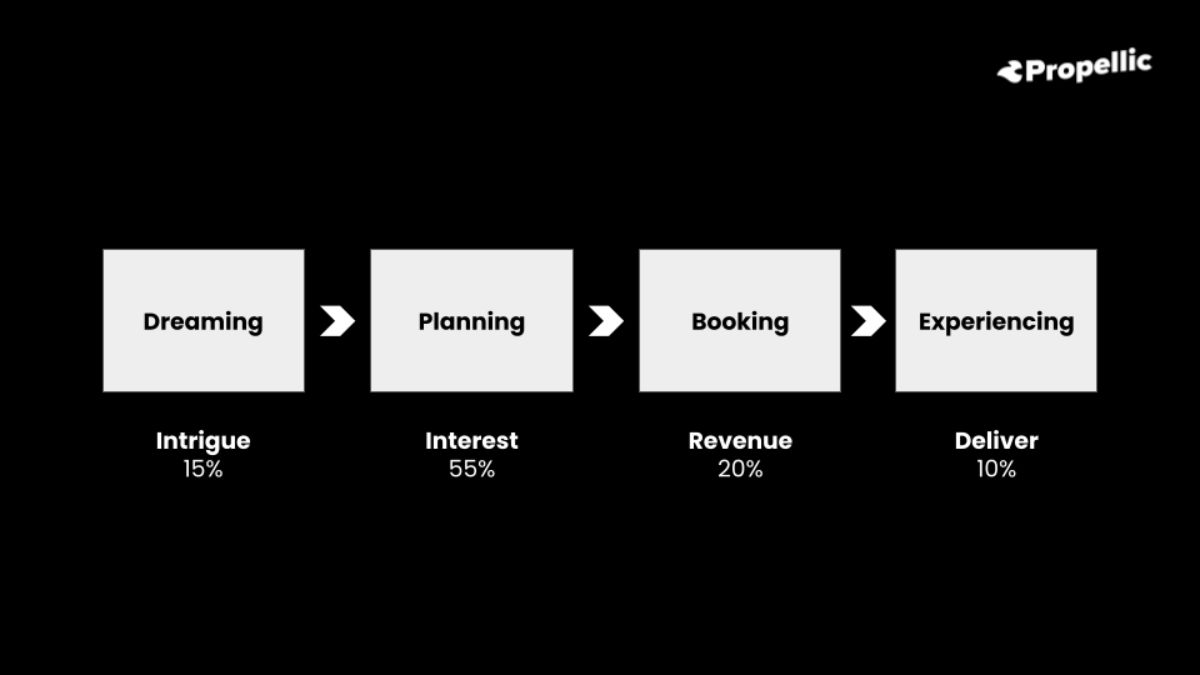 3. Dig Deeper with Up-to-Date Data
Find out what is working for SEO now — not "best practices" from 10 years ago.
Bliss shares a few things that are working well for tour and activity businesses this year, according to data compiled by Propellic:
Keyword variations in headings and content
Bliss suggests aiming for at least seven keyword variations in your headings (such as titles and subheadings, or in technical speak H1, H2 and H3 tags), and at least 22 in your content (the main body of text on your page, such as paragraphs like this one, or <p> tags).
For example, if you run a donut tour in Portland, you will want to work variations on that phrase into the headings, subheadings and main text on your tour description page, such as "donut tour," "donuts," "Portland donut tour," "donut tours in Portland," "food tours" and so on.
An unabridged word count
According to Propellic's data, the ideal number to target for a tour description page is 1,873 words, Bliss shares: this includes everything on the page including words in the header, footer and sidebar (depending on the design of your webpage, usually this is the top and bottom of the webpage that is the same on every page of your site; some websites also include a section along the side that stays the same on every page).
So, this doesn't mean you need to write that many words in your tour description, Bliss explains: typically about 30% of this already exists at the top, bottom and sometimes along the side of each page.
Exact match search term frequency
For your page to be ranked high in a Google search, between 1% and 3% of words on your page need to match exactly that collection of words. For example, in order to rank highly for "Portland donut tours," that exact term needs to be written between one and three times for every 100 words on your page.
(Sidenote: if you landed on this article while looking for the best donut tour in Portland, you may be an unintentional victim of my examples and I apologize. Try this one — you'll forgive me / thank me later.)
Number of images
As SEO is generally associated with keywords, sometimes images can be an afterthought. But "everyone wants visual content right now" Bliss emphasizes: even — or especially — Google. At least 30 images, to be specific, according to Propellic's data.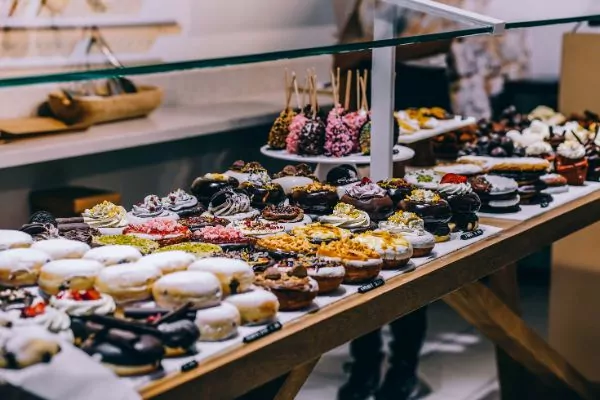 Do we have enough images yet, Google? Would you like another donut? | photo credits: Pexels / various
Keyword variations in ALT attributes
ALT attributes are alternative text for photos that don't actually show up on the page unless someone is visually impaired, or the browser isn't able to load the images properly. Aim for 8 keyword variations here, Bliss advises.
However, more importantly than SEO, this is about accessibility. "Really what this is for is people who can't see," explains Bliss. "Give them what the image is about, SEO is secondary here… I have people in my life that deal with this and it is so painful to see ALT attributes just stuffed with keywords."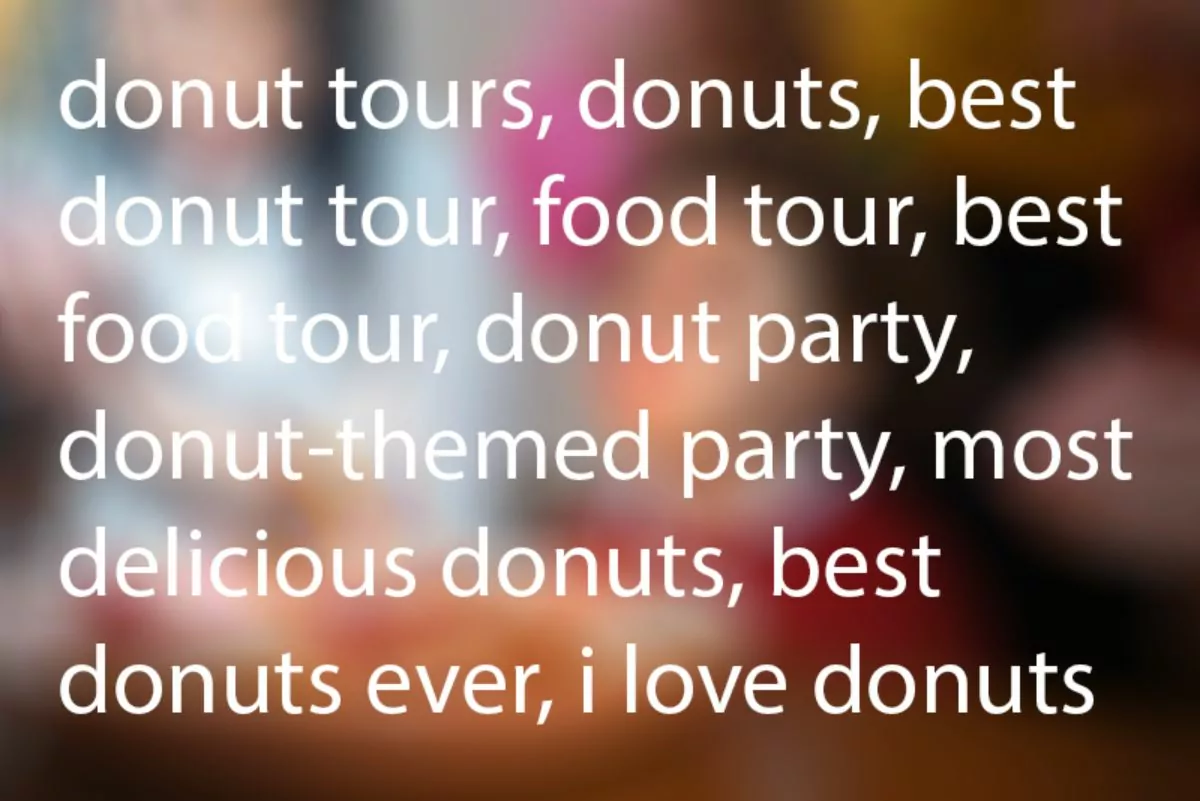 Imagine you're visually impaired: which image would you rather "see" through text assist?
4. Show Your Experience and Expertise
Google is always updating its algorithm to better improve the user experience in the search results, and in April of 2023 they released a new update called the "April 2023 Reviews Update." According to Emily Souydalay, Associate SEO Director at Propellic, the update places greater importance on the "Experience" aspect of E-E-A-T (Experience, Expertise, Authoritativeness, and Trust), the concept by which Google evaluates quality content.
This update is important for tour operators, activity suppliers, attraction businesses, destination management and marketing organizations (DMOs), and other companies in the tourism space, because it has updated its guidelines for what kind of review content should show up in the search results, according to Souydalay.
For reviews or guides on services and even destinations, Google highlights in its guidelines that it now places greater importance on providing "visuals, audio, or other links of your own experience with what you are reviewing to reinforce the authenticity of your review" and "evaluate from a user's perspective."
Check out the updated guidelines here.
Keep Learning: SEO is a Long-Term Strategy
Rome wasn't built in a day, and you won't get to the first spot on Google overnight (unless perhaps you're already almost there, and one more article will push you to the top spot on "Portland Donut Tours").
For those just getting into marketing, Bliss cautions that SEO may not be the best place to start. "It's a considerable investment," he shares, "it takes a long time and it doesn't always work."
"People typically come to me after working in another setting where they were oversold on a promise that can't be delivered. The challenge that a lot of operators and distributors have is seeing the value that comes out of a long-term strategic investment [in SEO]."
For more insights on SEO, join us at Arival 360 | Orlando 2023 where Bliss and Propellic will be presenting the latest data on SEO. Arival is offering members free 45 minute SEO strategy sessions with Propellic (available to Insider Pro Access members only); see upcoming dates and RSVP for these Arival | Elevate sessions on our Special Offers page here.
Header photo: Merakist / Unsplash

Note: This article was originally published on November 11, 2022. It was most recently updated on June 26, 2023.