Not all travelers are created equal. A new report from Arival, in partnership with Go City, examines key consumer trends for visitor attractions and tour operators, and why they should identify key customer segments and develop targeted ticket and pricing strategies to serve them.
Based on a survey of 1,000 U.S. travelers, Visitor Attractions & the New Booking Paradigm: Planning, Pricing, Timing & Flexibility delves into the major trends shaping visitor attractions, including amusement parks, zoos and aquariums, observation decks, museums and cultural monuments.
Here are three things attraction visitors want most, and how the right customer segmentation and pricing strategy can help operators and attractions grow.
The Three Things Attraction Visitors Want Most
According to this new report, once a traveler has chosen the attraction they want to visit, there are three key criteria for travelers as they plan their visit and select their ticket:
Price – The post-Covid travel splurge has come to an end. Travelers are price-conscious again, and price is back as the top priority in ticket selection.
Flexibility – Travelers are on vacation, they are on their trip to relax and enjoy. They want flexibility in when they can visit the attraction.
Certainty – Travelers want assurance that they will be able to get in and see the attraction. They don't want to worry about missing out and not getting a ticket because it's too busy. This is especially important for those "must-see" high-priority attractions.
Give Visitors What They Want (and Charge for It)
These key drivers create some challenges for attraction operators, but also opportunities. For example, more attractions are implementing timed entry (when a visitor books a ticket for a specific time to enter the attraction) to improve forecasting and operational planning and reduce crowding.
However, travelers also want flexibility in when they can visit an attraction (per point two above). These two demands would seem to be in conflict, but also create an opportunity. For example, attractions could charge a higher price for a more popular entry time, or an even higher price for a flexible entry ticket that provides a bigger time window for the visitor to enter.
We asked travelers to select the ticket type they would most likely purchase for an upcoming attraction visit. More than a third – 36% – selected a premium ticket at least 10% more expensive than a standard walk-up rate for flexibility in when they could arrive. One in four said they would pay an additional 25% for a skip-the-line VIP experience.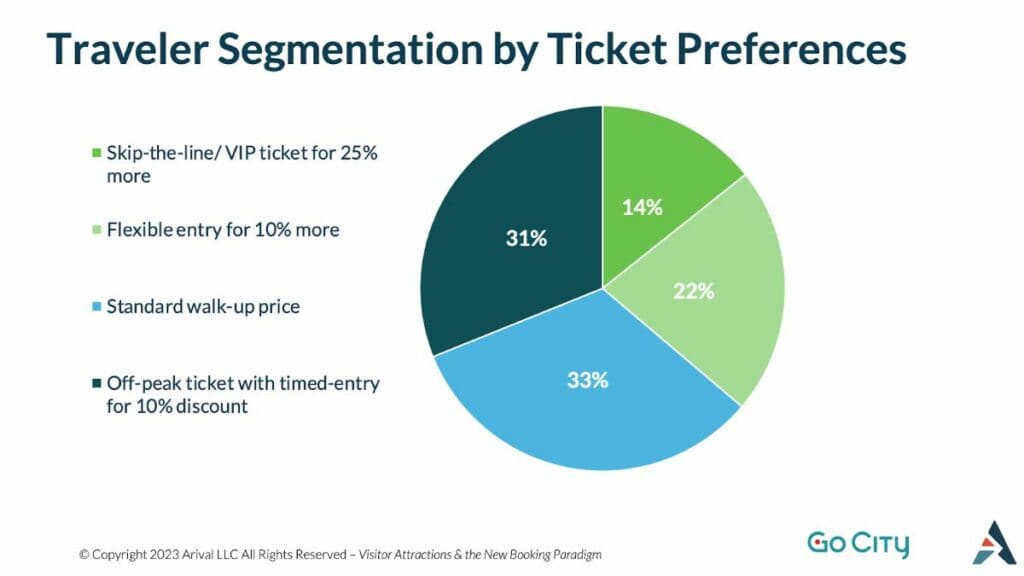 Customer Segmentation & Variable Pricing
How travelers balance the trade-off between price and flexibility varies greatly. Some prize price above all else, and will adjust their behavior by booking further in advance or coming at a least convenient time. Three in 10 would purchase an off-peak ticket with timed entry for a discount.
Many travelers will pay for convenience and a better experience. More than a third would pay for more flexibility when visiting an attraction, and that number goes up to nearly half for "must-see" high-priority attractions and experiences.
While the local marketplace dynamics and operational needs of each individual attraction will be unique, all attractions should consider various price points with different ticket options. Whether an attraction adopts variable or even dynamic pricing, travelers will pay different prices for clear value and tradeoffs.
About This Report:
Visitor Attractions & the New Booking Paradigm, based on a survey of 1,000 U.S. travelers who visited a qualifying attraction over the past year, provides critical insight on key attraction trends among U.S. travelers, including the following:
The industry outlook and state of the recovery since the pandemic
What are the trending experiences and attraction types travelers are booking
How travelers are planning and purchasing tickets
What travelers are looking for and what factors drive the ticket purchasing decision
How timed entry and variable and dynamic pricing affect the traveler experience and buying habits
The willingness of travelers to pay more for select ticket types and benefits
The willingness of travelers to change their behavior and accept certain tradeoffs for a discount
Key recommendations for visitor attractions to drive more ticket sales and yield through customer segmentation and new ticketing strategies
Visitor Attractions & the New Booking Paradigm is available for download now to Arival Insider Free and Pro Access members through the Arival membership portal. Log in or sign up for an Insider Free membership to receive your free copy of the report today.
Join the Attractions Forum at Arival 360 Orlando
The Attractions Forum at Arival 360 Orlando features several sessions on customer segmentation and pricing strategy, including:
Pricing Strategies for Attractions: A Case Study in Variable Pricing (Things I Wish I Knew) by Haley Ward, VP of Sales at The Edge observation deck in New York City.
Dynamic not Static: A Deep-Dive on Attraction Pricing Strategy with Table Talk. An in-depth roundtable discussion on pricing strategy including interaction discussion with fellow attendees.
Digital is Dead: Audience Diversification & What's Next in Experience Marketing with Elizabeth Furze, CEO of AKA, a global advertising agency specializing in events and attractions.
Delve into the hottest topics and network with industry leaders among large operators and ticketed attractions at the Attractions Forum at Arival 360 | Orlando. Open to all conference attendees, the Attractions Forum is a two-day interactive track offering deep dives into variable and dynamic pricing, connectivity and distribution trends, consumer trends and insights from Arival research, and an opportunity to connect with and learn from other attendees, engage in impactful discussions, and develop your strategies with highly interactive sessions.
Become an Insider Pro Access member today and get access to the full library of Arival research, plus many other benefits such as free consulting sessions, special discounts and 20% off in-person events, starting from $179 per year.
GET ON THE LIST!
Sign up to receive insights tailored for the in-destination industry as well as updates on Arival.
Sign Up