There has been a major shift in attraction ticketing and distribution over the last several years. Visitor Attractions & the New Booking Paradigm: Planning, Pricing, Timing & Flexibility, is a new Arival report, in partnership with Go City, that examines the rise of online and advance purchase, timed entry, variable pricing and more to assess their impact on how travelers plan and book experiences.
Based on a survey of 1,000 U.S. travelers, this report delves into the major trends shaping visitor attractions, including amusement parks, zoos and aquariums, observation decks, museums and cultural monuments.
Here are three trends we uncovered that are shaping the future of attractions ticketing.
1. The rise of online and advance purchase
Travelers have shifted dramatically toward online and mobile booking. This was a trend already well underway in the last decade when the Covid pandemic drove many attractions to implement online booking and advance purchase, to minimize in-person contact and adhere to regulations such as contact tracing and capacity management.
More than half of U.S. travelers purchased their attraction tickets online, while the percentage of travelers booking on their phone has more than doubled.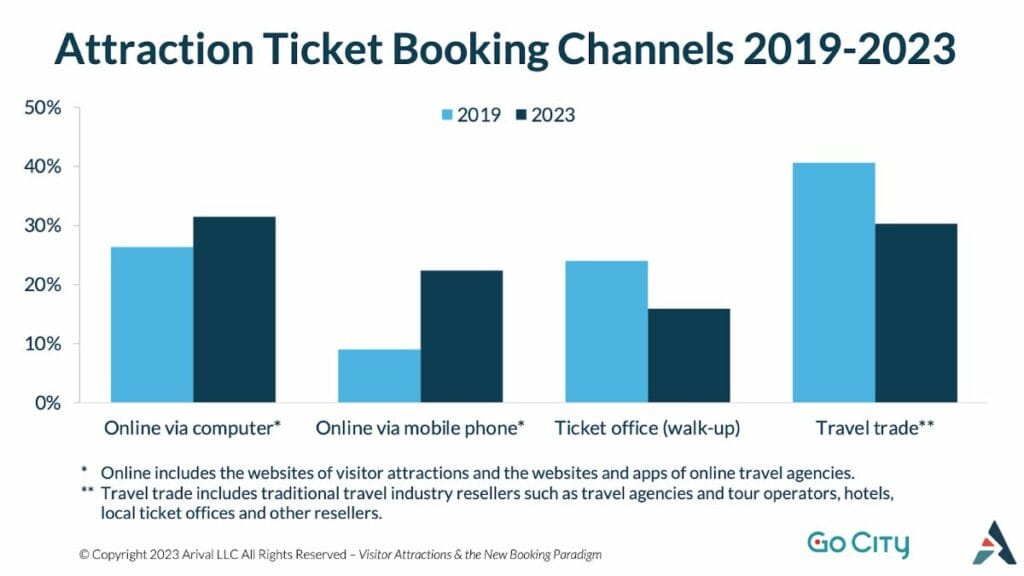 More travelers are also booking in advance, and visitor attractions are deploying pricing strategies to encourage more advance purchasing.
Note: this research does not include local residents and regional drive market visitors, who are much more likely to book offline and last minute. A U.S. attraction traveler has traveled at least 100 miles to the destination and included an overnight stay.
2. Timed entry & visitor flexibility
More visitor attractions are introducing timed entry, which requires or incentivizes travelers to book in advance and select a time window during which they can visit. This helps attractions with capacity planning.
Travelers are increasingly comfortable with timed entry. More than one in four purchased a timed entry ticket last year. However, travelers also prize flexibility on their trips, and attractions have an opportunity to offer more flexibility for a higher price.
Visitor Attractions & the New Booking Paradigm delves into the delicate balance of timed entry and visitor flexibility. The report examines if and why travelers will pay more for flexibility or adjust their behavior for a discount or other benefits.
3. Variable and dynamic pricing
Dynamic pricing, where prices change frequently based on demand and other variables, has been one of the most talked-about topics in tours and attractions over the past few years. While few visitor attractions use dynamic pricing today, more and more are implementing variable pricing.
Variable pricing is setting different rates for different dates, days of the week or even time of day (sometimes referred to as "intraday pricing"). Attractions may offer a lower price during low-demand periods and a higher price for peak windows.
This new report, which anyone can access for free by signing up as an Insider Free Access member, delves into the dynamics of different price points, and the extent to which travelers are willing to pay more for some benefits, or adjust their own behavior (e.g. come at an off-peak time) for a less expensive ticket.
About This Report:
Visitor Attractions & the New Booking Paradigm, based on a survey of 1,000 U.S. travelers who visited a qualifying attraction over the past year, provides critical insight on key attraction trends among U.S. travelers, including the following:
The industry outlook and state of the recovery since the pandemic
What are the trending experiences and attraction types travelers are booking
How travelers are planning and purchasing tickets
What travelers are looking for and what factors drive the ticket purchasing decision
How timed entry and variable and dynamic pricing affect the traveler experience and buying habits
The willingness of travelers to pay more for select ticket types and benefits
The willingness of travelers to change their behavior and accept certain tradeoffs for a discount
Key recommendations for visitor attractions to drive more ticket sales and yield through customer segmentation and new ticketing strategies
Visitor Attractions & the New Booking Paradigm is available for download now to Arival Insider Free and Pro Access members through the Arival membership portal. Log in or sign up for an Insider Free membership to receive your free copy of the report today.
Learn More in the Attractions Forum at Arival 360 | Orlando
Delve into the hottest topics and network with industry leaders among large operators and ticketed attractions in the Attractions Forum at Arival 360 | Orlando. Open to all conference attendees, the Attractions Forum is a two-day interactive track offering deep dives into variable and dynamic pricing, connectivity and distribution trends, consumer trends and insights from Arival research. The Attractions Forum also provides an opportunity to connect with and learn from other attendees, engage in impactful discussions, and develop your strategies with highly interactive sessions.
Become an Insider Pro Access member today and get access to the full library of Arival research, plus many other benefits such as free consulting sessions, special discounts and 20% off in-person events, starting from $179 per year.
GET ON THE LIST!
Sign up to receive insights tailored for the in-destination industry as well as updates on Arival.
Sign Up