Travel experiences in Asia Pacific have returned to rapid growth as the region reopens to regional and long-haul travel, as Arival research finds. Tours, activities and attractions – travel's third-largest and fastest growing sector – will reach US$67 billion in 2024 and surpass the pre-pandemic peak to reach $75 billion in 2025, according to The Outlook for Experiences 2019-2025.
The Asia Pacific (APAC) region has borne the worst of the pandemic, with a broad regional shutdown in cross-border travel well beyond other parts of the world. But demand for travel in the region is now accelerating as many borders have reopened, encouraging travelers to return. As we saw when other regions reopened, travelers put experiences first in travel planning and spend. The challenge now will be for the global industry to get ready for the rapid influx of demand from across APAC.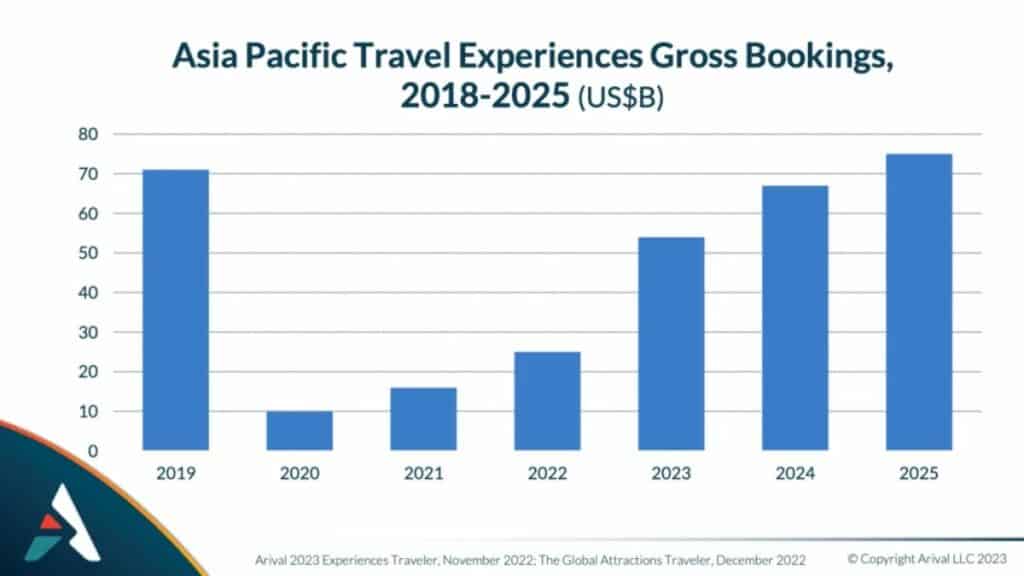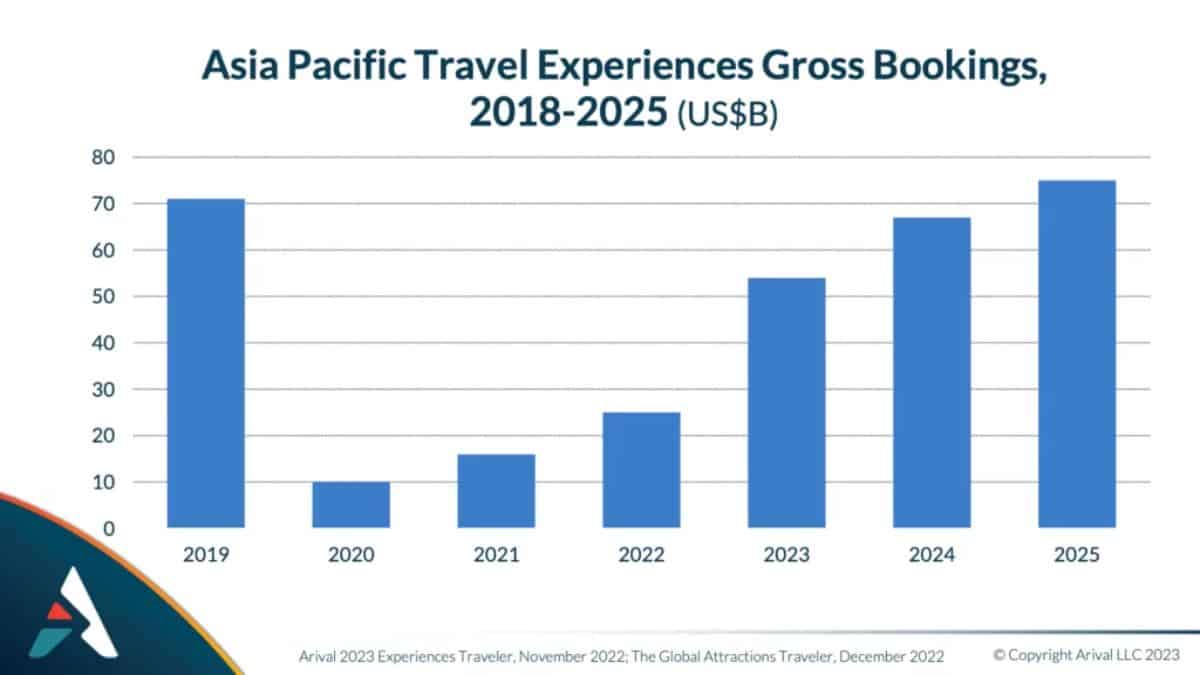 Online bookings will surpass 30% of all tours, activities and attractions booking worldwide in 2025, up from 17% in 2019, according to our research. However, online booking volume across APAC will more than triple during the same period as younger travelers shape travel's rebound. Online marketplaces and mobile-ready operators across the region will be best positioned to benefit.
The large, experience-hungry cohort of Gen-Z and millennial travelers in Asia are putting experiences first and they are willing to pay for it. But operators must be ready. This means more small-group, immersive experiences that get travelers off the beaten path. And it must all be discoverable and bookable on mobile, with plenty of Instagram- and TikTok-worthy moments.
What to Expect at Arival Activate | Bangkok 2023
The Arival Activate | Bangkok event takes place from June 12-14, and is expected to bring together hundreds of tours, activities and experiences professionals from across the region. Join us this June at Asia's leading conference for an event designed specifically for the Asian Experiences Industry, including suppliers and operators of tours, activities, and attractions.

The primary focus this year is on aiding businesses in navigating their post-pandemic recovery through targeted sessions on digital strategies, networking and connecting with leading distributors and online travel agencies (OTAs) in the APAC region.

There will be dedicated sessions on connectivity, channel management, dynamic pricing, generative chat, super apps, the guest experience, the future of distribution, sustainable tourism, culinary travel trends and more. Look for a full list of speakers and sessions coming soon!
Become an Insider Pro Access member today and get access to the full library of Arival research, plus many other benefits such as free consulting sessions, special discounts and 20% off in-person events, starting from $179 per year.
GET ON THE LIST!
Sign up to receive insights tailored for the in-destination industry as well as updates on Arival.
Sign Up