Return to Research
The Outlook For Travel Experiences 2019-2025
This exclusive report — a joint project between Arival and Phocuswright — provides market sizing and forecasting for the in-destination industry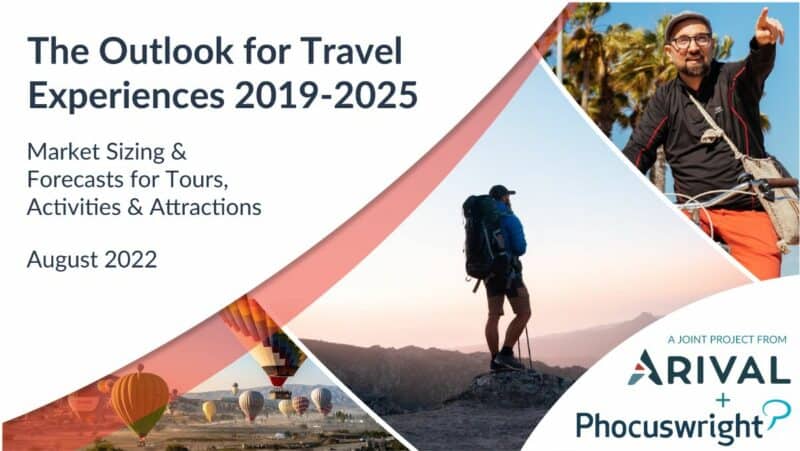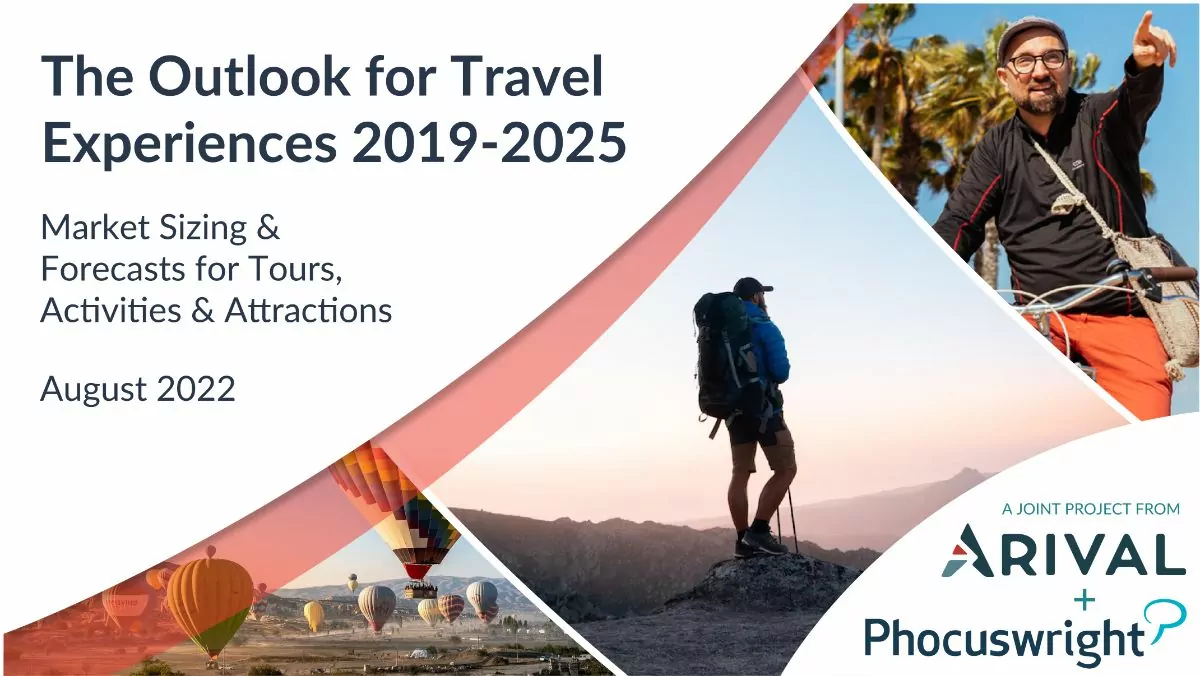 Summary
The pandemic and ensuing lockdowns on travel and leisure activities had a profound impact on the global tours, activities and attractions sector. This exclusive report — a joint project between Arival and Phocuswright — provides market sizing and forecasting for the in-destination industry by region, category (i.e. tours, activities, attractions) and distribution channel (online vs. offline points of sale).
Why you should get this report:
Insights to understand the tours, activities & attractions sector and where it is headed
Benchmarks and data to track the sector's performance and identify key market opportunities
Accurate and complete sizing of the supply- and demand-side market opportunity as well as the on-the-ground realities of travel's most complex sector.
WHAT'S IN THIS REPORT?
Contents
Introduction: The Tours, Activities & Attractions Sector

The Covid Impact

Experiences & the Return of Tourism

Key Findings

Purpose of This Report 

Key Forecast Assumptions & Methodology

Global Outlook

Regional Outlook

Segment Outlook: Tours, Activities, Attractions

Channel Outlook: Online & Offline Bookings

The Outlook for OTAs

Experiences OTAs and Distributors
Tables of Figures 
Key Operator Segments 

Global Sector Revenue Change 

Top Tours & Activities Companies by Fundraising since 2017 

Total Global Market 2018-25

Global Market YoY Change, 2019-25

Operator Performance 2020 vs 2019

TAA Market Gross Bookings by Region, 2018-2025

Annual Change by Region, 2020-2025

Market Share by Region, 2019-2025

Annual Change by Segment, 2020-2025

Global Market Share by Category 2019-2025

Global Tours Activities Market & Online, 2019-2025

Global TAA Share by Channel, 2019-2025

How Travelers Purchase Attraction Tickets 2019 vs. 2021

OTAs & Operator Websites, 2019-2025
RESEARCH PARTNER

ACCESS THIS REPORT
The Outlook for Travel Experiences 2019-2025 is available for purchase at a cost of $695, or included with your Insider Pro Access membership.
Become an Insider Pro Access member today and get access to all Arival research, plus many other benefits, starting from $119 per year.