Historically, travelers have booked most tours and activities either in destination or closer to departure, after organizing their transportation and accommodation. But there have been a lot of changes to the tour and activity booking window, especially during the pandemic.
We wanted to find out why: why do travelers tend to book some activities last minute and other activities well in advance?
In our recently released report The 2023 Experiences Traveler, conducted in partnership with Phocuswright, we surveyed more than 8,000 travelers worldwide in search of the answer.
Booking Windows and Activity Importance
We found that the booking window — the timeframe between when a tour or activity is purchased and when it is experienced — is highly correlated to the perceived importance of a specific tour or activity to a traveler and their trip. Travelers that place a higher priority on a specific experience are more likely to book it further in advance.
Performing arts and sporting events tend to be booked furthest in advance, while tours and museum tickets are much more likely to be booked much closer to the day of the experience. This correlates directly to the perceived importance of the experience to the traveler.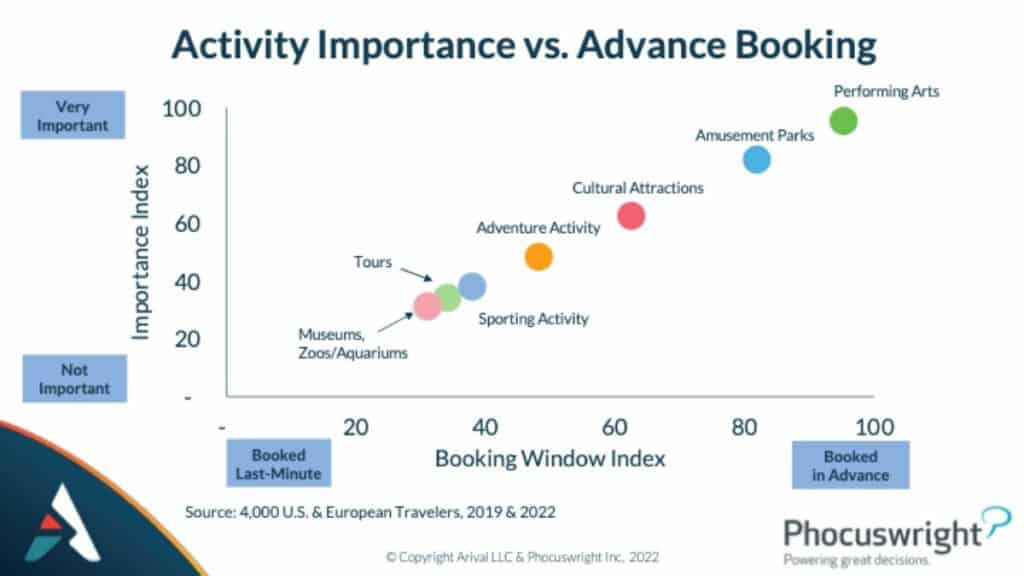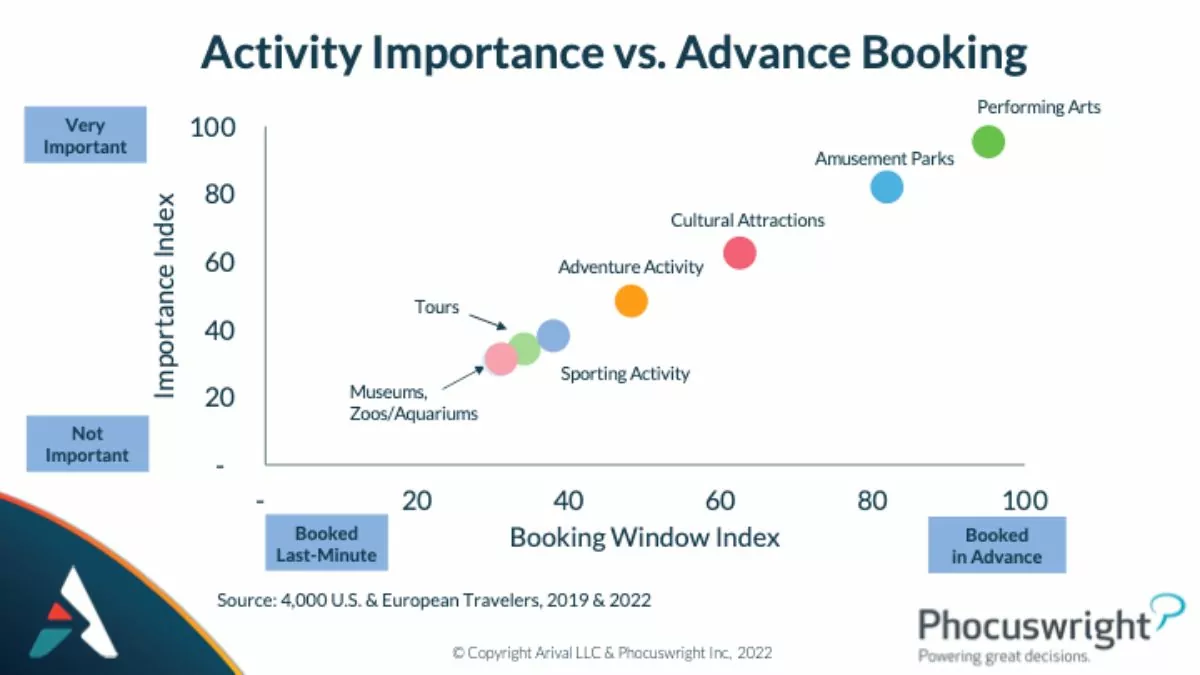 Someone who follows a musical artist or sports team will organize a trip around that event much further in advance, while a traveler on a leisure trip may book a tour or decide to visit a museum when filling in the details of their trip at the last minute.
Gen-Z, Millennials Have Different Priorities
Younger travelers, however, appear to be taking a different approach to trip planning and both how and when they book. Why? The shift is because of the rising importance of experiences to younger travelers.
Travelers 55 and older (older Gen-X and Boomers) are planning their tours and activities according to historical norms. Most are booking experiences either in destination or before departure but after arranging the other components (see next chart).
Younger travelers, 18-54 (but primarily Gen-Z and Millennials), are showing a dramatic shift in when they book experiences. More than seven in 10 say they are planning their tours and activities at the same time as or before they book transportation and accommodation.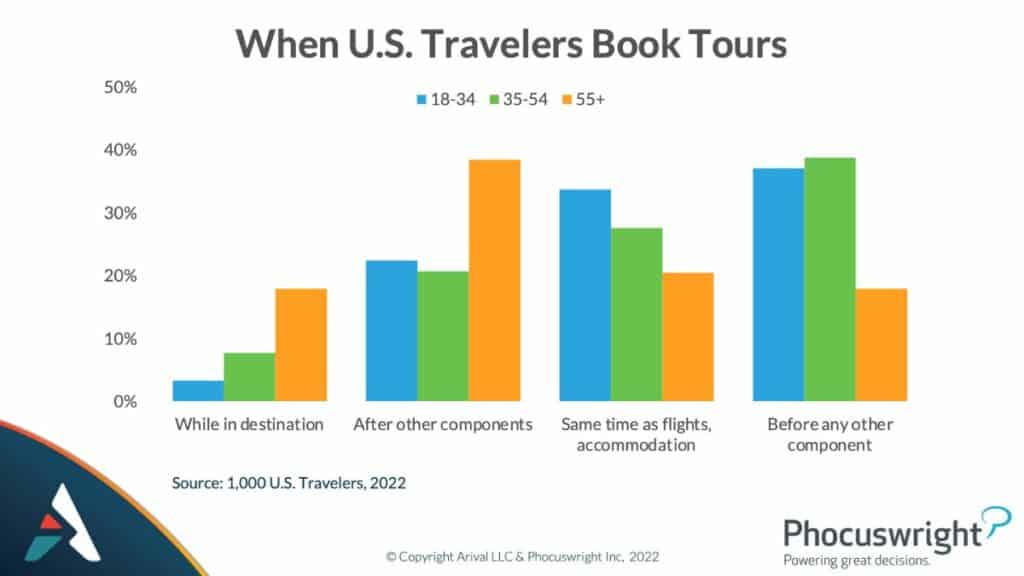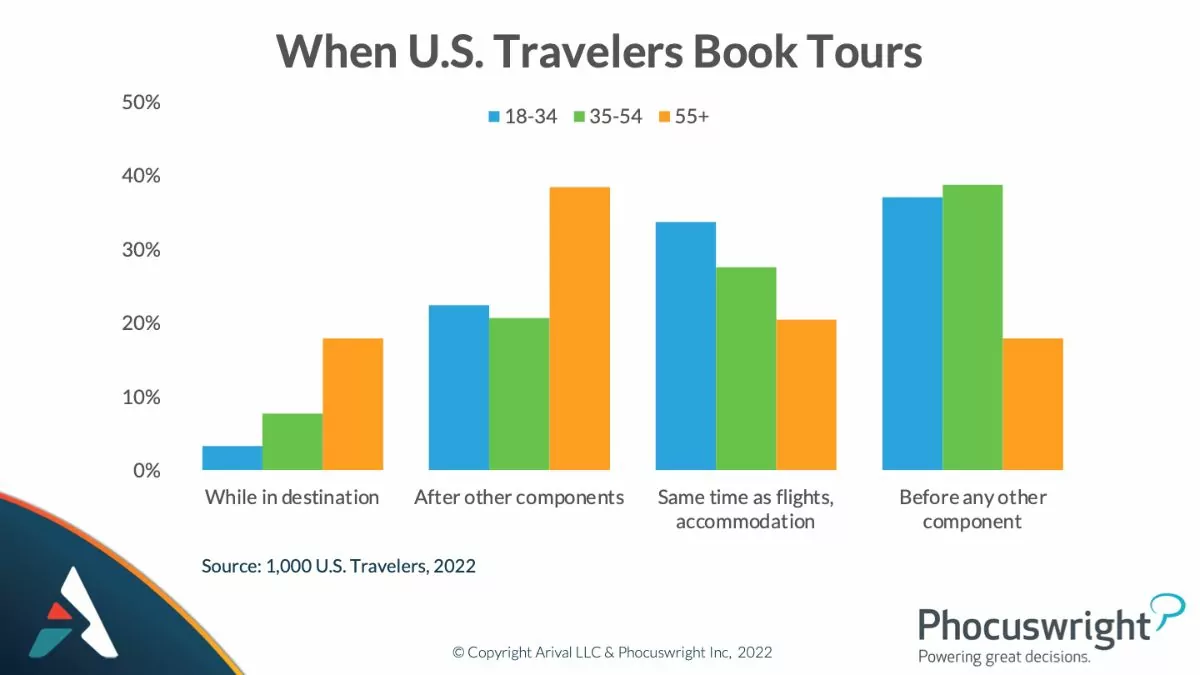 Why the big generational difference? Well, 58% of Gen-Z and Millennial travelers say they are prioritizing their spending on experiences over things. For affluent younger travelers (household income of $150K or greater), that preference jumps to 68%.
This shift is nothing short of remarkable. Younger travelers are putting experiences front and center. Things to do will increasingly be central to the destination decision and overall trip-planning.
Operator Takeaway: Operators should consider where their tour or activity fits into customers' trip hierarchy. If you offer experiences that are less important to travelers compared to other things to do in your destination, be mindful that travelers will often book these experiences closer to departure or even in the destination itself.
Dig Deeper into The 2023 Experiences Traveler
Arival and Phocuswright have partnered on a major global study of the travel experiences sector, covering tours, activities, attractions and events. The 2023 Experiences Traveler is available for purchase at a cost of $399, or included with an Insider Pro Access membership. (Become a member. It's a much better deal!)
Become an Insider Pro Access member today and get access to the full library of Arival research, plus many other benefits such as free consulting sessions, special discounts and 20% off in-person events, starting from $179 per year.
GET ON THE LIST!
Sign up to receive insights tailored for the in-destination industry as well as updates on Arival.
Sign Up