The Covid-19 pandemic may be largely behind us, but travel in 2022 has been dramatically affected by the widespread lockdowns of the previous two years. New research from Arival and Phocuswright reveals a dramatic shift in the types of experiences travelers booked on their 2022 trips.
Operator Takeaways: Travelers are clearly seeking to make the most of their travels post-pandemic. They still want to see the sites, but they want to see them in style, with their friends and family, and they are willing to pay for it. For example:
Operators of larger group tours may want to consider adding small group or private options or extensions.
Visitor attractions should consider offering special experiences such as small group or private tours, or special experiences for upselling opportunities.
According to The 2023 Experiences Traveler, a survey of 4,000 travelers across Europe and the U.S., guided tours and experiences are the most popular activity type. Iconic visitor and natural attractions, long the leading driver of tourism visitation, took a back seat to guided tours and experiences, as shown here: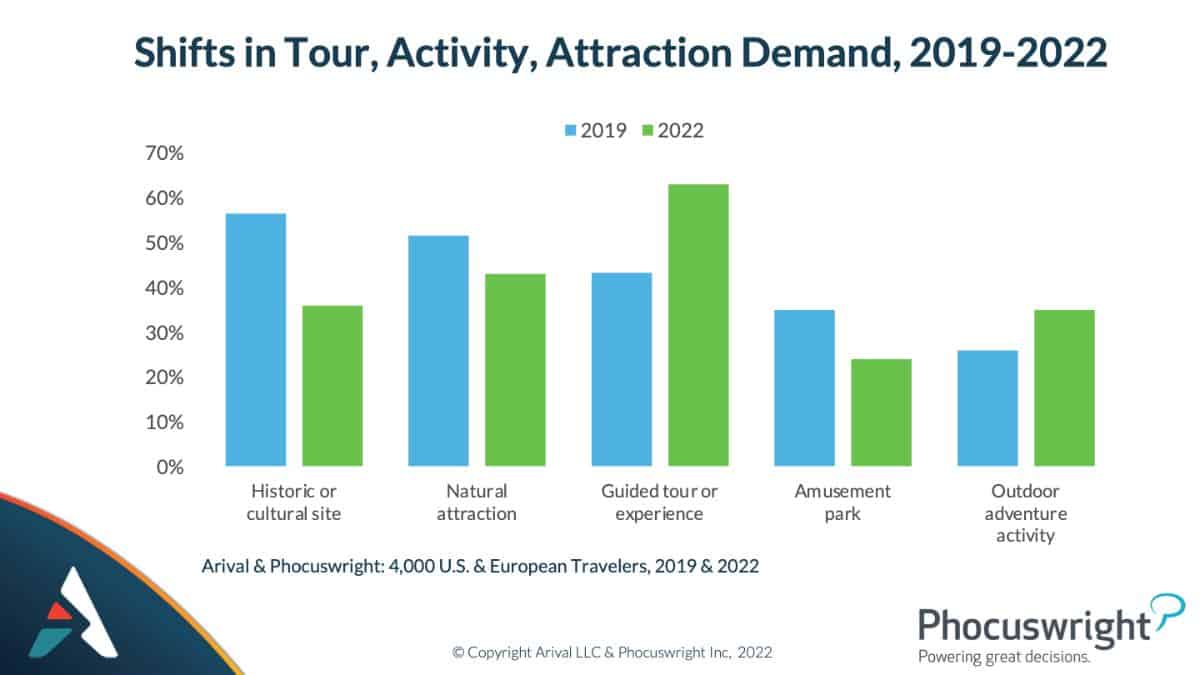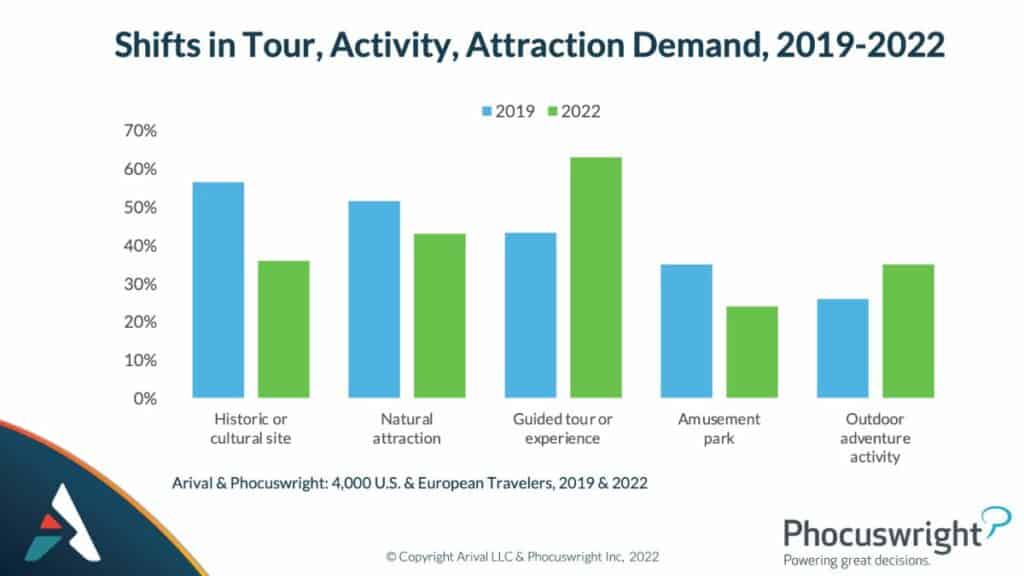 More travelers, but especially older Gen-Z (18-25) and Millennials (age 26-41), are placing a higher priority on experiences vs. things. Their shift in spending has resulted in the increasing popularity of more personalized, small group guided experiences.
Join us at an upcoming Arival event to connect, learn, & grow your tours, activities, & attractions business
Attractions are Still Big, but Travelers Want More from Visit
Visitor attractions remain central to the travel experience, but travelers want to make the most out of their trips after two or more years of virtually no international travel. Rather than just purchasing entrance tickets, they prefer more guided tours and experiences, often that include those attractions. And travelers are willing to pay for their heightened experience.
The broad shifts in the types of experiences travelers seek are consistent across the U.S. and Europe, with two notable exceptions:
Demand for outdoor adventure activities surged far more in the U.S., rising to 45% of travelers in 2022, vs. 30% pre-pandemic. In Europe, demand also rose, but not nearly to the same degree.
Interest in amusement park visits on trips dropped far more among European travelers than it did among U.S. travelers, who continued to flock to America's many theme parks.
Learn More in the Full Report: The 2023 Experiences Traveler
Arival and Phocuswright have partnered on a major global study of the travel experiences sector, covering tours, activities, attractions and events. The 2023 Experiences Traveler is available for purchase at a cost of $399, or included with an Insider Pro Access membership. (Become a member. It's a much better deal!)
Become an Insider Pro Access member today and get access to the full library of Arival research, plus many other benefits such as free consulting sessions, special discounts and 20% off in-person events, starting from $179 per year.
Header photo: Oxana Melis / Unsplash
Sign up to receive insights tailored for the in-destination industry as well as updates on Arival.