Inflation.
It's been one of the biggest challenges facing the global economy over the past year, and tour, activity and attraction operators have indeed felt its impact.
Cost pressures began building in 2021 as travel started to resume. Operators in North America and Europe struggled to hire staff back and purchase new equipment.
According to Arival's latest pulse report on the state of the industry, The Outlook for Operators, published this month, approximately two in five operators reported equipment, technology and staffing as key areas of higher costs. The data is based on a survey of more than 3,500 tour, activity and attraction operators worldwide.
That changed significantly in 2022, however, when inflation accelerated along with the return of travel. Nearly four in five operators reported equipment, marketing and labor as key cost drivers. See Figure 1.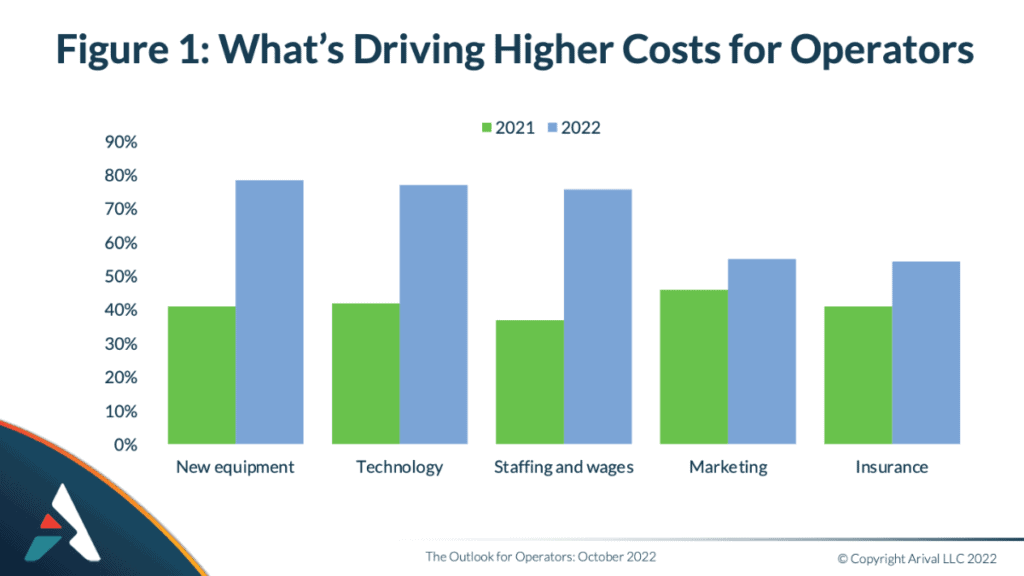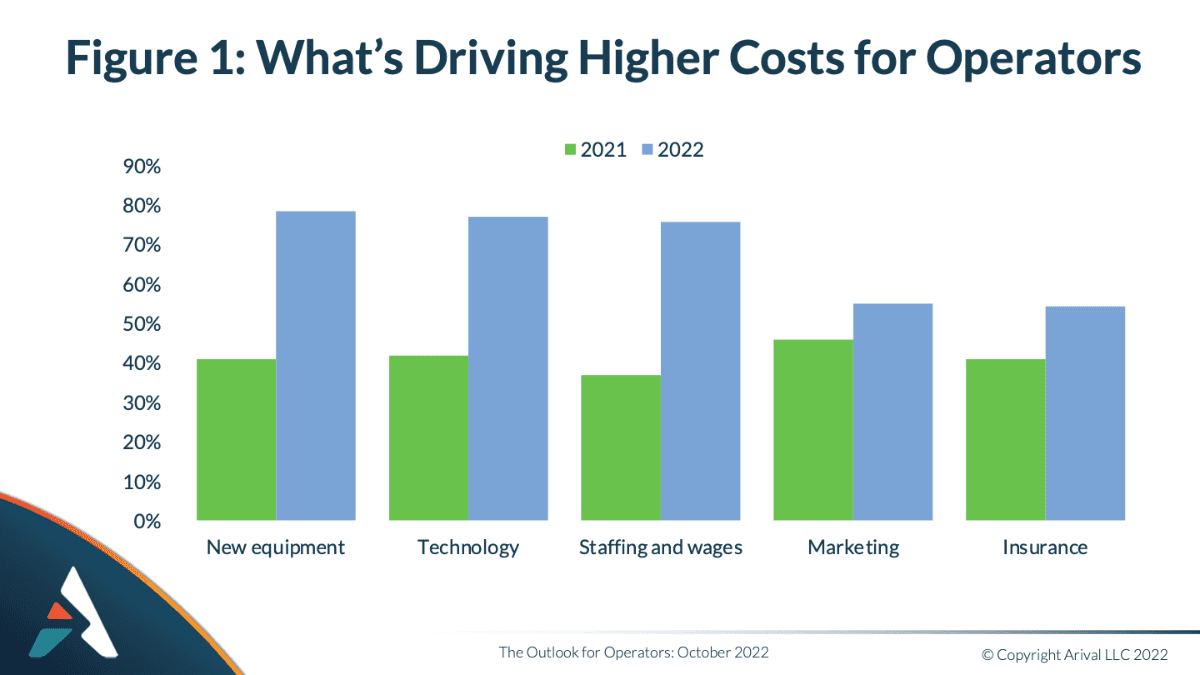 Higher Costs, Higher Prices
Most operators have been able to combat rising costs by raising prices. More than half of operators raised prices in 2021, but that jumped to three in four in 2022. See Figure 2.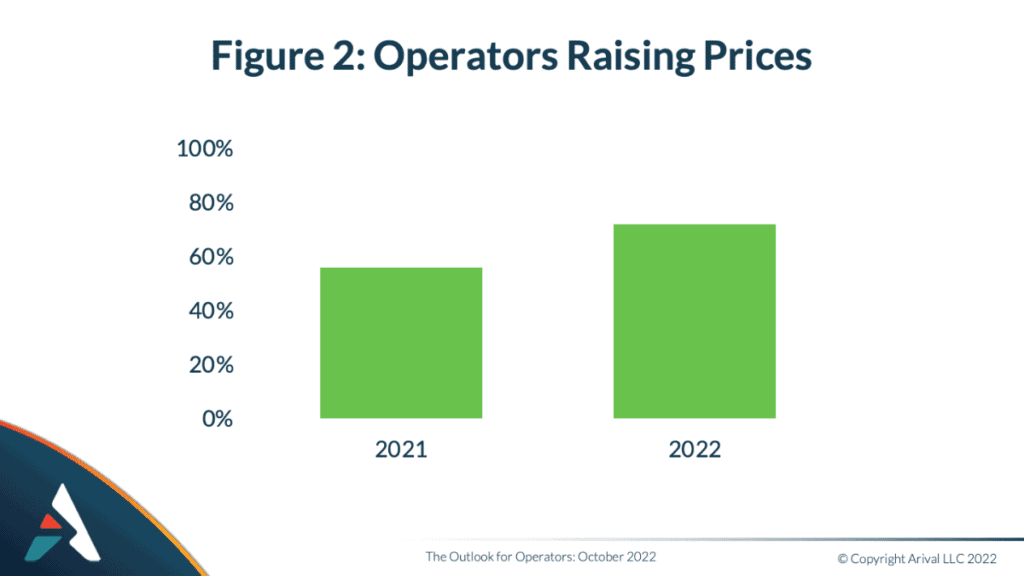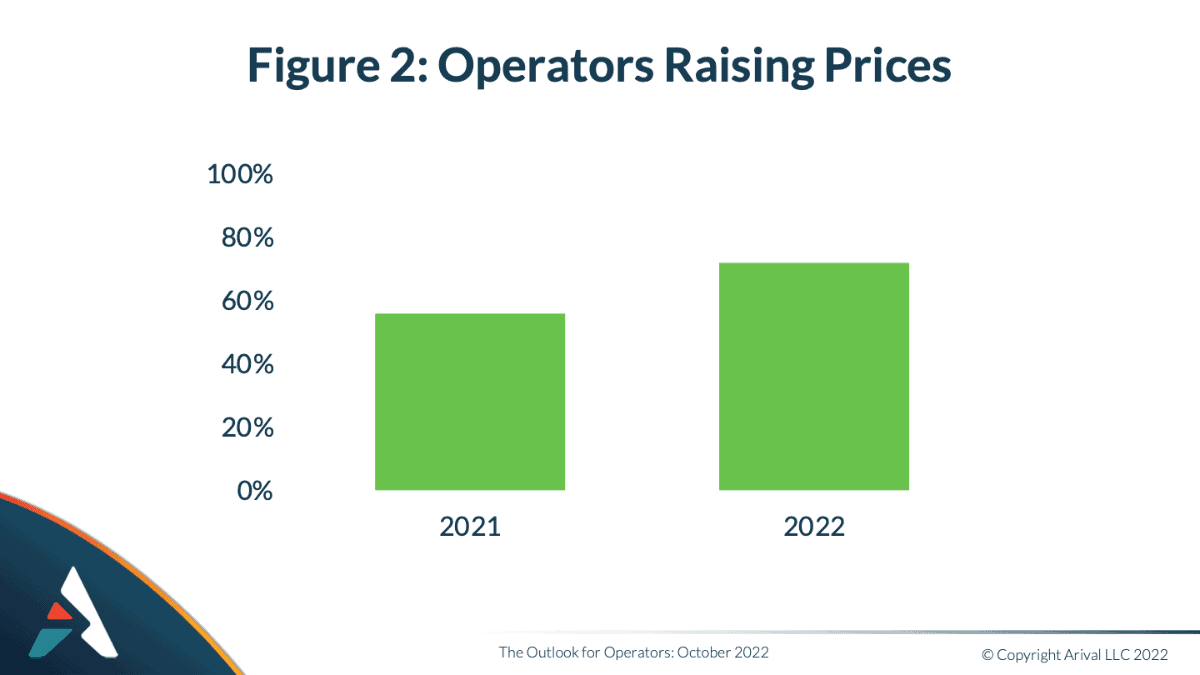 However, inflation shows few signs of slowing, despite efforts by the Federal Reserve and central banks around the world to raise interest rates. This brings us to a key question: will operators be able to continue to increase prices should inflation persist, as it appears it will?
The answer to this question – whether operators will be able to continue to increase rates – is far from certain, but there are some concerning indicators.
Covid Savings Bump… or Slump?
One unexpected outcome of the pandemic and global lockdowns was the surge in household savings. Savings rates in Germany, for example, grew by more than 50% in 2021 and 2022 and more than doubled in the U.S. during the same period, according to the U.S. Bureau of Economic Analysis and The Organization for Economic Co-operation and Development (OECD).
This proved to be a boon for the travel industry in 2022. After two years or severely restricted travel, consumers made good use of those savings to spend on trips.
But much of those lockdown-induced savings have now been spent. Household savings rates in 2022 are returning to pre-pandemic norms, and may even be dropping lower as inflation takes a toll on consumers' spending power. See Figure 3.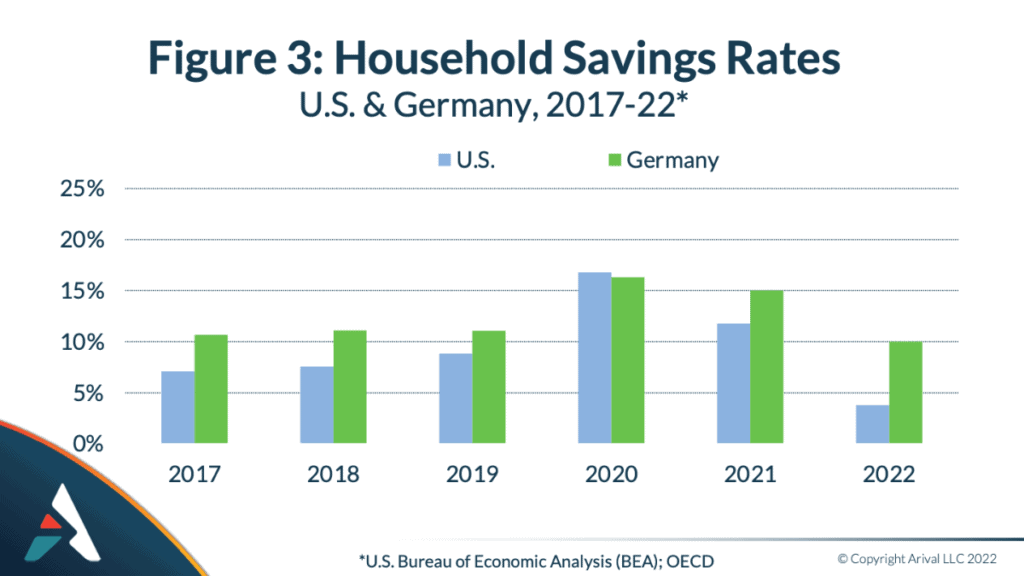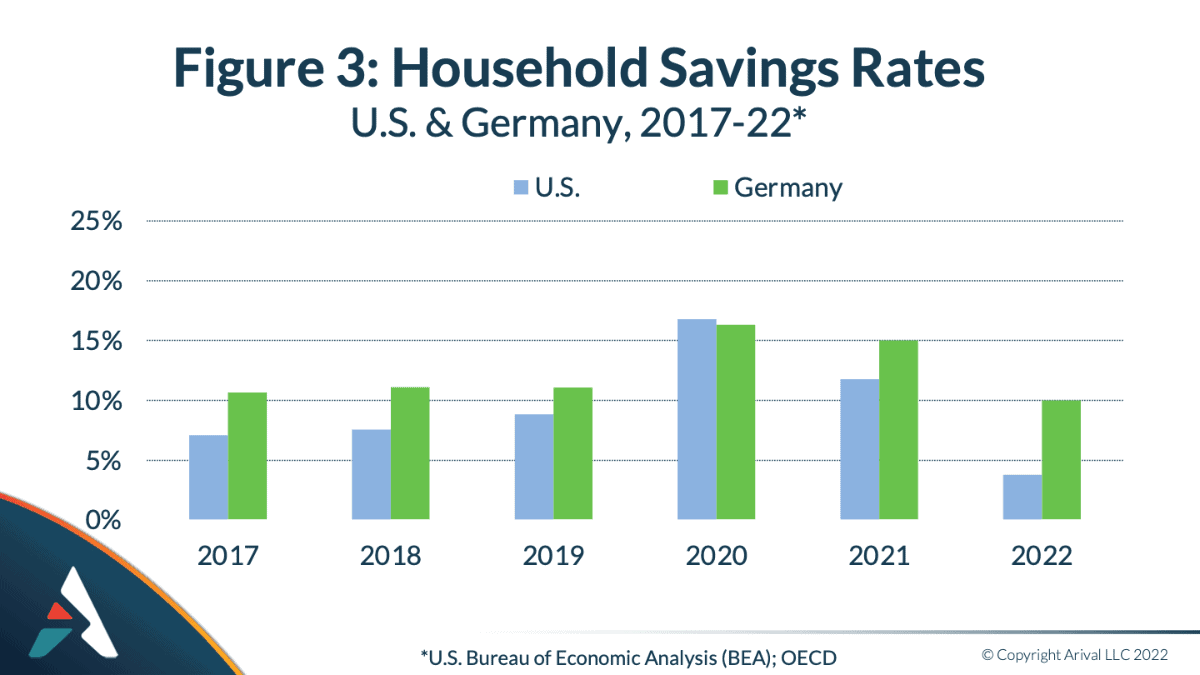 Operators a Little Less Optimistic
Tour, activity and attraction operators have become increasingly concerned – or at least a little less optimistic – about the future.
In our survey of operators at the beginning of the year, there was widespread optimism about 2022. The pandemic appeared to be in its final major wave with the Omicron variant, and governments around the world were easing travel restrictions. More than four in five operators across North America and Europe were very or extremely optimistic about the coming year. See Figure 4.
However, in our most recent industry surveying from September 2022, sentiment has shifted. While a majority of operators remain optimistic, the percentage has dropped noticeably, especially in the U.S. and Europe, where rising inflation and falling stock market indices have taken at least a psychological toll on overall business sentiment.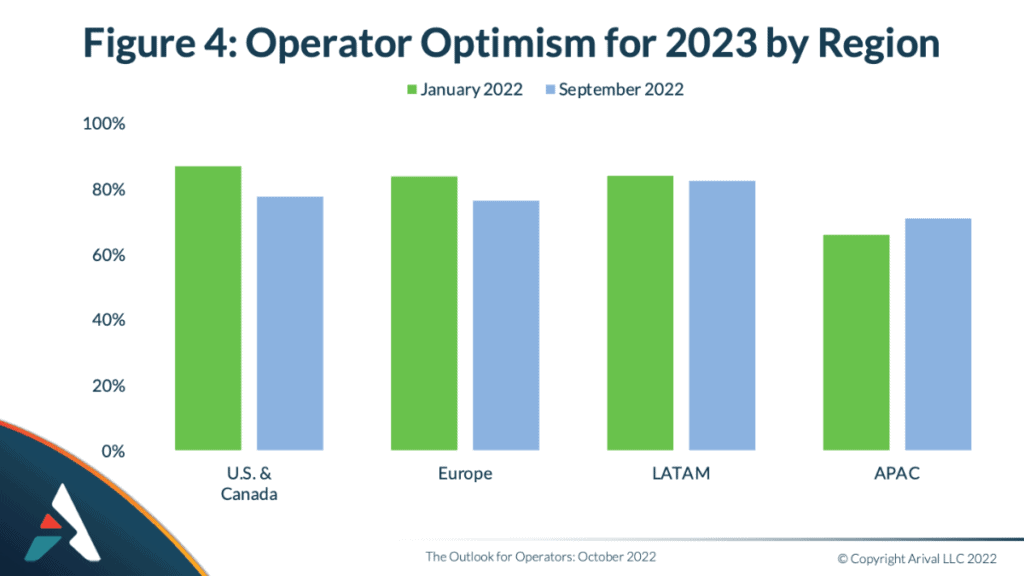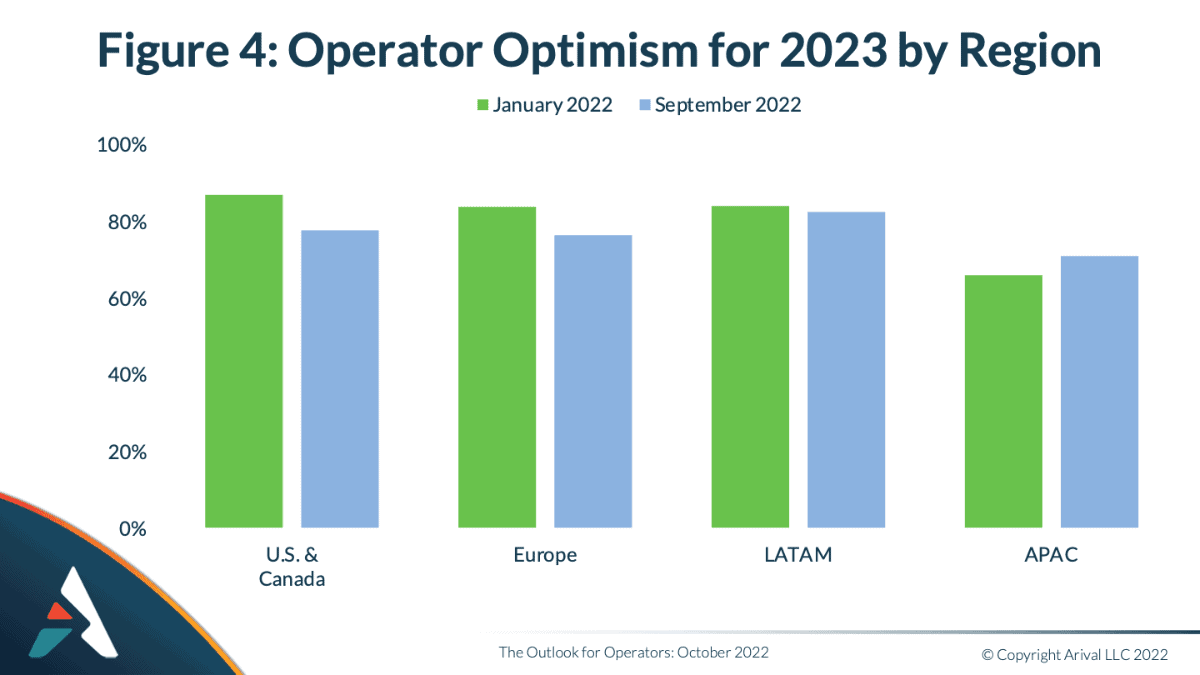 Interestingly, it's only in Asia Pacific where operator sentiment has become more positive. Operators in that region, having endured far longer restrictions on cross-border travel, have become more optimistic about the coming year as governments across the region begin welcoming leisure travelers back.
The Traveler Outlook (and the End of Revenge Travel)
So what about travelers? How is the downturn in the economy affecting their future travel plans? Overall, most travelers – four in five – plan to travel as much or more in 2023 as they have in 2022, according to The 2022 Experiences Traveler, a forthcoming report from Arival and Phocuswright based on a survey of 4,000 U.S. and European travelers.
However, a closer look at key traveler segments reveals that concerns about inflation and economic uncertainty are having a far bigger impact on lower-income travelers, while more affluent travelers intend to travel and spend more. See Figure 5.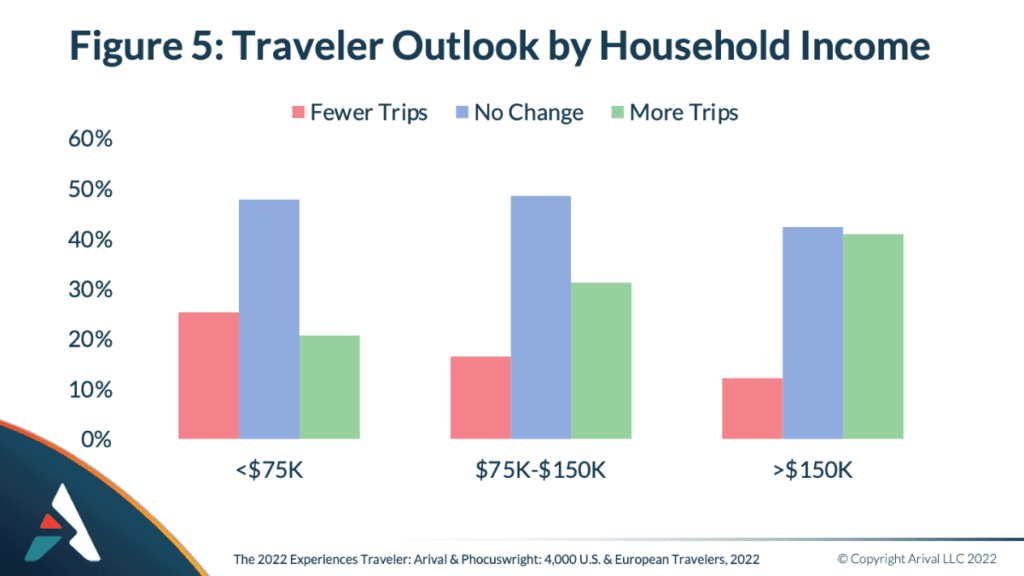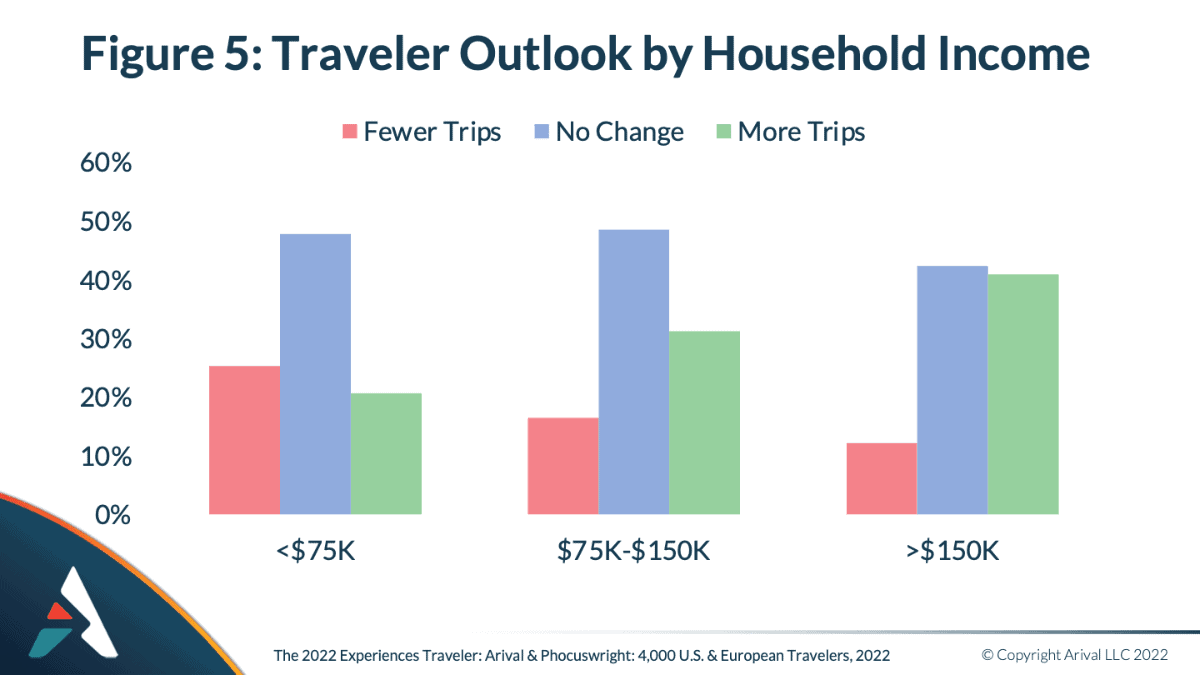 This research suggests operators that serve more upscale and luxury travelers may be in a better position should the economic picture worsen. Operators that serve more price-sensitive travelers may see slower growth in 2023.
So Will There or Won't There be a Recession?
This is still the big question, and it remains widely debated. Daily coverage in the news media suggests a gloomy outlook, with persistent inflation and a stock market slump. Yet unemployment remains at historic lows and demand appears to remain strong.
"We don't see any indications of a slowdown in demand across our network," said Ben Drew, president of leading experiences online travel agency (OTA) Viator, speaking at Arival Las Vegas earlier this month.
Eric Marshall, senior vice president of destination sales at Universal Parks & Resorts, echoed a similar sentiment speaking later that day at Arival. He said demand remained strong across the company's properties and there were no signals of a slowdown to come.
But not everyone agreed. Michael Zeisser — managing partner at FMZ Ventures, a venture fund focused on the experience economy, and a board director at GetYourGuide, Fever and Easol, among other brands — said a recession of some kind was inevitable, and that travel brands should be prepared for a slower 2023.
Sean Finelli, co-founder of The Tour Guy and one-time Wall Street broker, remains optimistic but cautious about what's ahead. He notes that some key companies, from Delta Air Lines to Visa, have reported strong third-quarter earnings and that consumer demand remains solid.
But that doesn't mean this is a time for risk-taking. He advises operators to take a close look at their financials and costs for each tour.
"Take the time to turn over some rocks and look at your margins product by product," Finellie advises, especially with more price-sensitive customers likely to pull back. "Avoid products that are popular but have low margins and low opportunity to increase prices due to heavy competition. They'll leave you wondering where your money went at the end of the year."
The only thing that's clear is that there is no one-size-fits-all answer, and — as the latest research from Arival shows — the circumstances will differ by your market, the products you offer and the customer segments you serve.
Header photo: Justin Roy / Unsplash
GET ON THE LIST!
Sign up to receive insights tailored for the in-destination industry as well as updates on Arival.
Sign Up
Become a Pro Access member to save 20% on Arival in-person events and gain access to 600+ articles, 350+ on-demand videos, 45+ research reports, guides and more, starting at just $179/year.