As travel recovers from the pandemic, some booking channels are benefiting more than others, according to the latest research from Arival and Phocuswright. While the accommodation and transportation sectors have well-established processes for online booking; the tours, activities and attractions (TAA) sector has typically lagged behind, but this is changing.
Operator Takeaway: As online booking accelerates, operators that equip themselves to benefit from the dramatic shift to online channels — particularly mobile — will be best positioned to stand out above the competition in this rapidly changing marketplace.
Amid the pandemic, traveler behavior shifted strongly towards online booking, with the online channel share surging from 17% of gross bookings in 2019 to 29% by 2021. Although offline booking is expected to regain some share in 2022-2023, online channels are projected to continue to grow faster than the overall market.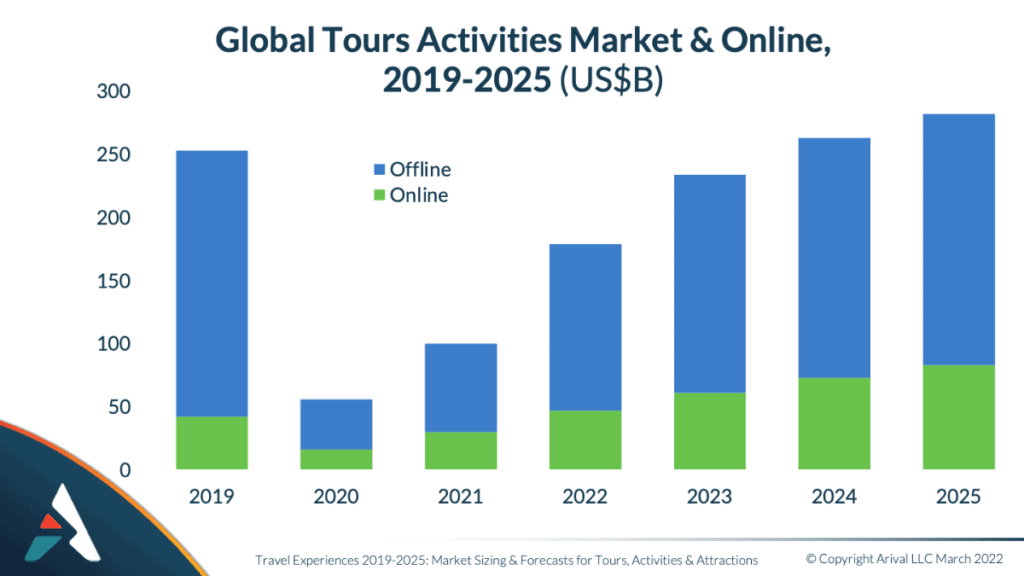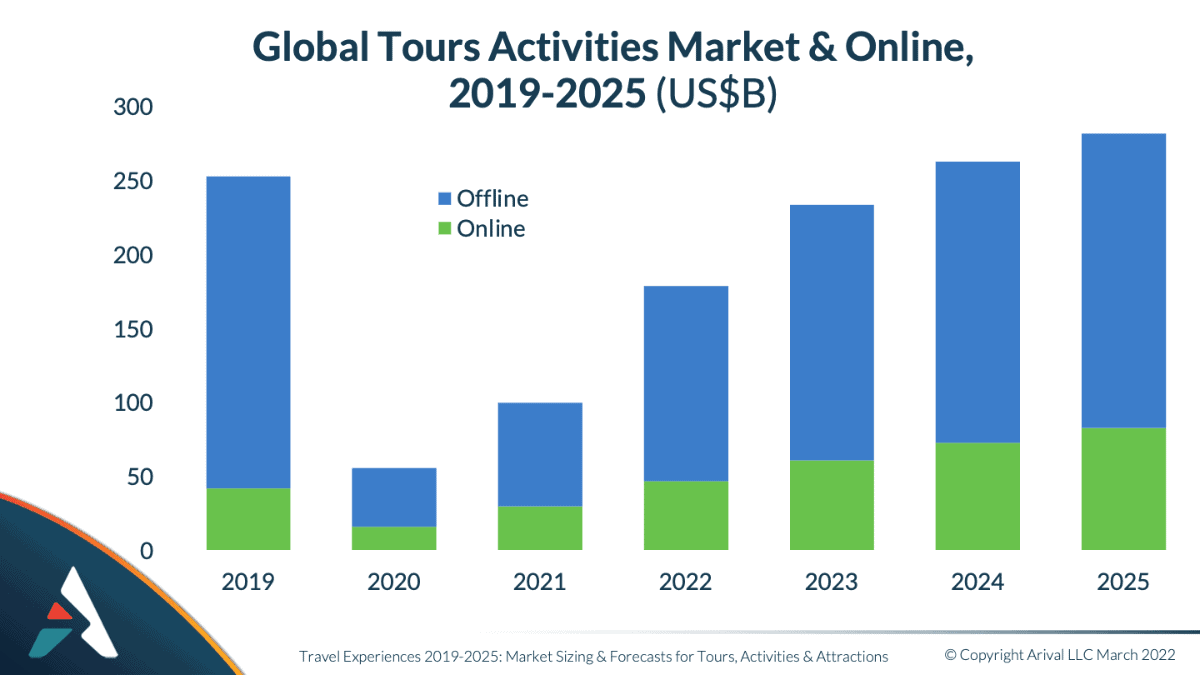 While operator websites have benefited from this shift towards online, online travel agencies (OTAs) are the fastest growing channel. Tour, activity and attraction operators may risk losing ground in online market share to OTAs if they are slower to adjust to distribution best practices.
Although OTAs represent a relatively small share of the global market — less than 5% of the total market in 2022 — they have had some major impacts on how travelers discover and book experiences.
In addition to large OTAs such as Viator and GetYourGuide, a growing number of OTAs tailored to a particular segment niche or geography are joining the distribution landscape. While many of these are listed in the report, Arival also recently published articles on OTAs by particular niche and by regional focus. Some of these could offer additional ways for operators to offer their products to more specific target markets.
Another channel that is new to the scene with potential to have a significant impact on distribution is Google Things to do, which connects users on Google Search and Google Maps directly with tickets for attractions listed on the platform, as well as listings for experiences that include the attraction on a tour. As the initiative is still in beta and changing quickly, it's unclear to what degree it will benefit operators directly, OTAs, or both. Google recently announced more changes and updates to Things to do, more on that and the benefits for operators here.
For more insights and details on the shift to online, read the full report on The Outlook for Experiences: 2019-2025. This report is available for purchase at a cost of $695, or included with an Insider Pro Access membership.
Become an Insider Pro Access member today and get access to the full library of Arival research, plus many other benefits such as free consulting sessions, special discounts and 20% off in-person events, starting from $179 per year.
Header photo: Zhang Kaiyv / Pexels
GET ON THE LIST!
Sign up to receive insights tailored for the in-destination industry as well as updates on Arival.
Sign Up
Become a Pro Access member to save 20% on Arival in-person events and gain access to 600+ articles, 350+ on-demand videos, 45+ research reports, guides and more, starting at just $179/year.