After two years of severely restricted travel due to the Covid-19 pandemic, travelers' attractions preferences have shifted dramatically.
Released in late December 2022 and conducted in partnership with Phocuswright, Arival's latest report The Global Attractions Traveler compiled and analyzed survey responses from more than 4,000 travelers across Europe and the U.S. The report unveils how travelers choose and book visitor attractions, how these trends have shifted since the pandemic, and what this means for attraction operators and marketers in 2023.
One of the things this study found is travelers have been preferring — and paying more for — guided, small-group and private tours and experiences. While attractions typically rely more on tickets than tours, there are a few ways attractions can adapt to draw in travelers seeking guided experiences:
1. Offer Guided Tours or Unique Experiences as Part of Your Attraction
Overall, iconic visitor and natural attractions, long the leading driver of tourism visitation, took a back seat to guided tours and experiences for both U.S. and European travelers. However, sightseeing remains the most popular type of tour and has gained ground since pre-pandemic times, as the figure below shows.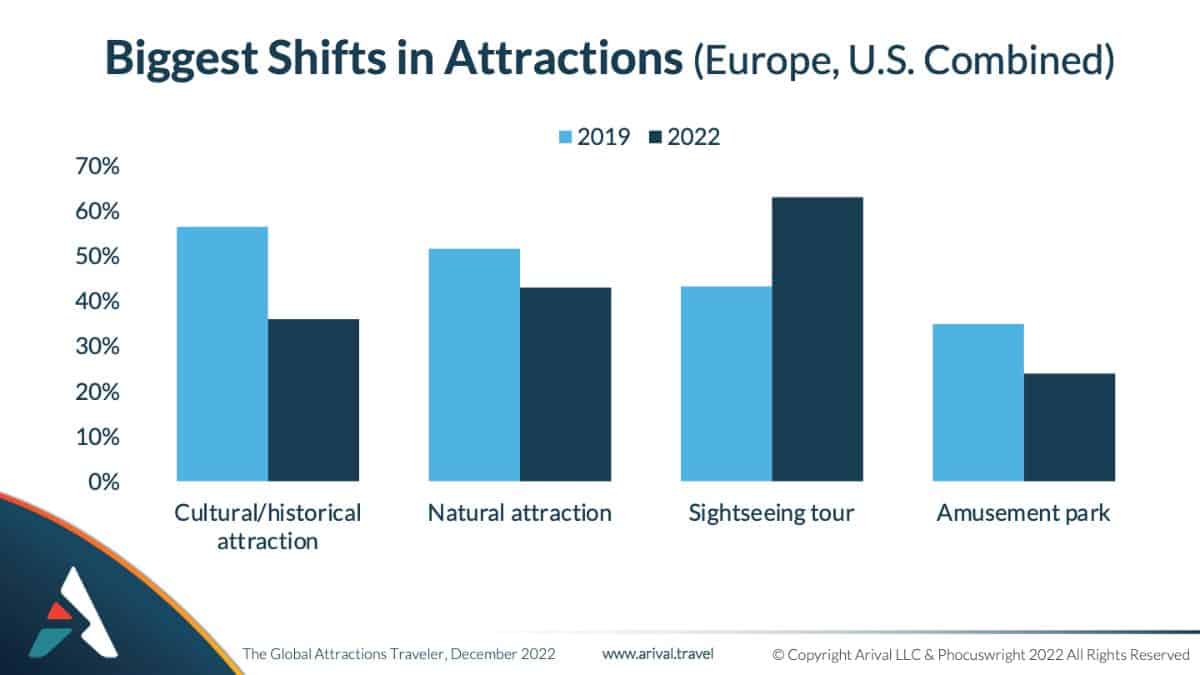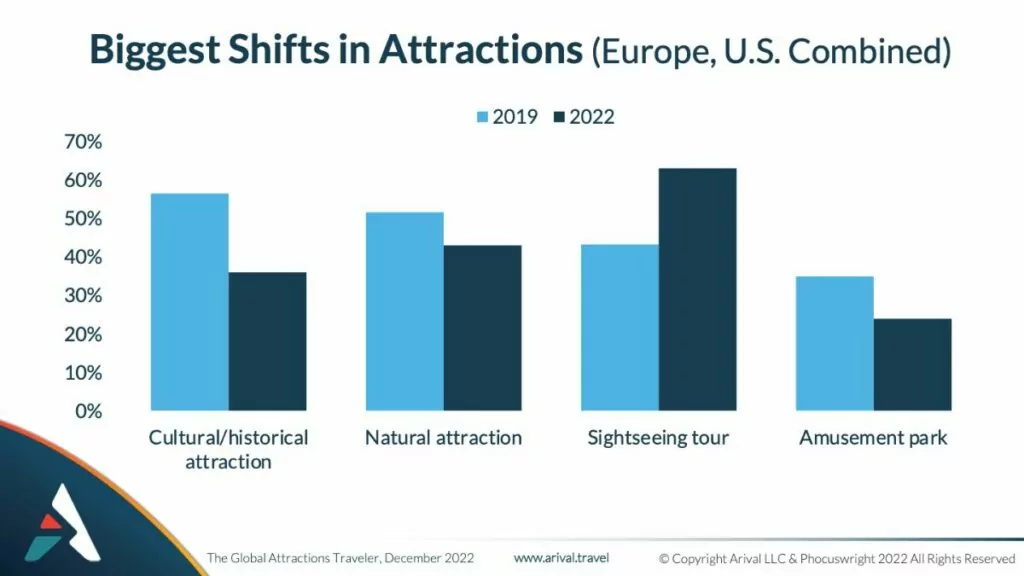 This suggests that travelers are not just buying an entry ticket: they want to make the most of their visit with a tour or guide. One way attractions can adapt to this is to find ways to offer more guided tours or unique experiences as part of their attraction offerings.
Join us at an upcoming Arival event to connect, learn, & grow your tours, activities, & attractions business
2. Build Reseller Partnerships with Local Tour Operators
Most travelers purchase tickets to cultural attractions and museums directly as stand-alone tickets. However, a significant percentage of travelers — especially from the U.S. — accessed such attractions via a tour in 2022.
Nearly half of U.S. and one in three European travelers visited a cultural attraction or museum via a tour in 2022, as the below figure shows.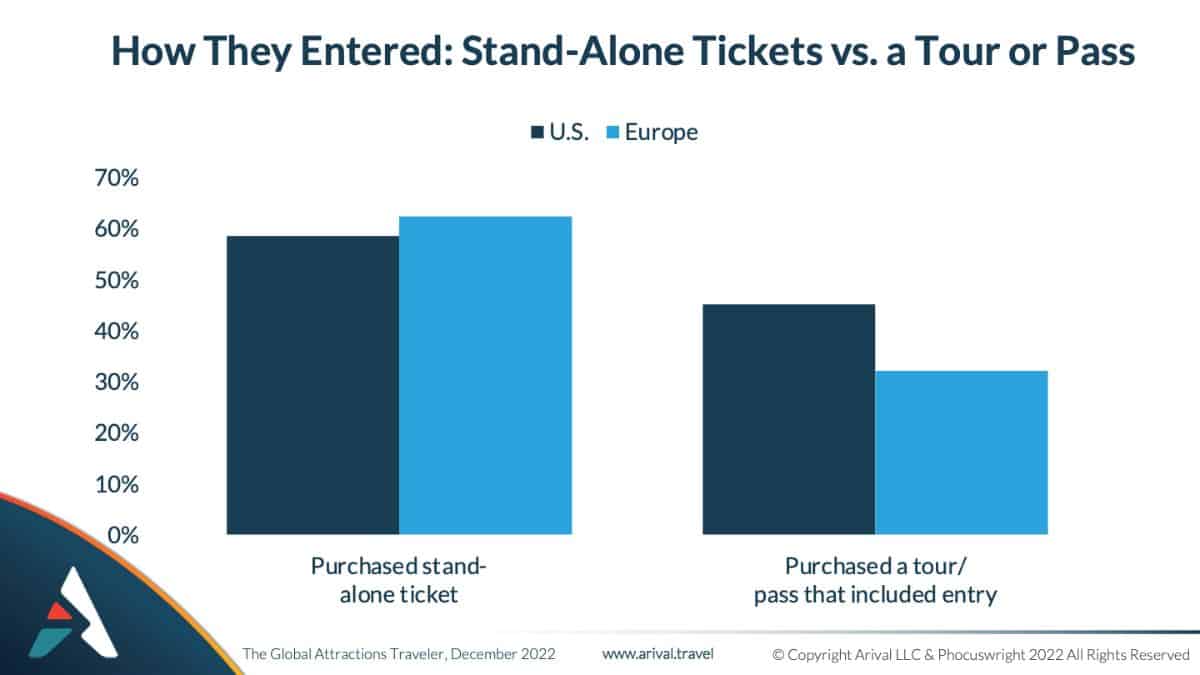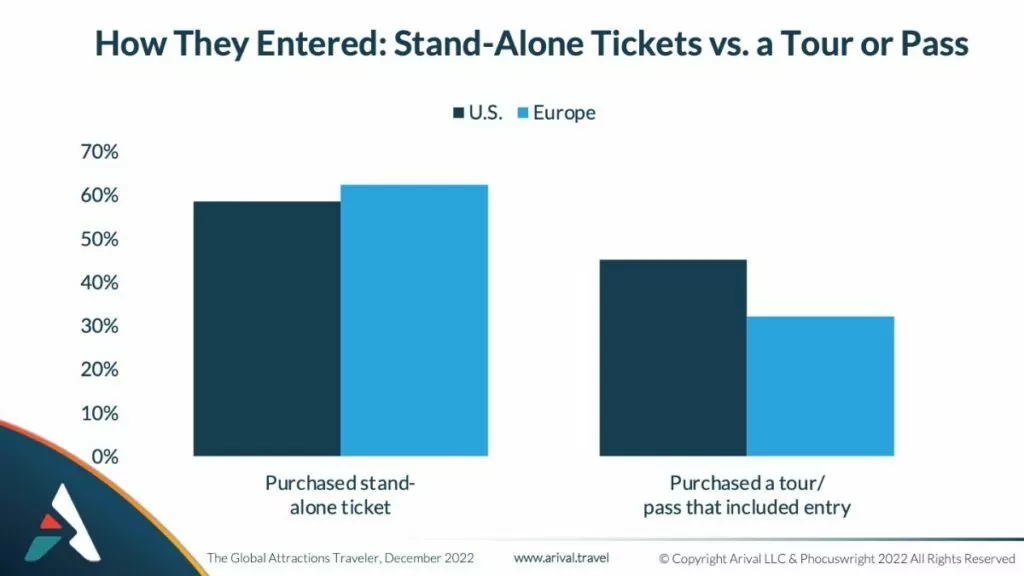 In order to make the most of this shift in traveler preferences, attractions should consider expanding their reseller partnerships with local tour operators.
3. Invest in Self-Guided Technology
Another thing the study showed is a rise in self-guided tours. More and more attraction visitors are using self guided tours via their mobile phones, and not only that but they are willing to pay for them.
One in four European and 31% of U.S. travelers purchased a self-guided mobile audio tour for an attraction visit in 2022.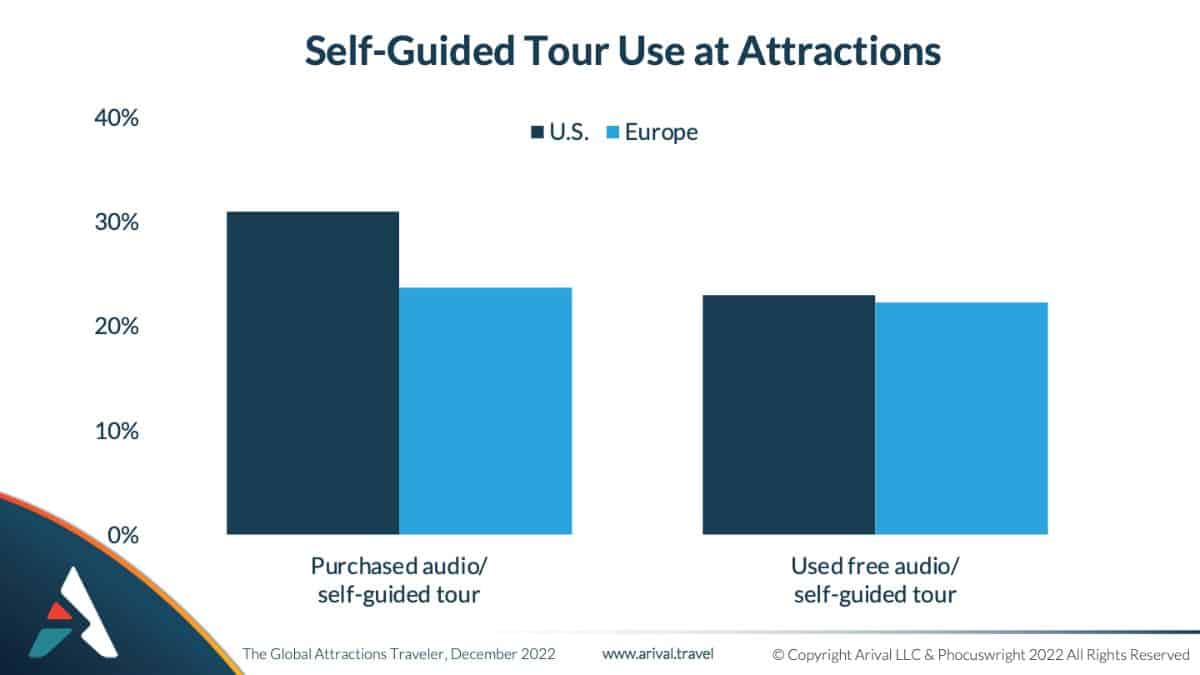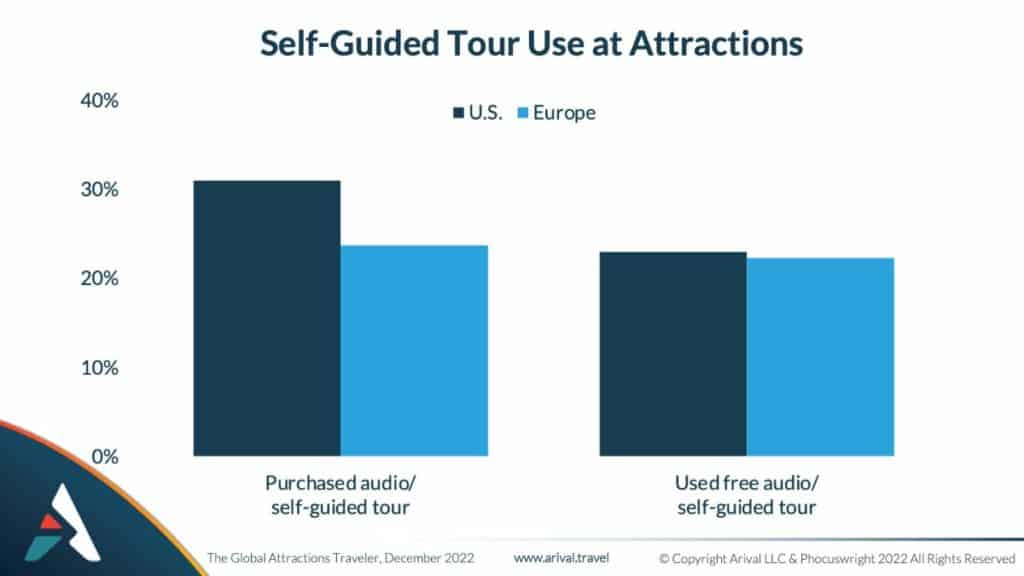 As this data suggests, the right investments in self-guided experiences could be a meaningful ancillary revenue opportunity for attractions.
Learn More About Attractions Visitor Trends, Preferences and Booking Behavior
Understand the latest trends in how travelers choose and book attractions in the Global Attractions Traveler. Or dig into Arival's 2023 Experiences Traveler report to understand the latest traveler trends across the tours, activities and attractions sector as a whole.
Become an Insider Pro Access member today and get access to the full library of Arival research, plus many other benefits such as free consulting sessions, special discounts and 20% off in-person events, starting from $179 per year.
Sign up to receive insights tailored for the in-destination industry as well as updates on Arival.
Feature photo: Matheus Bertelli / Pexels