How much time do you spend on your mobile phone each day? You probably don't want to know. Whether you're an iPhone person or an Android person, one thing we all have in common is we are spending more time on our phones now than ever.
People use mobile phones for everything from navigation to scrolling cat pictures to keeping up with the Kardashians to taking selfies to ordering food.
They are also using them more than ever for booking tours, activities and attractions, according to the latest report from Arival and Phocuswright.
Operator Takeaway: With more people booking on mobile now than ever, prioritize your mobile booking experience by ensuring your website and booking platform are optimized for mobile.
After surveying over 3,500 tour, activity and attraction operators worldwide, The Outlook for Operators: The State of Tours, Activities and Attractions reports mobile booking is now a mainstream sales channel for tours, activities and attractions.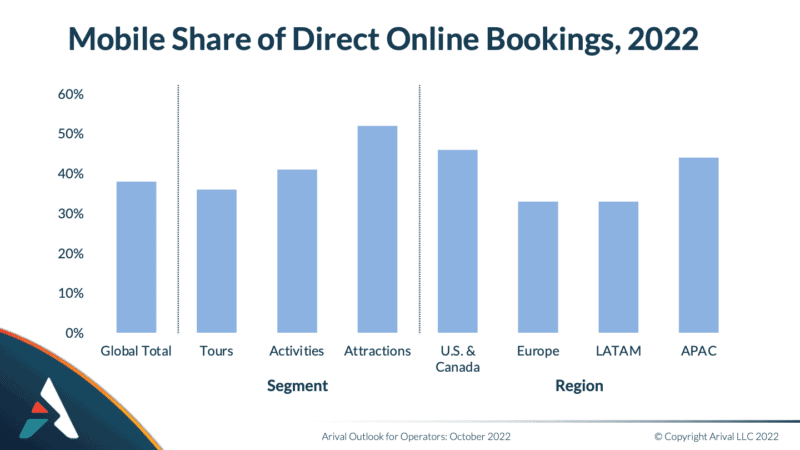 Mobile bookings also represent nearly 40%, or two in five direct online bookings for tour and activity operators.
The mainstreaming of mobile is most pronounced for attractions. Mobile bookings now account for more than half (52%) of attraction website bookings, up from 37% in 2019.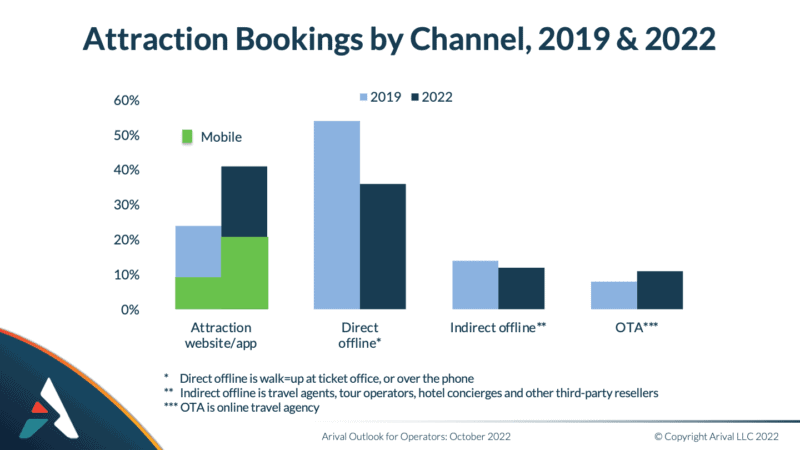 So what does this mean for operators? "Meet your customers where they are," as Michelle Martin from Meta advised at Arival 360 | Las Vegas. Make sure your website is mobile friendly, so that your visitors can easily get the information they need and complete the booking process on their phones without having to go elsewhere — thus taking your sale to a competitor or unwittingly giving commission to an online travel agency (OTA) or other distributor.
Mobile bookers also spend more and leave more reviews, as earlier research from Arival has shown, which should be an added incentive to make their digital experience a good one.
Insider Pro Access Members Save 20%
THE event of the year for solutions-focused In-Destination Experience
creators and sellers
Save up to $540 with the Spring Savings ticket
Download the Full Report to Learn More
Dig deeper into the digital shift, tour bookings by sales channels, and top marketing channels for operators going into 2023 by downloading The Outlook for Operators: The State of Tours, Activities & Attractions. This report is available for purchase at a cost of $329, or included with an Insider Pro Access membership.
Become an Insider Pro Access member today and get access to the full library of Arival research, plus many other benefits such as free consulting sessions, special discounts and 20% off in-person events, starting from $179 per year.
Header photo: Pexels / Ketut Subiyanto
Sign up to receive insights tailored for the in-destination industry as well as updates on Arival.