Half of companies that comprise travel and tourism's third-largest sector – tours, activities, attractions, and experiences – will be open as of June 30, 2020. The vast majority of operators, 90%, are implementing a range of new policies and procedures for increased safety for staff and guests.
The findings, based on results from nearly 300 responses to Arival's ongoing Coronavirus Pulse survey, reflect the wide-ranging efforts tour, activity and attraction operators are undertaking to resume operations amid the severe financial impact of the pandemic on the in-destination industry.
Arival, the global research authority on tours, activities, and attractions, has been regularly surveying operators since mid-March to gauge the COVID-19 pandemic's effect on their business.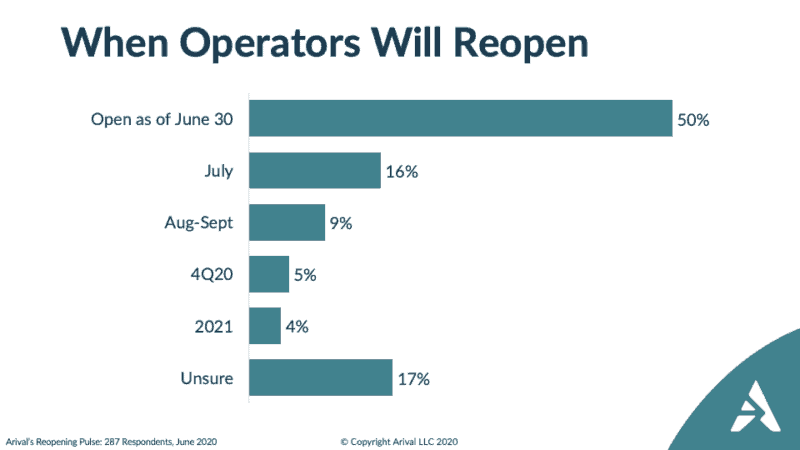 Arival Reopening Survey: When Tour, Activity, Attraction Operators Will Reopen as of June 15, 2020
"The companies that comprise travel's third-largest sector, these are the organizations that deliver the experiences in destination. They are the reason people travel in the first place," says Arival co-founder & CEO Douglas Quinby. "Most are carefully plotting their reopening by implementing a range of health and safety steps to make guests feel confident to venture out and experience, including physical distancing procedures, capacity limits, mask-wearing policies, and increased hygiene and sanitation measures."
"The vast majority of tour and activity operators are small businesses and entrepreneurs that have been severely, negatively impacted by the pandemic and ensuing travel lockdown," Quinby continues. "Yet nearly all are taking on added costs to implement new safety measures for their staff and guests."
Among the operational steps travel activity providers are taking as they reopen:
74% implementing physical distancing procedures

71% are operating at reduced capacity to ensure social distancing

64% are requiring all staff to wear masks

61% are enhancing and increasing the frequency of their sanitation procedures
Quinby presented the full results from Arival's Reopening Survey at Arival's upcoming virtual summit: Walking the Tightrope Between Safe & Amazing. The full set of results will be available to registered attendees. The summit is free for qualifying operators of tours, activities, attractions, and experiences.
The Arival Reopening Survey is a part of the ongoing Arival Coronavirus Pulse, which contains insights based on responses from 1,450 operators in the US & Canada, Europe, Asia-Pacific, Latin America, and the Caribbean, and the Middle East and Africa. The survey was fielded from March 13 to June 15, 2020, with the help of the following partners: bookingkit, Checkfront, FareHarbor, GetYourGuide, GlobalTix, Groupon, Leisure Pass, Local Food Adventures, Peek, Rezgo, Tourpreneur, Trekksoft, US Travel's National Council of Attractions & Experiences, and Walks.
To learn more about Arival's previous Coronavirus Pulse report, including data on individual regions.
To learn more about travel's third-largest sector, tours, activities, attractions, and experiences, get your copy of Arival's Experience Revolution: The Global Operator Landscape.