The world's largest search engine has begun rolling out its long-anticipated Things To Do display on the Google My Business listings of select visitor attractions around the world. (The Google MyBusiness listings are the listings of the business that appear on the right side of the page next to search results on desktop, or as business listings in Google Maps.) This new display is the replacement of Reserve with Google, the booking path for tours and attractions within Google that the company said they would wind down by August.
Here are seven things we've observed, with key takeaways for tour, activity and attraction operators, and industry professionals:
1. The rollout is only on mobile, for now
2. It only features visitor attractions, for now
We did dozens of searches across numerous attractions and tour companies, and the new display does not appear on any tour or activity listings that we could find, with one exception: the Warner Brothers Studio Tour London. We could only find it on the business listings of attractions, and some major attractions at the time of writing, such as Disney Parks, were not active. Disney World still has the Buy Tickets button from Reserve with Google.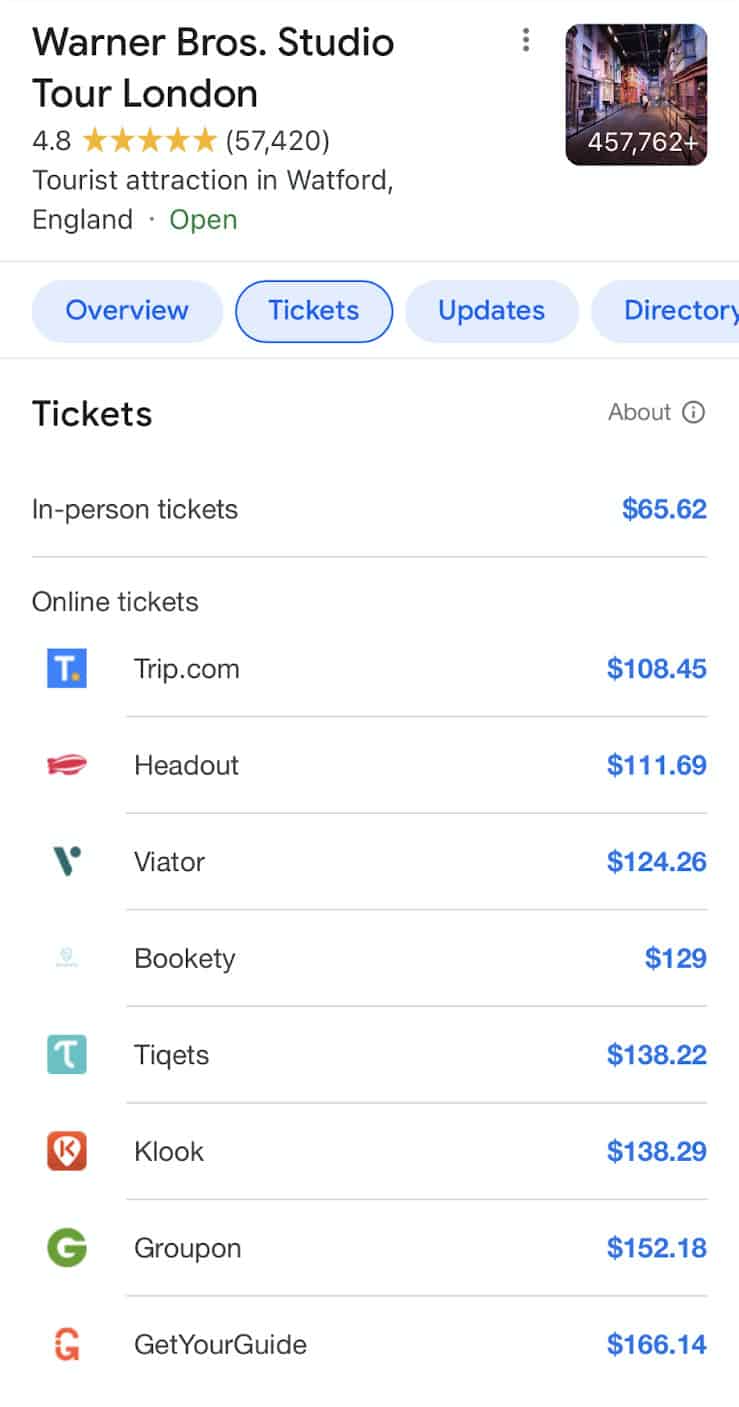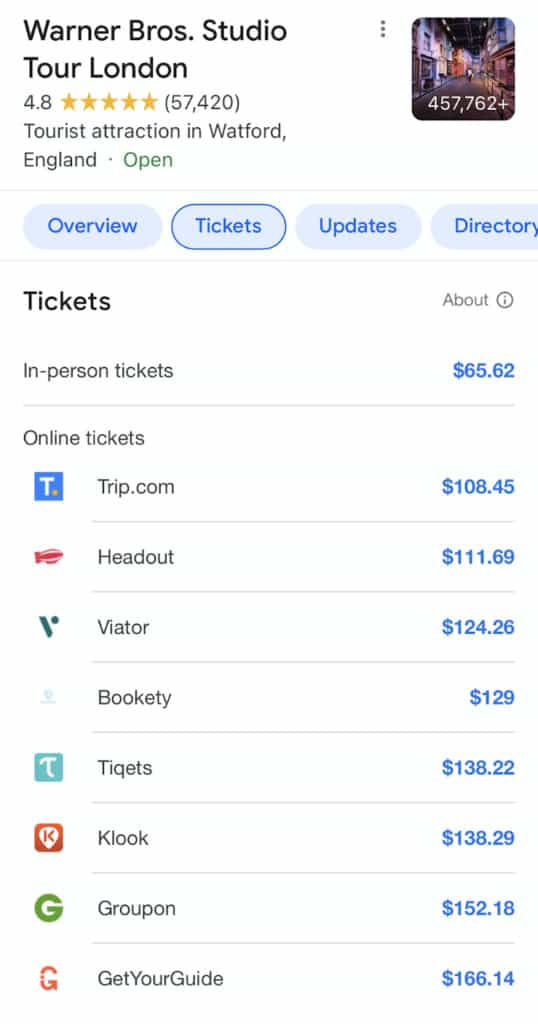 3. Free links to the attraction website and OTA partners, for now
There is a "tickets" tab on each attraction business listing, featuring links to the attraction website and OTAs. The links are free. The first link is for "in-person tickets", which links to the operator website. We think this could be confusing. Users could interpret this as the price of tickets if they walked up and purchased in person. 
Insider Pro Access Members Save 20%
THE event of the year for solutions-focused In-Destination Experience
creators and sellers
Save up to $540 with the Spring Savings ticket
Several Google partners had been saying that the link to the attraction website would be listed as "Official Website". We have put a question into Google about this. Google has often tested different languages, and we expect the company to test different terms to see what works best. 
4. The links are limited, only displaying the partner name and a single price
The product information displayed to the user is very limited. The links only display the name of the partner (or in-person tickets) and a single, lowest price. Partner links go out to the product listing page on the partner site. However, most attractions have many different ticket types. There is no information and opportunity to display different types of tickets.
There is also no date or availability display, so the user must link through and complete a search and booking on the attraction or OTA website.
5. The pricing is often all over the place (and some OTAs might not like it)
We found numerous examples of OTA links with prices that vary widely. Several factors could be driving this, such as different contracting terms, currency conversion, or OTAs adding different markups. However, we also found listings with OTAs offering very different products from the attraction tickets.
In short, Google is offering too many comparisons of apples and oranges. This makes it harder, not easier, for consumers.
This Things To Do listing for the San Diego Zoo shows in-person ticket pricing of $62, with similar pricing from three other partners, and then a listing from Viator for $102. When we clicked on the Viator link, it took us to Viator's page for a Go San Diego multi-attraction pass that provides access to multiple attractions in the city.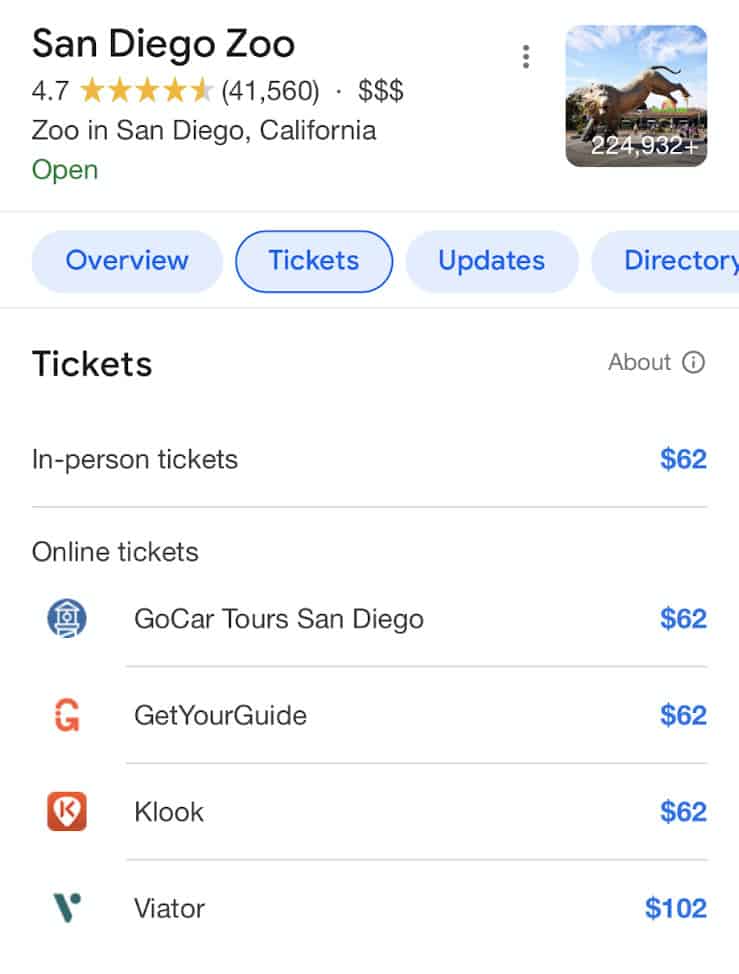 This wide range of pricing exposes the difficulty in the tours and attractions industry. This display appears to show the lowest price for each partner, and yet provides an incomplete view of ticketing options. There are myriad ticket options, prices, and ways to experience an attraction, and Google will need to explore ways to surface more information for travelers. This display does not look good for some OTAs which have other options for the attraction but with much higher prices.
6. Tour operators can be Things To Do partners too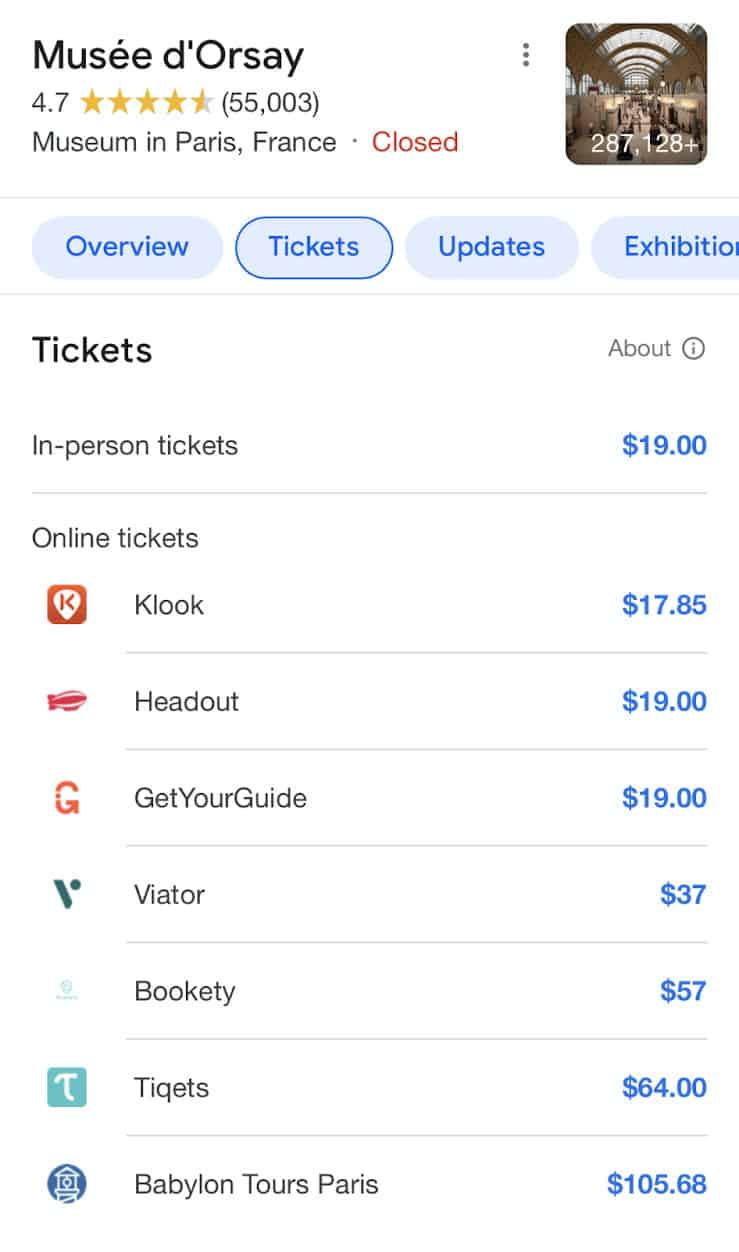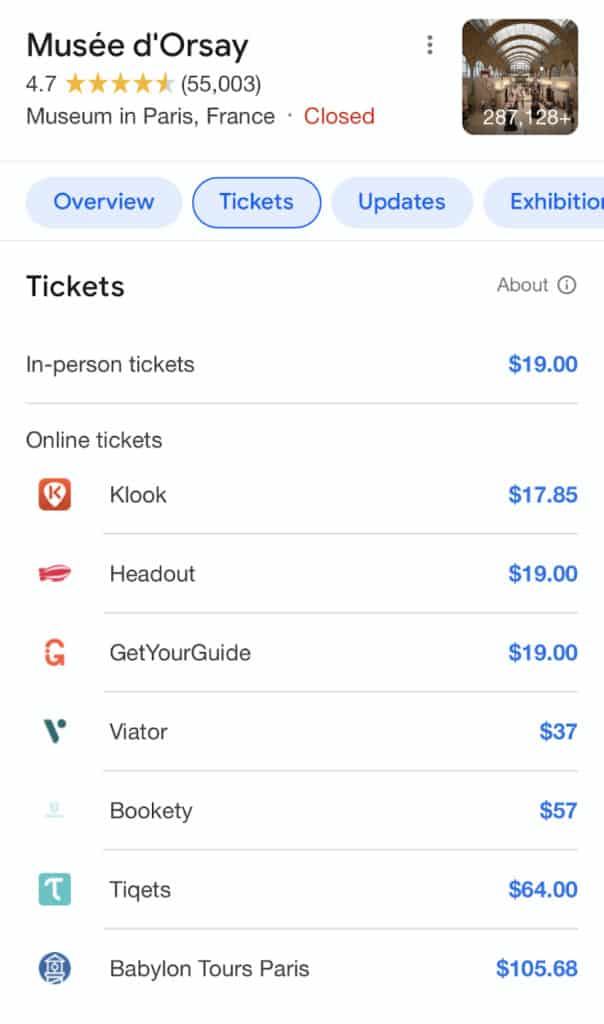 We found a few examples of tour operators with partner links next to OTAs, where a tour operator resells tickets to an attraction (such as GoCar Tours in San Diego for the San Diego Zoo in the example above). The listing for the Musee d'Orsay in Paris, below, features a listing to a tour from Babylon Tours.
7. This is early days — and there will be a lot more to come
This is a very early trial of this effort. We have a number of questions out to the Google team on the soft launch and will publish them as soon as we hear back. But one of the things we've learned from watching Google over the years in travel, is their persistence, testing, and experimentation.
So here's what to look for:
Tours and activities will come. Although this is limited to visitor attractions right now, Google Things To Do will include tours and activities. Expect more businesses to be added in the coming months.
Check your listings. Every operator and distributor for tours, activities, attractions should continue to monitor their Google My Business listings to check their displays and what partner links are presented. OTAs and other partners should monitor their links and ensure they are not displaying oranges when everyone else is showing apples.
Restech providers will play a bigger role. The Skift article from last week suggested that reservation systems would lose out here as OTAs dominate the links. However, many tour and activity reservations systems and channel managers are active partners and will play a key role as the product evolves.
Ask your restech provider about how you can optimize your listing. If your restech provider is not participating, reach out to one of the channel manager and distribution companies such as GlobalTix, LIVN, Redeam, Rezdy, Toristy and others to learn if their offerings work with your business. We know that some are offering custom landing pages for operators.
It's early. This product will continue to evolve and change. Google has never shied away from making big changes quickly. We'll continue to track them and help you navigate these changes.
Join us at Arival 360, where we'll delve into the future of Google and all things digital in tours, activities and attractions