The tours, activities and attractions sector has shown strong signs of recovery in 2022, according to the latest research from Arival and Phocuswright. This is despite the particularly heavy toll of the pandemic on operators worldwide: global gross revenues for tours, activities and attractions declined 78% in 2020, far steeper than other sectors of tourism such as hotels and airlines, according to the report's findings.
Operator Takeaway: Tours, activities and attractions are expected to play a key role in travel's recovery and in creating economic opportunity moving forward. Use the data and projections in this report to understand the trajectory of recovery for your region and sector, and the booking trends through various channels, to plan for the future.
Although the recovery is still very uneven across sectors and regions, this report – an outlook for the global travel experiences sector through 2025 – projects global gross industry revenue to surpass pre-pandemic (2019) levels by 2024, assuming no more major disruptive pandemic waves.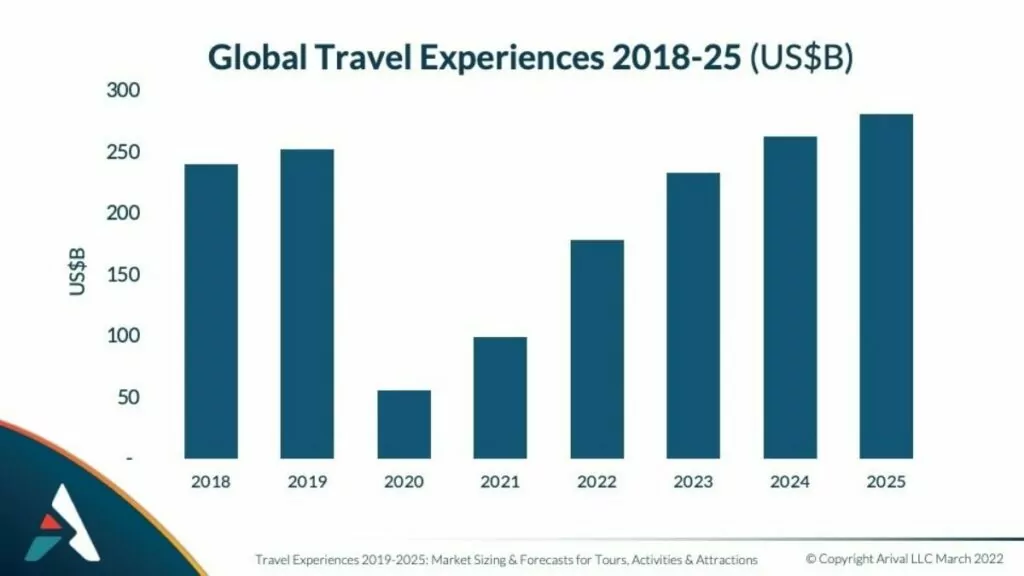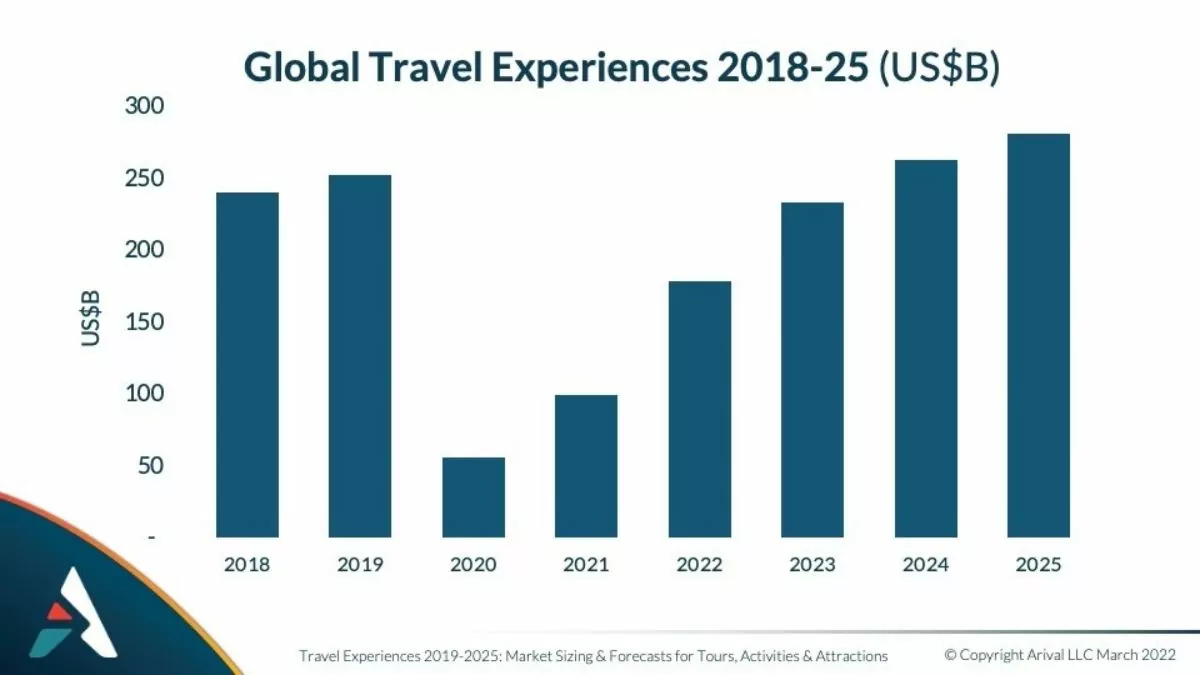 The findings presented in this report come from extensive desk research incorporating leading third-party research and data, online data capture from experience operator listings, dozens of executive interviews and Arival's proprietary industry surveys incorporating over 3,500 qualified responses from operators worldwide.
North America and Europe, Activities Lead Recovery
The recovery for the tours, activities and attractions sector is progressing unevenly across regions. North America and Europe are leading the recovery in the short term as governments ease restrictions, however the mid-term recovery for Europe through 2023 is expected to slow due to economic uncertainty and regional conflict. Travel across Asia has remained below 2019 levels in 2022 due to slower relaxing of travel restrictions, however the region will see its surge in 2023.
The pandemic's impact and ongoing recovery also varies significantly by sector. Tours and attractions, due to their dependence on international tourism, saw the steepest declines in 2020, dropping by 83% and 78% respectively. Activities actually gained market share during the pandemic, due to increased domestic interest in local, outdoor activities.
To read the full report and access the detailed projections and outlooks by region and sector, purchase the report here or become an Insider Pro Access member to get access to all Arival research, plus many other benefits. Insider Pro Access members can download the report for free.
Header photo: Ajay Donga / Pexels
GET ON THE LIST!
Sign up to receive insights tailored for the in-destination industry as well as updates on Arival.
Sign Up
Become a Pro Access member to save 20% on Arival in-person events and gain access to 600+ articles, 350+ on-demand videos, 45+ research reports, guides and more, starting at just $179/year.