Tours, activities, attractions and experiences came back with more than a bang across the U.S. and Europe in 2022. The easing of travel restrictions brought on a post-pandemic boom, as travelers prioritized travel and experiences.
The travel experiences sector surged 80% globally to nearly $180 billion in global gross bookings, according to Arival's The Outlook for Experiences 2019-2025. That growth continued into the first quarter of 2023. Tours and activities online travel agency (OTA) Viator reported a more than doubling of revenue in 1Q23 while the TUI Group's tours and activities division TUI Musement reported 91% growth during the same period.
Fewer Trips in 2023
New research suggests that the huge wave of travel demand that occurred in the wake of the pandemic may be slowing, at least among U.S. travelers. Arival, in partnership with Go City, surveyed 1,000 U.S. travelers who purchased tickets to visitor attractions in 2022. The key takeaway is cause for concern: travelers are planning fewer trips in 2023.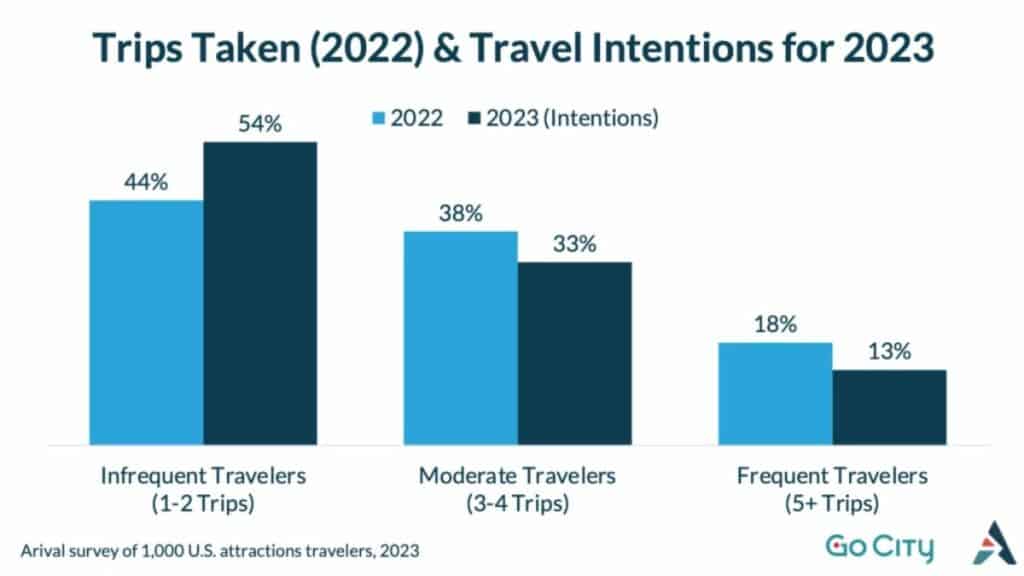 More frequent U.S. travelers say they are pulling back in 2023:
Moderate travelers, who took 3-4 trips in 2022 and represented 38% of all travelers, have dropped from 38% to 33% of travelers in 2023.
The most frequent travelers (five trips or more), have dropped 6% for this year.
In sum: most travelers are taking only one or two trips a year versus three or more in 2022.
Price Sensitivity Returns
Another key shift is the importance of price. As post-pandemic demand surged, travelers seemed almost indifferent to price. They were willing to pay for the experiences they sought.
But not anymore. Persistent inflation and the increasing cost of flights and accommodations has made travelers more concerned about how much they spend. The price of tickets has returned as a key consideration, and more travelers are prioritizing discounts and cheaper tickets as worries of a recession continue.
Airbnb noted similar concerns in its recent earnings call. Despite record bookings, the company stock fell on guidance of a softening outlook for the all-important summer season.
What this means for operators
Tours and activities operators, visitor attractions, OTAs and resellers focused on the U.S. traveler may want to consider planning for a softer second half to 2023. Visitors will be more price conscious and may not be willing to continue supporting the price increases operators implemented in 2021 and 2022.
We'll continue to monitor these trends closely and share insights with you here at Arival.travel. What are you seeing in your markets? How are summer bookings shaping up for your business? We would love to hear from you. Please reach out to us via email at [email protected] or on social media @arivaltravel.
Become an Insider Pro Access member today and get access to the full library of Arival research, plus many other benefits such as free consulting sessions, special discounts and 20% off in-person events, starting from $179 per year.
GET ON THE LIST!
Sign up to receive insights tailored for the in-destination industry as well as updates on Arival.
Sign Up