A look at the game-changing events that helped make the in-destination industry what it is today.
Something big has happened in the last half-decade: you have become a big deal.
Tours, activities, attractions, events, experiences—all of the things that travelers do in destination—have come into their own. You have moved from backstage to mainstage in travel, from ancillary to primary. You have become an industry—the in-destination industry.
Here we take a look over the past decade to identify pivotal moments that brought our industry to where it is today. Perhaps these moments also give an indication of where in-destination experiences are headed over the next 10 years. 
Here are Arival's top moments in the in-destination industry, in chronological order, from the last decade.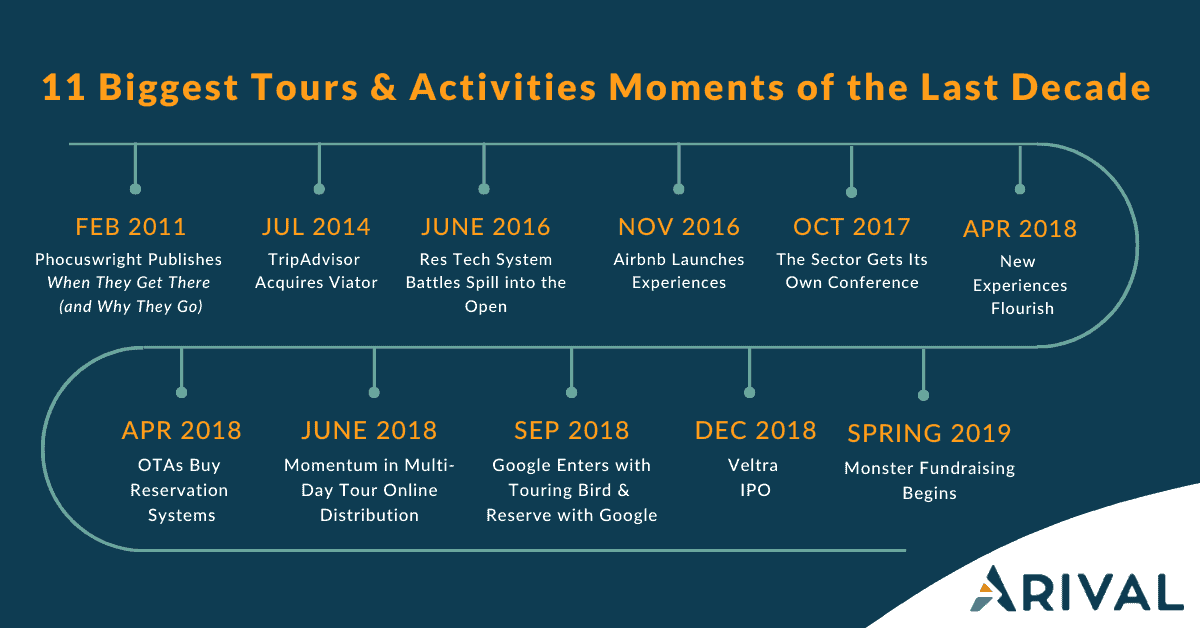 1) February 2011: Phocuswright Publishes When They Get There (and Why They Go)
It's easy to forget that as we entered the 2010's, there was little understanding of tours, activities, and attractions, or how big the sector was. The travel research firm Phocuswright undertook a seminal research study to understand the market. The report not only gave shape to the sector but also finally sized the market and arguably kicked off the sector's biggest decade of innovation. 
Startups and established players alike used the data to garner investments and begin fundamentally critical work that led to where the sector is today. It's hard to imagine the venture capital—or even strategic support in large firms working the sector—would have been there without this study. Read the executive summary of that original report.
2) July 2014: TripAdvisor Acquires Viator
Founded in 1995, Viator was—as many startups go—extremely early in trying to bring tours and activities online. It was at the forefront of many innovations in the sector, as well as a few memorable failed experiments. But nearly 20 years after its founding, the acquisition by TripAdvisor was the first major acquisition in our sector. Without a doubt, the more than $200 million acquisition put the sector on the online travel map and signaled TripAdvisor's shift from reviews and media to bookings. Today the company is the largest OTA in our sector.
3) June 2016: Res Tech System Battles Spill into the Open
The failure of reservation system company Zerve in July 2016 would hardly qualify as a major moment, but the public squabbling among other competing systems to win over Zerve's customers certainly does.
The developments, which were covered in several media reports, called attention to one of the most important trends in tours and activities today: the rapid growth of reservation tech systems and the fierce competition among them. It is these many companies that have wired up much of our industry, getting thousands of offline companies online.
4) November 2016: Airbnb Launches Experiences
We had already seen plenty of online tours and activities startups come and go by 2016. One category, an "Airbnb for tours and activities", whereby travelers could have toured with locals, had been tried by many without much success. Then in November 2016, Airbnb itself launched its own version, called Experiences, too much fanfare. 
Airbnb almost single-handedly brought "experiences" into the travel industry lexicon (e.g., TripAdvisor Experiences and Booking Experiences) and legitimized peer-to-peer tours and activities. Airbnb has grown the business from 500 experiences at launch to more than 40,000 and appears very committed to the initiative. They also launched the product of a multi-day tour, culinary experiences, and animal experiences programs, and led the most recent funding round in attractions-tech startup Tiqets. No doubt there's much still to come. 
5) October 2017: The Sector Gets Its Own Conference
This may appear self-serving, but we don't mean it to be. When we decided to take a risk and launch Arival, we wondered whether the industry would support it. We wondered whether the industry would come together. As it turned out, our industry did. In the U.S., then in Europe, then in Asia. The in-destination industry is the third-largest sector of travel, and it deserved its own conference and media site to serve it. Now it has it.
6) April 2018: New Experiences Flourish
The most exhilarating in-destination trend has been the emergence of entirely new types of experiences. From escape rooms and ax-throwing to virtual reality, food tours, and innovative pop-up experiences such as the Museum of Ice Cream, our industry seems to be in a state of continuous creativity—constantly conjuring up new types of activities and ways of experiencing places, people and culture. It's unfair to pinpoint a single moment to call out such a broad and important theme, but perhaps one that stood out for us was this press release from TripAdvisor highlighting that food experiences had grown by more than 60% in 2017. 
7) April 2018: OTAs Buy Reservation Systems
A mere two calendar days separated two monumental acquisitions for the sector's burgeoning reservation systems—moves that ended up being important for the sector for very different reasons. 
Fareharbor's $250 million acquisition by Booking.com appeared to signal that the world's largest online travel agency was ready to commit to the sector in a big way. With the acquisition, Booking.com suddenly had access to thousands of small and medium-size operators and their products. Many predicted a public marketplace launch, up- and cross-selling with hotels, and other synergies. However, nearly two years on, Booking.com's strategy for the sector still appears uncertain. Given their relentless willingness to experiment, we expect to see a lot more to come.
Not to be outdone, TripAdvisor announced its acquisition of Bokun, a smaller reservation system based in Iceland, a mere two days later. While many put the two acquisitions on equal footing, there appeared to be a very different strategy at play. TripAdvisor instantly changed Bokun's pricing, practically giving away the software. As many Arival studies have pointed out, most operators and their products still aren't online. TripAdvisor clearly felt this was a much larger problem to address: getting operators and their products online and bookable. Their bet paid off: Operators flocked to Bokun, with many treating it as "the way" to get favorable listing priority on TripAdvisor.
The debate over the acquisitions has continued, most recently at Arival Orlando 2019 when the CEOs of four major reservation systems took the stage. While OTAs have indeed since grown and continue to drive change in how they work with operators, we're not sure much has changed in the day-to-day with operators as a direct result of those acquisitions. But the acquisitions do signal the importance of reservation systems in our industry overall, and specifically in helping operators get online. Expect only more such activity in the new decade.
8) June 2018: Online Distribution of Multi-Day Tours Gains Momentum
If there was one type of product that many believe would never sell well online, it was multi-day tours. With their high ticket price, a myriad of customizable options, and general high customer service needs before purchase, it seemed practically impossible to sell multi-day tours at scale. The $50 million investment into multi-day tours specialist TourRadar in June 2018 signaled that it was changing, with further sizable funding rounds going into events and TourLane. While much of the sector's attention has remained with day tours, TourRadar and its peers have focused on the ever-more difficult task of moving multi-day tours online. And it appears to be working.
9) September 2018: Google Enters the Sector with Touring Bird and Reserve with Google
An oddly named website, which Google insisted was an experiment separate from Google Travel, instantly made a splash in the sector for the search giant. The Touring Bird project—out of its internal technology incubator named Area 120—had a novel approach to the online experience. Touring Bird enabled travelers to explore activities by themes, and also featured free tours and custom content such as tips from locals. Despite some industry reporting suggesting it was a failure, we believe the folding of Touring Bird into the broader Google Travel division in 2019 is a signal of bigger things to come.
Nearly at the same time, a much more publicly visible experiment emerged. Reserve with Google, initially launched for restaurants and spas, expanded into tours, activities, and attractions. Operators whose businesses were listed on Google Maps found a "Buy Tickets" button right inside Google Maps—a product used by over 150 million users every month. Unlike TouringBird, travelers booking with Reserve with Google never leave the Google experience to make their booking.
10) December 2018: The Veltra IPO
TripAdvisor's acquisition of Viator—coupled with Expedia's sizable presence in the sector—proved that public companies were here to stay. But it was Japan-based distribution player Veltra that claimed the mantle of the first pure tours and activities OTA to go public. After its acquisition of Paris-based CityDiscovery, the company listed on the Tokyo Stock Exchange. Veltra's stock price has gained nearly 150% since its IPO.
11) April & May 2019: The Monster Fundraising Begins—And is Put to Work
Within a month of each other, two distribution heavyweights in the sector recorded sizable investments. 
First, Hong Kong-based Klook announced a $225 million Series D investment led by Softbank. Klook had by that time already raised hundreds of millions in venture capital, driven by its ability to sell tours, activities, and other products to a growing Asian audience. 
A mere month later, Berlin-based GetYourGuide announced a $484 million investment round also led by Softbank. Industry observers reacted with shock at the size of the investment, but the fact that Softbank led the round a month after its Klook investment led to immediate speculation that the firms would soon merge. GetYourGuide, founded in 2009, has used its funding to build a sizable presence and launch efforts such as its own branded tours (GetYourGuide Originals), which CEO Johannes Reck expects to grow to become 50% of the company's revenue in the coming years.