What you need to know about Google's new booking tool for tours, activities and attractions.
Questions Answered in This Article
What is Reserve with Google, and how can it affect your business?

How do your tours and tickets appear on Reserve with Google?

How do bookings work, and how much does it cost?

Should you use Reserve with Google, and do you even have a choice?
On in-destination forums. At Arival events. While interviewing operators to hear their perspective. We at Arival have noticed some confusion when it comes to Reserve with Google, a service that enables travelers to book things to do via Google Search, Maps and Voice Assistant on Google. (Reserve with Google also works for restaurants, beauty salons and fitness studios, among other industries.)

Many operators of tours, activities and attractions have already received Reserve with Google bookings for their products, but there are still a lot of questions, the biggest ones being what it is, how bookings are handled, who pays for it and if the tool will actually get you more bookings and revenue—essentially, is it worth it?
Here's what we know about Reserve with Google—and what we don't—to help you make an informed decision on adopting this tool.
What is Reserve with Google?
Let's start with what it isn't. Reserve with Google is not a new reservation tech company. Nor is it another online travel agency (OTA). 
Reserve with Google partners with 70+ companies such as TripAdvisor Experiences, FareHarbor, Rezdy, Musement, GetYourGuide, Peek and many more to enable booking via Google. Nearly 50 more partners—including Klook, Redeam and KKday—are slated to soon join as a Reserve with Google partner. (See the full partner list here.)
Given Google's sheer number of users, OTAs and reservation systems alike signed up with Google to integrate with the brand's booking system from the get-go. 
"Reserve with Google eliminates the need to open multiple windows and navigate to a different page," says John Lynch, VP of marketing for reservation technology company Peek. "The underlying strategy means fewer clicks, which means less customer drop-off, which means higher conversion rates for operators." Theoretically, this could lead to more bookings for you.
Reserve with Google is currently available in many—but not all—countries. Jason Grout, Things To Do partnerships lead for Reserve with Google, says the company is always looking to expand into new markets. (There's no public list of countries currently available that we could find.)
How Do Bookings Work?
Your tours or tickets could appear on Reserve with Google through one of two ways: either through the reservation system you use, or through an OTA you offer your products on. In the case of reservation systems, Google integrates directly into the API (system interface) of your reservation system.
Here's how it works from a traveler's perspective: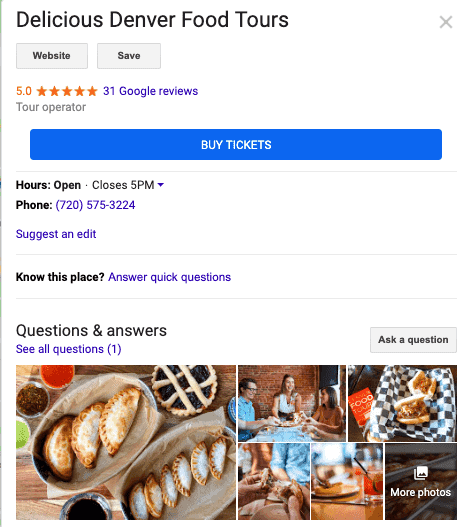 A traveler first searches on Google for say, "food tours in Denver." A list of operator companies will populate below ads, with the tour with the most five-star reviews, similar to Google's Search algorithm, appearing at the top of the list. In our example, Delicious Denver Food Tours is first. One click will bring travelers to the operator's Google My Business panel, which will display a large blue button that says "Buy Tickets." Clicking the button takes travelers to the Reserve with Google page that displays a schedule, short description, hours and price of tours, along with a prompt to purchase.
The Reserve with Google page also displays the booking partner—which in this case is TripAdvisor—at the bottom of the panel. Interestingly, Reserve with Google recently added a gray information box with a link to the operator's website above the tour offerings that seems to encourage direct bookings. "Enhanced experiences only: For general admission, buy at Delicious Denver Food Tours official website. The following are sold in partnership with providers," the box reads in small text.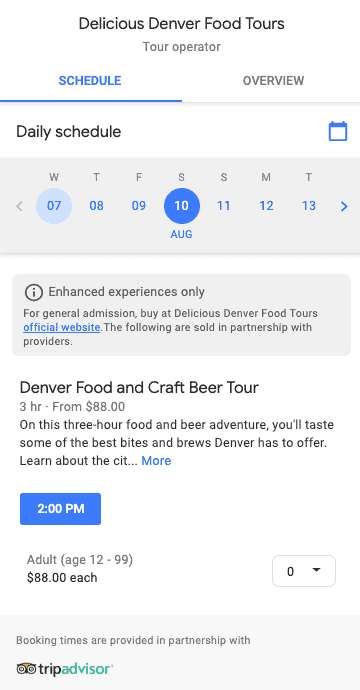 If users continue to purchase with Reserve with Google, and the booking partner is an OTA such as TripAdvisor, the booking will show up for your tour or attraction as any other booking through the OTA. In fact, it is likely you would not even know that the booking came from Reserve with Google. And yes, that also means that if the booking is handled through your OTA, each booking will carry the commission rate as usual. 
If booking with Rezdy, travelers will receive confirmation emails from both Google and an additional booking confirmation email from Rezdy. 
If the booking partner is the reservation system that you use, then the booking will be reflected in your system dashboard or calendar like any regular booking. 
What Does it Cost?
Here's where things can get a little complicated. 
Google's Grout says Reserve with Google is currently a free service. So costs for you vary based on who handles the booking. For some reservation systems, there is no cost at all.
"When a product is booked using Reserve with Google, there's no additional cost for our operators," says Peek's Lynch. 
"Neither FareHarbor nor Google charges a setup or maintenance fee to connect FareHarbor clients to Reserve with Google," says Ted Clements, chief operating officer for FareHarbor. "In addition, price and cost for the supplier and the end customer is the exact same as if an end consumer were to book directly on a supplier's own website." 
For the Australian-based reservation tech company Rezdy, the model is a little more complex, as the company offers a unique B2B distribution service, or channel manager, called Rezdy Marketplace. This enables transactions to occur between suppliers and other resellers. For OTA bookings through Marketplace, Rezdy charges a 5% fee off of the reseller's commission for this service.
"This is effectively the same service that we use to plug into Reserve with Google. There's only one difference, which is that Google doesn't take commission," says Chris Atkin, CEO of Rezdy. "What would otherwise would have been costing the operator say, a 15% commission, Google isn't taking that money. But Rezdy is still providing that exact same service… so we take a 5% fee as we would be from the marketplace."
If operators work with multiple resellers, such as OTAs and reservation tech providers, obviously operators would want bookings to be completed through the low- or -no-commission booking platforms for greater profits. But this is where things get a little murky. Google's Jason Grout says, whenever there are multiple partner booking options, Reserve allows users to pick. 

Rezdy's Atkin says Google has made a commitment to try and prioritize the operator's source system, but currently it's likely down to Google's proprietary algorithm. With the new "Enhanced experiences only" information box, direct bookings to operator websites are also an option with Reserve with Google (albeit a less obvious one due to its small text and lack of bright colors). 
Operators cannot choose which source system travelers use to book their tours. 
Can Every Operator Use Reserve with Google?
Not every operator is eligible to use Reserve with Google. First, you must work with an OTA or reservation system that is a Reserve partner. Reserve with Google isn't available in every country, and reservation tech companies such as Rezdy can only work with operators using U.S. and Australian currencies. "That's the limitation we have at the moment, but we're working with both Google and Stripe , as well to expand that," says Atkin, who adds getting Canada and New Zealand on board are a priority. 
Additionally, some limitations may apply with Reserve with Google and their partners. For example, operators using Rezdy who have tours that exceed US$1,000 are not eligible. It's worth reaching out to your reservation tech provider to ask about limitations.
TripAdvisor selects operator partners to participate in their Reserve with Google program by examining criteria that best fits with Google's platform, including starting points, tour starting time and the type of activity. Simple, straightforward booking is prioritized. "All of this type of information has to be easily and accurately transferred," a TripAdvisor spokesperson tells Arival. "As the partnership evolves, we're building out new features that will make integration easier and allow for more products to be added." 
Should You Use It? 
You do have a choice to use Reserve with Google if you're using it through the res tech systems we spoke to.
If you're working with an OTA such as TripAdvisor, that's a different story. TripAdvisor automatically populates Reserve with Google products based on the technical specifications set above. And unlike booking with reservation software, you cannot opt out of Reserve with Google with TripAdvisor. "At the moment, we don't offer operators the option of selecting channels; however, there's tremendous value in being a part of our entire network," says a TripAdvisor spokesperson. "We choose partners very carefully with the aim of increasing exposure for all of the products available on our site." 
However, at least one large West Coast attraction told Arival they successfully opted out of Reserve with Google by telling their OTA partner not to post their product, as the offering was cannibalizing their direct website sales because the attraction showed up first in Google Search. 
It's a good idea to Google your company to see if it's currently listed as a Reserve with Google product, and to see how your tour, activity or attraction displays and functions. Check to see how your pricing is structured, and note if your hours are correct. Arival found several examples of attractions that had varying hours in the Reserve with Google booking page. 

Lingering Questions
Operators may still have many questions about using Reserve with Google—not the least of which include lingering wariness over Google's not-so-slow moves into the in-destination industry. Plus, just because Google products are free now doesn't mean they'll be free forever. (Grout says while there's potential for Reserve with Google to be monetized in the future, it's currently not the company's focus.)
Andy McSweeney, founder of Photo Tour Brugge, based in Belgium, views Reserve with Google with cautious optimism. "I'm looking forward to it and I'm excited to book with it," he says, adding that he's long been frustrated with the 25% commission rates he often sees from OTAs—an acute challenge given his small business. 
"If Google is free and I have a partner who takes a small part off the top to provide a service, well that's something I can work with. But my main concern is where you end up making a channel booking base that builds up, and then the business model shifts to something unfeasible. I'm not paranoid, but that doesn't mean I don't think there's not someone out to get me."
Stay tuned for more updates on Reserve with Google on Arival.Travel.