Arival dives into the data to understand why nearly half of U.S. travelers don't take tours—and what you as an operator can do about it.
Almost half of all U.S. travelers take at least one tour on their vacation. But what about the other half? What's preventing them from not taking a tour? And more important, what can be done to woo them into the tour-taking world?
According to Arival's recently published report, Why We Tour: Inside the Mind of the Modern Tour Taker, U.S. travelers who do not add tours to their vacation itinerary claim they prefer to experience a destination on their own and do not want to travel in groups. Therefore, Arival refers to such travelers as "solo explorers," people who are resistant to group tour experiences.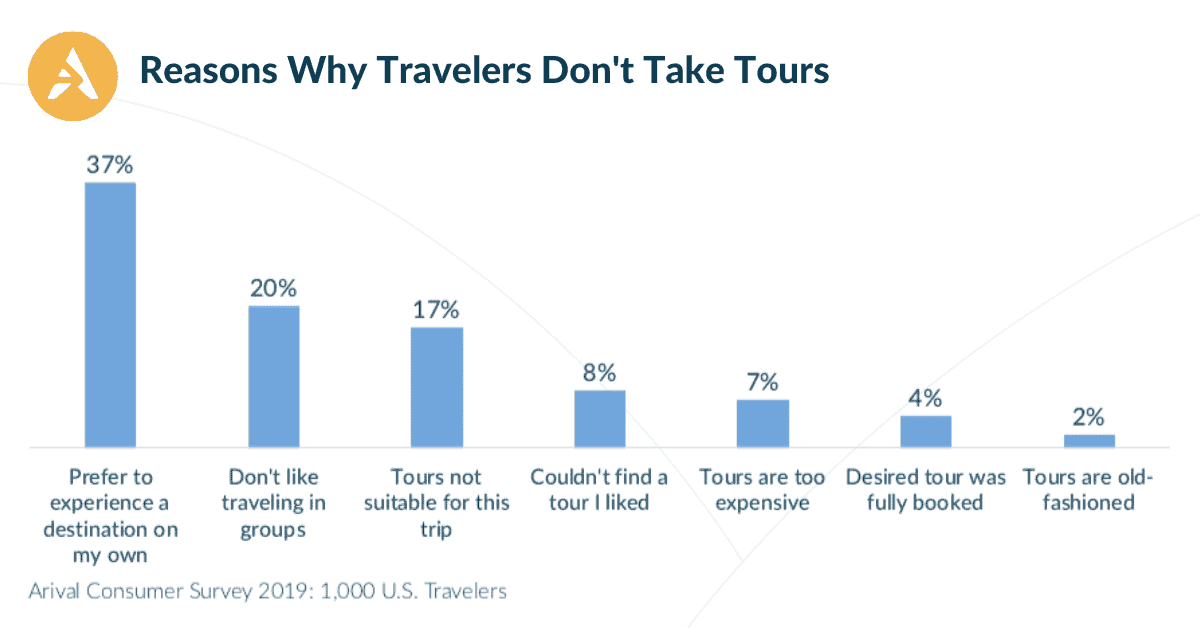 The good news: Travelers who do not take tours rarely express a negative impression of tours, and they don't explicitly think tours are too expensive or that they are old-fashioned. This finding is promising for the in-destination industry, as it would be an uphill battle to convert travelers who inherently have deep-seated negative feelings about tours.
The key question: What steps can operators take to transform solo explorers into tour takers?
Three in 10 solo explorers say they would never consider taking a tour in the future—a group that is likely not a prime target for operators. However, about half of all solo explorers are willing to consider a private or small tour with 10 or fewer people in the group. Another 15% of solo explorers say they would consider a self-guided tour via an app—meaning they still want a self-guided experience but desire curated content about their destination.
Therefore, solo explorers represent a group of untapped potential for tour operators.
Tour Operator Takeaway: Consider a Small-Group Experience
Half of U.S. travelers are currently not adding tours to their vacation itinerary because they don't like groups and would rather explore a destination by themselves or with their traveling companion. But almost half of these solo explorers expressed interest in trying private or small-group tours of less than 10 people.
Tour operators can help convert these travelers into tour takers by highlighting their unique small-group experiences. Overcoming the misperception that all tours are unwieldy, less-intimate experiences could help inspire some solo explorers to participate in a tour. Additionally, tour operators can consider adding private tours to their product suite, and charge a higher price for a personalized experience to offset costs.
Want more business-building data and insights? Download Arival's comprehensive new report, Why We Tour: Inside the Mind of the Modern Tour Taker, today!