It's among the most widely used – and misunderstood – buzzwords in tours, activities and attractions: "channel management." More and more, online booking and ticketing systems don't just offer connectivity to online travel agencies (OTAs) and other resellers; they offer a "channel manager."
But what exactly is channel management? Why does the tours and attractions sector of travel need it? Perhaps more importantly, do you need a channel manager?
We set out to demystify channel management for the in-destination experiences sector, with our newly released Arival Guide to Channel Management. Produced in partnership with five technology providers – Gateway Ticketing Systems, GlobalTix, Globick, Livn and Rezdy – this guide walks you through everything you need to know.
What is Channel Management?
The term channel management comes from the airline and lodging sectors, where the practice and software available are well established.
Channel management refers to the ability to distribute operators' product availability, rates and inventory across multiple sales channels and receive bookings from connected resellers via a single software connection or service.
A channel manager refers to a software platform, service or vendor that provides that capability. It should enable the operator to manage those channels with discretion. In other words, a channel manager enables the operator to apply rules at the channel level, such as inventory allocations or cut-offs, special pricing, or other conditions.
Why Channel Management Matters?
Most tour, activity and attraction operators distribute their products through an average of four resellers, according to Arival's Technology & Connectivity Report.
Without channel management, working with multiple distribution partners requires the operator to develop a connection and manage a process with each OTA or reseller.
Each booking system provider and reseller must develop a new API, or connection, to each other. Operators and resellers without direct connections must manage their booking processes manually. This means staff must take time to manage all product information and bookings, adding costs and the risk of errors.
Distribution without Channel Management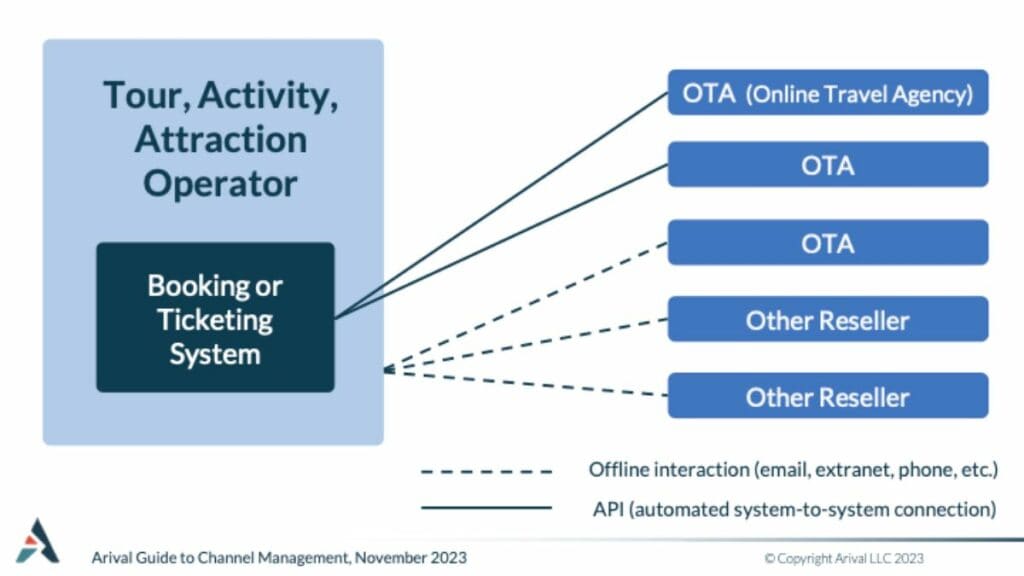 Enter channel management. A channel manager should provide a "one-to-many" connection to multiple resellers. However, a channel manager should enhance your ability to manage resellers across that one connection. We refer to this as "distribution with discretion." In other words, you should have the ability – if you want it – to set specific rules by channel.
Distribution With Channel Management, a.k.a. "Distribution With Discretion"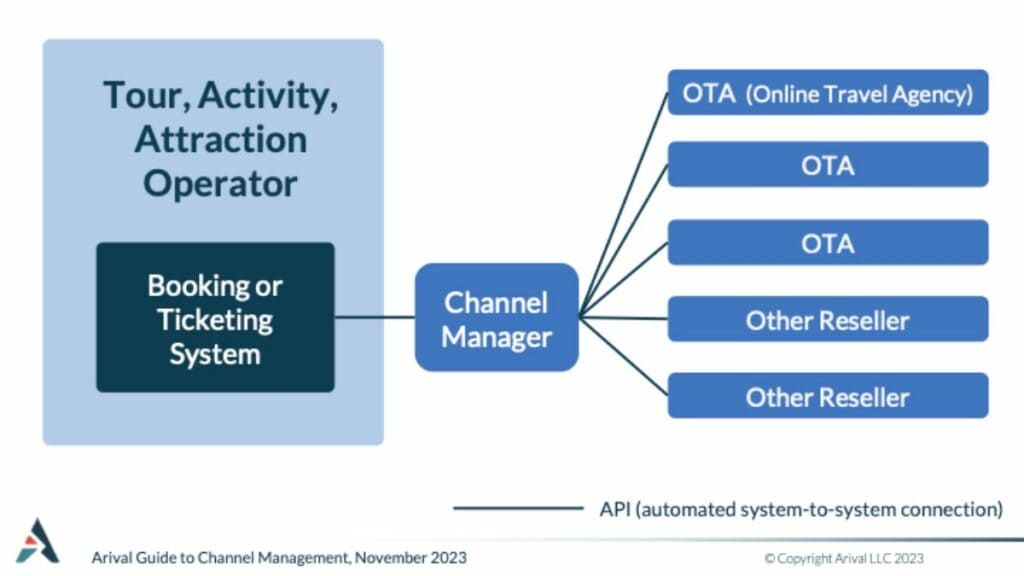 Do I Need a Channel Manager?
This free and concise Arival Guide to Channel Management provides everything you need to understand this new trend in distribution technology and evaluate the best approach to your business, whether channel management is right for you, and how to evaluate potential channel management providers.
This guide features the following key sections:
Do You Need a Channel Manager? This walks you through key questions you need to ask of your business, starting with the most important – what are your distribution goals.
Evaluating Channel Managers. This section goes step by step through seven key considerations every tour, activity and attraction business should ask when evaluating channel manager providers.
Channel Management & Distribution Options. This section covers key approaches to managing multiple reseller channels and provides an overview of 13 providers of independent channel management solutions.
Who Offers Channel Management to Experience Operators?
Channel Management Providers
This guide covers the following providers of independent channel management and connectivity services:
Booking System Providers
There are several booking system providers with multi-channel distribution services, including Bokun, bookingkit, Checkfront, FareHarbor, The Flybook, Peek, Regiondo, RocketRez, Xola and Zaui.
Experiences Marketplaces and Resellers
There are also several experiences marketplaces and resellers, including Holibob, Servantrip, Broadway Inbound, and OTAs which also offer distribution marketplaces.
Get Your Copy of the Arival Guide to Channel Management
The Arival Guide to Channel Management: Strategy, Connectivity & Technology is available for free to all Insider Free and Insider Pro Access Members — simply sign up and/or log in and download your copy today.
Become an Insider Pro Access member today and get access to the full library of Arival research, plus many other benefits such as free consulting sessions, special discounts and 20% off in-person events, starting from $179 per year.
GET ON THE LIST!
Sign up to receive insights tailored for the in-destination industry as well as updates on Arival.
Sign Up