Cancellation rates in the U.S. experiences sector have almost — but not quite — returned to normal, according to new data from online booking system Peek.
The rate at which travelers cancel their tour, activity, or visit to an attraction continues to be slightly more volatile. Monthly rates fluctuate a few percentage points higher or lower than the pre-pandemic average.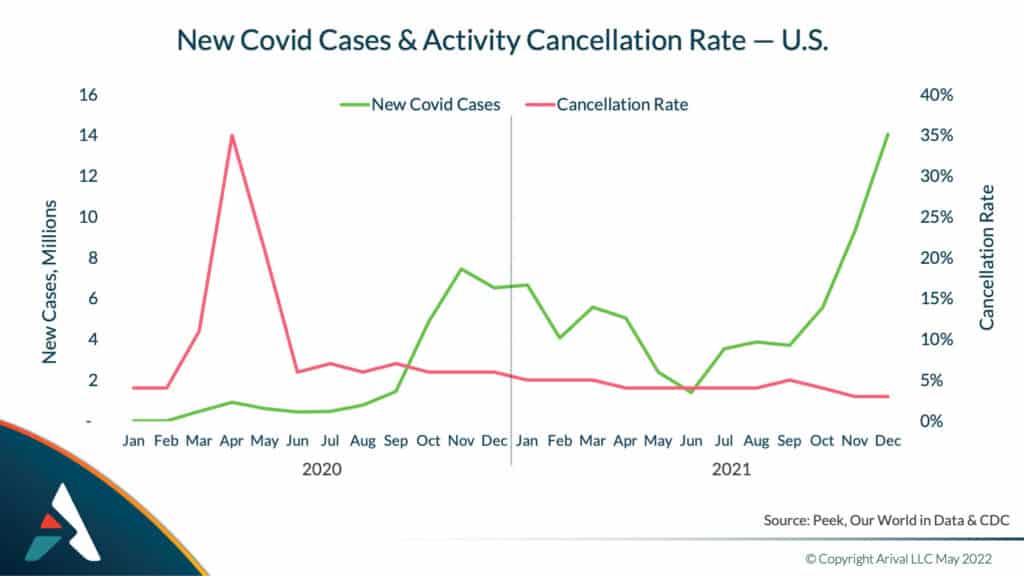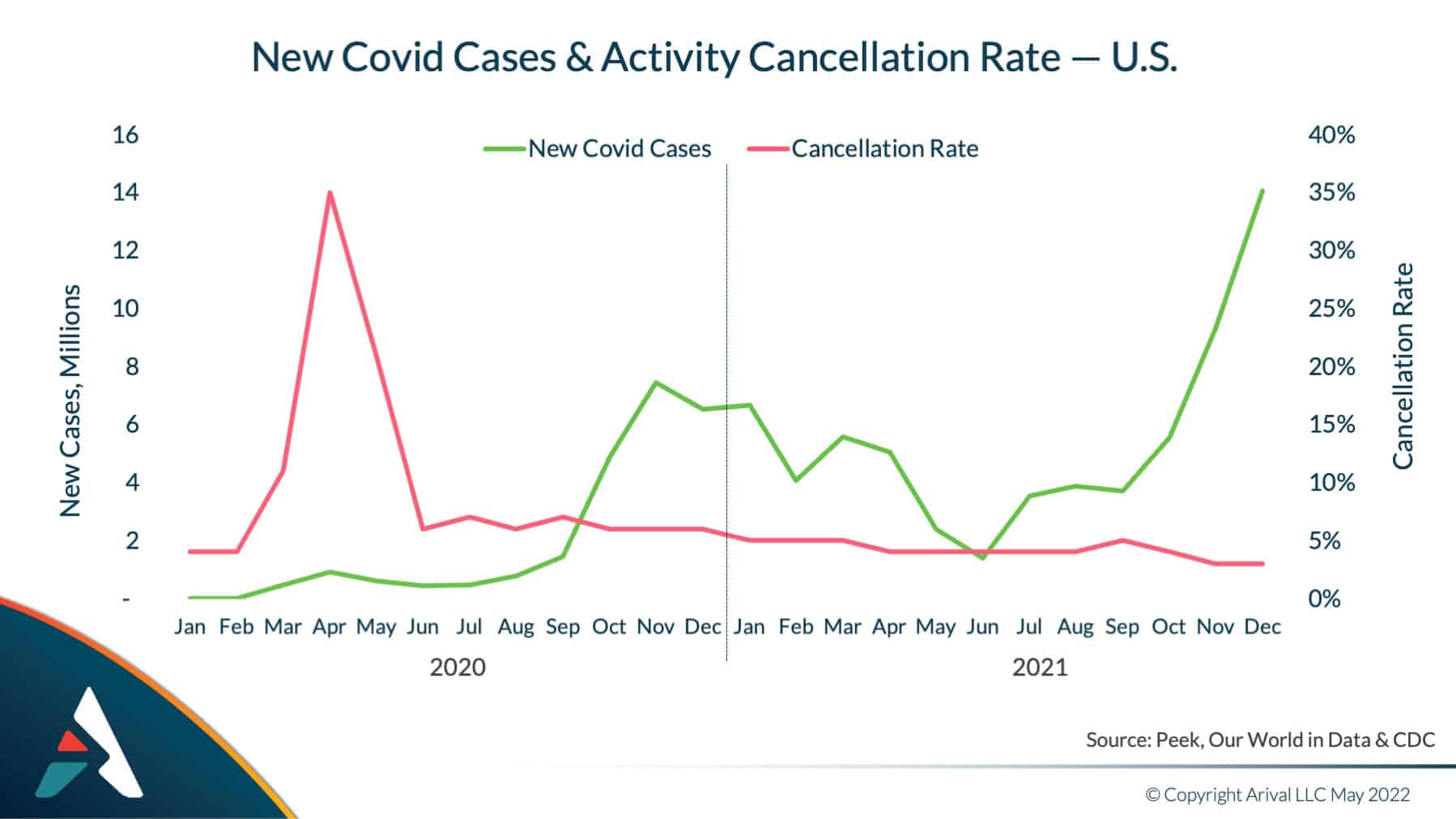 Currently, there does not appear to be a correlation between Covid news and cancellation rates. In the U.S., cancellation rates declined even when the Omicron variant accelerated last December.
This differs from Arival analysis of similar data from European operators via booking system Regiondo, where cancellation rates increased during Covid waves. This may reflect the more lenient U.S. response to Covid, while European countries imposed more restrictions.
Prior to the pandemic, the rates in the U.S. held at a steady 4% every month. These rapidly began to grow in March 2020 and peaked at 35% in April 2020 before declining again.
By June of 2020, when several states in the U.S. began to reopen, cancellation rates had fallen back to 6%.
Travelers canceled their plans less often through 2021, and in November of last year the rate bottomed out at 3% before rising again to 5% in January 2022, possibly due to Omicron.
Changes to Cancellation Terms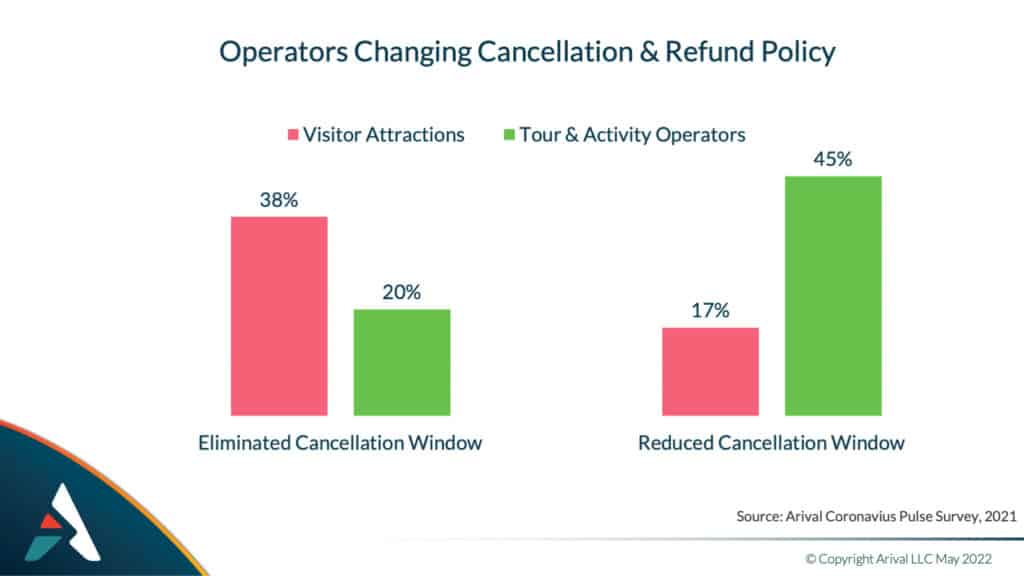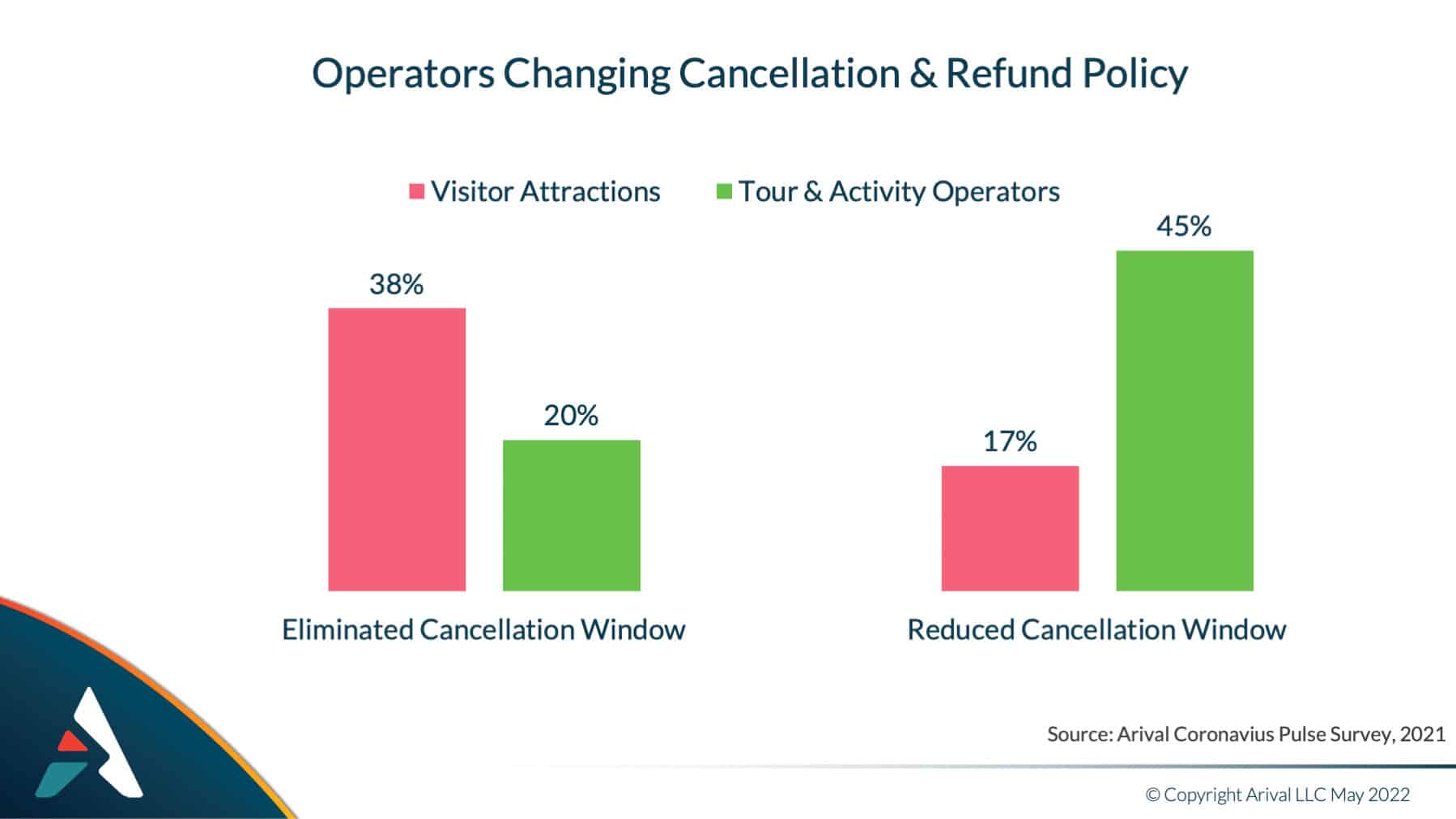 The risk of cancellation was a major traveler concern during the pandemic. A majority of operators and attractions either reduced or completely removed their cancellation window. Some 20% of tour and activity operators in the U.S. eliminated the window, and 45% reduced it. 38% of attractions eliminated their window, and 17% reduced it.
Booking Windows Have not Returned to Normal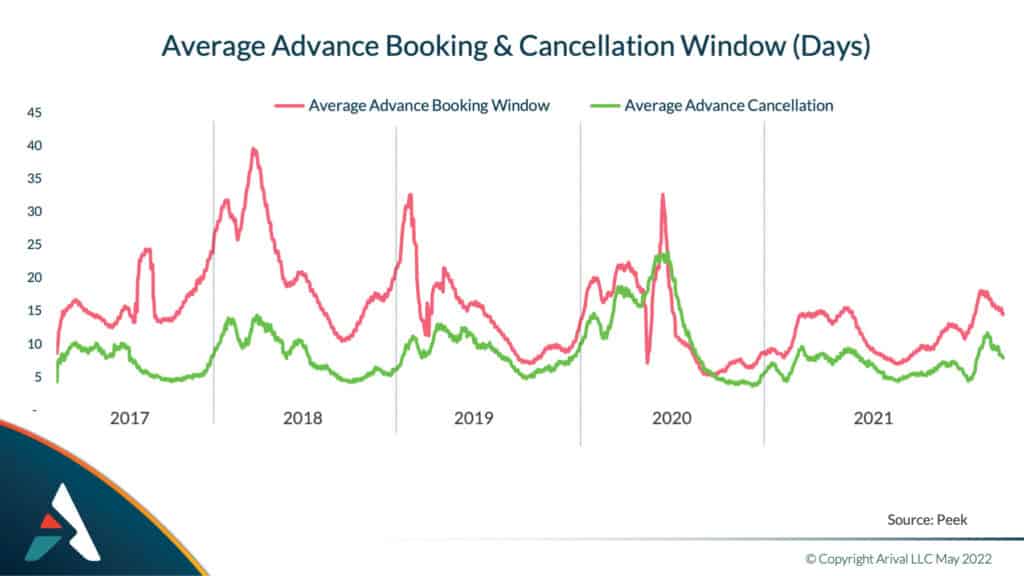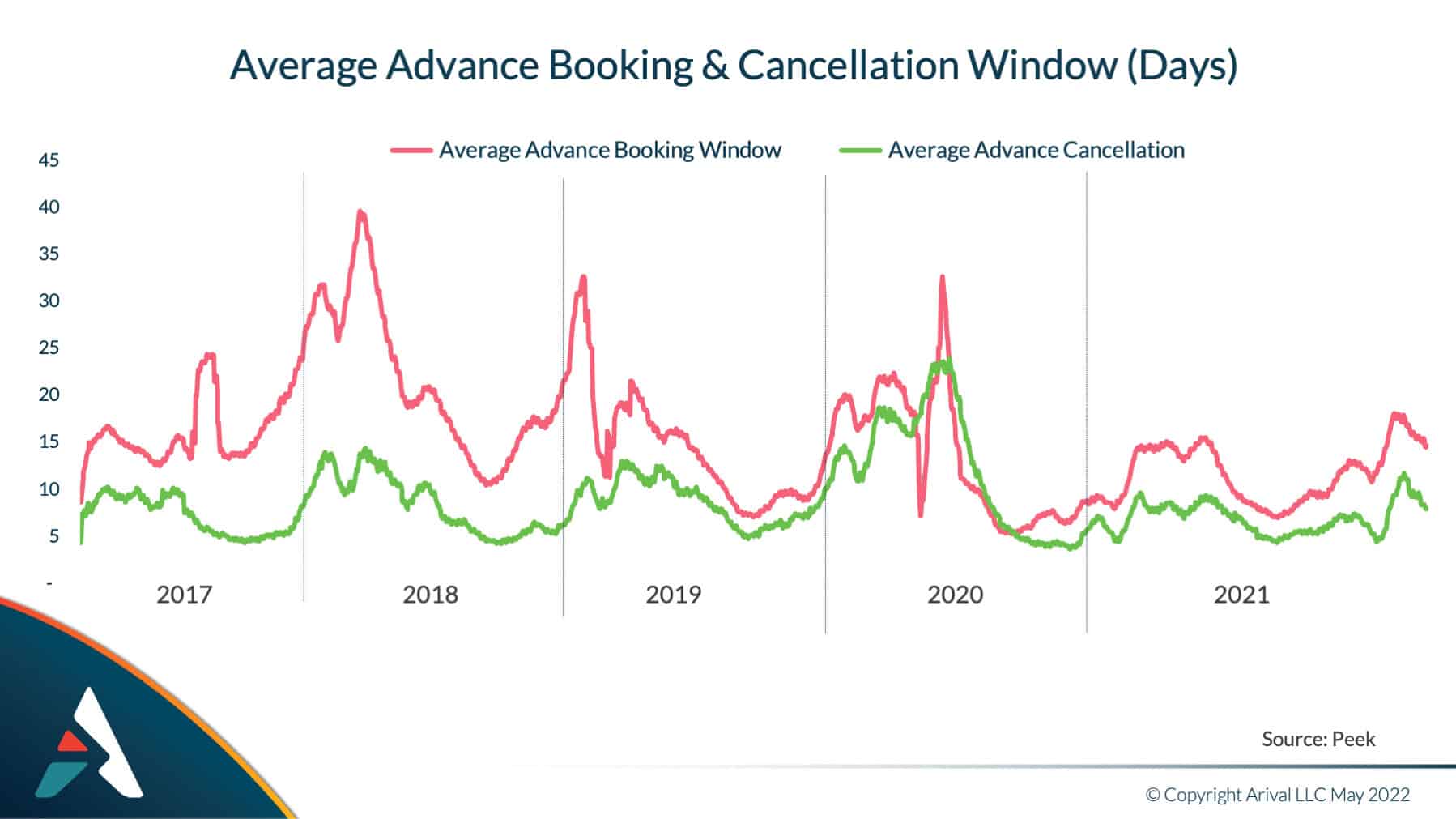 Booking windows are still shorter than they were before Covid struck and have not returned to seasonal trends.
In the winter months before the pandemic, people could book their experience a month and a half in advance on average. In February of 2022, travelers booked their tour or activity two weeks in advance, a significant contraction vs. pre-pandemic patterns.
Windows in the summer have shortened slightly. Normally, travelers would book seven to 10 days in advance during the summer and in August 2021, they booked seven days ahead.
Advance cancellations track this trend in the winter, falling from two weeks notice to seven to nine days. However, during the summer months, the number of days in advance consumers canceled their activities stayed the same — five days — between 2019 and 2021.
The Local Surge Is Almost Over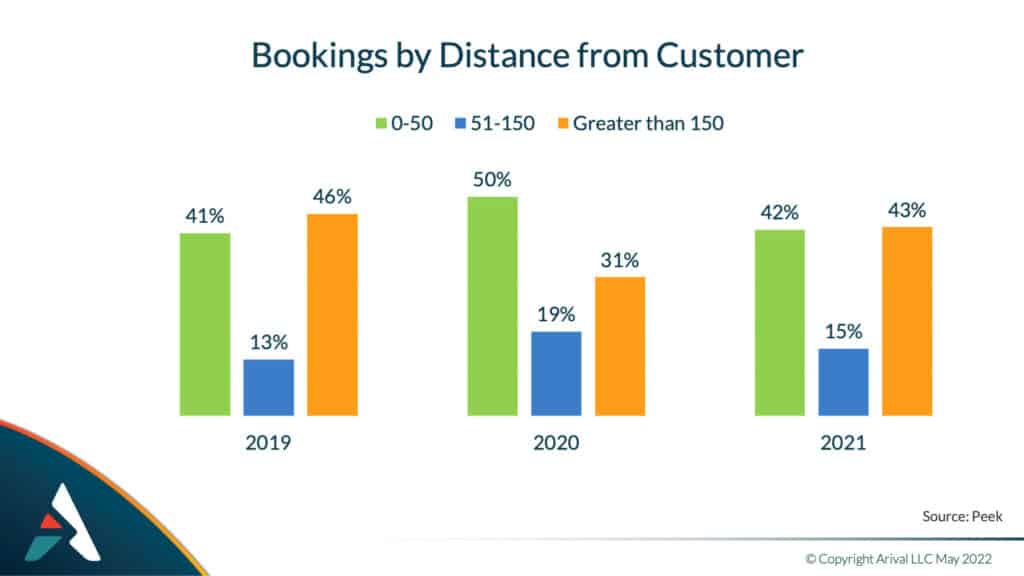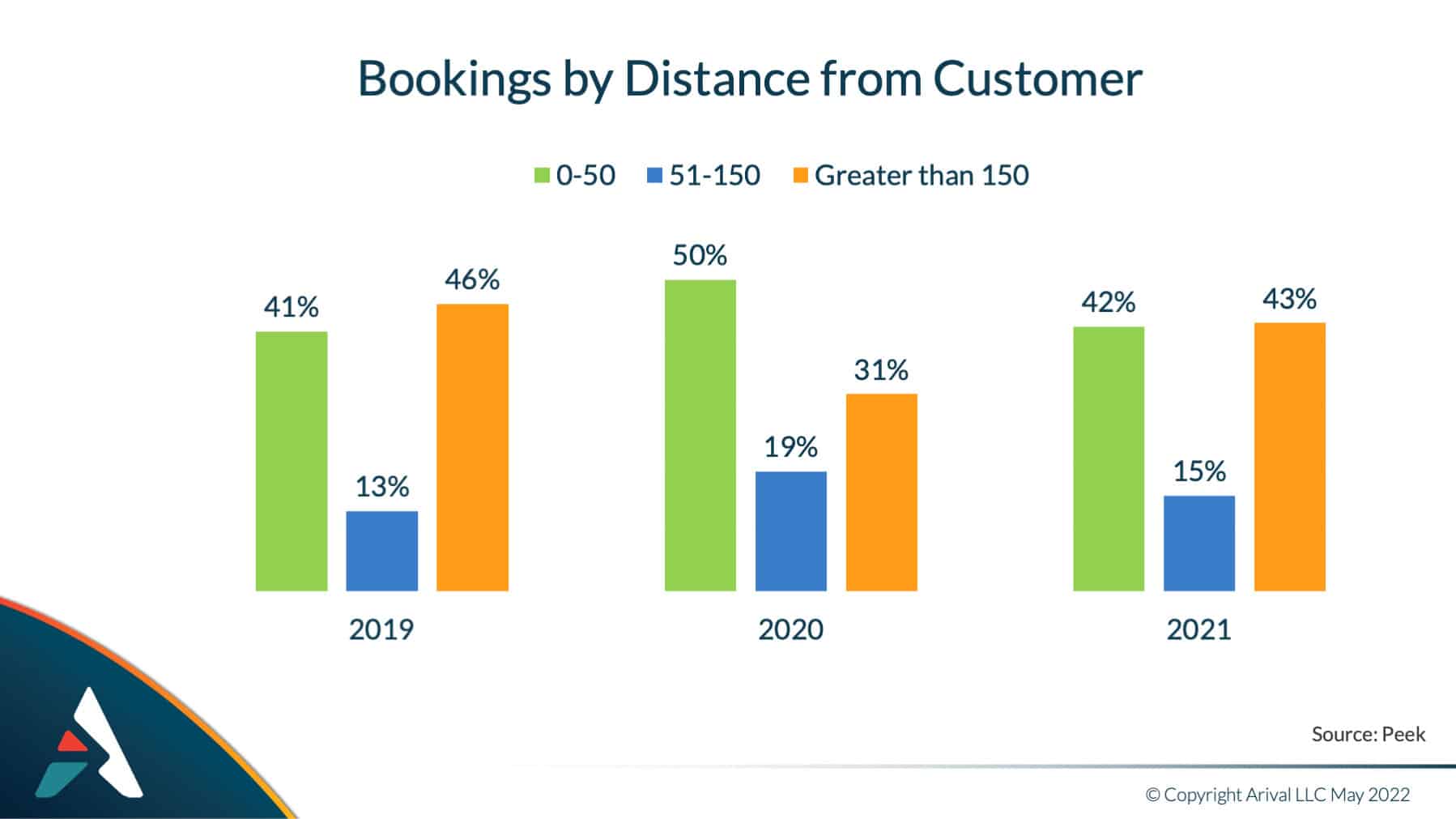 After a big shift toward staying close to home early in the pandemic, the distance that people are traveling has almost returned to normal.
In 2019, 41% of people traveled 0–50 miles for their activity, 13% traveled 51–150 miles, and 46% had a journey of greater than 150 miles.
This changed dramatically in 2020. 50% traveled 0–50 miles, 19% traveled 51–150 miles and 31% went further than 51–150 miles, a significant drop vs. the prior year.
By 2021, distances traveled were returning to normal for U.S. travelers: 42% traveled 0–50 miles, 15% traveled 51–150 miles and 43% traveled greater than 51–150 miles.
GET ON THE LIST!
Sign up to receive insights tailored for the in-destination industry as well as updates on Arival.
Sign Up