There is hardly a single operator of tours, activities or attractions that hasn't had to contend with a surge of cancellations at some point over the past two years. After a period of increased cancellations due to the recurring waves of the Covid-19 pandemic and travel restrictions, cancellation rates appear to be stabilizing and returning to pre-pandemic levels.
Key Takeaways for Operators
Cancellation rates across European tours, activities and attractions averaged 10–12% during the pandemic after the surge in February–March 2020
Cancellations are returning to pre-pandemic levels (8% on average)
There is likely wide variation across operators that are more dependent on international travelers vs. local and domestic visitors
Cancellation rates on OTAs and indirect channels appear to be more volatile, but comparable to direct channels
Stay flexible: operators should stay flexible with cancellation and refund policies amid continued uncertainty in Europe
What we did
Arival partnered with Regiondo, a reservation system provider in Europe. Regiondo analyzed their aggregate booking data across their operator customer base and provided Arival with aggregate cancellation rates on a monthly basis from January 2019 through December 2021.
Cancellation rate is defined as the percent of all bookings canceled on a monthly basis.
Cancellation Rates in Europe
Cancellation rates in Europe in 2019 generally tracked in the high single digits, averaging 8% for the full year. Cancellations started to increase in January of 2020, rising to 14%, when the pandemic was accelerating in China and the first cases of Covid 19 were reported in Europe. See Figure 1.
The first major outbreak occurred in northern Italy in late February 2020. Regiondo reported cancellations reached 19% for the month, and then peaked at 30% in March, as the coronavirus spread across the continent and countries implemented widespread lockdown measures.
Cancellation rates subsequently declined to near pre-pandemic levels but always remained slightly higher vs. the same period in 2019. Some 10% of bookings were canceled in June 2020 and 8% in July and August, vs. 8% and 7%, respectively, in 2019.
There is likely wide variation in cancellations across different operator segments. Tour operators in key destinations that are dependent on more international visitors have seen higher cancellation rates and more volatility in overall cancellations, while attractions, activities and other experiences that cater to more local and domestic visitors have likely experienced lower cancellation rates overall.
Uncertainty, More than Covid, Drove Cancellations
There is, of course, a correlation between Covid and tour and activity cancellations, but it is not as simple as you might expect. The biggest factors driving cancellations appear to be not just the volume of case numbers but traveler uncertainty around the pandemic as well as government lockdowns and other restrictions to prevent the spread of the virus.
The biggest surge in cancellations occurred in February–March 2020 when the pandemic was just beginning in Europe. The new case count was relatively low, but cancellations peaked in March, clearly driven by lockdowns and traveler uncertainty. Cancellation rates increased again in the fall and winter months of –2021 as the second big wave of the pandemic accelerated in Europe. At that time, new cases across the continent averaged 7 million in November and December 2020.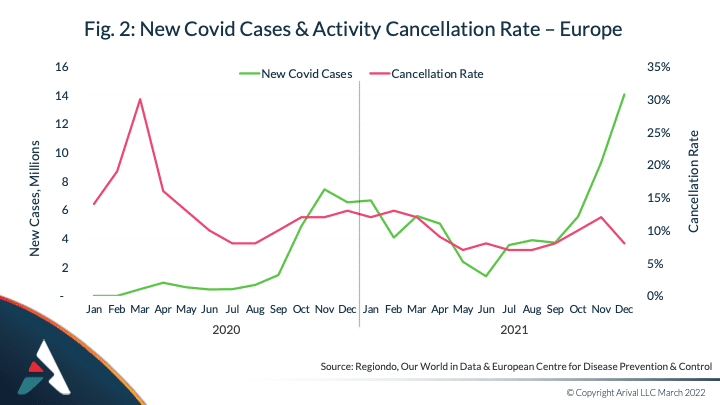 Cancellation rates declined into the spring and summer of 2021 as the winter wave in Europe receded, but picked up again in October and November as the Delta and Omicron variants spread across Europe.
However, cancellations did not accelerate in the 2021–2022 winter in Europe at a corresponding rate to the rise of Omicron. As new cases topped 14 million in December 2021, the cancellation rate did rise from August through November to 12%. However, cancellations then fell to 8% in December.
This drop suggests that traveler confidence around the pandemic plays an important role in whether they decide to proceed with a tour or activity. Now more experienced living with the pandemic, as well as with widespread access to vaccines, travelers and local experience guests are increasingly comfortable making — and sticking with — their plans for tours and attractions despite the unprecedented surge in new cases.
3 in 5 Operators Have Changed their Cancellation & Refund Policy
A significant majority of operators — three in five — have made their cancellation and refund policy more flexible since the onset of the pandemic. The biggest travel concern that inhibited booking was the risk of having to cancel due to uncertain travel restrictions or due to illness. Most operators responded by making their policies more flexible.
According to Arival's operator pulse survey conducted in 2021, 65% of tour and activity operators and 55% of visitor attractions (ticketed attractions such as cultural sites, amusement parks, zoos, museums, etc.) either shortened their cancellation cutoff window, or eliminated it altogether. More attractions eliminated their cancellation window (38%), while more operators (45%) shortened it.
With Covid case numbers rising again in Europe and Asia, and now the war in Ukraine, uncertainty in travel planning is likely to persist well into 2022. Operators should continue to maintain as much flexibility in their cancellation and refund policies as possible.
Cancellations on OTAs, Indirect Channels More Volatile
Cancellation rates across different sales channels appear to be similar on average. However, the indirect channel has higher highs and lower lows. Regiondo segmented the data by two points of sale — the direct channel (bookings through an operator's website or direct offline booking) and indirect (bookings through OTAs and other channels connected via Regiondo's reseller API, or application programming interface to the booking system).
The higher cancellation rates on indirect channels during key booking periods and Covid waves are likely linked to the increased cancellation rates from tourists and international travelers vs. local or domestic visitors. OTAs and other indirect channels serve more international travelers and the tourist market in general, and are thus subject to higher cancellation rates when travelers change their plans or when regulators imposed restrictions.
Some online travel agencies (OTAs) have also pushed for more flexible cancellation policies from operators. Many strongly encourage or even require cancellation up to 24 hours in advance. In October 2019 Viator introduced a "Reserve Now, Pay Later" model to encourage travelers to book and ease concerns about having to cancel.
Outlook & Planning for 2022: Stay Flexible
Although the worst of the pandemic appears to be behind us, case numbers are rising again in Europe as we publish this. The war in Ukraine is adding only more uncertainty around the spring and summer travel season.
Operators should continue to be as flexible as they can with their cancellation and refund policies. There is likely to be continued volatility and higher overall rate of cancellation as travel resumes through 2022.
About Regiondo & the Data
Founded in 2011, Regiondo is a leading provider in the booking system market for tours, activities, and destinations across Europe. The data in this article is based on the percentage of canceled bookings across tens of millions of bookings on the Regiondo system between 2019 and 2021.
GET ON THE LIST!
Sign up to receive insights tailored for the in-destination industry as well as updates on Arival.
Sign Up