Nearly half of all operators and three in five small operators do not have an online booking system, Arival's latest report has found.
The Technology and Connectivity report delves into the state of booking system adoption and satisfaction, connectivity and tech priorities of tour, activity and attraction operators worldwide, based on over 3,500 qualified survey responses.
In order to sell their tours, activities, experiences and attractions online and connect efficiently with distributors, operators need booking systems. However, more than half of tour operators, three in 10 activity operators and one in four attractions do not currently use a booking system.
Low Online Booking System Adoption Rates Persist in Tours, Activities and Attractions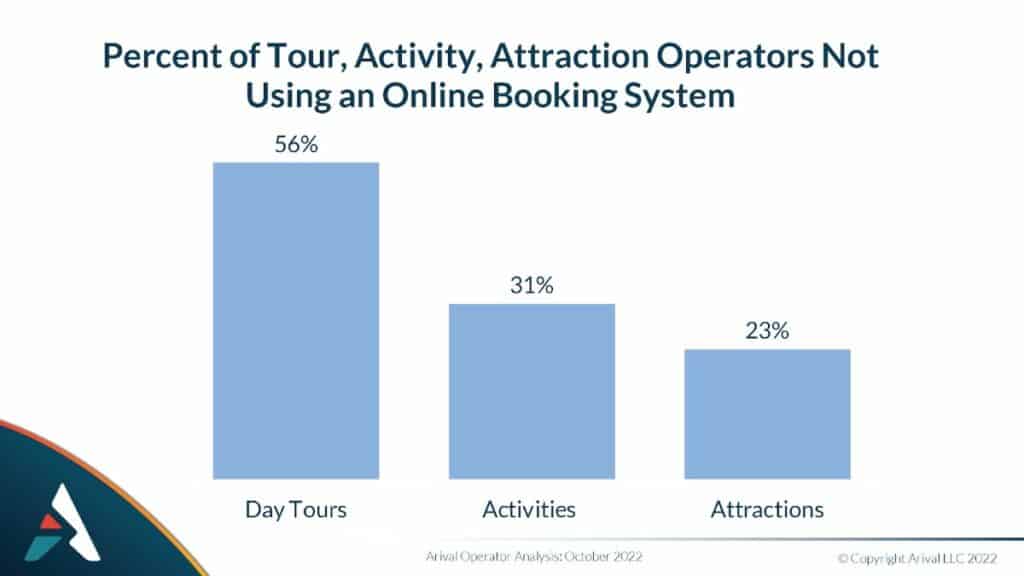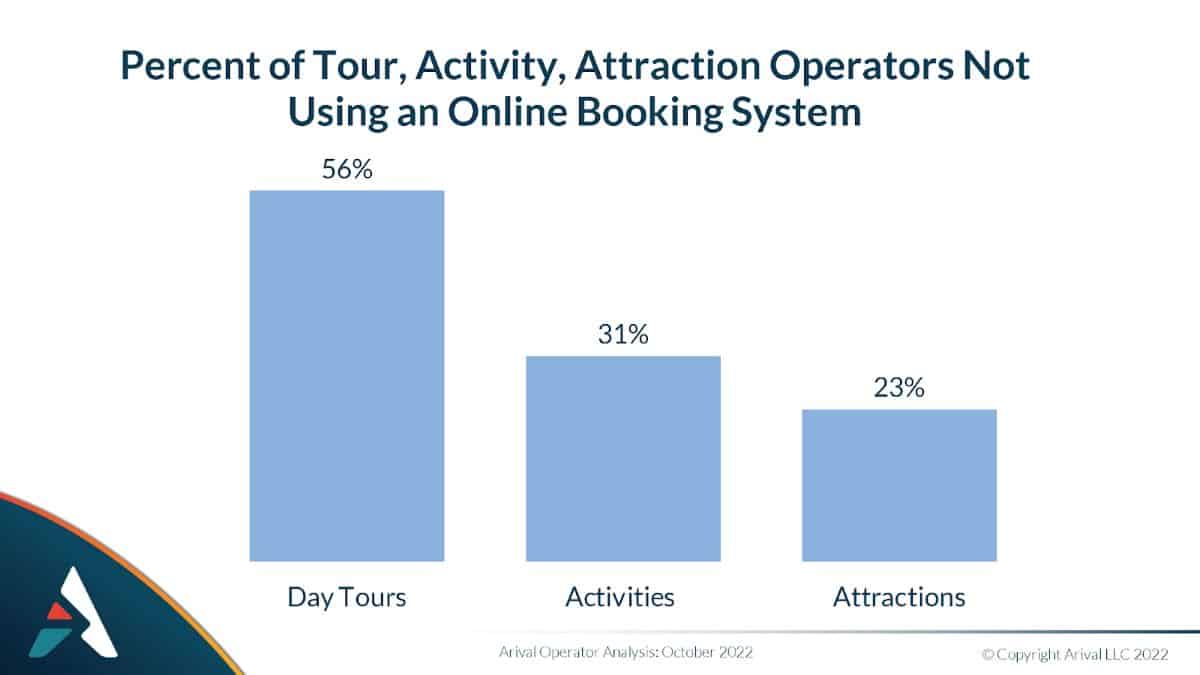 The research also shows that these booking system adoption rates are directly correlated to company size. It is mostly small operators – especially sole proprietors and micro-businesses – that do not use booking systems. Some 7% of large operators — primarily non-profit visitor attractions — do not have ticketing systems.
The survey results also revealed significant regional differences. Booking system adoption is highest in North America, while far more operators in Europe, Asia and LATAM do not use booking systems.
Mediocre Booking System Satisfaction Rates Leave Room for Churn
For those operators who do have booking systems, just under half are very or extremely satisfied with their booking software. When asked how satisfied they were with their current booking system, 40% of tour operators and more than half of attractions gave their booking systems the middle option of "somewhat satisfied."
While there are notably many satisfied operators, the largely ambivalent responses show most operators could clearly be more satisfied with their booking software.
In other words, res-tech vendors take note: there is room for churn.
Opportunities for Growth with Online Booking
This gap in booking system adoption as well as satisfaction rates suggests an opportunity for res-tech vendors to attract more clients by getting more new operators online and connected, and increasing their market share by better serving the needs of already-connected operators.
It also suggests an opportunity for operators to grow their customer base by adopting online booking systems, and to stand out above competitors by offering online booking options.
There are plenty of tour operator software providers out there, check out our comprehensive Arival Guide: How to Choose a Booking System — download it for free today!

Learn More in Arival's Technology and Connectivity Report
Download the Technology and Connectivity report today to learn more about the booking system adoption and satisfaction, connectivity and tech priorities of tour and activity operators.
Also, join us Arival 360 | Berlin to connect with leaders in booking technology across the tours, activities and attractions sector, and to learn more about technology and connectivity strategies and tools that will help you grow your in-destination experience business.
Become an Insider Pro Access member today and get access to the full library of Arival research, plus many other benefits such as free consulting sessions, special discounts and 20% off in-person events, starting from $179 per year.
GET ON THE LIST!
Sign up to receive insights tailored for the in-destination industry as well as updates on Arival.
Sign Up
Header photo: Pexels / Alexandros Chatzidimos