There's been a widely accepted assumption – you could say it's been gospel – in the travel industry. It's commonly understood as the "path to purchase."
It goes something like this:
Travelers start on Google
They then visit an average of 38 different travel sites to figure out where to go, how to get there, and what to book.
The "path to purchase" concept was popularized by online research firm Phocuswright. The 38 website rule was cemented by a report from Expedia and Compete nearly 10 years ago. This figure continues to be repeated in pitch decks and business plans.
It All Starts on Google, Right?
So the travel industry seems to assume. Just follow the ad spend.
The travel media company Skift reported that the travel industry spent nearly $9B on ads with Google in 2021.
In the in-destination experiences sector of travel and tourism (what we focus on at Arival), all of our industry research says the same thing: operators and resellers of tours, activities and attractions spend the lion's share of their digital ad resources on Google, followed by Facebook and Instagram.
However, if the current research is to be believed, it may be time for travel and tourism to discover a new gospel.
What Does Gen-Z Do?
A few months ago my teenage son bought a $200 pair of sneakers. Now, I have no idea how he got $200 for a pair of sneakers, but I can definitely tell you how he did not decide to buy them.
He didn't go to Google.
He didn't go on Facebook.
He didn't visit 38 sneaker or apparel websites.
Now, what did he do? Did he see something on Instagram or Tiktok? Was he speaking to a friend on one of the social platforms he's on every day, like Twitch or Discord?
I don't know, and I'm unlikely to find out. But this lines up perfectly with the findings from this Pew Research study on social media use among teens.
YouTube (95%), TikTok (67%) and Instagram (62%) are the most widely used platforms in 2022. Facebook, which was at 71% in 2015, dropped to 32% this year.
Insider Pro Access Members Save 20%
THE event of the year for solutions-focused In-Destination Experience
creators and sellers
Save up to $620 with the Early Bird ticket
TikTok Takes on Search (and Google)
Although the Pew study didn't address search, the publication coincided with a remarkable admission from a senior Google executive that TikTok is eating into their core search functions.
As reported in TechCrunch: "In our studies, something like almost 40% of young people, when they're looking for a place for lunch, they don't go to Google Maps or Search," said Google SVP Prabhakar Raghavan. "They go to TikTok or Instagram."
I'm not surprised. TikTok and Instagram, or rather short-form video, is playing a profound role in how today's younger travelers discover experiences.
It only takes a few moments of swiping through thoe apps to get a sense of what's possible – and why more younger people are using this for search today. (I recommend doing a search for things to do in a destination or a particular experience.)
Search or Discovery?
At some point when my sneaker-laden son takes a trip to the ocean, do you think he'll spend time searching on Google for things to do, sifting through different listings and reading about all of the inclusions on sites like this?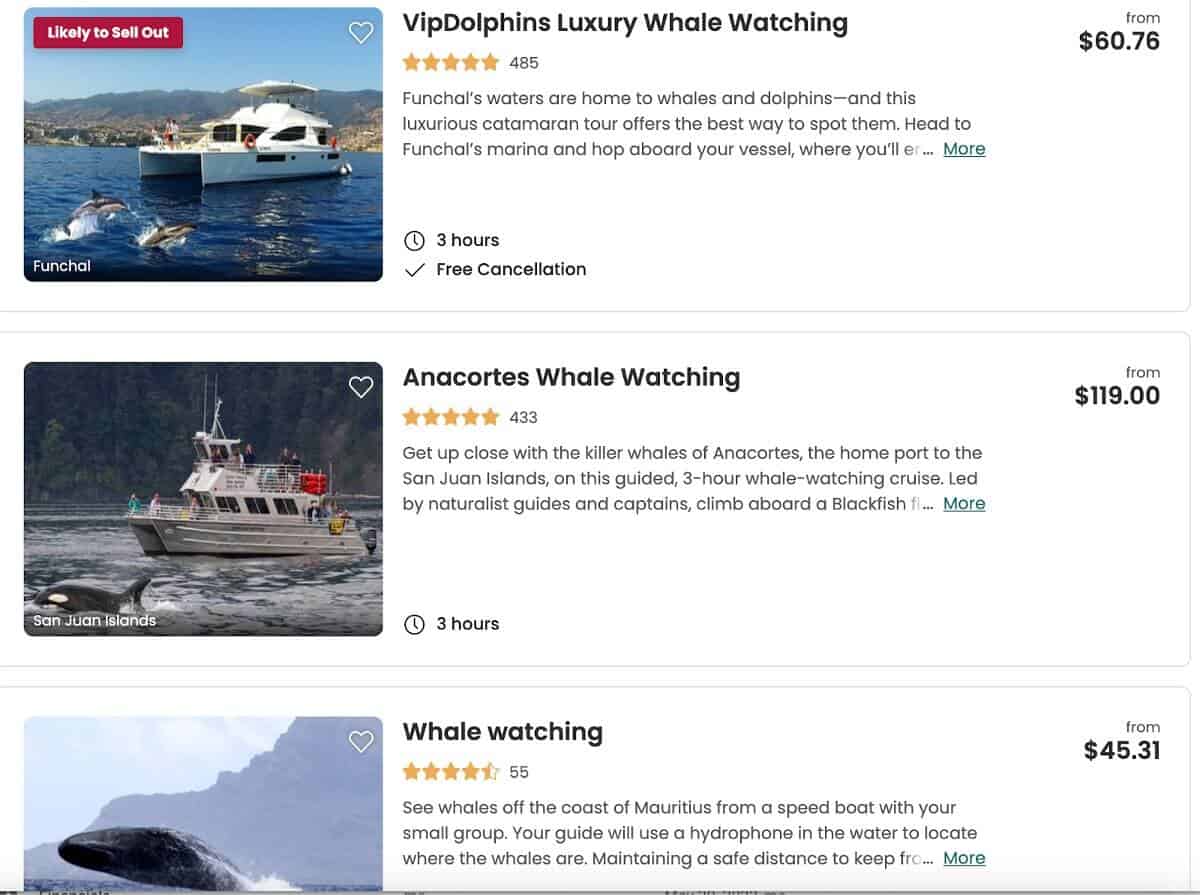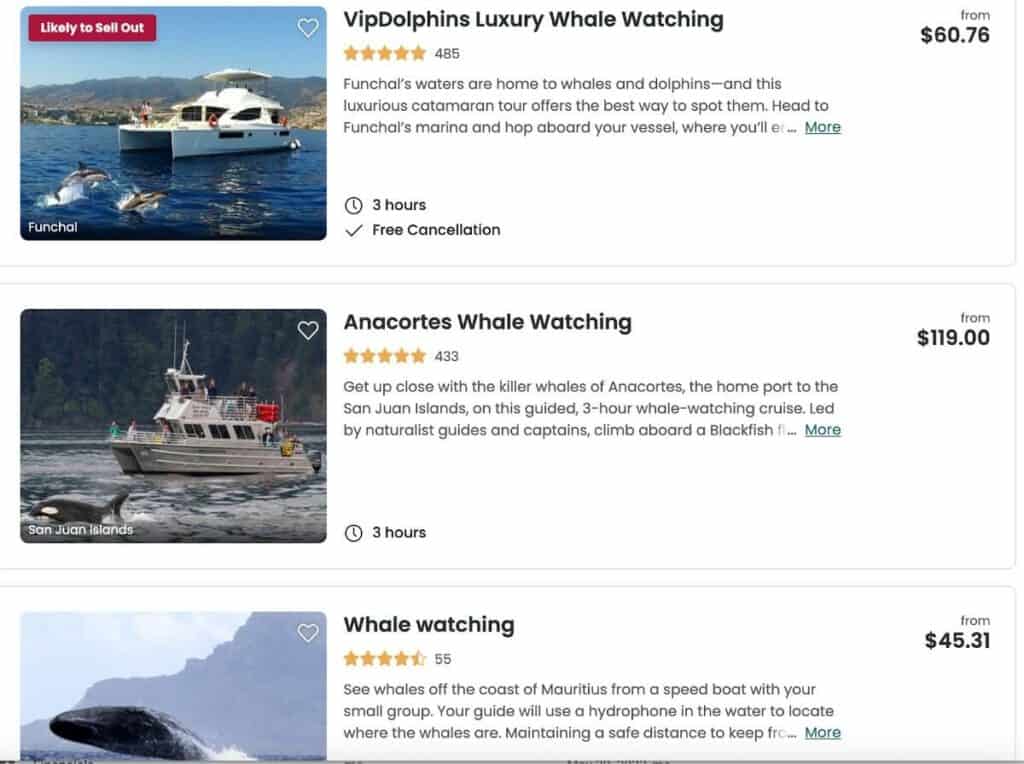 Or will he flip through one of the platforms he and his friends use, and instead get inspired by watching videos like this?
If he heads to Spain one day, is he going to spend time sifting through websites looking for things to do like this?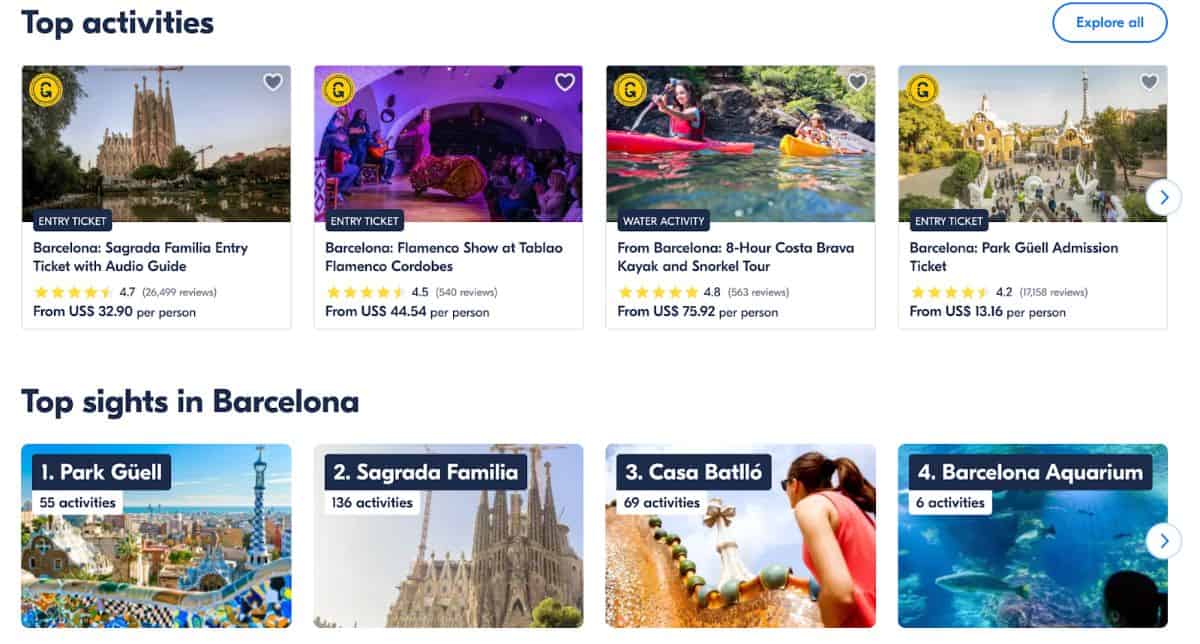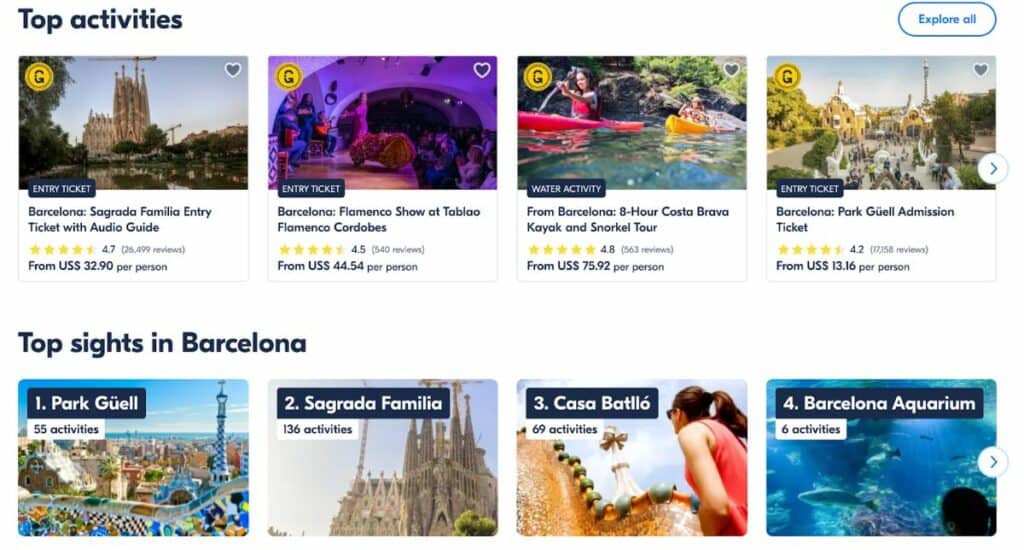 Or is he going to choose a Paella class because of a video like this?
The Future of Discovery is…?
The shifts highlighted here make clear that the future we are stepping into will be a lot different from the conventional path to purchase of Google-Facebook-38-travel-websites.
Three trends will remake the top of the marketing funnel:
Short-form video content and platforms
Content creators with community (a.k.a. influencers)
Passion-based search and exploration (and specialist marketplaces or creators that serve those interests)
No, This is Not the End of Search & OTAs
Some posit that influencers will kill all brands in 30 years. Maybe, maybe not. TikTok will not replace Google, and Kim Kardashian will not displace Viator. It's a common mistake to assume that new platforms and models will replace existing ones.
TikTok still has a lot of work to do to refine its search, and OTAs will continue to play a central role further down the funnel – especially when it comes to conversion. But new modes of discovery will play a bigger role at the top of the funnel. Remember: as Facebook and Instagram have grown over the past decade, so too has Google.
Why don't today's tours & activities OTAs support video?
Good question. We'll be asking this at Arival Las Vegas. Would you rather scroll through each experience page after page, reading all of the details, inclusions and conditions? Or would you prefer to flip through short-form videos of each experience?
Is anyone building a TikTok for experiences or travel?
There already is a TikTok for travel. It's called TikTok. But here's a list of creator economy startup platforms in travel and experiences.
Join us at Arival 360 | Las Vegas October 10-13 and connect with operators and experts leading the way in social media marketing and short-form video in tours, activities and attractions, including Meta's North America Travel Lead Michelle Martin, who will speak on the future of discovery, and Get Up and Go Kayaking's Justin Buzzi, who generated nearly 40 million views with video.
Sign up to receive insights tailored for the in-destination industry as well as updates on Arival.
Become a Pro Access member to save 20% on Arival in-person events and gain access to 600+ articles, 350+ on-demand videos, 45+ research reports, guides and more, starting at just $179/year.