One of the things AI is disrupting is how people find information online. So what does this mean for tour, activity and attraction companies looking to increase their direct bookings through organic search?
I sat down with Brennen Bliss, SEO (search engine optimization) expert and founder of travel industry-focused digital marketing company Propellic recently at Arival 360 | Orlando to learn about how SEO is changing and how experience operators can adapt their digital marketing strategies accordingly.
"We've got over 25% of bookings coming through digital channels direct to your website," said Bliss, referring to Arival's State of Tours, Activities and Attractions report. "With SEO specifically that's a substantially valuable channel in that people go to google to search for a tour."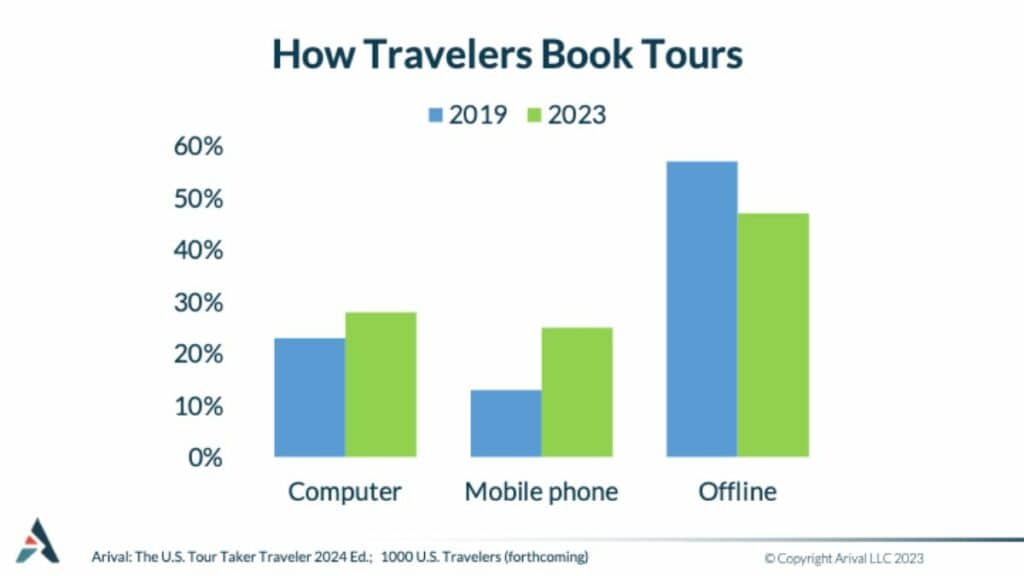 "The thing about it is that Google is going through a lot of change right now given the advent of AI," continued Bliss, explaining how Google's "search generative experience," currently in beta, is putting more answers at the top of organic search without sending users to other websites.
"SEO as a channel is going to just move a lot further down the funnel," Bliss predicted. "It's going to change, what we're doing is changing but I don't think it's gone."
We also discussed OTAs (online travel agencies) as a marketing channel for tours, activities and attractions, and Bliss shared a perspective he admitted is likely controversial among operators.
Watch the full conversation here:
What's Next for Digital Marketing, SEO and AI at Arival 360 | Berlin
Join us at the upcoming Arival 360 | Berlin next March where we'll dig deeper into digital marketing in the age of AI, new ways operators can use the latest technology to increase their direct bookings, and so much more. We hope to see you there!
Become an Insider Pro Access member today and get access to the full library of Arival research, plus many other benefits such as free consulting sessions, special discounts and 20% off in-person events, starting from $179 per year.
GET ON THE LIST!
Sign up to receive insights tailored for the in-destination industry as well as updates on Arival.
Sign Up