One of the big themes at the upcoming Arival 360 | Berlin is sustainability. But for us, it's more than just talk. I sat down with our event planner Heather Torrey and COO Lynne Fetterman to discuss how sustainability is an intrinsic part of every event.
Here are a few of the things we are doing to make Arival's events more sustainable:
1. Select Sustainable Host Locations
Choosing a location for each Arival event is a big undertaking, and part of that process for us includes researching the sustainability policies and initiatives of venues, and pushing them to take it further wherever possible.
Our hotel conference center for Arival 360 | Berlin, Estrel Berlin, has prioritized ecological use of resources since the planning and construction stage of the buildings. Some of the Estrel's initiatives include investing in solar energy supply, climate neutral laundry (by offsetting the emissions by partnering with a reforestation project in Columbia), and growing vegetables and herbs for the hotel restaurants in a rooftop greenhouse garden. They even have onsite production of bee honey!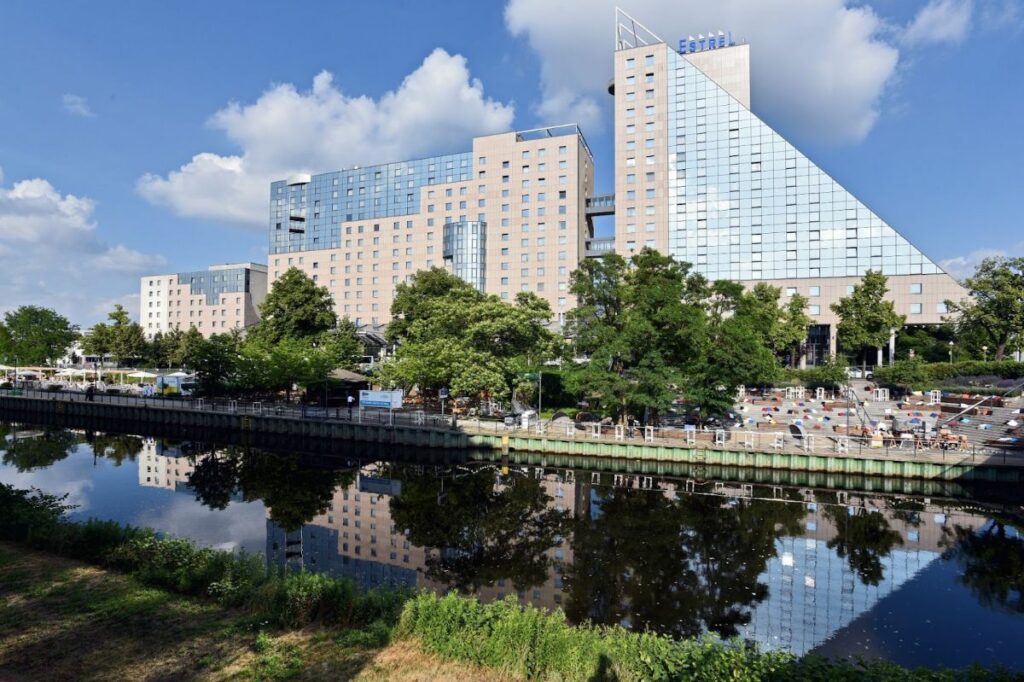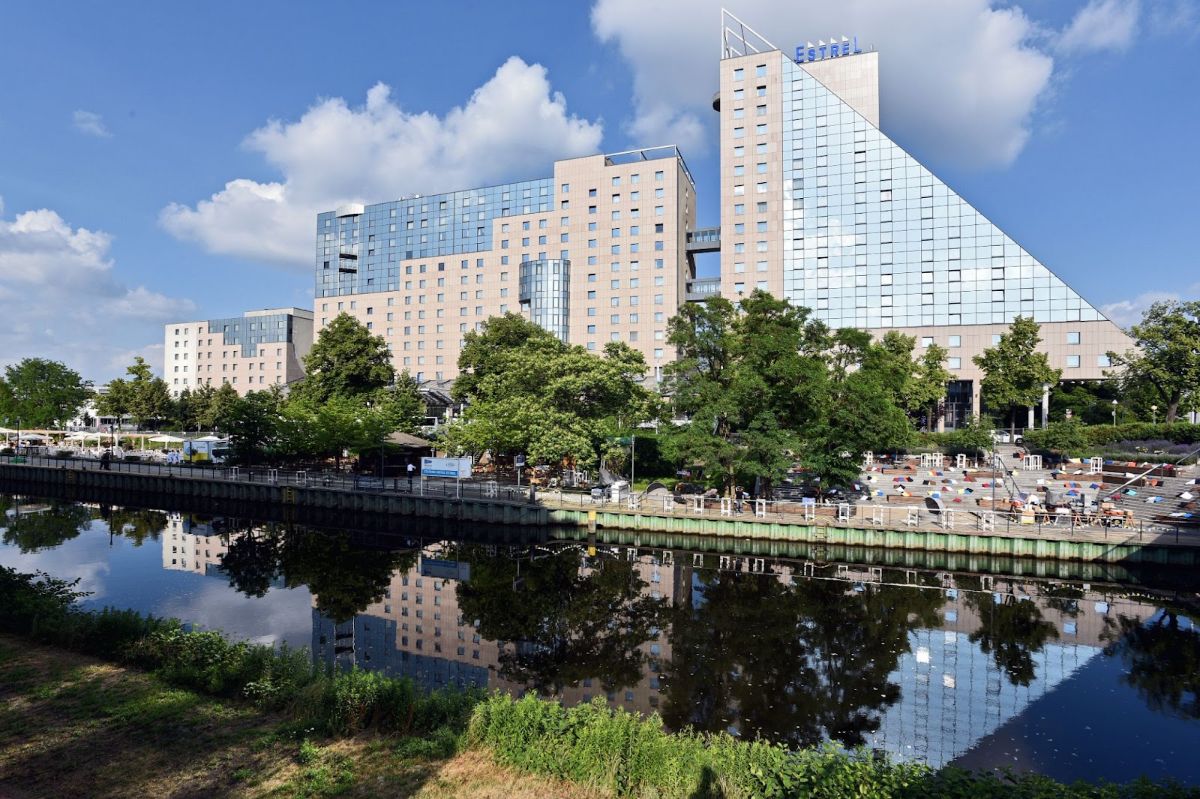 Learn more about Estrel Berlin's innovative sustainability efforts here.
2. Minimize Food and Beverage Waste
At Arival events, food and beverages are supplied through the venues we partner with. We work closely with those venues to minimize food waste.
Estrel Berlin tackles the challenge of food waste through programs that make food surplus available to employees free of charge, and through active use of the Too Good To Go app, which enables them to offer surplus food to app users for a reduced price, rather than having to throw it away.
We also work with our sponsors to provide attendees with reusable water bottles to eliminate single-use plastic bottles and cups.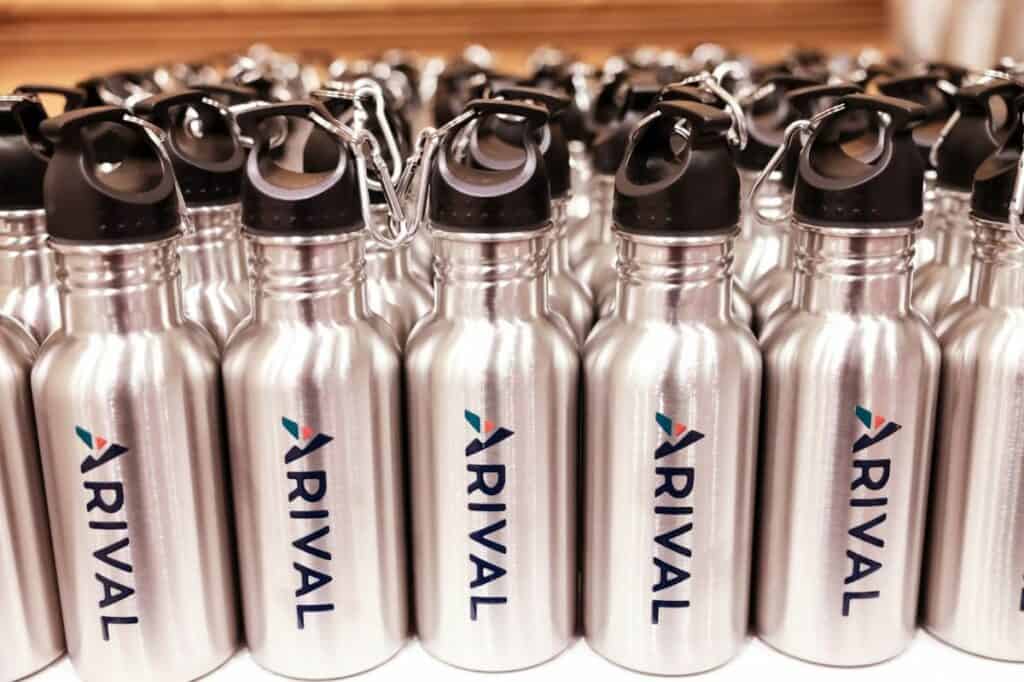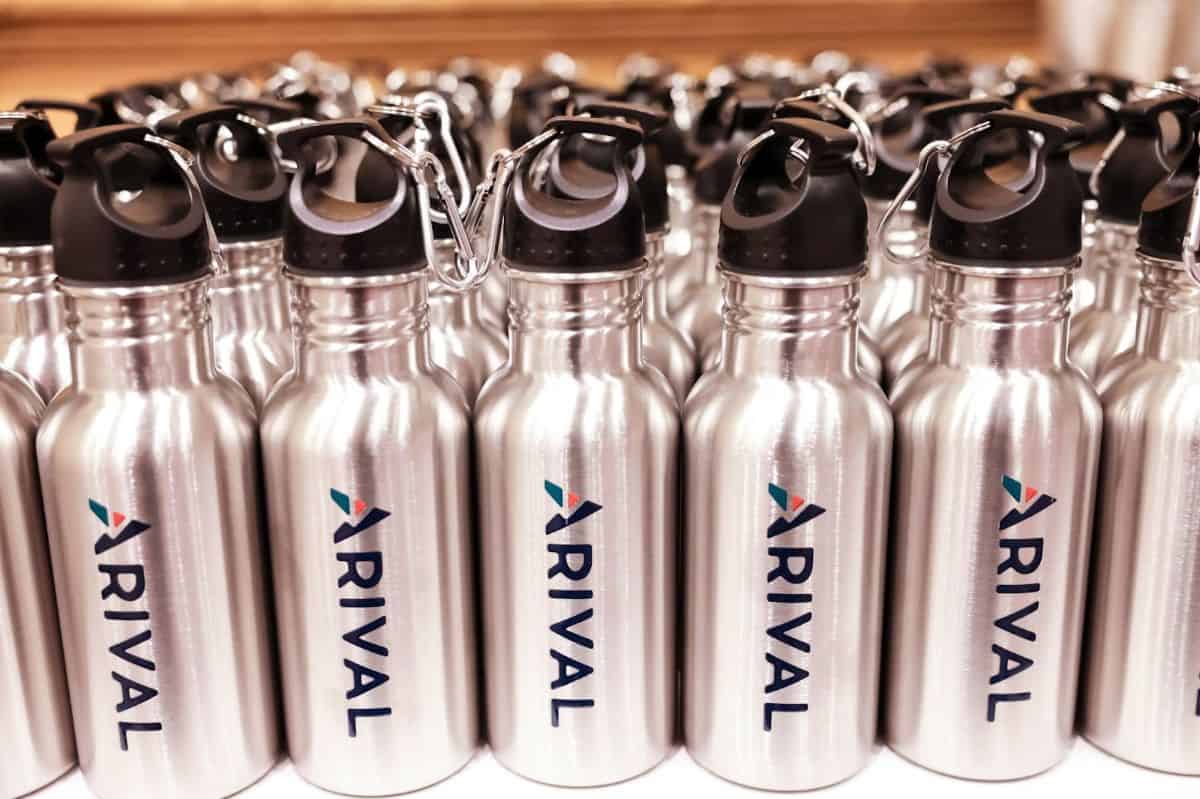 3. Use Sustainable Materials, Reuse & Recycle, and Digitalization
Conferences require a lot of materials, and we do our best to take a sustainable approach to every element as much as possible.
When you attend an Arival event, you will receive a reusable conference badge with your name printed on a customized insert made from FSC certified paper stock (this means the paper is made from trees from sustainably managed forests). The badge hangs from a bamboo fiber lanyard made from fully sustainable bamboo plantations. We ask attendees to return their badges at the end of each event so they can be reused at the next event.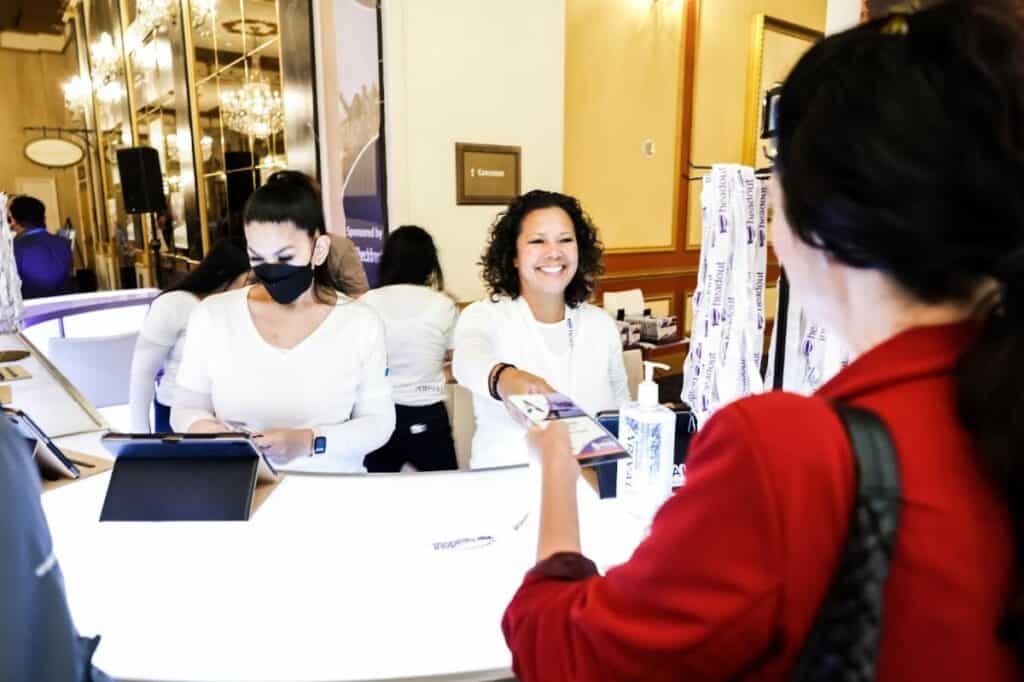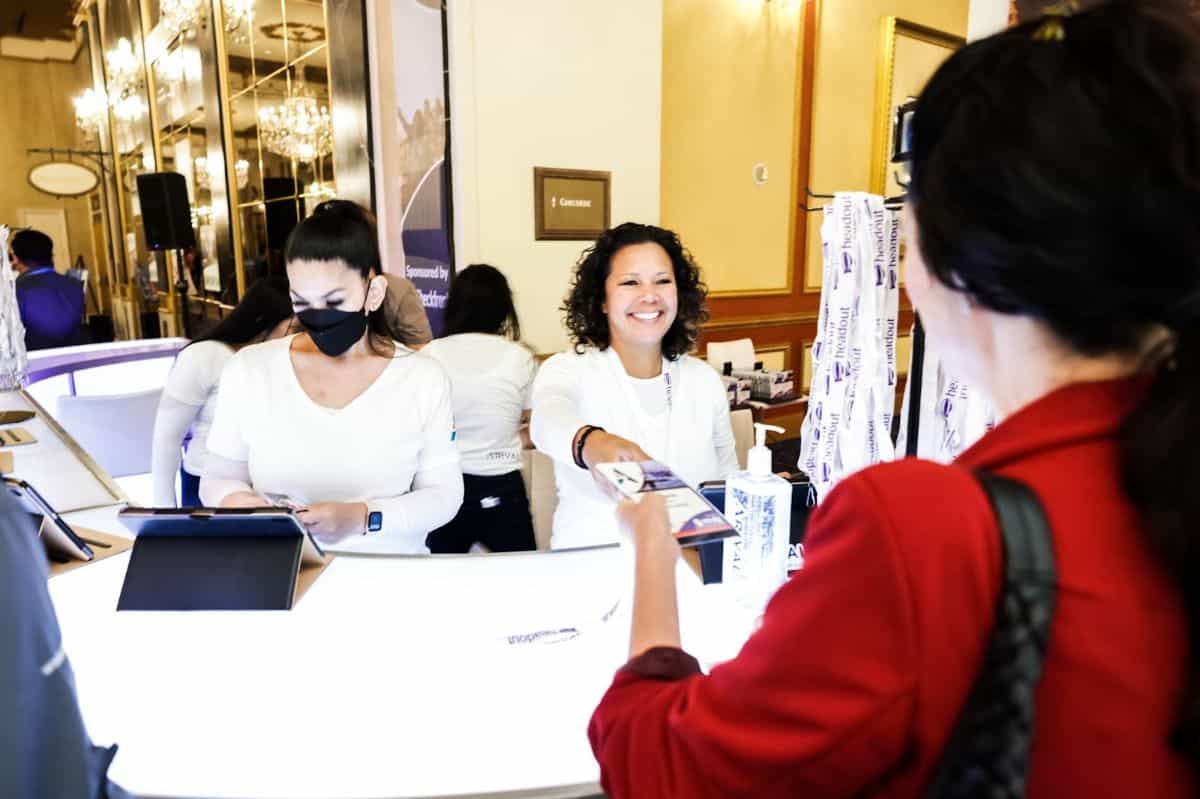 You will also see a lot of banners, posters and other branding elements. We focus on sustainable printing and source sustainable and reusable materials wherever we can. We use engineered paper and re-board for many elements of branding — both materials that can be fully recycled as paper.
We also reuse as many branding materials from event to event as possible. Where materials can't be reused, they don't end up in the trash: we find places to donate them, or keep them until we're able to find another use for them (our COO — Lynne Fetterman — currently has a pile of banners in her garage earmarked for being re-made into cool practical items to give away at future events!)
Finally, we have eliminated a huge recurring source of waste by digitizing our printed event agendas: in 2020, we moved everything to our digital app, Swapcard. We have not printed an agenda since!
4. Commit to Positive Social Impact
While the environmental impacts of events tend to be the most obvious, we also look for opportunities to have a positive social impact on the communities that host us.
For example, in each location we hire local staff to support the event, and seek out local nonprofit organizations to donate leftover supplies to after the event. We also find ways to donate printed materials; for example, last year we donated a number of old banners, ottoman covers and so on to a local project for teens called Trash the Runway.
Finally, social impact has a lot to do with location, and we're thrilled that our host venue Estrel Berlin is committed to positive social impact through initiatives like hosting a job fair for refugees, hosting a Christmas party for the homeless and needy, and donating high-quality furniture to the city mission.
5. Reduce the Travel Footprint with Regional Events
The biggest footprint of Arival events is unavoidably the travel. We hold several regional events a year in Europe, Asia Pacific and North America, which enables us to focus on regional issues and the needs of operators in those areas, while also making the events more accessible and reducing the travel distance — and thus travel footprint — required for operators in each region.
Additionally, we store our Berlin-specific event inventory locally in Berlin, which reduces our shipping footprint.
In 2023, we will host an event in Berlin for Europe, Bangkok for APAC, and Orlando for the Americas. Hope to see you at one of them!
Become an Insider Pro Access member today and get access to the full library of Arival research, plus many other benefits such as free consulting sessions, special discounts and 20% off in-person events, starting from $179 per year.
GET ON THE LIST!
Sign up to receive insights tailored for the in-destination industry as well as updates on Arival.
Sign Up

Header photo: Estrel Berlin/Philipp Koschel