Getting found on Google just got easier for tour and activity operators with the latest Google Things to do update.
Google has added a "Tours and Activities" carousel section to search results, which appears when users search for tours in a destination on mobile. (Google has not officially announced this yet, so it's likely still in beta, and may not yet be visible to all users or in all regions).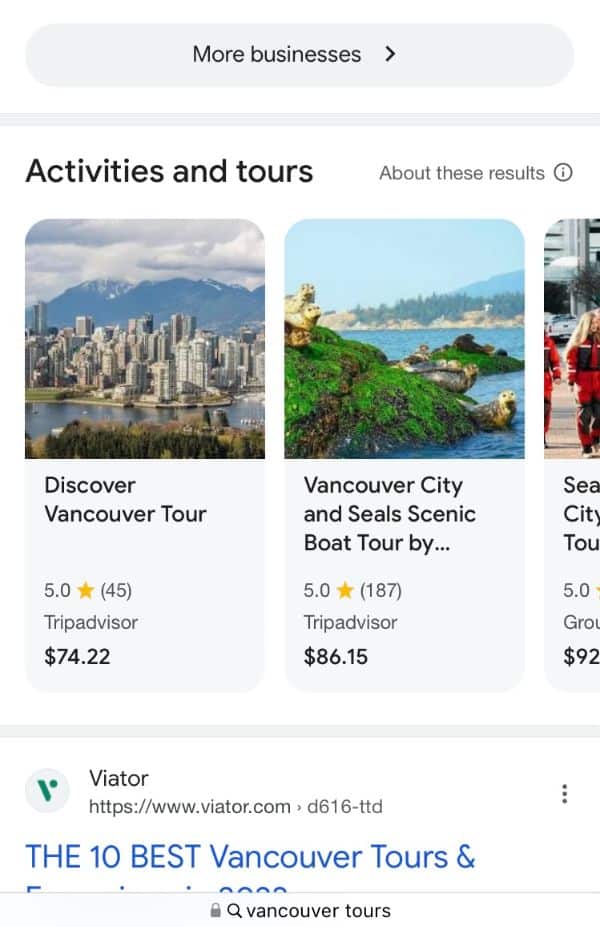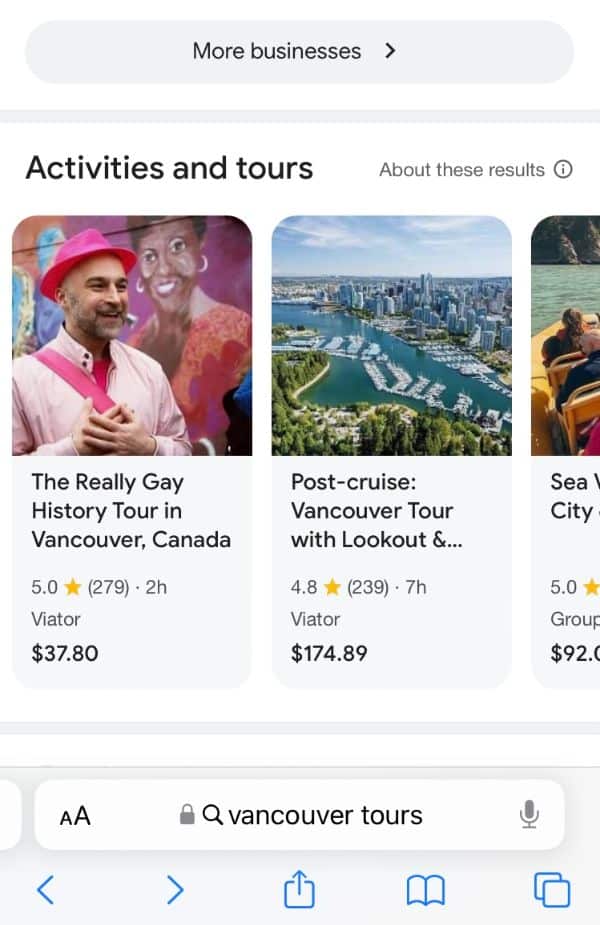 Searching "Vancouver Tours" brings up a carousel, below the sponsored listings and businesses, which scrolls through approximately 12 different activity and tour offerings.
Prior to this update, Google Things to do listed attraction tickets, as well as tours or "experiences" linked to specific points of interest on Google Maps, but not yet tours and activities in general.
"This is probably the biggest update since this whole [Google Things to do] thing started," shares Christian Watts, Founder and CEO of Magpie Travel. Magpie and Watts have offered regular updates and workshops on Google Things to do for operators through Arival Elevate online sessions for Arival Insider Pro Access members. I recently touched base with Watts to discuss the latest.
Here's what we know so far about the tours and activities section, and what operators need to know to make the most of this new way to get found on Google.
Operators with "Service Areas" Can Now List Products on their Google Business Profile
Until recently, only operators with a fixed address for their tour or activity business were eligible to list products on their Google business profile. However, many operators — particularly smaller operators of walking tours, for example — do not have a fixed address and instead have a "service area" listed on their Google business profile.

Now, operators with a "service area" are eligible to list products as well, and could see their listings appear in the Activities and Tours carousel.
Many "Activities and Tours" Listings are Dominated by OTAs
One of the first things you'll notice if you scroll through the "Activities and Tours" carousels of different destinations is the disproportionate amount of listings from online travel agencies (OTAs) like Viator, GetYourGuide and Trip.com, rather than from individual operators themselves.
According to Watts, this is not intentional on Google's part — in fact, Google often says they don't care about operators vs. OTAs — but "they do say that users often want to be on an operator direct website," and therefore they will prioritize that for the user experience where possible.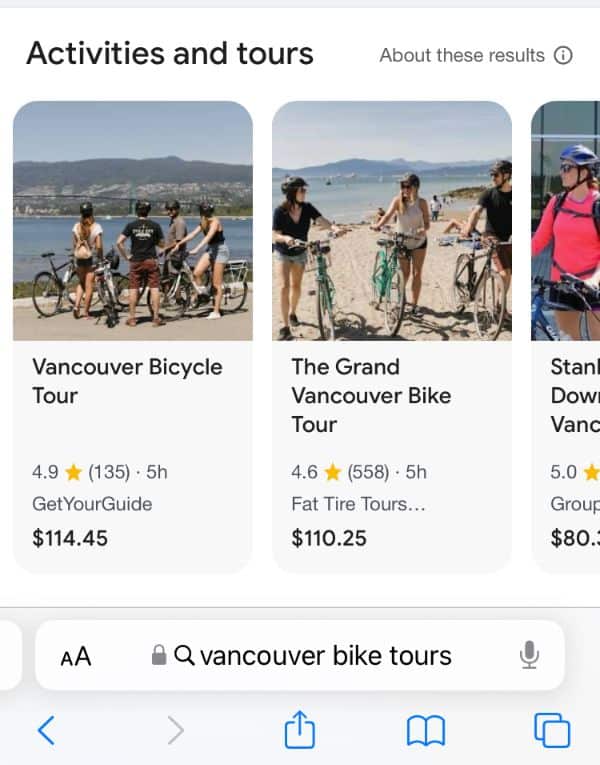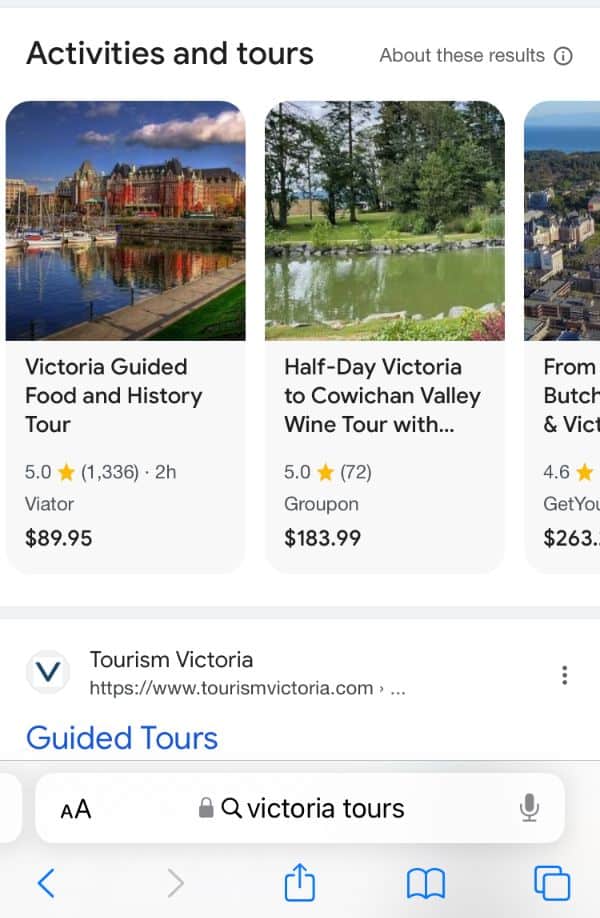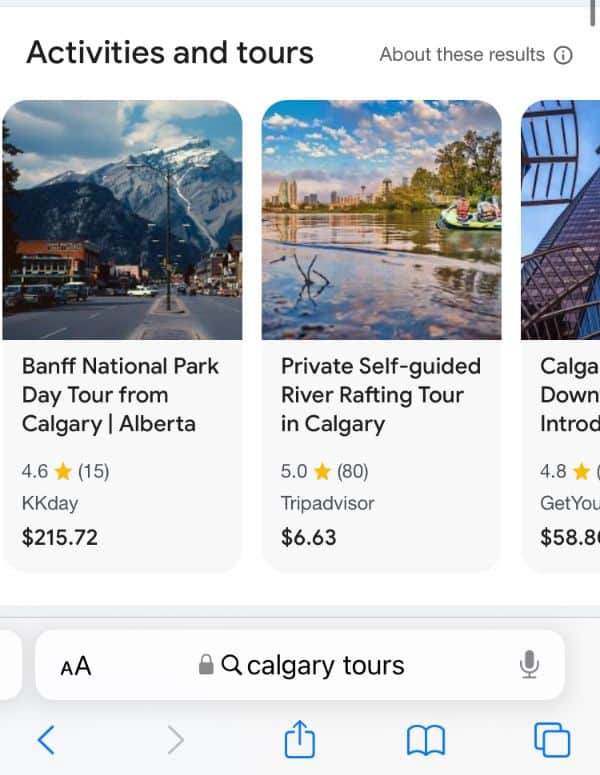 Vancouver bike tours" turns up a single direct operator link in 12 listings, and 100% of the Activities and Tours listings for these popular destinations near Vancouver — Victoria and Calgary — are from OTAs
So why are OTAs dominating these listings, if users (and therefore Google) would rather prioritize operator sites?
According to Watts, this is because many operators simply haven't taken the steps needed to take advantage of Google Things to do, "so bookings are coming through but they're coming through OTAs." Let's change that, shall we?
How to Get Found on Google and in the New Activities and Tours Carousel Listings
Here's how operators can take advantage of Google Things to do and get seen side-by-side with, or even ahead of OTAs.
1. Claim your Google Business Profile!
The first thing to do is claim your Google Business profile. "If you've just sat there and done nothing, your business profile may have GetYourGuide links or Viator links or anyone else's links below it," explains Watts.
Claiming your Google Business profile is the first step to listing your products on Google and attracting direct traffic to the booking portal on your website, not to mention improving your SEO. And it should be a no-brainer for operators: "that's the one place that Google will preference direct operator products," explains Watts.
2. Load Up and Optimize your Product Listings on Google
Once your business is connected to Google, you can begin to load your tour or activity products using Google's operator booking module.
With this booking module, operators can upload and manage their products on Google, for free. Some operators, particularly those who have multiple different products and are already managing multiple distribution channels, may also choose to work with a Google connectivity partner. Many booking and ticketing systems offer this service, as do channel managers and marketing companies (such as Magpie).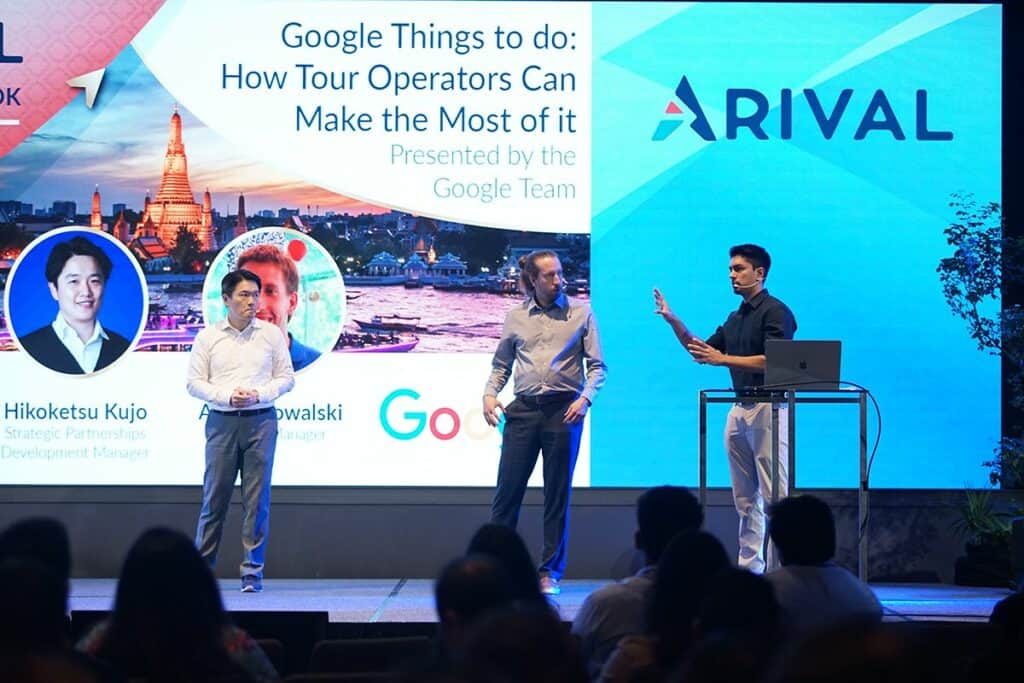 To learn more, review our latest walkthrough on Google Things to do for operators and suppliers of tours, activities and attractions.
3. Play the Long Game for Visibility on Google Things to do
Once you've claimed your business listing and loaded up your products, don't get discouraged if you don't see results overnight.
"It's the long game," explains Watts. "If you do the right things for Google, and you submit the right information, consistently over the long term, you get the traffic. There's not going to be some 'aha' moment and suddenly you're going to get all the traffic… you need to be in it to win it."
"If you're not participating then you're not going to show up," says Watts. "Get started now so that you start picking it up, and it's free… this is one of the easiest things people can do right now to pick up some traffic."
Learn More about Google Things to do With Arival
Recently at Arival Activate | Bangkok, a team from Google shared the latest updates on Google Things to do and demonstrated the operator booking module in one of the conference's most well-attended breakout sessions. The session will be available on-demand for Arival Insider Pro Access members soon.
Arival Insider Pro Access members can also benefit from a free 30-minute Arival Elevate consultation with Magpie Travel on Google Things to do. Learn more and register here!
Finally, learn more about Google Things to do in person at the upcoming Arival 360 | Orlando in October 2023. Don't miss it!
Become an Insider Pro Access member today and get access to the full library of Arival research, plus many other benefits such as free consulting sessions, special discounts and 20% off in-person events, starting from $179 per year.
GET ON THE LIST!
Sign up to receive insights tailored for the in-destination industry as well as updates on Arival.
Sign Up