Starting today, attraction operators can now directly edit ticket prices on their Google Things to do listings through their Business Profile, Google has announced.
The company also plans to launch Things to do listings for tour and activity operators, along with a self-editing option, in the coming months.
"In the near future, we'll also begin displaying booking links for tour and activity operators on their Search and Maps listings when people query their business name," said Richard Holden, VP of Travel Products for Google.
Google Things to do (GTTD) launched in beta in August 2021, first for ticketed attractions, then for tour and activity operators selling experiences that include points of interest both free and ticketed. The platform allows users to find and book attractions and tours through Google Search and Google Maps, directly with suppliers — whether operators themselves or online travel agencies (OTAs) that distribute their products.
The Things to do booking links on the Google business listings of tour and activity operators may also include booking links for OTAs, according to a Google spokesperson. Tour and activity operators should monitor their listings closely and activate their official listings with a link to booking, or risk losing that traffic to OTAs and other resellers that may also list their products.
Previously, in order to take control of their listings and keep their prices up-to-date on Google Things to do, operators had to connect via feed integration through an approved connectivity partner such as a reservation system or channel manager.
With this update, attractions operators will now be able to use an editor tool to directly edit links, prices, product names and a few additional fields, through their Business Profile. Tour and activity operators can expect a full launch of the editing functionality for their listings in the coming months, according to a Google spokesperson.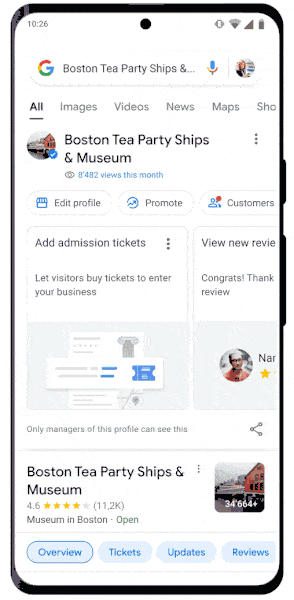 Reasons to Use a Connectivity Partner
Operators now have the choice to work through a connectivity partner or manage their listings themselves with Google's Business Profile editor tool. According to a Google spokesperson, while the Business Profile option doesn't cost anything, there are still many benefits to working through a connectivity partner.
These include access to more advanced diagnostics and reporting functionality, assistance with troubleshooting, and not needing to manually update ticketing information—particularly for operators who work through multiple channels beyond Google, and the ability to place ads within GTTD listings.
Additionally, while the GTTD Business Profile itself is currently free for operators, participating in GTTD ads does still require feed integration through a Google-approved connectivity provider. Google now has two different specific spaces for ads to appear around GTTD listings – one directly beneath the individual search listing, and one in the "carousel" for "Tickets and Tours."
Google Travel at Arival Today
Emmanuel Marot will be speaking in person at Arival 360 | Las Vegas today, on the latest with GTTD, Google's outlook for experiences, and what it means for operators. The session will be recorded and made available on demand to all Insider Pro Access members after the conference.
Header photo: Pawel Czerwinski / Pexels
GET ON THE LIST!
Sign up to receive insights tailored for the in-destination industry as well as updates on Arival.
Sign Up
Become a Pro Access member to save 20% on Arival in-person events and gain access to 600+ articles, 350+ on-demand videos, 45+ research reports, guides and more, starting at just $179/year.