We started Arival four years ago on a very simple premise: there was this incredible, large, dynamic community of tour, activity, and attraction providers, all yearning to understand the big changes in traveler trends, technology, experience design, and distribution happening in the industry. We believed that this community needed a place, a forum to come together, learn, and capitalize on the incredible changes taking place.
Thankfully, the industry responded enthusiastically. More than 500 operators and industry professionals attended the first Arival in 2017.
Connecting a Large, Fragmented Industry Isn't Easy
Tours, activities, and attractions – what we call the in-destination industry – is incredibly large. It represents upwards of one million enterprises. It is the third-largest sector of tourism after transportation and accommodation.
It is also incredibly fragmented and disconnected. A few businesses, such as Disney, Universal Studios, or CitySightseeing, are quite large with global reach. The vast majority, however, are far, far smaller. Entrepreneurs such as Lauren Herpich of Local Food Adventures in the U.S., or Chris Wilson of Typically Swiss Tours in Switzerland, are just two of many, many thousands of small business owners who represent so much of this business.
It became clear that for us to achieve our mission – to help tour, activity, and attraction operators grow their businesses and advance as an industry – we would not count on everyone being able to attend our conferences in person. We had to bring Arival to them.
It was then that we began creating a longer-term vision of making Arival digital. We knew we had to figure out a way to bring all of the services and benefits of our in-person conferences – the inspiration, learning, networking, and business development – to tour, activity, and attraction professionals both online as well as in person. For all of the challenges the pandemic has presented, one silver lining for us is that it has given us the opportunity to double our efforts on our digital ambition.
Welcome, Arival Insiders
Today marks an important step for us on that journey with the launch of Arival Insiders, our new membership program. Our goal is simple: make the Arival experience more accessible to more of the industry.
We have strived to make Arival Insiders as straightforward as possible. There is a free level (Arival Insider Free), and a paid level (Insider Pro Access).
Arival Insiders provides members with complete and easy access to all of our industry presentations, Arival guides, and directories, as well as our on-demand webinars, select conference videos, newsletters and other content. In short, it's a simple way to sign up once and enjoy unfettered access to much of our content.
Insider Pro Access is our paid tier and features several significant benefits on top of all of the Insider Free features.
Here are three of the most important:
Complete access to the Arival Accel Series, a new series of single-day virtual MasterClasses and Forums to be held over the course of 2021. Each MasterClass and Forum offers in-depth focus and learning along with highly qualified networking around essential topics defining our industry this year.
Our premium research reports: We are on a mission to map our industry and provide all of you with the insights you need and that our industry deserves. We have continued to invest in research and data offering a series of paid reports in 2020, with many more to come in 2021. These premium research reports are included in Insiders Pro Access.
Conference discounts. If you plan to attend or are considering attending an Arival conference in 2021, whether virtual or in-person, then Insiders Pro Access effectively pays for itself. This membership tier includes exclusive discounts on Arival conferences that are equal to the cost of the membership.
There are many more benefits in both memberships, but these are the most important. Click here to see all of the Insiders membership options.
Pro Access Pricing
We know as well as anyone how challenging 2020 has been for tours, activities, and attractions. We have worked hard to keep our prices for Insider Pro Access as low as possible, to enable as many companies as possible to participate and benefit.
We have three different pricing tiers: our lowest rate starts at $179 per year for small operators (2019 gross revenue up to $100,000), with higher rates for larger operators, distributors, technology providers, and other companies.
Of course, if you are uncertain whether Pro Access is right for you right now, you can always start with our free Insider membership. We're going to continue to work hard to show our industry the value of Pro Access.
Do you have to become a member if you just want to attend one Accel forum or buy one premium report?
No. We will continue to offer individual event registration and report purchasing. However, if you have any interest in attending at least two Accel MasterClasses or Forums, or one Accel event and a premium report, you will quickly see it's a much better value to become a Pro Access member.
Looking Ahead
This has been a truly extraordinary time for our industry, and indeed for all of travel and tourism. Since global travel came to a standstill last March, we have made it our mission to support travel's third-largest sector – tours, activities, and attractions – through virtual events, webinars, and industry research, including our ongoing Industry recovery tracking, reaching nearly 40,000 industry professionals.
That mission remains undimmed as we embark on 2021 with Arival Insiders. If you are involved in travel and tourism and interested in its third-largest sector (we call it the Best Part of Travel, otherwise known as tours, activities, and attractions), then consider becoming an Arival Insider. As an Insider, you will have new opportunities to connect, learn, become inspired, and grow your business alongside the best and brightest in the Best Part of Travel.
Together, let's advance the business of creating amazing in-destination experiences.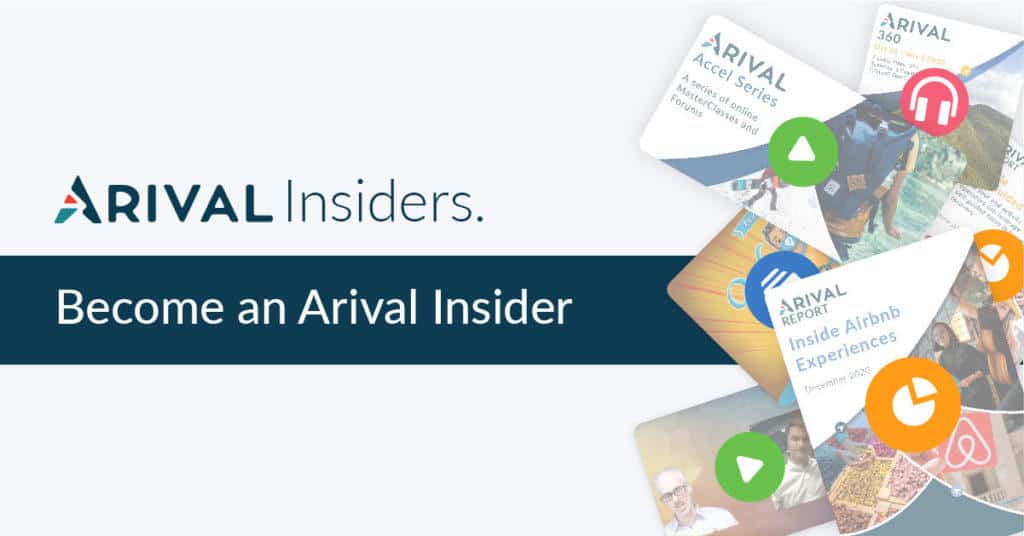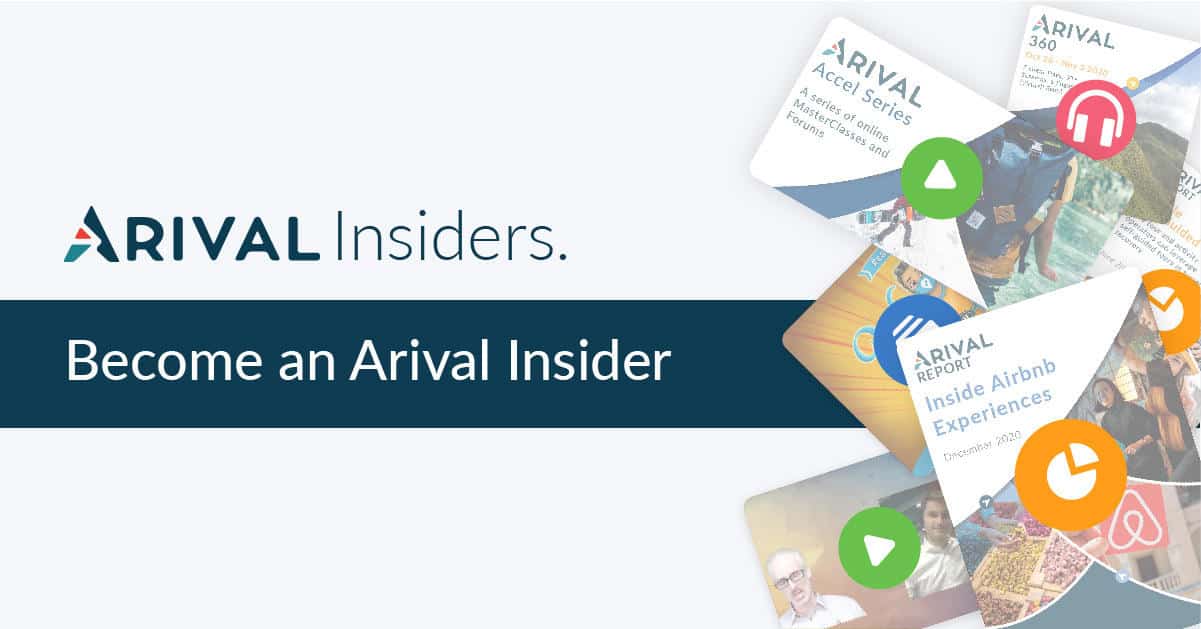 A note to our registered attendees from our 2020 in-person Berlin, Bangkok & Phoenix conferences
We are providing a complimentary one-year Pro Access membership to all current registered attendees of our 2020 in-person conferences. If you are a registered attendee of one of our in-person conferences from last year, you should have already received an email inviting you to sign-up for Arival Insider Pro Access. If you have not received that email, please contact us at [email protected].