Lack of direct bookings got you down? You're not alone. Many operators would prefer guests to book tour tickets on their own website versus through an online travel agency (OTA) to avoid commission costs, which typically run anywhere from 20-30%.
According to Arival's recently published report Why We Tour: Inside the Mind of the Modern Tour Taker, which surveyed 1,000 U.S. travelers, there are two simple reasons why many tour takers opt to book through OTAs instead of through operator websites: convenience and price.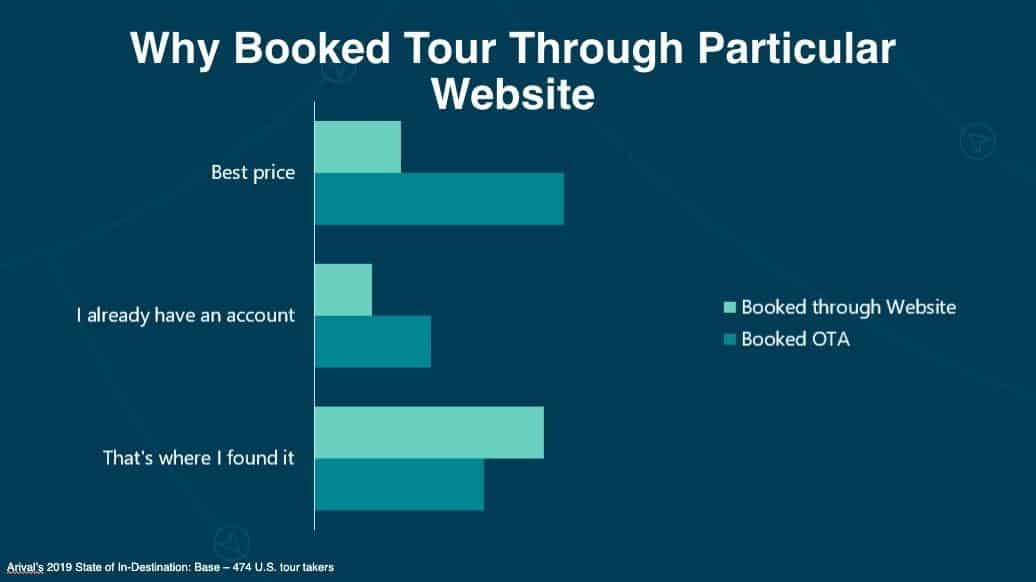 U.S. travelers booking through an OTA have the perception that the chosen website has the best price, which is why they booked through this channel. Some travelers also recounted that they already had an account on an OTA website, which made it easier to purchase tickets immediately—especially if their credit card was already on file. 
OTAs Are a Major Online Channel & Competitor 
What's your takeaway? It is imperative for operators to have their tours available for booking online. OTAs are a growing sales channel that present opportunities but also challenges, such as the formidable commission fee.
Operators should do their due diligence by researching the OTA landscape, understanding the nuances between major online players, and considering the various OTA terms and conditions. Additionally, we strongly recommend that operators review the Arival Guide to Digital Distributors as well as the Arival Guide to Working with OTAs, two comprehensive (and complimentary) guides for operators to understand and win with OTAs. 
Want more business-building data and insights? Download Arival's extensive new report, Why We Tour: Inside the Mind of the Modern Tour Taker, today!