Like it or not, online travel agencies (OTAs) such as TripAdvisor, Expedia, GetYourGuide and many others are becoming a bigger part of sales for Tours, Activities & Attractions. The acquisition of two tech companies in our sector last month brought this issue right into the spotlight.
Of course, all of the industry pundits had their say, but we think the only thing that really matters is what you think – the creators and sellers of Tours, Activities & Attractions. So last week we fielded a survey to all of you, and here are our findings.
Who Responded
More than 130 of you took the survey. Most, 77%, are "suppliers" – the creators of Tours, Activities & Attractions. The remaining 23% were a mix of OTAs and resellers, technology companies, and a few marketing and media companies in travel and tourism.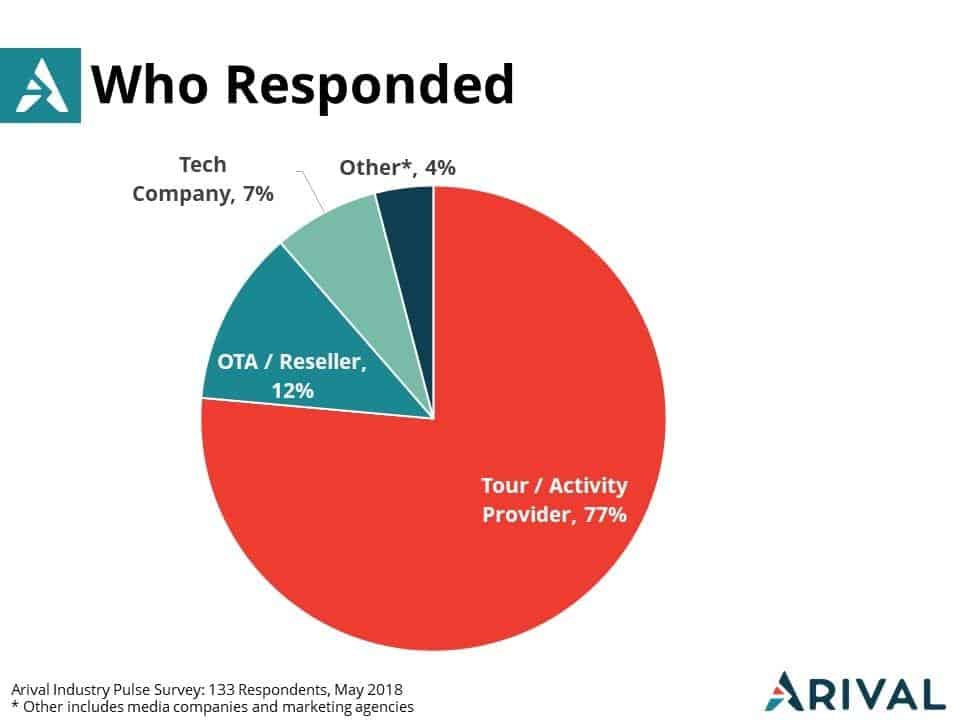 On Tech Acquisitions: A Mix of Enthusiasm & Questions
More than a third of supp
liers (36%) feel "great" about the acquisitions of FareHarbor and Bokun by Booking Holdings and TripAdvisor, respectively. More, 45%, expressed either some concern or worry. About one fifth don't care or are not following the news.
Reseller and tech company respondents (resellers include OTAs and other distribution companies) were decidedly more enthusiastic, although some harbor concerns as well – potentially competitive concerns.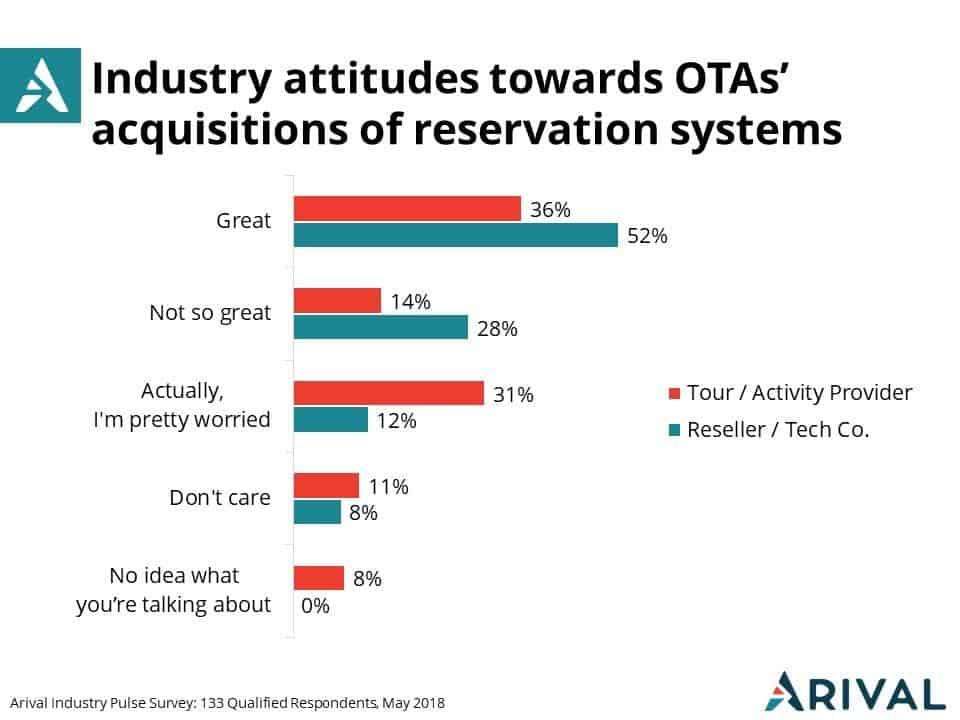 Suppliers' Have Their Say
More than 50 supplier respondents also submitted comments. Here some of the highlights.  We only include comments from suppliers below (no OTAs or tech companies), and each comment is from a unique respondent.
On the acquisitions of the reservation systems, most comments expressed a mix of concern and wanting more information.
It was a long time coming. I think the transactions bring more attention and validation to the tour and activity space. So overall it's certainly a positive.
Only time will tell. For us and FareHarbor, it will be interesting to see if Booking Holdings will provide us with more bookings globally… this is what we are hoping for.
I am worried about it. Only exciting if the future plans don't price us out of the game.
I look forward to the growth but am concerned about how buying software will impact companies not on that system.
I am hopeful they don't mess with the business model offered by FareHarbor in an effort to get it to work "better" with their main business.
I am bit uncertain as to what direction they are going in. Would like more info.
It's allowing them access to sales data and distribution mix. It's concerning as they may get too much control over my business.
Wait and see! Could be good or bad or irrelevant.
On the Rise of OTAs: Excitement, Concerns, & Frustration
We also asked how Tour, Activity & Attraction operators feel about the growth and rising influence of OTAs. However, we made a mistake in one of the questions by omitting a positive response option. Many respondents pointed this out and left comments. So we went through every individual response, and about one third said the growth of OTAs is great, half expressed concerns, and about 17% simply didn't care.
Suppliers' Have Their Say
More than half of supplier respondents also submitted comments. Here some of the highlights. Again, we only include comments from suppliers below (no OTAs or tech companies), and each comment is from a unique respondent.
Some are unabashedly positive:
I think this is entirely natural and something to take advantage of.
For us it's great as our main clientele comes from OTAs.
I think it is a natural evolution of technology making its way into the travel industry… times are changing and some things will be better and some will die out.
I'm actually excited.  It's a great way to get exposure without a large advertising budget.
I believe it offers us greater exposure for activities and is positive.
Some are more cautious in their optimism:
Generally good, but again, would like to have a better understanding of what that means for distribution, marketing and revenue opportunities.
The growth of OTAs serve a valuable purpose. It's a major distribution channel that is important to the Tours & Activities segment. It does highlight the invaluable need for suppliers to have channel management capabilities to ensure that the OTAs don't control their fate entirely.
Overall, positive because they increase our sales volume and market exposure. But, technical glitches and general customer service from is mediocre and sometimes downright poor. The customer gets upset with us for any mistakes or problems.
It might change the face of tourism, with a less personal touch.
Happy to distribute via them – however on my terms. I want complete control over my distribution and rates, I just don't want other businesses to know about it.
Others expressed greater worry or were simply frustrated:
I worry that in the end there will only be a couple major ones and they will start to dictate pricing.
Becoming the Amazon of Travel, pushing small operators out of business in the push to lower pricing.
They are monopolizing the industry and setting extremely unfavorable terms for suppliers.
OTAs are more concerned with their profits than the guest experience. Their commissions are too high for small operators.
One of you offered some advice:
Don't put all your eggs in one basket!
A few of you were frustrated with our survey (with good reason):
Why wouldn't there be choices that are positive for this question? Seems your steering to an answer you want.
On that, we screwed up and omitted a positive answer option for one question. So we went through every single response and recorded the positive responses. We definitely did NOT intend to get any particular outcome. We just goofed.
If you responded to the survey, Thank you. If you have any feedback or questions on this post, or other topics you would like us to poll our community on, please email me: [email protected].
Hey, one more thing. Arival is going to feature in-depth sessions on how to work with OTAs, including interviews with the leaders of the biggest players. You get to ask the questions. Join us in Las Vegas in September. Together, let's advance the business of creating amazing in-destination experiences!