The past year has been nothing if not confounding.
Amid widespread devastation across travel and tourism, and especially among tours, activities, and attractions, financial markets performed remarkably well. This extraordinary New Year's Day article in the New York Times helps explain why.
In short, the financial fallout from the pandemic in the U.S. has been unevenly distributed, to say the least. While unemployment remains high, the impact has fallen "disproportionately on lower-paying service jobs," according to the article, based on an analysis of government data. By comparison, "higher-paying professional jobs were more likely to be unaffected, and a handful of other sectors have been booming."
As a result, there have been two unexpected developments:
Overall after-tax income for Americans between March and September was more than $1 trillion higher than in 2019.
Americans' personal savings increased by more than $1.5 trillion over the same period.
The article's author describes this combination of steep misfortune for some and good fortune for others as a "macabre spectacle." Indeed, we all know, all too well, the impact of this on travel, tourism, and hospitality. All of us know colleagues, co-workers, and friends who've lost their jobs. But there is a silver lining.
The silver lining for travel
The offshoot from this is apparent: an important subset of middle- and upper-income Americans are doing well. Some have more disposable income than ever, and continuing lockdowns mean they don't have as much to spend it on.
We went back to our U.S. traveler research from 2019 to see which consumer segments matter most to our industry and what this might mean for the recovery. Our research was based on a survey of 1,000 U.S. travelers who booked a tour, activity, attraction, or event on a trip in 2019. We call those travelers "active travelers."
Here's what we found:
1) Upper-income households matter more. 
Those more well-to-do Americans are far more important to travel – and tours, activities, and attractions. Households earning $100,000 or more account for just one-third of all U.S. households but 43% of active travelers.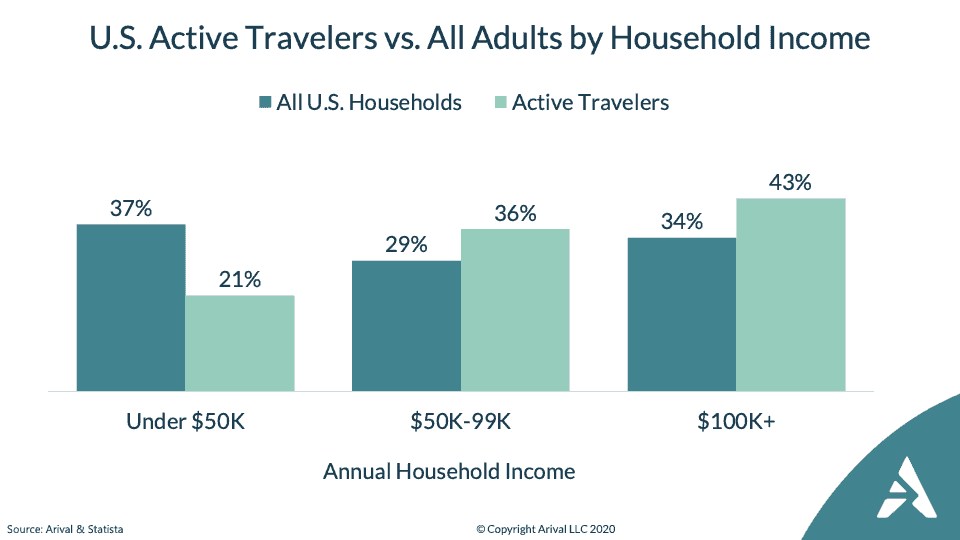 2) Upper-income travelers take more trips.
There's a big gap in the number of leisure trips taken. Active travelers earning $100,000 or more took 4.6 trips in 2019, vs. just 3.7 for those earning between $50,000 and $100,000 and just 3.1 trips for travelers who earn less than $50,000.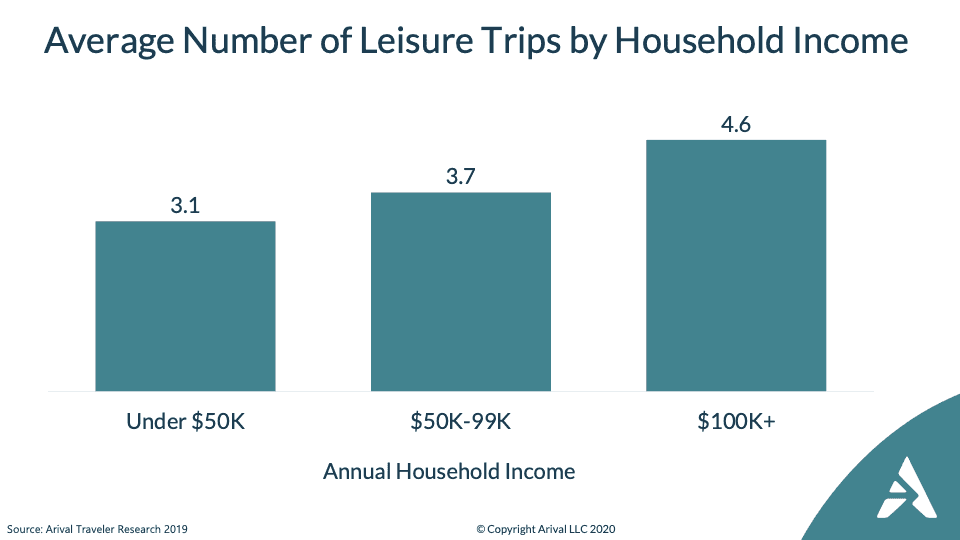 3) The gap in spending is even greater. 
Those in the highest-earning bracket averaged nearly $4,000 per trip in total spend, vs. $2,700 for the middle-income group and more than double that of those earning under $50,000.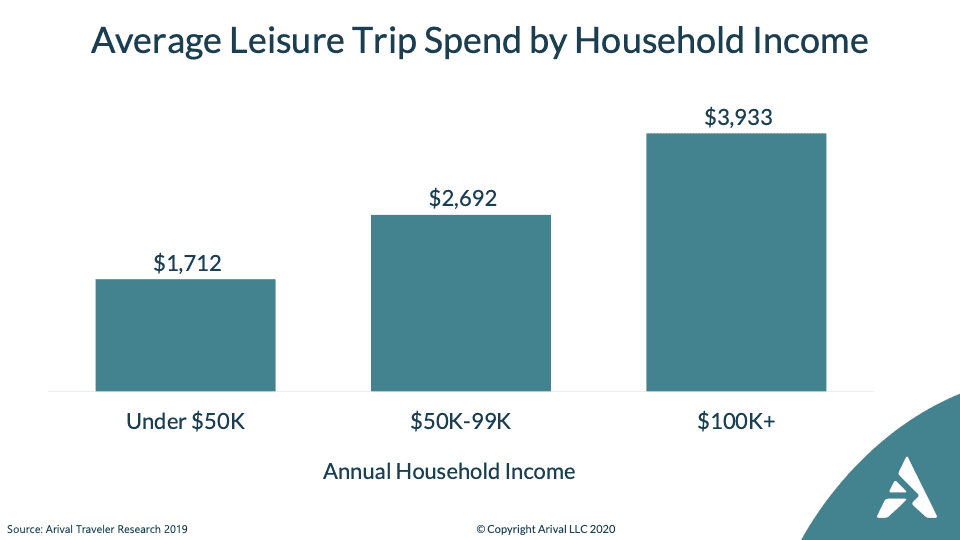 4) Higher earners account for a much bigger share of our market. 
Those active travelers earning at least $100,000 annually represent 43% of all travelers but account for half of all trips and 62% of all trip spend.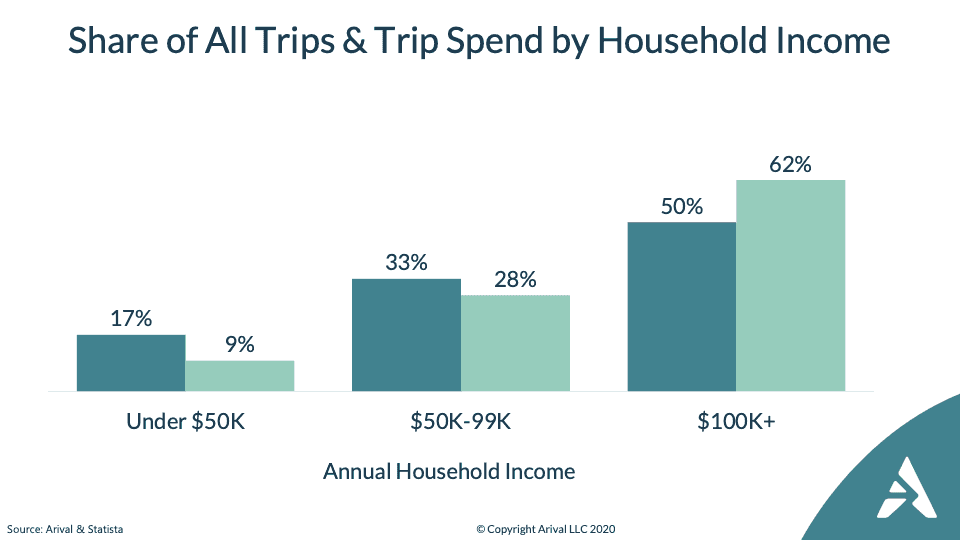 What this means: when the recovery happens, it could happen fast.
"Pent-up demand" has been a popular travel industry buzz-phrase in 2020. Still, one of the big questions around travel's recovery is the traveler's ability to get out there and experience again. Given the pandemic's overall impact on the economy and consumer finance, will travelers have the means to travel and spend as they did?
The answer from the research done by the New York Times suggests that many do – especially for the upper-income segment that is much more important to travel and tours and experiences. Travelers in the upper-income bracket of annual household income of $100,000 or more appear to be as or better well off than in 2019, and this segment accounts for half of all trips and more than three-fifths of all spend on tours, activities, and attractions.
Spring and Summer of uncertainty, but…
There remain far more questions than answers for some critical issues:
The roll-out of the vaccines
The relaxation of lockdowns (and the possibility of future surges in cases)
The easing of international travel restrictions
The willingness and comfort of travelers to engage in indoor and group experiences even as the risk of Covid recedes
Uncertainty around these all-important topics also poses an incredible challenge for tour and activity operators and sellers: what will the summer season look like? How should we plan for it?
Nimbleness and patience will be two key virtues for operators in 2021. As we've outlined above, the recovery is coming, but the key variables – when and how quickly – remain difficult to determine. Operators would be wise to pay attention to several key indicators that will eventually occur upstream in the travel industry, including:
Opening international borders: It is more likely than not your country's borders are closed to inbound international travelers. The official lifting of these restrictions – or, at least, a plan to lift them – will be a key factor to watch.
Resumption of international air service: While many airlines worldwide are operating at skeleton capacity, they are eagerly awaiting the relaxation of international travel. When restrictions start being eased, expect a relatively rapid follow-up by airlines adding service in key markets. Don't immediately expect the same frequency or amount of nonstop service as we saw before the pandemic, but service additions will be worth paying attention to.
Government-sponsored tourism promotions: It might be easy to forget, but governments – specifically, their tax coffers – the world over have also been greatly affected by the decline in travel. They too are itching for travel to resume. Governments and other official destination management organizations are likely to ramp up their marketing efforts well ahead of a broad resumption in travel.
Also, keep in mind that travel is unlikely to look the way it did before the pandemic. Expect numerous health, safety, and capacity requirements to endure even when travel does resume, especially at the beginning.
Over the coming months, Arival will devote itself to helping creators and sellers of tours, activities, and attractions plan for and succeed in 2021. But amid all of the uncertainty that our industry faces, travelers – especially the all-important upper-income segments that represent a majority of sales – clearly have the capacity to get back out there and experience the Best Part of Travel.
Of course, we all miss them dearly. But we're willing to bet quite a bit that they miss you too.