The story of one St. Lucia-based operator who used what he learned at Arival to grow his business by double digits in one year.
When Corey Devaux, general manager of the St. Lucia-based operator Sea Spray Cruises, attended Arival Las Vegas 2018, he didn't quite know what to expect. It was his first time attending a conference specifically designed for the in-destination industry (psst … there wasn't one before Arival), and what he learned at Arival was transformative for his business.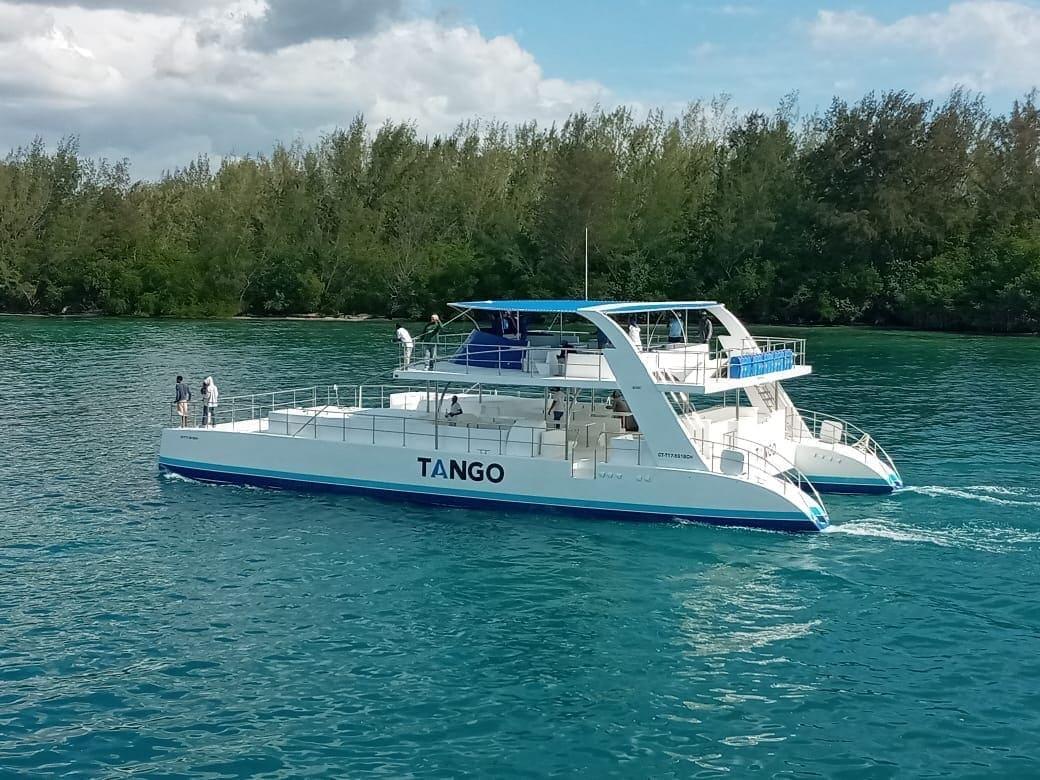 Sea Spray Cruises was founded in 1991 with one small catamaran in St. Lucia, which offered day cruises and off-shore excursions to the mountainous island's tourists—many of whom arrived by cruise ship. As demand for the catamaran experiences grew, in 1994 Sea Spray systematically added more boats. The company started partnering with other tour operators on St. Lucia who specialized in land activities such as volcano tours and waterfalls to provide guests a deeper experience.
Despite such growth, Sea Spray Cruises was still manually booking and processing payments, which was laborious work. "We had our website, but it wasn't very efficient," says Devaux. "When customers emailed in to reserve an experience, we had to manually send them a credit card authorization form, or travelers would have to pay the day of their excursion."
When local resellers such as hotel concierges wanted to make a Sea Spray reservation on behalf of their guests, they had to call in to make the reservation with Devaux and his staff directly, which consumed significant resources. Cancellations were also a time suck, and were annoying to deal with, as they were manual, too. 
Learning at Arival
Devaux knew reservations systems existed when he came to his first Arival event, but he had always perceived them to be overly expensive and not worth the cost. "At the time I wasn't even thinking of going down the road of using a booking system," he says.
But after attending FareHarbor's Demo Lab at Arival Las Vegas, a session hosted by the reservation company showcasing exactly how their software worked and the capabilities it offered, Devaux was convinced a reservation system would radically transform Sea Spray Cruises. 
He met with representatives following the demonstration and realized the pricing structure was more accessible than he thought.
After Adopting Reservation Software
Adopting the reservation system technology drastically improved Sea Spray Cruises by streamlining the business, and automating many of the manual reservation actions that were required.
For example, booking software has made transferring guests from their hotels to the dock a cinch. Previously, Sea Spray's team had to specifically ask for these addresses, pick-up locations and number of guests, and give them to their drivers daily. 
These key business changes have helped Sea Spray to grow business 20-25% from 2018 to 2019. The company recently added another catamaran, called Tango, to their fleet, which Devaux says is specifically designed for tours and is more luxurious than any other boat they currently have. 
Following Arival, Sea Spray has also seen an uptick in their online bookings from online travel agencies (OTAs)—particularly from Tripadvisor Experiences/Viator. Devaux says OTAs help St. Lucia visitors staying in private villas, VRBOs and Airbnb rentals explore and book lucrative private tours, as travelers staying in hotels are often sold to through dedicated salespeople or concierges. 
Devaux is already registered for Arival Phoenix 2020, held September 21-24, 2020, and he is making plans to optimize his event experience: Meeting other tour operators by attending the many networking sessions at the conference is a top priority, as will be attending more workshops to further his learning. 
"Arival really opened my eyes as to the amount of other operators in the tours and attractions industry that also face similar challenges with bookings, expansion, and more," says Devaux. 
Want to join Devaux and 1,000+ other tour operators at Arival Phoenix 2020? Register Now to score Early Bird Pricing.