Have you ever thought about working with distributors, or do you work with only a few distribution partners?
A diverse sales mix helps reduce your risk and increase revenue opportunities for your business. In this article, we'll walk you through the steps to building a diverse sales mix, including discovering new markets, understanding the types of distribution, setting your net rates, and finally making contracts with new distribution partners.
Why does your business need a diverse sales mix?
It's simple. It reduces risk for your business.
A diverse sales mix looks like a combination of direct and distribution revenue. You can work across multiple markets that suit your experience. Should one market unexpectedly have a "bad year", then you have:
Other reliable revenue streams;
A direct communication to that market to determine the reason behind the downturn so you can adjust accordingly.
A diverse sales mix increases revenue opportunities.
Working across multiple markets means that you have recognised the opportunity to reach your target customer in these markets. This means that you are operating at maximum revenue capacity and reaching as far as you possibly can in bringing in revenue. It also allows you to scope out product opportunities to further grow your business.
How to build a diverse sales mix
Step 1: Discover new markets
Before you start, you need to ask yourself some questions:
Who is your target customer?
How do they research travel?
How do they book travel?
Do you need to do any product development?
Does your target customer have the same needs as your current customers in your existing markets or do they need a specifically designed experience?
Do they require specific amenities?
Thorough research into the demographics, cultural and behavioral requirements of your chosen market will determine whether your product is suitable.
You can often find this information via your National Tourism Organisation (NTO) or Destination Management Organization (DMO), and with Arival resources such as The 2023 Experiences Traveler and The Global Attractions Traveler.
Step 2: Understand the types of distribution available to you
Each market will offer a variety of ways to distribute your product.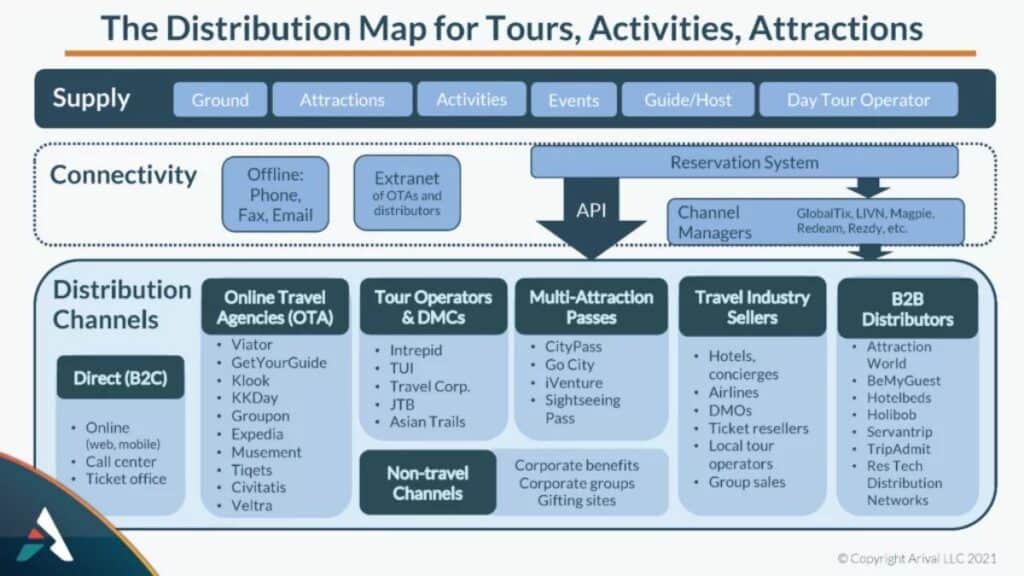 For example, if you offer a luxury experience and want to sell to travelers from Germany, then you will look for high-end inbound tour operators (ITOs), receptive operators and Destination Management Companies (DMCs) that work within Germany and have contracts with high-end wholesalers in the market.
A good way to think about this is:
Located in-destination
ITO/Receptive/DMC — a great way to get your experiences included in pre-planned trips and tour series. This means your products can be included in packages that are booked before the traveler leaves their home country.

Visitor Information Centers/Regional Travel Websites/Travel Desks — like the experience marketplaces, these are tailored for travelers who are looking to book in-destination. They are often run on a smaller, more local scale, are highly specialized in their region and have the greatest depth of product availability for their region.
Located in source market
Wholesalers are traditionally based in the source market and they generally contract with ITOs/Receptives/DMCs to run the ground operations in-destination. These wholesalers often have contracts with travel agent chains and networks to be the preferred wholesale partner for products from certain regions. Wholesalers like to work with ITOs/Receptives/DMCs as it takes the contracting component out of their business, removes them from providing support on the ground and allows them to pay the one bill (and one currency transaction fee) as opposed to multiple invoices for each supplier.

Retail Travel Agents – Travel agents often book via wholesalers with whom they have preferred agreements. Occasionally they book direct, depending on the type of booking and location.
Online/Mobile Activity Resellers
These may be OTAs, Marketplaces, or local resellers that provide an online or mobile activity booking service. Although tours, activities and attractions sold through these can be booked in advance, many tend to be sold in-destination.
Online Travel Agencies (OTAs) — OTAs traditionally started as exactly that, an online travel agency. However over time they have adopted multiple layers to their business through offering affiliate programs and travel agent programs alongside their traditional direct websites. Being online allows them to sell more broadly around the world. Examples include Expedia and Booking.com.
In-Destination Experience Marketplaces — Often synonymous with OTAs, these aim to capture travelers who haven't booked their "things to do" yet and are looking to book while they are in destination.  These types of travelers are happy to book on the road, often via their mobile device. Examples include Viator, GetYourGuide, Klook, Headout & TUI Musement. 
Dig deeper into online/mobile resellers for tours, activities and attractions with our lists on OTAs by Geographic Region, Specialist OTAs by Niche, Asia Pacific OTAs, and Multi-Day Tour OTAs. 
But like everything, things are changing.
Business-to-business (B2B) tech companies that are also wholesalers — such as Livn — are emerging. They don't fit the traditional wholesale model as being online, however Livn is able to contract, connect and sell on a global scale.
As an example of the changes, during the pandemic, Flight Centre closed their wholesaler which was built in a traditional model, and now connects to different wholesale tech platforms in order to deliver live availability and instant confirmation to their clients.
While the traditional distribution channels will remain for some time, there is movement from the traditional players seeking more streamlined tech processes to drive their products.
Step 3: Set your net rates
To work within travel distribution, you need to have net rates and commissions built into your pricing. This is to ensure that each entity along the distribution chain is paid for the work they have done in order to make the sale (and that you still have revenue left at the end of the chain).
What is a net rate?
A net rate is your wholesale rate. This rate is often marked up by the distributor to the retail rate. In cases where the distributor is paying net rates, this is the amount they will pay you for your tour. For example, if your retail rate is $100 per ticket/seat, and your net rate is $75, the distributor earns $25 or the equivalent of a 25% markup. Net rates are generally used with distributors who take payments from customers.
What is a commissionable rate?
A commissionable rate, often referred to as a rack rack, is your retail rate that you have agreed to pay a specific commission on. For example, your local travel agent sells your tickets and you pay them 10% commission for each ticket sold. Your tickets are $100 each — so after the guest has traveled, you pay them the 10% commission (which in this instance is $10). Commissions are often paid to distribution channels who do not take direct payment from customers.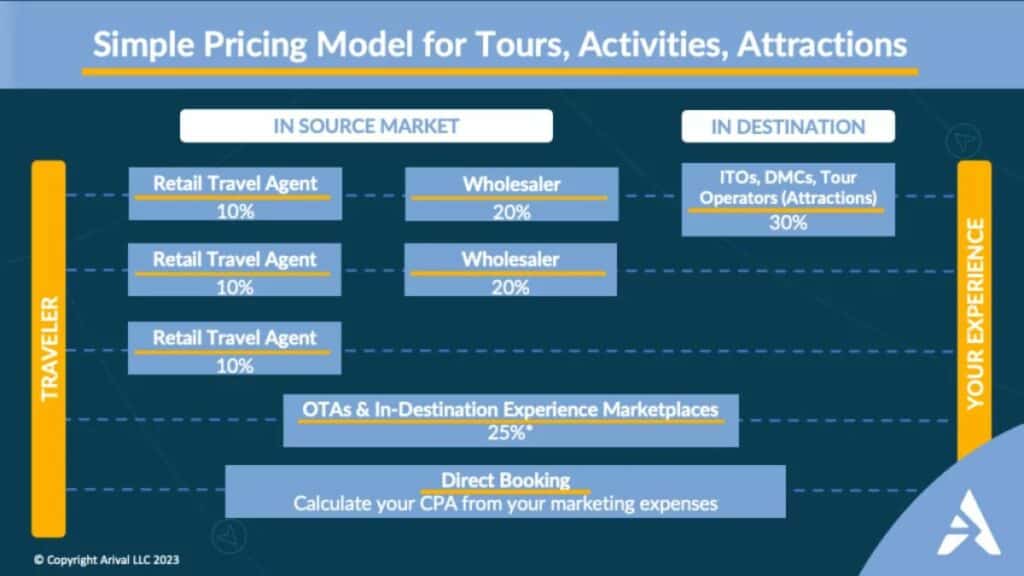 The above image shows where the money goes through the chain of distribution. In the top line, you see that the 30% that is paid to the ITO/Receptive/DMC is spread down the chain and each of them receive/keep 10% from the sale.
What are the travel industry best practices for setting net rates?
To learn more about how to set your net rates, refer to our recent walkthrough on how to set net rates for tours, activities and attractions.
Many operators wonder, why are the commission rates so high? It's helpful to think of the commission rate as a marketing fee. The net/commissions you pay, pay for all the marketing efforts that these partners do in market. You only pay the marketing fee (in the form of net/commission) AFTER you receive a booking. If you were to plan and execute your own stand-alone marketing campaign in-market, then you pay the marketing fee BEFORE you get the booking.
Working with distribution is a low risk way to access new markets and to leverage their brand power to increase your sales.
Step 4: Make contracts with distribution partners
How do you make contracts with distribution partners?
Each company contracts differently. It will be a mix of online agreements and sending out physical contracts. In some cases, you will send your contract only to have it returned to you in their contract format. Make sure you double check every rate that is listed, as a simple typo can cause many issues in the future.
To create a contract, make sure you include:
Name, address, phone, email, website, business numbers, social handles, reservations contact, finance contact, sales contact and billing information (including currency and SWIFT numbers).
Product details: including company overview and product descriptions.
Rates: validity, type, RRP (recommended retail price), net and inclusions.
Additional information to help sell: for example, a share drive where you can have high resolution images, brochure copy and brochures/fact sheets. You can also include familiarization information.
Terms and conditions including:

How to book/quote
Group booking info and policies
Payment (credit/non-credit)
Cancellation policy (groups and FIT)
FOC policy
Child policy
Rates policy (currency, taxes)
Responsibility
Be sure to get your contract reviewed by a lawyer to ensure it protects your business.
When contracting, here are a few tips to remember:
It is your rate and you control the rate.
You contract the rate best for your business.
All contracts are negotiable.
You can change distributor contract conditions before you agree to them.
A contract must be beneficial to both parties.
Always check the jurisdiction of the contract (as a supplier, it is best to push to be in your home jurisdiction).
Always check the indemnity clause — mutual indemnity is a good option.
If you feel that the contract requests are more than you are willing to give, remember, it is okay to walk away from a partner if it is not serving you.
Make sure you know how they send bookings through to you — are they connected via API to your system? Do they call, email or book via your agent portal?
Some distributors will wish to negotiate different ways to sell. These include:
| | | | |
| --- | --- | --- | --- |
| Type | Description | Good for: | Bad for: |
| Allotment or Block | Contracted to sell X amount of seats per day. They own these seats and release back to you 7 – 14 days prior to departure. | Large tour operators | Small tour operators with small inventory |
| Freesale | Can sell as many tickets/seats as they can on any day. You send a freesale report daily with blockout dates (days they cannot sell). | Attractions with GA tickets | Any tour/experience with limited availability |
| Live availability | Sell directly via the agent portal of your booking system or via API connection through channel manager. | Attractions, tours, experiences. EVERYONE! | No one |
| On request | Must check availability with you first and send booking requests through before it's confirmed. | Extremely limited availability experiences and/or private charter experiences | All other tours/experiences/attractions |
Knowing these terms allows you to determine which is the best option for your business. Be sure to ask what option they prefer when negotiating the contract.
Where to connect with prospective distribution partners:
Tourism is a people business. It revolves around who you know and who can introduce you to the right people. There are ways in which you can do this:
Networking: Join industry groups and attend everything you can.
Travel Industry Conferences, Events & Trade Shows: Find the right events and attend them. Join us at an upcoming Arival event in Bangkok (June 12-14, 2023), Orlando (Oct. 9-12, 2023) and Berlin (Mar. 3-5, 2024)!
Join relevant associations: Such as export council / tour operator associations.
Work with your DMO or NTO: Who represents the tourism industry in your destination?
Online: Create a list of target distributors and contact them. Refer to the Arival Guide to Digitial Distributors.
LinkedIn: Connect with and message key people. Consider getting a premium account.
Final thoughts and tips on working with distribution partners
Now that you've researched your target customer, developed your product, set your rates and developed your contracts, it is time to get out there and meet with the right people. Some final tips to remember when working with distribution partners:
Keep them up to date on any changes with plenty of notice.
Let them know about new products before they go live — get their feedback and allow them to try it before going live.
Take the time to visit them — train their teams on how to sell your product.
Offer familiarization opportunities (either free of charge or heavily discounted rates for their staff). This is the best way to train people about your product.
Build genuine relationships with them — be your authentic self and keep "shop talk" to a minimum at social events.
Participate in incentives they run.
Schedule regular calls/meetings with them. Keep up to date with what's happening in the market, any feedback about your product and continue to build rapport.
Make sure you have a booking system that offers net rate/commission rate management (preferably via agent), connections into industry via channel managers and agent portals.
Have your rates loaded before you send the contract out so you are ready to take bookings.
Building a diverse sales mix can take time. However, it is worth putting the effort in as it allows you the greatest opportunity to sell your experience, while at the same time protecting your business from market fluctuations and making it more sustainable.
Learn More at Arival Activate | Bangkok 2023
Join us at Arival Activate | Bangkok 2023 in June to learn more about building a diverse sales mix and working with distribution partners, and find more from guest author Meredith Rangel at Bookable Tourism. She will lead an exclusive workshop at Arival Activate | Bangkok.
Become an Insider Pro Access member today and get access to the full library of Arival research, plus many other benefits such as free consulting sessions, special discounts and 20% off in-person events, starting from $179 per year.
GET ON THE LIST!
Sign up to receive insights tailored for the in-destination industry as well as updates on Arival.
Sign Up