This crisis will recede, as all crises do. The travel industry has been here before. It has always rebounded, and emerged better than before.
Sometimes crises emerge which seem so overwhelming, it can be difficult to think about much else.
I remember 2008 very clearly. Travel demand had been slowing that year, but then suddenly in the 4th quarter the bottom fell out. The Wall Street collapse, triggered by the Lehman Brothers bankruptcy in September, turned the slowdown into a full-blown financial crisis overnight. It quickly spread like a contagion, affecting financial markets, business outlook and travel worldwide.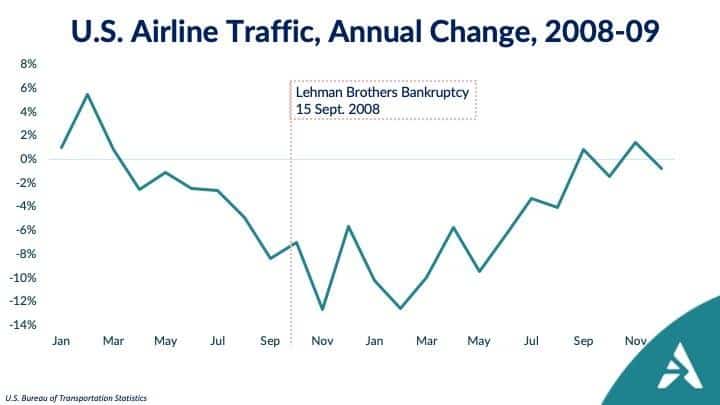 By early 2009, the travel industry was in free fall, declining at twice the rate of U.S. GDP. A quarter of a million people in the U.S. travel industry would lose their jobs. At the company where I worked at the time, my colleagues and I were understandably anxious.
The CEO called an all-company meeting. Every employee was there, all of our remote employees dialed in.
But there was no panic. He didn't show much emotion. He didn't hold anything back. 
"We are in the depth of a recession, and travel is being hit hard. Our pipeline is weak, and our forecasts don't look good," he said. "So I am asking all of you for ideas. What are things we can do to grow revenue and manage expenses to see all of us through this?"
We then spent the better part of an hour discussing how things were looking and what we could do. I still remember how I felt coming away from that meeting, and three things I learned:
I learned about the power of confronting a challenge without emotion.

I learned about the impact transparency and authenticity can have on a team and motivation.
I learned about confronting the uncertainty ahead with the certainties we had.
Rather than come away nervous and full of worry about our own jobs, we came away charged up, ready to do what we could. 
Corona Recession?
As concern over coronavirus accelerated over the past week, as conferences and events were cancelling around the world, I thought more and more about that meeting 11 years ago.
The impact coronavirus is having across our industry has been sudden, and already quite deep. We are hearing from too many tour, activity and attraction operators and distributors who are seeing significant cancellations and ominous signs for future bookings. The underlying economic fundamentals of the global economy do not seem dire as they did in 2009, but the near-term risk to travel and tourism could be as great—or even greater.
It's already wreaking havoc on the meetings and conferences industry. Events are cancelling or postponing in Europe, Asia and the U.S. This causes enormous hardship on event organizers and all of their vendors, not to mention the disruption and impact on attendees and sponsors. 
Like this? register for our Newsletter to continue the conversation
In Arival's case, we were left with no choice but to cancel. Just one-and-half days before our event was scheduled to kick off, the German Federal Ministry of Health issued guidelines for large events and gatherings, including screening all attendees and coordinating directly with local health authorities, among other guidelines. With nearly 700 registered attendees from 50 countries, including those with elevated risk, we knew we could not comply.
Not long after we communicated to our attendees, ITB, the world's largest travel trade event, announced the same difficult decision. The Berlin Travel Festival, whose team reported contact with an individual infected with the disease associated with coronavirus, soon followed.
Our sympathies go out to the organizers of ITB and the Berlin Travel Festival, and to the many event organizers who have made the same difficult decision, or who are facing it now. We wish them only a fast recovery and future success.
What Comes Next (You're Not Alone)
Back in 2009, as our team walked out of that meeting, the recession and uncertainty about the future was all still there. But we came out of that meeting a little different. How we thought about the uncertainty was a little different. We didn't implement a single, simple solution. Instead it was 100 small things, done by 25 or so employees, that we did each day, to stay focused and see us through the hardship.
The recession ended. Travel returned (as it always does), growth returned and the business flourished. And by the way, that CEO was Philip Wolf, the founder of Phocuswright.
Whether you are a tour or activity operator, an attraction, an online travel agency or technology provider, whatever your role in our industry, if your business is now under stress, know that you are not alone. The team at Arival, and many thousands of operators and organizations in our industry are with you, going through what you are going through.
As difficult as it may seem to see beyond the current crisis, especially now as it appears to be accelerating, remember that this crisis will recede, as all crises do. The travel industry has been here before. It has always rebounded, and emerged better than before.
The Best Part of Travel will emerge from this too, and it will emerge better than ever. We'll be right there with you, just as we are now.
We're working away to reschedule Arival Berlin, and we will announce dates once we are confident the risks posed by coronavirus have lessened.
We'll see you soon.