Google is bringing Reserve with Google (RwG) to an end. The closely watched booking service enables consumers to buy tickets for participating tours, activities, and attractions directly from the operator's Google business listing. Multiple partners to RwG, including reservation systems, online travel agencies (OTAs), and other technology partners, confirmed the news off the record.
RwG is the service behind the "Buy Tickets" button on the Google MyBusiness listings of many tour, activity and attraction operators. It enables the purchase of tickets without leaving Google. The booking is handled on the back end by either a connected OTA (online travel agency) or operator reservation and ticketing system.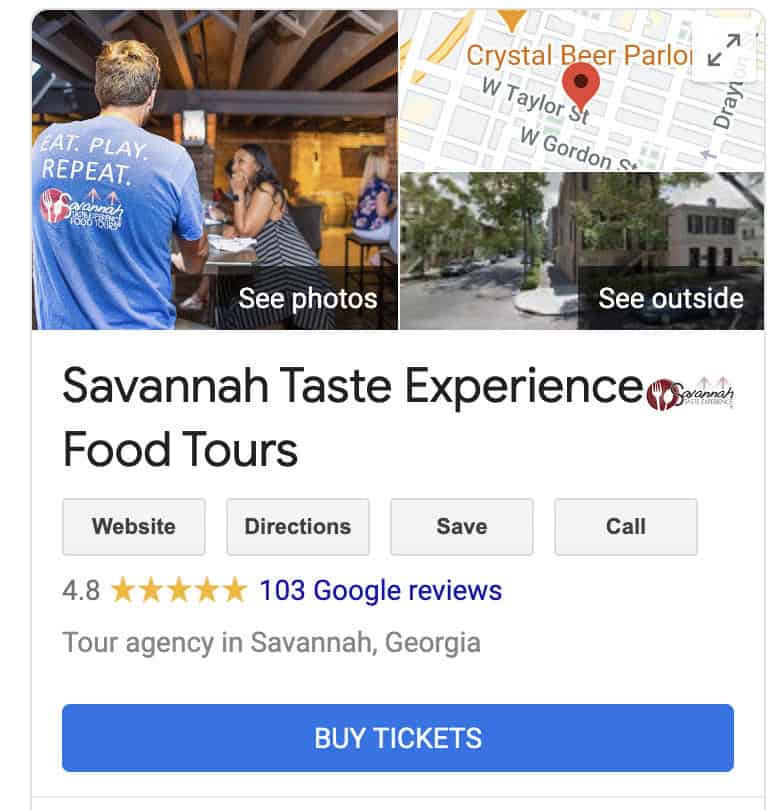 There is no clear timeline for when RwG will end, but the Buy Tickets button and booking path is expected to be phased out over 2021. Google is not onboarding any new partners to the service. The closure only applies to tours, activities, and attractions and not other services such as restaurants, salons, and other local businesses that take reservations.
Google declined to comment for this article but did not dispute that RwG would be winding down.
RwG was a major step by Google to enter the $254 billion tours, activities, and attractions industry. Conceived within the Google Maps group, RwG was initially intended to enable users to make reservations with local businesses such as hair salons and restaurants. Google expanded the service into tours and attractions and developed connections with multiple OTAs and reservation system providers (a complete list can be seen here). In early 2020, we reported that the tours and attractions division of RwG was rolled into Google Travel.
Operators Interested, Frustrated with Reserve
Operators initially viewed RwG with great interest. The service offered operators a way to get in front of Google's many millions of users with a direct booking option and allow them to better compete with OTAs.
The example here from Savannah Taste Experience offers options from two OTAs, Viator and Vimbly, as well as FareHarbor, the reservation system used by the tour operator.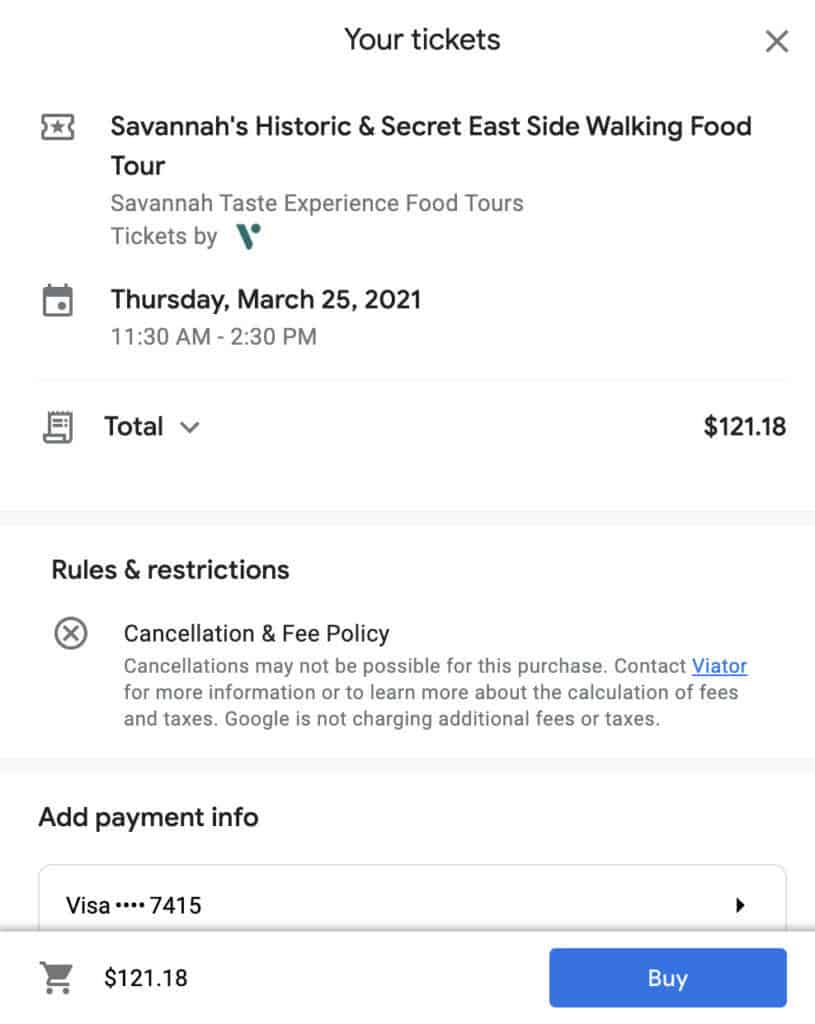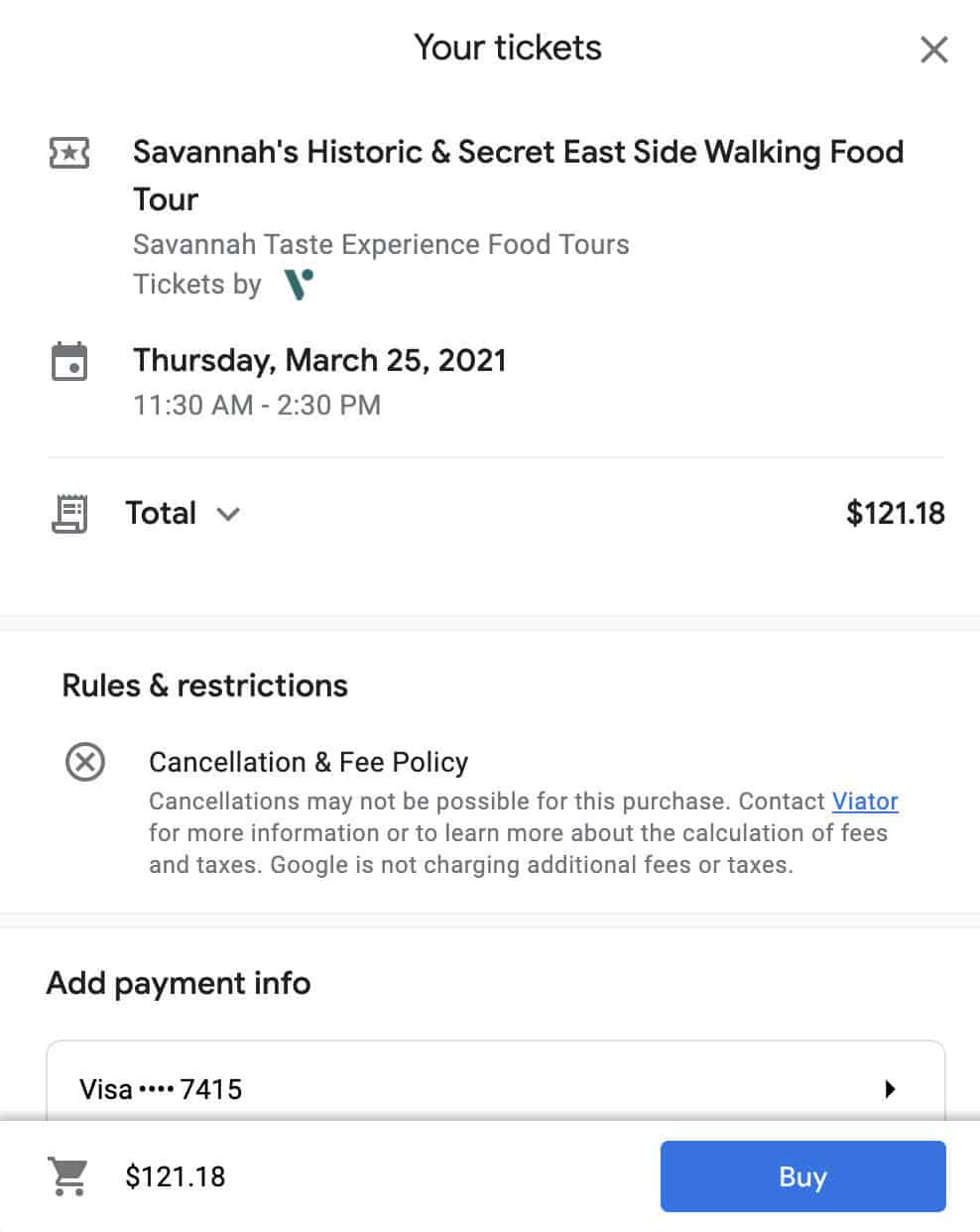 However, the service became a source of confusion and frustration with many operators, who had no control over how their tours or tickets could be purchased through RwG. Google would not work directly with operators and instead connected directly to OTAs and reservation systems. In this case with Savannah Taste Experience, although tour times are sourced from multiple providers, the only booking option in this search is offered through Viator.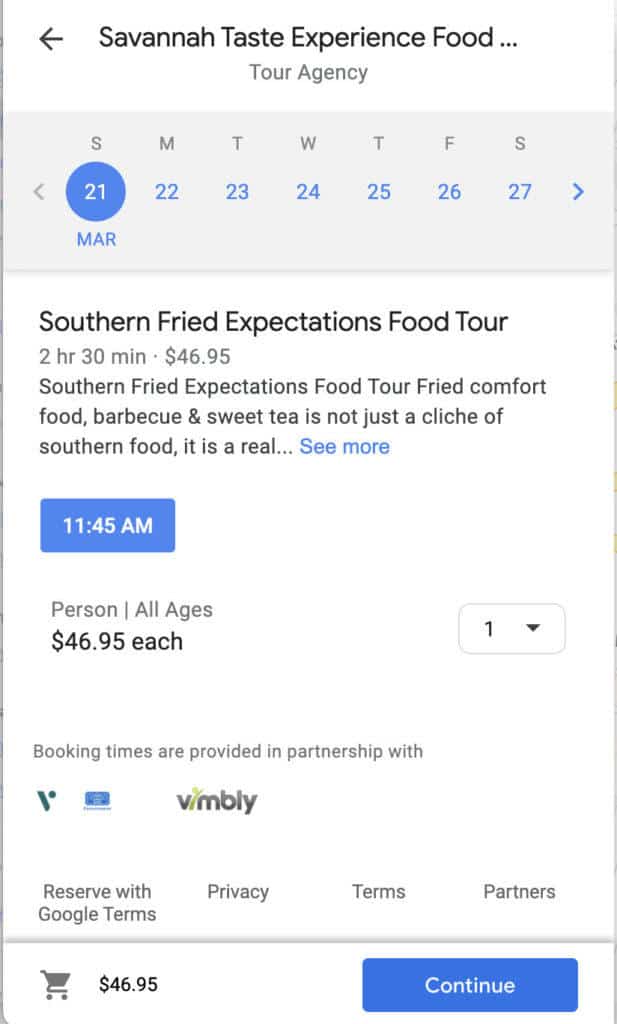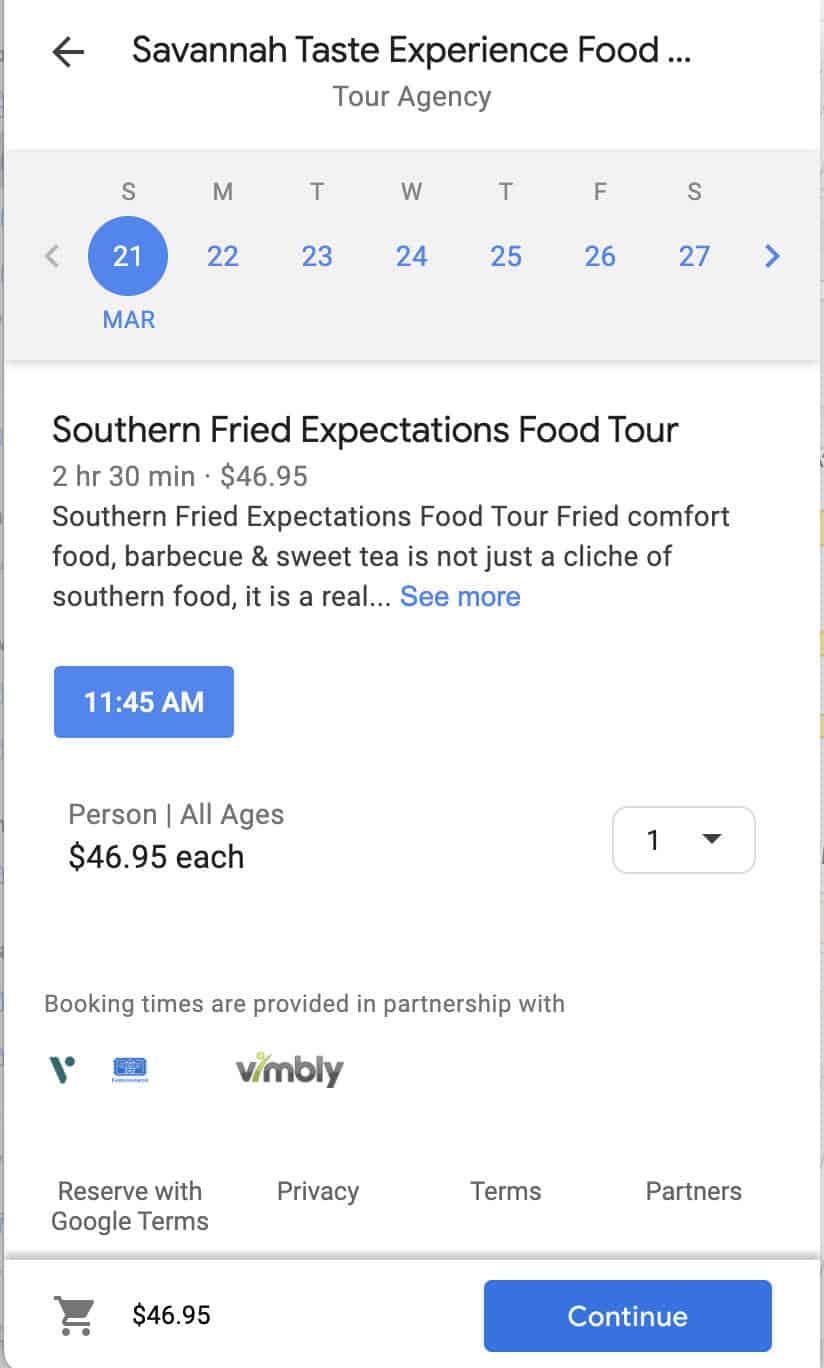 Tour operators have become frustrated when OTAs such as Viator are the only available booking option for their Google listing. In effect, operators advertise on Google and invest in optimizing their own Google MyBusiness listing to drive direct business, only to see the RwG booking option powered by an OTA, which charges a commission.
For What's Next, Look to Hotel Listings
Several RwG partners briefed by Google said that the search engine is moving toward an advertising listing model under "Google Things to Do" that would be similar to how hotel listings operate today.
Google would not discuss what would replace RwG, but a Google spokesperson did point us to this March 9 announcement about its overall direction in travel and shopping. The blog post emphasizes that the new listings model now provides an opportunity for hotels and OTAs to offer free listings as well as sponsored listings.
"Today's update is part of our larger effort to ensure people have access to all offers available to them by providing free and easy ways for businesses to connect with people on Google. We made it free for partners to participate in Google Flights early last year, and in April, we opened our Shopping tab to free listings for online retail. Over time, we'll continue building this open platform so that all partners will have even more opportunities to highlight their information and help people book a flight, find a place to stay, or explore a new destination."
Google's new hotel listings feature both sponsored and organic listings with deep links to complete the booking either on an OTA or hotel website. In this listing below for the Westin Savannah, four ads are displayed first, and then two organic listings. The ads feature three OTAs and the Westin's direct website. Tripadvisor has the top listing, presumably because it is the highest bidder with the lowest price. The hotel is also advertising, and it has the top organic listings under "All options.".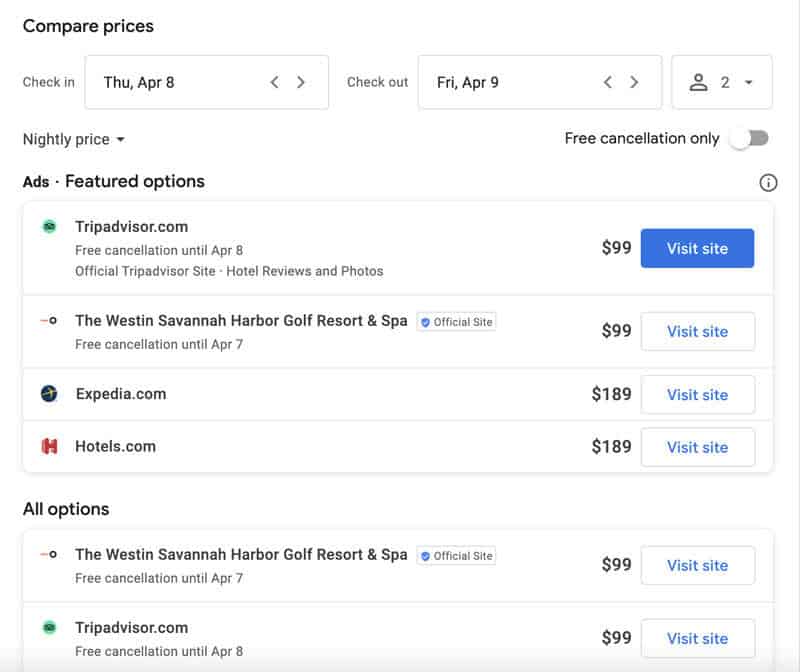 In addition, the overview page of the hotel listing also includes a "Website" button that links directly to the hotel website. This is similar to the website button on the business listing of tour, activity, and attraction listings.
Google Won't Work with Operators Directly, for Now.
Operators hopeful that the change will give them more options to have their own direct booking links featured prominently may be disappointed. Google does not plan to enable individual operators to manage their listings, at least at launch. Google will only work with OTAs and reservation system companies.
However, it's unclear exactly how reservation system companies will manage this. Will reservation system companies buy in the advertising auction for these listings and compete with OTAs to drive direct bookings to their operators? This would be a significant shift in the business model for most technology providers. It also remains unclear whether operator reservation and ticketing systems could support the deep linking as it currently works in hotel listings.
The New Approach Could Still Favor OTAs
If Google Things to Do pursues a listings model similar to hotels as expected, the shift would still likely favor OTAs for three reasons:
Ads are on top. This shouldn't surprise anyone. Google is seeking to monetize listings, so ad-driven listings will almost certainly get top billing. This will heavily favor the largest OTAs, whose marketing budgets far exceed individual tour, activity, and attraction operators.
Sponsored and organic listings deep link. To provide a better user experience and improve conversion, the listings on these hotel pages "deep link." The links take the user to a search result page with the dates and pricing displayed in the Google listing. See the Westin's landing page from the organic link in the Google hotel listing below.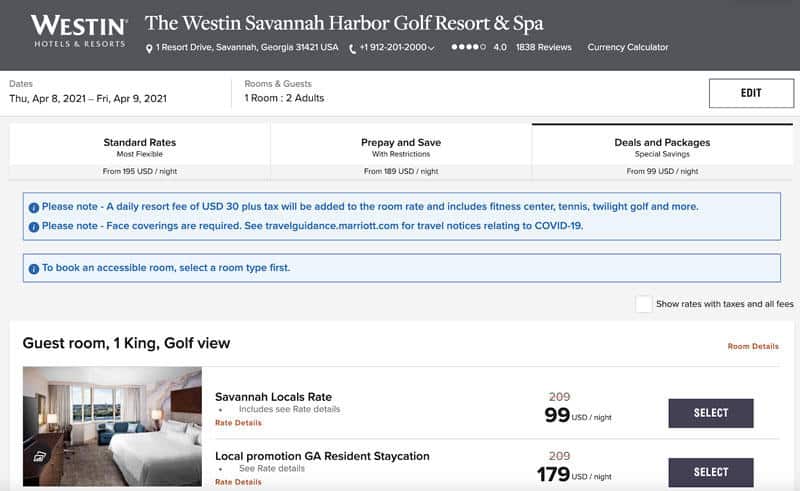 This deep-linking feature is something that OTAs will be far better equipped to support than most tour and attraction operators.
Operators are dependent on their reservation technology providers. In the short term, operators will be reliant on their tech providers to enable the listings, whether free or paid. It is unclear if and how the res tech companies will do this. A senior executive at one major tech provider said they have no plans to put any developer hours toward this in the foreseeable future.
What This Means for Operators: Not Much, for Now
There is little change for operators in the short term. The Buy Tickets option will likely remain in place for a few months, but operators should expect this booking channel to disappear by the end of the year, if not sooner.
Operators should look to their booking system providers and ask them how they plan to participate in Google's forthcoming approach to Things to Do. As usual with Google's constantly evolving plans in tours and activities, there appear to be more questions than answers.
"There is not a clearly defined plan of attack," said the CEO of one reservation system company that has been an RwG partner. He emphasized that the industry should not read too much into the developments because much could still change. "They haven't got a clear plan that they've outlined. It comes down to the things-to-do search, which is quite different from a places-to-stay search. That's quite different, and they still haven't got their heads around it."