An Arival survey of nearly 600 operators, resellers, and other companies in tours, activities, and attractions presents a worrying outlook for the future of travel and tourism's third-largest sector. Conducted online between March 6-13, 2020, Arival's Coronavirus Pulse reveals that a moderately prolonged downturn in tour and attraction booking could result in a wave of business failures.
Arival conducted the survey online with support from bookingkit, Globaltix, Peek, TrekkSoft, FareHarbor, and Tourpreneur. We had 573 qualified responses from around the world: 81% are operators of tours, activities, and attractions, and 19% represented online travel agencies, distribution companies, technology providers, and other services in our industry. 
Most Operators Down 50% Before Last Week's Global Crackdown 
The vast majority – 73% – reported a decline in bookings versus 2019 year-to-date, with another 17% saying booking volume is basically flat. The average decline in bookings ranged between approximately 40% and 60%, with Asia Pacific the most affected. These declines will almost certainly increase and more countries around the world have adopted tighter restrictions on travel within just the last few days.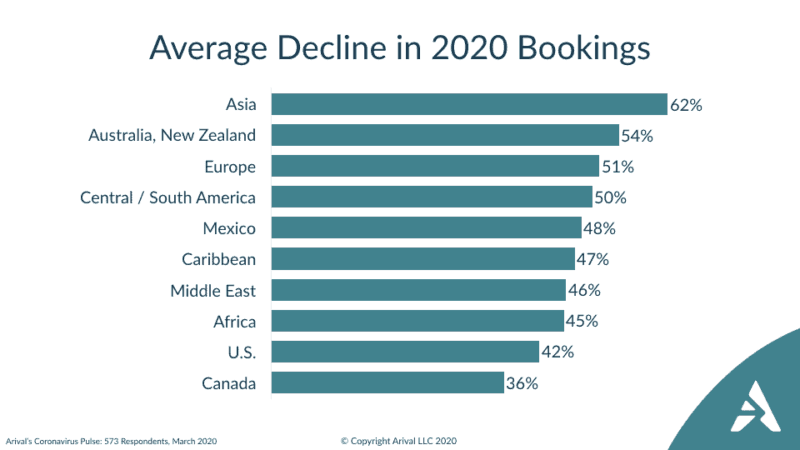 Risk of Operator Failure Grows Rapidly as Downturn Persists
More than one in four operators, or 28%, face moderate to high risk of business failure if travel restrictions are not eased and demand does not begin to return within three months. That risk rises to 46% of operators if recovery does not begin after six months. A majority of operators, nearly two in three, maybe unlikely to survive one year.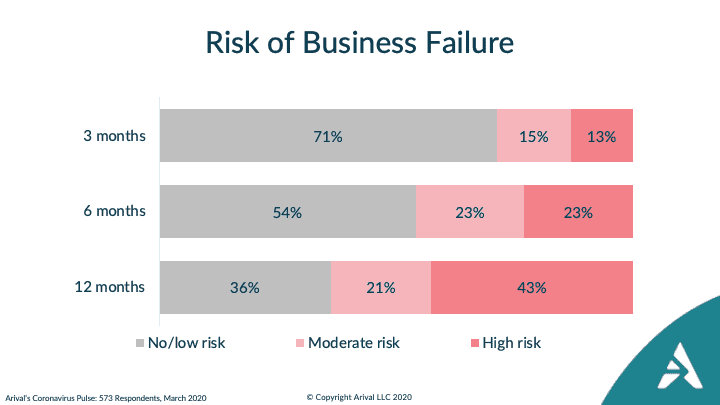 The current downturn in travel poses an extraordinary risk to creators and sellers of tours, activities, and attractions worldwide. Although the coronavirus impact was first felt in Asia, it is clear that no country, and no operator, will be left unscathed. 
To learn from specialists in the industry please join us on Arival Online, we have curated a number of sessions designed to help in these unprecedented difficult times, sessions include:
More about our survey respondents.