A brief summary of Arivals Townhall discussion with leading tour and activity operators, plus download of the findings from the recent Coronavirus Pulse Study.
On Friday we held our first Arival Townhall event, Arival Town Hall: Coronavirus Pulse Study and Open Discussion on How Are Operators Are Responding. We had nearly 500 registered attendees from all over the world, a great questions, and insigntful discussion among three industry leaders representing the diversity of our industry: tours, activities and attractions.
We wanted to share the top takeaways that every operator should be thinking about right now to see their business through the current coronavirus crisis.
Our Speakers:

Speakers:
Douglas Quinby, Co-founder & CEO at Arival
Peter Syme, Managing Director at 1000 Mile Journeys
Sean Finelli, CEO at The Tour Guy
1. How long will this last? 
Panelists agreed that the 17% of operators who filled out April or May, are overly optimistic. By September/October you hopefully can get some revenue in and that will keep companies going to 2021. However, as Peter Syme mentioned, planning for the Easter 2021 session is likely where you will see the changes in revenue.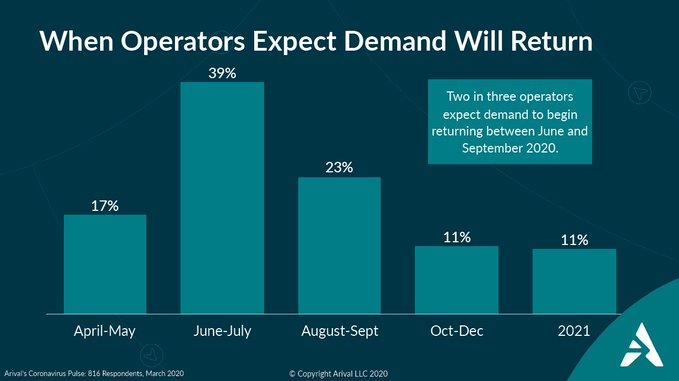 2. What are the positive signs we should be looking for?
Look at the % of the actual total of cases decreasing

Next, look for a decrease in media article, which will indicate a return of 'business as normal'. We should also be looking at positive/reassurace pieces that encourage corporate and tourist travellers. 

For economic health you should be eviewing the unemployment rate going down and disposable income in households increasing.

Room bookings increasing in your local area is a good indicator of visitor numbers. Your local authorities, local DMOs, and private businesses should be able to provide this information for you. 
3. What should operators be doing right now?
In a disaster, markets come back locally first and then regionally -At the moment, operators who are locked down are not going to receive visitors, these tour operators are going to  have to change some of the product set, because the product may not be suitable for locals, for instance, if you have a good fit to the food experiences in Italy. You cannot sell a pizza making class to an Italian. Therefore, the operator has to quickly come up with some new product sets that will be suitable for the new market.