Facing massive cancellations and uncertainty on when they will be able to do business again, operators of travel tours, activities, and attractions are taking considerable steps to keep their businesses alive, according to Arival's Coronavirus Pulse Survey.
About a quarter are reducing departures and working with fewer guides, and two in five have had to lay off staff. But even more, nearly two thirds, say they are in hibernation mode, temporarily ceasing operations. For many, of course, this is not a choice, with stay-at-home orders in place and public spaces like restaurants and beaches closed.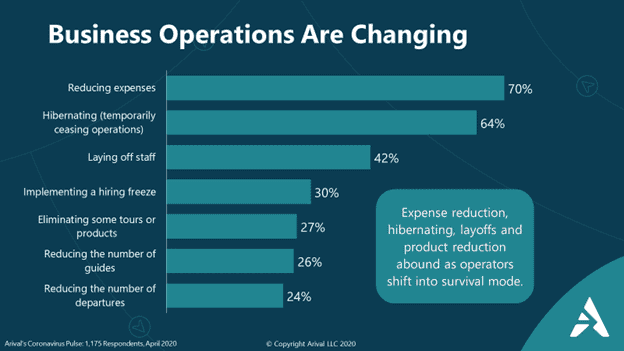 Unlike any hibernating creature in nature, most operators are working with no clear timing or conditions for re-emerging. And for some, the lack of clarity means it is hard to put this hibernation period to good use. Delphine Berbigier, who offers custom private tours as the owner of Unique Maui, says the uncertainty has made it difficult to evaluate the wisdom of investing in things like Unique Maui's website and social media presence. "I know digital assets can always be beneficial," Berbigier says, but she does not want to invest only to find that she cannot bring back the business soon enough or at a viable scale.
Arival's Coronavirus Pulse measures the effects of the pandemic and widening travel restrictions on tour, activity, and attraction operators worldwide and the steps operators are taking to respond. The study received 1,175 qualified responses between March 8 and April 30, 2020. Survey respondents represent all sectors of tours, activities, and attractions, including small and large operators from around the world.
Arival fielded this survey with the help of the following partners: bookingkit, FareHarbor, GetYourGuide, GlobalTix, Local Food Adventures, Peek, Rezgo, Tourpreneur, Trekksoft, Viator, and Walks.
 Get your free Arival's Coronavirus Pulse report here.
For more perspective on how the global travel activities, tours, and attractions community is contending with this crisis, join us at 11:00 am on May 12 for an Arival Town Hall: Coronavirus Impact Update and What's Next for Operators. Arival CEO Douglas Quinby will walkthrough updated findings of Arival's Coronavirus Pulse Impact Survey, and discuss the implications and outlook with leading tour and activity operators from the U.S. and Europe.