U.S. travelers who are surfing the web to buy their attractions tickets have two purchasing options: they can either buy tickets directly from an operator website or they can book through a digital distributor, also known as online travel agencies (OTAs).
The greatest slice of online attraction sales are made through OTAs, according to Arival's new report, The U.S. Traveler: How Travelers Plan, Book & Experience Museums, Zoos, Theme Parks, Monuments, Landmarks, and Other Ticketed Attractions. Three out of five travelers purchase tickets through a digital distributor such as GetYourGuide, TripAdvisor, Klook, and many, many more. (Download the Arival Guide to Digital Distributors on arival.travel to learn about the 100+ global tours, activities, and attraction resellers out there.) 
Attraction Online Booking Channel, by Attraction Type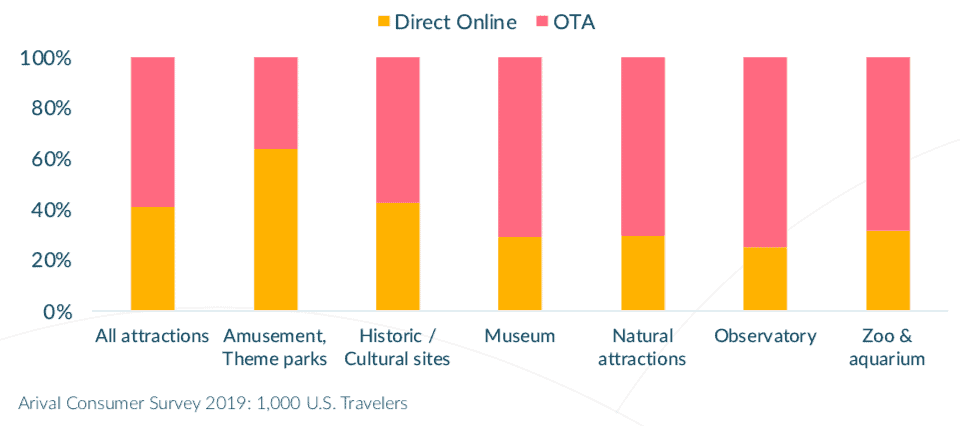 OTAs can help attraction operators have a significantly greater potential audience than their website alone. But such resellers typically require a commission fee of 20-30%—which may be tough to swallow for smaller operators in competitive price-sensitive markets. The one type of attraction that has flipped the narrative on bookings? Amusement parks and theme parks, which may have more established brands and larger marketing resources; 52% of travelers who visited a park said they booked directly through the operator website. 
What factors sway a traveler to book tickets on a direct operator website versus an OTA? There are several components that contribute to this split-second decision. Notably, 45% of U.S. travelers who booked through an OTA did so because they thought—perhaps erroneously—the OTA had the best ticket price available.

Additionally, some travelers who booked their attractions tickets through an OTA said they did so because they already had an account on the platform, negating the need to enter their credit card information, or even worse, creating yet another account with a username and password. This suggests convenience plays a large role in the purchasing platform decisions of travelers, too.
Figure Booking Channel Choice OTAs vs. Attraction Sites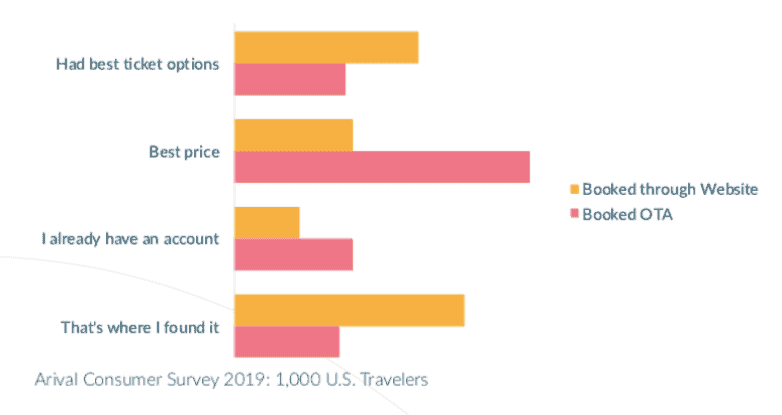 Its clear websites are one of the most critical marketing tools for attractions operators. More than one in three travelers who bought tickets directly from the operator website did so because it was the first option they found. There is also a perception among travelers that attraction websites may contain the best ticket options (think: skip-the-line access or behind-the-scenes special options), which also prompts travelers to buy direct.
Operator Takeaway: Underscore Price, Convenience & Ticketing Bundles
Both OTAs and websites are important sales channels for operators. A sales strategy involving digital distribution and a snazzy, easy-to-use website may capture greater bookings in total. In addition to doing their due diligence identifying OTAs that will be the best for their distribution goals, operators should focus on optimizing websites for maximal usability. They have to compete head-on with OTAs on price, convenience, and usability. The shopping path and payment system should be easy and seamless and should strive to reduce friction (i.e. the number of clicks a customer makes until payment) as much as possible.
Vitally, attractions operators have the opportunity to compete with OTA bookings by crafting special ticketing bundles and options exclusive to their website in order to cater to travelers seeking an ultra-special attraction experience. Operators can build on this premise to help attract more direct online sales.