"Waiting in line is the best part of visiting an attraction," said no one ever. Across the board—whether it be a theme park or a famous art museum—crowd control and minimizing wait times to enter the attraction are key issues facing operators today, as a low-or-no wait time directly correlates to the enhanced value of the attraction experience.
According to Arival's recent report, The U.S. Attraction Traveler, approximately two in five U.S. travelers report they did not have to wait to enter or enjoy the rides, exhibits or beautiful views of the attraction—good news for the attractions who can quickly and consistently sell tickets and admit visitors.
Waiting to enter is less of an issue for travelers visiting natural attractions, museums, and historic or cultural sites. However, longer wait times are significantly more prevalent in amusement parks and observatories: three in four U.S. travelers had to wait sometime to enter these establishments.
It's not just long entrance lines that plague some amusement parks. (Although who can forget the epic, eight-hour line that formed June 2010 in Orlando, Florida, the opening day of the Wizarding World of Harry Potter?) Wait times inside amusement or theme parks are also an issue, particularly to experience the most popular rides and exhibits. This is a point of frustration for guests and amusement park operators alike.
Wait times within historic or cultural sites, museums, or natural park attractions are not as prevalent. Almost 50% of non-amusement park guests did not have a wait once they entered the attraction.
Wait times—whether they be entrance queues outside an attraction or lines at every ride—are problematic because they directly impact the attraction's perceived value. Waiting—and the appearance of an overly crowded attraction—are important aspects of value.
Perceived Value of Attraction by Entrance Wait Times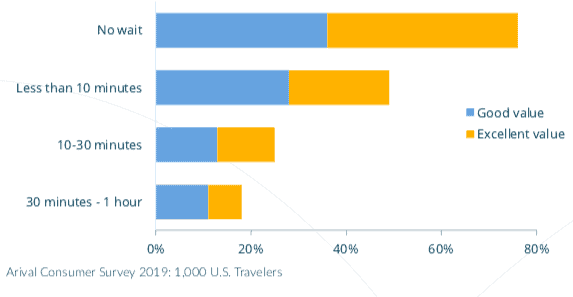 U.S. travelers who did not have to wait to enter an attraction, or wait for a ride or exhibit inside of the attraction, have the highest perception of value. If guests had to wait longer, they deemed the attraction of lower value. Waiting as little as 10-30 minutes either at the entrance of an attraction or inside an attraction was enough to slash perceived value by half. Wait times of 30 minutes to an hour shrink value even more.
Perceived Value of Attraction by Wait Times Within Attraction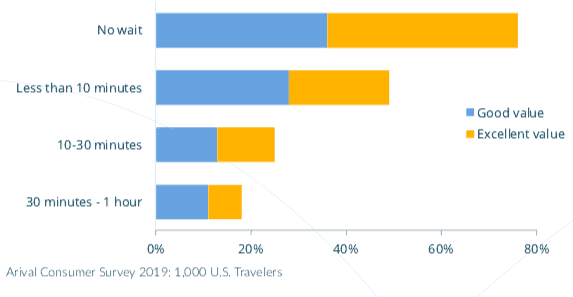 Operator Takeaway: Quell Wait Times
Even small wait times can lead to significant drops in guest satisfaction. Operators should not only be cognizant of crowd control for visitors entering the attraction but also line management within attractions to improve the regarded value for the price paid. As travel demand grows, this has become perhaps the most pressing issue for the world's leading attractions.
Ticketing options containing time-stamped entrance hours may reduce
wait times for larger attractions, as would pricing tactics to motivate guest visitation during less busy periods. Techniques and tools that provide entertainment and guest engagement during the line, such as snack vending options or short performances, have also been central in reducing the guest perception that they are "waiting" versus actually taking part in a stage of the experience.