Proper insurance can be notoriously difficult for tour and activity operators to get. One-size-fits-all products never truly are, especially for the wide spectrum of unique business sizes, types and needs of companies in the in-destination experiences industry.
At best, you might end up with a patchwork product someone has pieced together to fit you, but you don't want to find out your insurance premiums are going through the roof after adding a new tour or activity type, or worse yet discover a gap in your coverage when it's too late.
For a while now, Arival has been working behind the scenes on a way to help operators in our industry struggling with insurance challenges. Finally, the work has paid off!
We are very excited to be launching Arival ProShield for U.S. operators, an insurance product specifically tailored for the experience providers of the Best Part of Travel, offered in partnership with Granite Insurance.
Insurance For the In-Destination Experiences Industry
After extensive consultation with operators on their needs, we've worked closely with Granite Insurance to develop a comprehensive insurance solution that is uniquely tailored for tour, activity, and attractions businesses.
Granite Insurance was carefully chosen as a partner for Arival ProShield.Their customized, consultative approach resonated with us, because we know our industry and we know no two operators are the same. They also have an established track record of developing excellent working relationships with their clients, and adventure and entertainment industry expertise within their organization.
"This has been an industry that has struggled from an insurance & risk management perspective for the last several years," says Chris Murray, Business Risk Consultant with Granite Insurance. "We are thrilled about the opportunity to partner with Arival and empower this industry to succeed with tailor-made coverages that meet their specific needs!"
Who is Arival ProShield For?
The program covers a wide range of U.S.-based experience operators, offering everything from vehicle-based tours, to water-based tours including boat rentals, to land-based tours such as walking or hiking tours, to adventurous activities like ziplining and white water rafting.
The specific coverages encompass everything tour and activity businesses need from an insurance program, including:
General Liability
Workers' Compensation
Business Auto
Umbrella and/or Excess Liability
Business Interruption
Accident & Medical Policies
Professional Liability
Property Insurance
Hull and Protections and Indemnity (for boats)
Inland Marine Coverage (for equipment)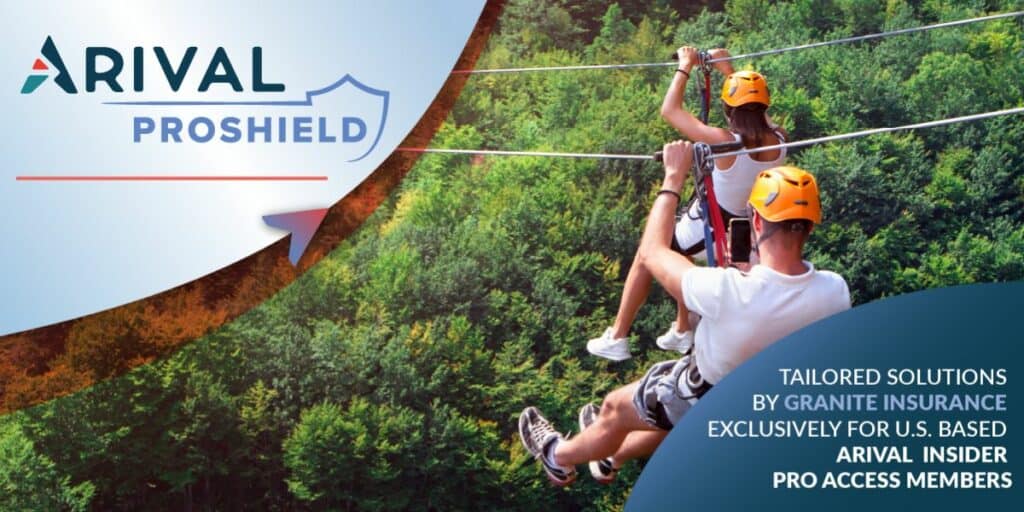 What Operators Say
So far, the response from operators has been incredibly positive. "This could be game-changing," said Matthew Meier from MaxTour. "Us tour operators need someone with a bit of clout at our back when dealing with insurance companies, and hopefully, this is it!"
"Our last insurance provider decided to not renew our liability coverage on Friday and we needed it by Tuesday," shared Mike Huberty, owner of American Ghost Walks. "I thought we were out of luck and I had a cruise line breathing down my neck since we had excursions for them coming by the weekend. I looked desperately at the Arival website for help and found ProShield. Chris and Granite had us protected again within a day and they even covered Puerto Rico (which our former underwriter refused)."
"I've never felt so listened to by an insurance company," said Torin Kexel from The Flying Bike, one of the tour operators included in the consultations when Arival ProShield was being developed. "The proof is in the pudding, I ended up bringing on Granite to provide our insurance and I know that they've been working hard to produce a really excellent product that small to large tour operators are going to really benefit from."
Learn More About Arival ProShield Insurance
Arival ProShield is available now, exclusively to Arival Insider Pro Access members! Learn more and sign up for a consultation here.
Also, we've added a suite of informative tools including templates, videos, and other resources to the Arival Insider Pro Access library, designed to help you safeguard your business (no coverage purchase necessary—they're available to all Arival Insider Pro Access members!).
Become an Insider Pro Access member today and get access to the full library of Arival research, plus many other benefits such as free consulting sessions and monthly meet-ups, special discounts and 20% off in-person events, and now exclusive access to Arival ProShield insurance (for U.S.-based operators) and resources, all starting from $179 per year.
GET ON THE LIST!
Sign up to receive insights tailored for the in-destination industry as well as updates on Arival.
Sign Up
Header image: Pexels / Jeff Vinluan