Across tours, activities, and attractions providers globally, 2020 bookings are down an average of 85%, according to Arival's April 30 Coronavirus Impact Pulse. When Arival last polled operators March 19, just a week after the World Health Organization declared COVID-19 a pandemic, bookings were down 65%. The effect is now truly global, with all regions seeing at least a 76% decline.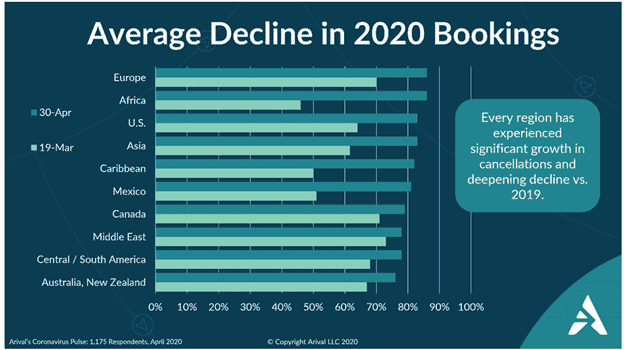 The regions that saw the most significant decrease from one survey to the next were Africa, Mexico, and the Caribbean. U.S. travelers were likely still hoping in mid-March that they would be able to enjoy their Spring getaways, but had to cancel as the threat of COVID-19 became more apparent, and stay-at-home orders spread across the U.S.
African operators experienced the most profound drop from one survey to the next, from 46% to 86%. Africa relies heavily on inbound visitors from the U.S., Europe, and Asia, who make extended visits and plan them months in advance. Many likely waited to cancel trips until the wide and lasting effects of the crisis became clear.
A Better End to 2020?
Tour operators' full-year projections are not very rosy, but they do expect some improvement. On average, operators expect a 73% decline for 2020 compared to 2019. The first to see bookings improve will likely be those in big domestic markets like the U.S. and China, with products that can attract local drive-in visitors. Operators in Europe where visitors from neighboring countries can arrive by car or train will also be among the first to see their business return.
How do tours and activities stack up compared to other types of travel company?
· Delta Airlines recently announced plans to cut its capacity for the second quarter of 2020 by 85%.
· Hotels in cities around the world were at 10-25% occupancy the week of April 12-19, Smith Travel Research has reported. Compare that to Marriott's global occupancy of 73% in 2019.
· Avis Budget Group says it expects car rental revenues to be down 80% in April and May.
These numbers confirm what you already knew: The in-destination sector is not an exception. All sectors of travel have experienced a massive reduction in business. Tours, activities, and attractions might not be able to lead the recovery, but those that can entice drive-market visitors could start to see a return as their countries stabilize and reopen.
Arival Town Hall: Coronavirus Impact Update and What's Next for Operators
Join us for a special, free Arival Town Hall online event Tuesday, May 12, at 11am EST and 17:00 CET. Arival CEO Douglas Quinby will walkthrough updated findings from Arival's ongoing research and discuss the implications and outlook with leading tour and activity operators from the U.S. and Europe. Join the session, see what your industry colleagues are doing, ask your questions, and let's get to work on what's next.