Arival held an online town hall to assess the impact of Airbnb's IPO, the outlook for Airbnb Experiences, and what it means for creators and sellers of tours, activities and attractions.
We assembled two industry experts, PhocusWire Editor in Chief Kevin May and Arival Co-Founder Alex Kremer, as well as two owner-operators who were also early Airbnb Experiences hosts: Amber Rittinger, founder of BeWild Adventures & Wellness, and Erik Hormann, founder of Paso Robles Tour Co.
Here are seven key takeaways from the online Arival Town Hall. 
1) Airbnb Experiences has a product problem
The company has grown supply impressively in four short years to more than 40,000 listings, putting it in an elite group of large online marketplaces for tours and activities, but it's missing a lot of conventional tourism experiences that its customers still want. Just 31% of all listings account for a 95% of all reviews.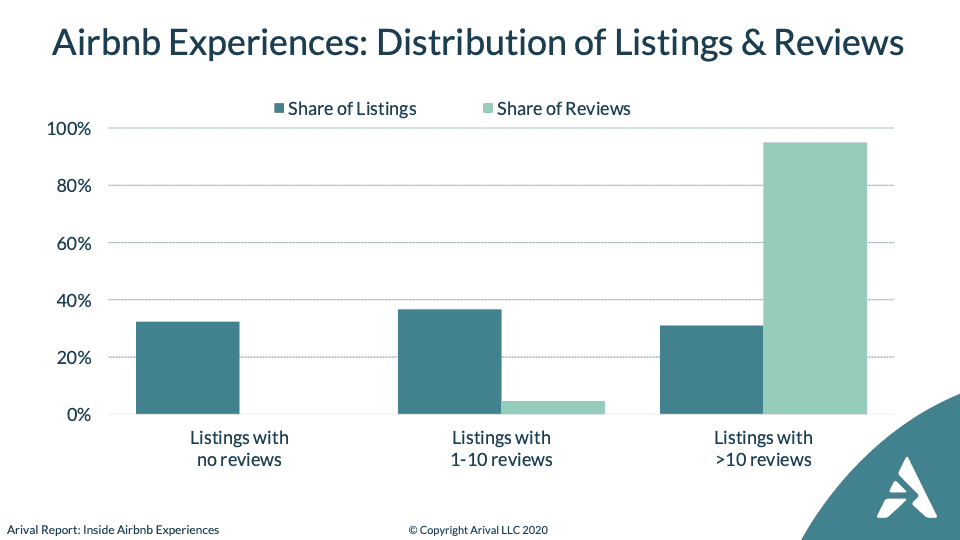 2) Airbnb isn't that big – yet – for operators
Far fewer operators list with Airbnb vs. other OTAs such as Viator, GetYourGuide or Expedia, and the majority of those attending the Arival Town Hall said that Airbnb is less important to their business that its competitors in tours and activities.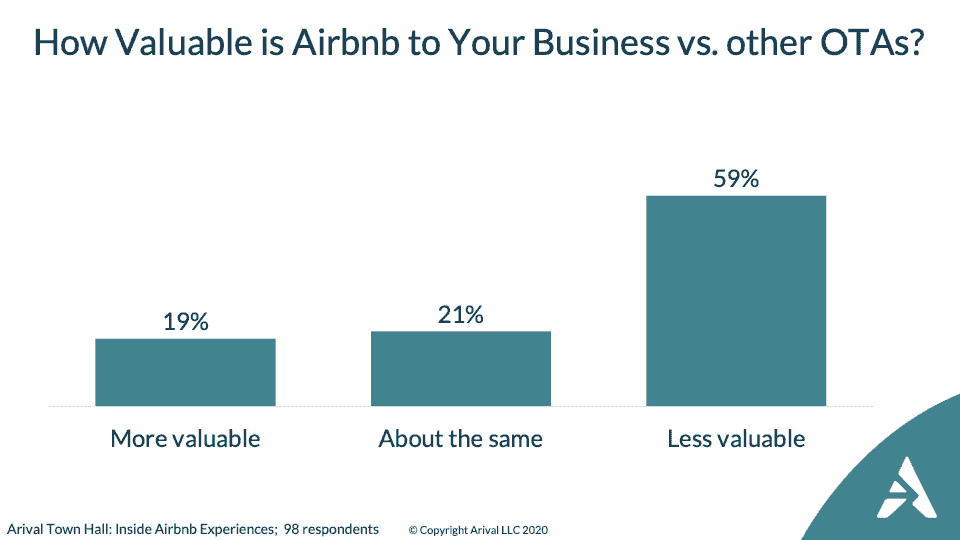 However, the current market capitalization of Airbnb indicates that the marketplace anticipates tremendous growth ahead for the company. And our speakers largely agreed: there was much still to come. For example…
3) Airbnb will create a new mass tourism product
Many attendees posed questions about whether Airbnb will go into more traditional, mass-market tourism products such as attraction tickets or hop-on hop-off bus tours. It's the "billion dollar question facing Airbnb," said Alex Kremer: "how does a brand-first company that has built its business through the idea of authentic, local travel experiences deliver the mass tourism experiences travelers seek without negatively impacting the brand?"
In Kremer's view, Airbnb will not just start contracting with major attractions to sell tickets, but rather will continue to experiment and create new types of mass tourism experiences that can advance the business – and the brand. One key to that will be technology. He said we should all watch the company's investment in Tiqets, the European technology and distribution company focused on ticketed attractions. That company could play a key role in how Airbnb enters a segment like attraction tickets.
4) Innovation won't cease now that the company is public
PhocusWire's May said Airbnb has long been a leader – not a follower – and has made its mark through continued innovation. He added that many companies usually become much more risk averse when they come under the scrutiny of the public markets, but both he and Kremer felt the company would continue its push to innovate in Experiences as well as other areas of the business.
5) Experiences is becoming more operator friendly
Both Hormann and Rittinger said Airbnb has taken a number of steps to make Experiences easier for operators, such as enabling hosts to accept customized private bookings, have multiple co-hosts (or guides) on an Experience, and allow (or tolerate) operators to mix Airbnb guests with customers from other OTAs.
One important area however where Airbnb trails other OTAs is lack of connectivity to reservation systems. So far Airbnb does not connect to any of the major booking platforms for tour and activity operators, so operators must manage their listings and reservations through the Airbnb host platform.
6) For Experiences, Airbnb covets uniqueness
Airbnb has become more operator friendly, however there are still challenges. It's not easy now for an application to be accepted, said Hormann. He said Airbnb is looking for unique experiences, so operators must research what's available on the platform and work to create an offering that stands apart.
Rittinger added that it can also take a while for new listings to get much visibility and traction. Airbnb bookers are very focused on reviews, and Experiences with few or no reviews may need a boost at the beginning, such as a steeper discount to get some traction. 
7) Experiences has had a bigger impact on the industry than it has on Airbnb's own business
All of our speakers and most of our attendees agreed that Airbnb has had a significant impact on the Best Part of Travel: tours, activities, attractions and – yes – experiences. The company's innovation in experiences (would you like to learn chainsaw carving or extract your own DNA and put it in a necklace?) and more importantly in marketing has compelled operators and OTAs alike to rethink product design, and marketing and even how all of talk about our own industry (do you say "tours and activities" or "experiences"?).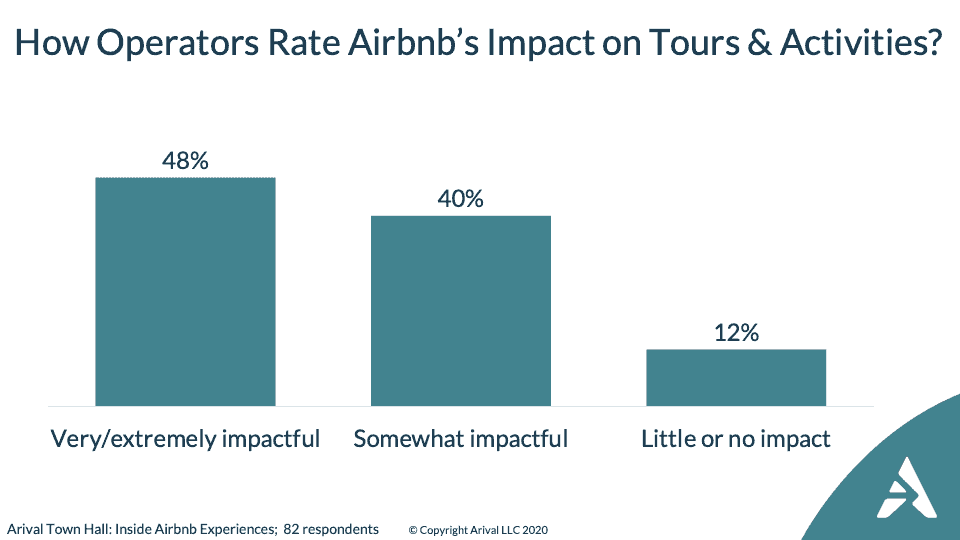 Airbnb still has much to prove in our industry, but it's impact on travel and tourism is undeniable. The company has shown no signs of slowing down in Experiences, and as long as they keep on going, we should all keep watching.
Watch the Arival Town Hall on Demand here. 
Get your copy of Arival's Inside Airbnb Experiences, an extensive, in-depth look at Airbnb's business in tours and tickets. Learn more.