The majority of travelers have booked travel online for years. However, tours, activities, and attractions continue to be largely booked offline, either in person at a ticket office or over the phone, according to The Experience Revolution: Arival's Global Operator Landscape.
Operators globally sold just 17% of tours, activities, and attractions through their websites and online travel agencies (OTAs) in 2019. Online channels include sales operator websites, mobile apps, online travel agencies (OTAs), and other online resellers.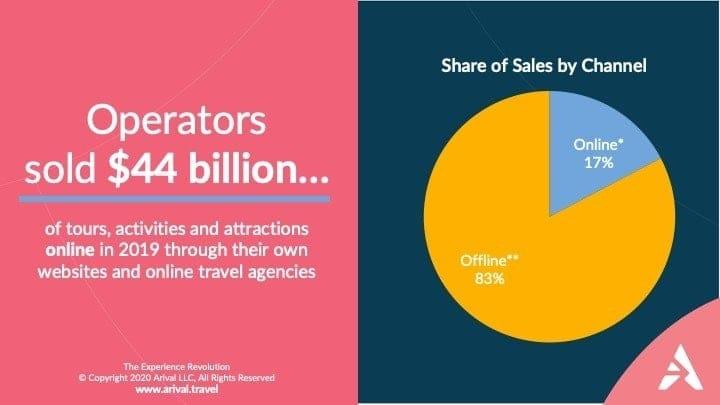 Although online booking in tours and attractions has grown dramatically over the past decade, it remains well behind other sectors of travel. More than half of flight and hotel bookings are made online. 
Digital Will Dominate Post-COVID
Digital sales will only accelerate into the recovery as cash-strapped consumers head online to find the lowest prices for travel experiences. Online channels have always led in recessionary environments, and the post-COVID recovery will be no exception. 
Operators must seize this downturn as the opportunity it is to improve their online experience, booking flow, and digital marketing practices.
Get The Experience Revolution
Now more than ever, our industry needs insights to understand our marketplace and where it's headed. Delve into the key insights from the most extensive study ever conducted of tours, activities, and attractions, only from Arival. Learn more here.