Groupon built billion-dollar activities, attractions, and events business on its aggressive discounting model. But with the heyday of daily deals in the past, it's trying to convince operators that it's more than just a deep discount channel. They have an uphill battle ahead to persuade operators, but we think a company of this scale deserves a closer look.
Founded in 2008, Groupon earned popularity as a platform for screaming deals on goods and services ranging from two-for-one pizzas to beauty treatments du jour. That business has over the years expanded to include a wide-ranging suite of products including discounted hard goods, weekend getaways, and most pertinent to the in-destination industry, a "things to do" category, which generated $1.19 billion in gross billings globally in 2018.
However, global gross billings for all of Groupon's products worldwide have been in steady decline for years, according to Groupon's earnings reports. Leadership attribute this in part to lower demand for email deals and reduced SEO as a result of changes in Google search—two methods Groupon historically relied on for sales.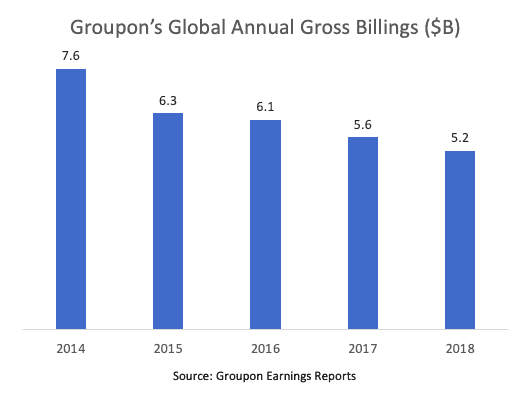 These challenges have led Groupon's stock price to slide some11% in the last six months alone, according to the Wall Street Journal. Plus, Groupon posted a 13.7% dip in revenue from the second quarter of 2018 to 2019. The company's depressed stock price has led some analysts to believe Groupon could be an attractive target for other companies looking to expand their footprint in tours and activities. One firm suggested TripAdvisor as a possible acquirer. Other analysts posit Groupon may seek to acquire a company, such as a review platform Yelp.
As acquisition rumors fly, Groupon has also proposed core changes to their business model that may directly impact your tour, activity, or attraction business. In addition to focusing on mobile purchasing, Groupon CEO Rich Williams strives to showcase Groupon as "not just a discount site" by offering some products at market rate with little or no discounting. 
This is ambitious considering the Groupon brand has always been synonymous with deep discounts. (Their company name is, of course, based off the word "coupon.") But will these model shifts be meaningful to operators?
Here, we look at how Groupon may be changing, what operators think, and layout what you should know if you're considering selling through their platform.
The Scale is There
Groupon has a considerable scale, and the reseller is on par with other major online travel agencies (OTAs), although Groupon's offerings do not all pertain to travel. There are 46.2 million active users on Groupon, a number that includes all of Groupon's offerings, not just tours, activities, and attractions. Groupon's app has had 200 million downloads. Groupon's total gross billings for its leisure Things to Do business excluding live events came in at just under $1 billion, according to company executives. In comparison, Klook had claimed their gross bookings (an equivalent to gross billings) would reach $1 billion in 2018, while Expedia divulged that its tours and activities gross bookings surpassed $500 million for 2017. TripAdvisor does not report gross bookings, but the OTA's total revenue for its experiences and dining segment in 2018 was $372 million, which could put its gross bookings between $1.5 billion and $2 billion. 
Around 80% of Groupon's global traffic is made on mobile devices, and the majority of things to do Groupons are redeemed five days within purchase. So the reseller could be a potential channel for operators looking to capture last-minute ticket bookings.
The company claims many of its purchasers are travelers. "After looking at customer data on traditional tourist merchants, we are averaging over 80% of the purchases coming from customers who reside outside of the state where they list their residence," says Brian Fields, VP and general manager of Things to Do for Groupon. "For a local zoo, we saw the mix being 60% traveler and 40% local, versus a large amusement park where the mix was 94% traveler and 6% local. For a traditional tourist activity in Hawaii, we saw the mix skew 99% traveler and 1% local." 
However, Groupon would not disclose what percent of its Things to Do merchants would be considered traditional tourist experiences. Groupon's "things to do" category includes local-centered activities such as bowling, arcade games, and even language classes in addition to more traveler-focused activities such as the Empire State Building Observation Deck. 
Moving Beyond Deals
Fields says, deals and promotions will always be core to Groupon's DNA, but he adds that the platform is more flexible for operators now than it was in the past. When Groupon first launched, all merchants were required to discount their products. But now, Groupon is working with some suppliers on a performance-based model based on each merchant's size, projected sales, and popularity. 
The selling model depends on whether Groupon partners are classified as a "managed account," a business that works directly with a Groupon account representative, or a "self-service supplier," a business that manages sales themselves via Groupon's portal. Groupon says managed accounts comprise 98% of their business, and tend to be larger well-known attractions, experiences, and activities such as Universal Parks, Major League Baseball, Cirque du Soleil and more. These companies are not required to discount tickets on Groupon's platform. 
With 5.5 million visitors per year, the San Diego Zoo and the San Diego Zoo Safari Park is one such managed account—tickets on Groupon are always sold full price. This model is a good fit for the zoo, says Jay Judal, director of outside sales for San Diego Zoo. "We actually do quite well and feel Groupon's technology and subscribers are the key to the success of the model," he says. "It is a one-click buy without having to enter their credit card or personal information since it is stored in Groupon's system."
Groupon requires self-service suppliers (which typically consist of smaller businesses than say, Universal or San Diego Zoo), to discount their ticket prices a minimum of 20%. Groupon says self-service suppliers tend to be smaller, less well-known businesses that need bigger discounts to attract impressions and conversions. For small operators, a 20% discount can be a big hit—especially when you factor in Groupon's commission rates. 
(Groupon says commission rates vary based on the merchant, and that variation depends on factors including brand recognition of the supplier, type of business within the category, market competitiveness, and the discount being offered.)
Is Your Tour Right for Groupon?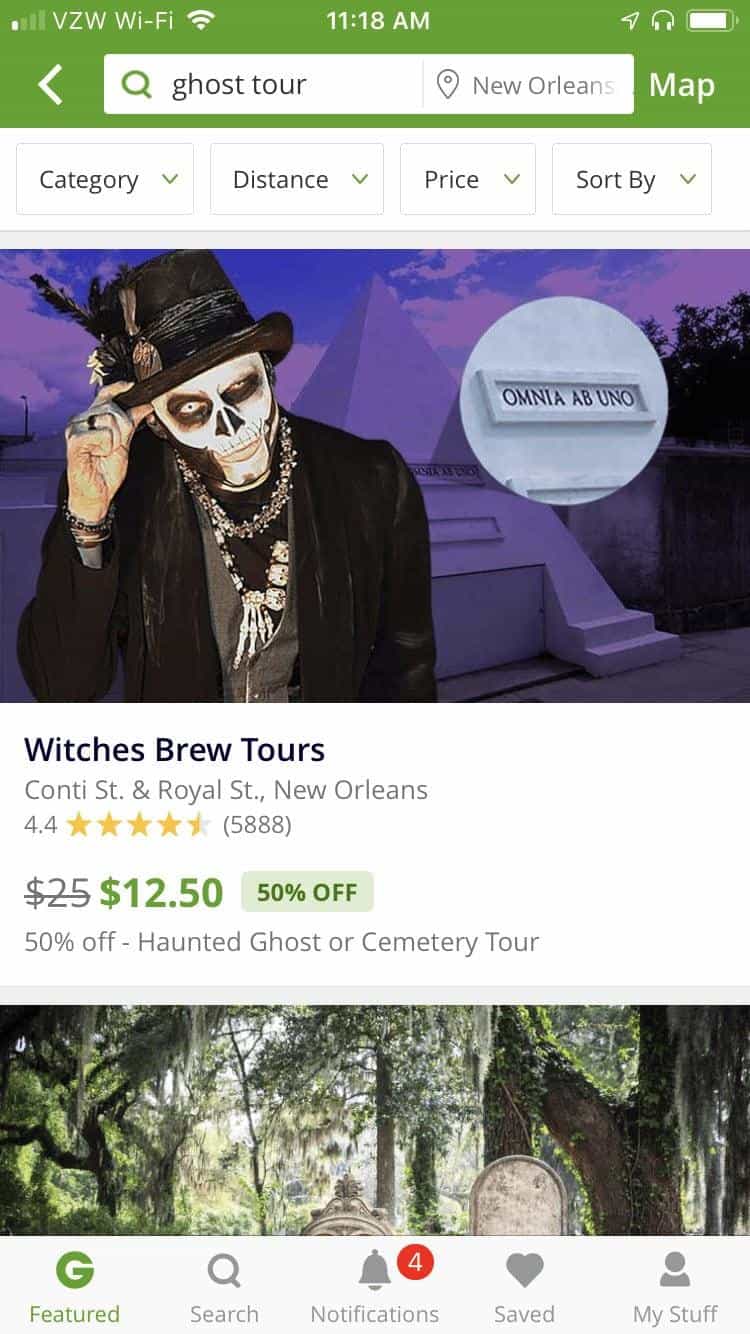 For Tommy Cook, CEO and founder of Witches Brew Tours located in New Orleans, Groupon is an important component of his business model. This is partly because Witches Brew has a high volume of daily tours. Witches Brew hosts around 115,000 people per year, running an average of six tours per day. "Groupon was a Kickstarter for my company," says Cook. "They got my tours out there so people could see it." 
The ability to handle a high volume of customers is typically a key attribute of operators who are successful on Groupon because discounted tours can have significant traction—and compete with the 14 other ghost tours operating in New Orleans. On top of that discount, Groupon takes a commission for distribution. In Cook's case, his tours are discounted 50%, and Groupon's commission is 37%—higher than most OTAs. For a tour that starts out as $25 per person, a tour sold through Groupon yields him just $7.50 per person. 
That ain't a lot, Cook concedes. But it's working for his company, who gets 14% of their business from the reseller. "I go back to looking at the wisdom of Walmart and Disney World. If you get the volume, the price point doesn't matter nearly as much. Groupon is able to reach hundreds of thousands of potential customers." Indeed, with over 5,800 positive reviews, Witches Brew Tours is the first option that displays when searching "ghost tours in New Orleans" on Groupon. 
For Renee Ventrice, co-owner of Cork & Keg Tours based in Ashburn, Va., Groupon is a big no-no. "Our tours are a luxury item. I spend a lot of time creating the experience and the whole tour package for clients. If we had a big discount we would be inundated. We would get so many requests that having a full-price tour would be impossible," she says, adding that she and her husband run four six-hour tours per week at a maximum of 13 people per tour—a significantly smaller volume than Witches Brew. "When we're doing a service that has so much into it, I have to give that person who paid $50 for a daily deal the same love and attention I give to someone who paid $115." 
Cork & Tours doesn't have the capacity to justify a lower price point—ever. 
Howie Colt, the founder of the Toronto-based Gone Sailing Adventures, has mixed feelings about Groupon. He was an early adopter of the platform, loving it for the marketing power the discounter gave his business and the volume of sales is provided. "My first year I sold 500 tickets, my second year I sold 1,200 and the third year I sold 2,000 tickets," he says, adding that Groupon used to make up a whopping 98% of his business.
But in the past few years, Colt says discounted ticket sales velocity has slowed.
"Right now I'm still using, but my sales are less than 100 tickets per year. The number of people buying my products on Groupon has dropped considerably." 
While social discounters now comprise just 3-4% of Gone Sailing Adventures' sales, he still finds value in Groupon's ability to get the word out about his business. "Whereas I typically do three-hour sails, I created a two-hour sail that we promote on Groupon that's almost 50 percent off … it's not selling on Groupon as well as I would have liked. But I still use it as a marketing tool to bring people in," he says. 
Still a Perception Problem
Executives at Groupon claim their platform can help businesses have greater recognition in competitive marketplaces. "The immediate opportunity for merchants with Groupon is to have a year-round presence to optimize their exposure in our marketplace and ensure they are front of mind when consumers are looking for fun things to do while at home or traveling," says Fields, who adds the platform is useful to boost merchant sales during the offseason.
Cook, Ventrice, and Colt—who would fall into the "self-service" category of Groupon, where discounting is required—all view customers who use Groupon as focused on finding the best deals around, which makes the chance of a repeat customer who would pay full price for the tour they got for half price almost nil.
The rarity of repeat customers isn't an issue for Witches Brew's Cook, who says it's unusual to get repeat customers on his tours anyway. But for Ventrice? That's one more negative to using Groupon for her business. 
But she thinks other tour models could benefit from the platform.
"If you have a fleet of boats or buses, then why not? You have plenty of seats available. Do the deal during the low season and then if someone has a guest in the high season they might consider doing it again at full price," she says. "We're just a little too small and too niche for these types of discounts to work."
Given Groupon's steady decline in annual gross billings and sagging stock price, the company certainly has challenges ahead. But Groupon appears to be taking important steps to be more flexible with merchants. As the reseller starts to look increasingly different from what it was in the past, one thing is for sure: Operators should pay attention to Groupon's changing rates, model, and potential acquisitions … and consider if selling their product on Groupon is right for them.