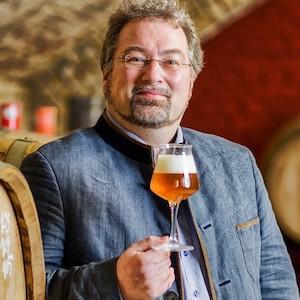 Markus Raupach
Founder and Co-Owner of the German Beer Academy
About Me
Markus Raupach is a beer writer and beer sommelier from Bamberg, Germany. Publishing since 2005 he now has written more than 40 books about German beer culture and other related topics (for example the Berlin Beer Guide and the Bavarian Beer Guide). He also works for several media including nationwide magazines. 2013 he founded the German Beer Academy training professionals, beer sommeliers and gastronomy-employees (www.bierakademie.net). He also was a trainer of the German national team of beer sommeliers and is the inventor of the beer sommelier game (www.biersommelierspiel.de).
Markus Raupach studied German and History at the Bamberg University and founded his first own company in 1997. This media agency and publisher work with customers from all over Germany, with a focus in Bavaria and Berlin (www.guidemedia.de). In 2013, he passed the Beer Sommelier exam and founded the German Beer Academy, 2015 he passed the Spirit Sommelier exam being promoted to "Ambassador of Spirit Enjoyment" and 2017 he also passed the Cheese Sommelier exam. Markus is a member of the board of Bierland Oberfranken e.V., the society of the Franconian breweries, and of the board of Spirit Sommeliers. He routinely works for the Bavarian and German Brewers Association (for which he also works as an ambassador), Private Brauereien and breweries like Pilsener Urquell, Warsteiner, Maisel, and Veltins. He also did tastings abroad, for example at the German embassy in Warsaw, Poland.
Markus Raupach is a jury member of the European Beer Star. In 2015, the Bavarian Brewers Association and the Bavarian Hotel and Gastronomy Association honored him with the title of "Goldene BierIdee" for the foundation of the German Beer Academy and his journalistic work. In 2019 he was awarded this title again, this time for his project of the "Walk of Beer", realized in Forchheim, Bavaria. 2012 his hometown awarded Markus Raupach with the "Bamberger Bierorden". This medal is given to persons who particularly made an outstanding contribution to the recognition of Bamberg and its unique beer culture. 2016 Markus Raupach was voted to be one the most important "Beer People" in Germany by a survey amongst German Brewers, Journalists and Bar/Restaurant/Pub owners. You can find a number of testimonials about his work on https://bierakademie.net/referenzen and www.bier.gg.
Has Spoken At
Wednesday, April 15 2020 | 09:00 AM EST

Beyond the Crisis: Designing Digital Experiences for Today & Tomorrow The coronavirus quarantine may disrupt the day-to-day of our businesses now, but tour and activity operators must not let it…
Events Spoken At: