Arival Online's research presentation this week painted a bleak picture of tours and activities' near-term outlook, but also a powerful picture of what makes this industry great, and how we can all pull through.
Just four weeks ago, Arival was to unveil the results of its global operator landscape study at the start of Arival Berlin. We were quite excited to unveil new data on all aspects of the market, including never before seen figures painting a bright picture for the years ahead.
Watch our recently recorded video on Research: Global Operator Landscape
One surprising number was how much the market was reinventing itself: Some 50% of tour and activity operators had been founded just within the past 5 years.
The biggest number – our latest market sizing–- was the most exciting news: Arival had projected the market at $254 Billion in 2019, far larger than previously thought, with strong growth prospects into 2020 and beyond.
The Two Big Unknowns
Covid-19 changed all of that. Within just a few weeks, we had to throw our forecasts out the window and start all over again. But how? Travel has been locked down virtually worldwide. Everyday brings new, often conflicting information as to when the outbreak will cease, and travel restrictions will be eased.
Our industry faces two significant unknowns:
When will the lockdown end? (That is, when will the outbreak get under control, and when will governments ease travel restrictions?)

How severe will the economic fallout from the health crisis be?
Scenario Planning
So, rather than try to predict something that no one knows, we surveyed available studies on these two issues and modeled two scenarios – optimistic and pessimistic.
Our scenarios are build around the following 4 phases:
Lockdown:

The initial phase (we are currently here), reflecting widespread travel restrictions, entry bans and shelter-in-place orders
Easing:

The phase of initial gradual easing of travel restrictions, limited tourism re-openings
Returning:

No significant travel restrictions remain, widespread growth as economies recover
Recovery:

Travel demand approaching pre-Covid19
The following chart illustrates the assumptions we made for both scenarios for each phase to address the duration of each phase and the scale of travel demand relative to our pre-Covid marketplace (2019).
Figure 1: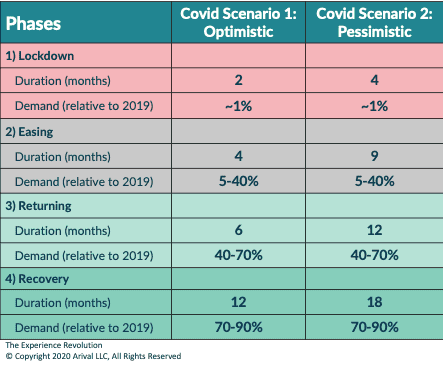 We applied these scenarios onto a calendar-based model in Figure 2 to account for the seasonal shifts in demand over the year and regional variations. We gradually phased in demand according to the travel demand ranges for each phase in Figure 1.
Figure 2: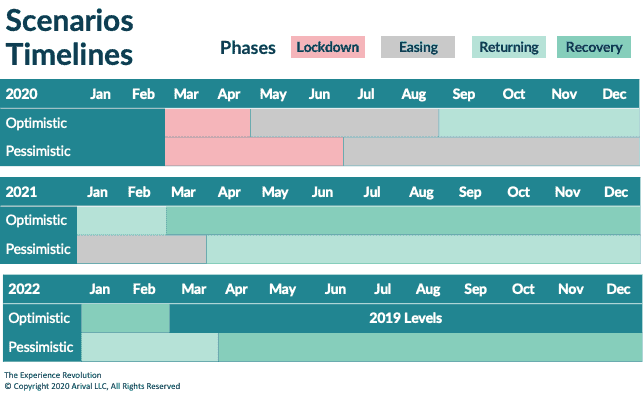 Which scenario will play out is anyone's guess. But the timeline starkly paints a long road to recovery for the market. Even in the optimistic scenario, the market will decline 64% this year and will fall short of 2019 levels in 2022. We should not expect a return to pre-covid travel levels before 2023.
Figure 3: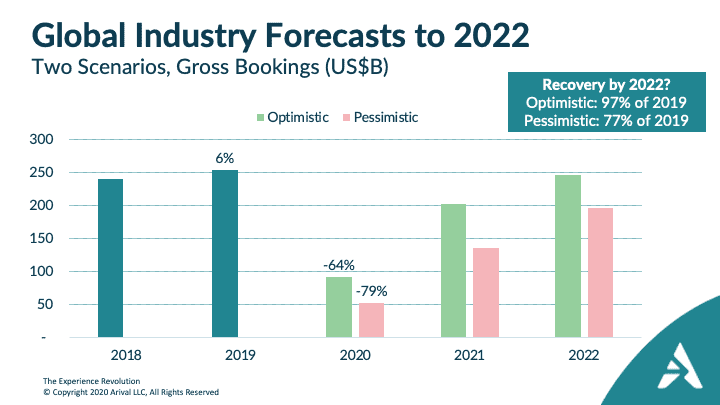 It's important to note these are initial estimates, and we will revise these models as new data emerges. These scenarios also do not include a potential re-emergence of an outbreak, which is also a possibility.
What can operators do in the meantime? In our series of Arival Online events, we've heard from over a dozen industry experts on what the recovery will look like, and what operators should be thinking about during these challenging times. Some of the top tips we've heard:
While times are tough now, look at this as an opportunity to reinvent your business. When travelers return, we'll be there with you to help you make the most of the recovery.