VELTRA, the leading Japanese online travel agency (OTA) for tours and attractions, has discontinued its English-language service. The company, which is publicly listed on the Tokyo Stock Exchange, has put a notice on its English-language homepage that no bookings will be accepted beginning May 1, 2020, and the service will be discontinued from May 21, 2020. 
Employees serving the affected business will be offered voluntary retirement or let go, according to a company spokesperson.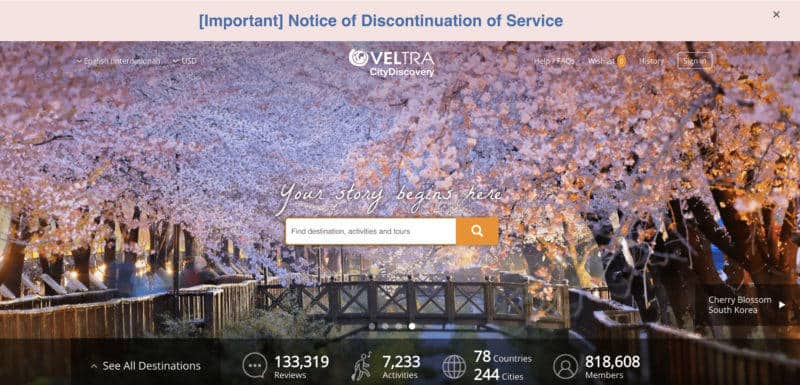 The decision represents a significant setback for the company, which had acquired European activities OTA CityDiscovery in 2016 to expand internationally. The company's English-language website for Hawaii, HawaiiActivities.com, continues to operate, as does its B2B ticketing service for the Japan inbound market, Linktivity.
In a statement, the company said "in this uncertain time, our top priority is to stabilize the business in anticipation of prolonged economic recovery and to concentrate investment to ensure our survival. Once recovery is underway, we will aim to secure higher growth and profit in the Japanese market, our strongest business."
VELTRA has been a success story in tours, activities, and attractions. The company completed a successful public offering in Japan in 2018, one of the few large and successful exits of an online travel startup in this sector. VELTRA posted an operating profit of ¥844 million ($7.9 million) on revenue of ¥4.4 billion ($40.7 million) in 2019. Revenue grew 29% in 2019. 
The move is just another reminder of the impact the current travel lockdown is having on the in-destination industry. Last week, TripAdvisor announced an extensive round of layoffs and pay reductions, following on the heels of Asia OTA Klook, as companies are faced with increasingly difficult decisions to ensure survival while global travel and tourism are on pause.