Before the COVID-19 pandemic, the value system was driven by ease of access and surplus finances. Post COVID-19 the system will revolve around healing, sustainability, and on being responsible for our own actions. Quality of work will evince but it certainly will be challenging. The finest life-long learning will be on operational readiness in combating disaster at each level. This, when applied to tourism will mandate participatory governance as the key to self-create itineraries managing the impact of culture connect.
The traditional travel planning has been focussed on the basis of query and mapping desires. The new-age travel planning shall be attributed in acquiring customer knowledge and in creating a travel pattern, revolving around social roles to be undertaken during the trip. The tourism products will become an essential component to the transforming travel companies with a shared vision to manage the capacity of the travelers and in crafting a resolution for achieving a common vision for a safe planet. The businesses will need to become intensely consumer-focused with a travel motivation trigger and intangible experiences.
The changing face of tourism and socio-environmental situations will require a REDO attitude. The wider influences to acquire customers, adopting new tech, VR, AI enabling gadgets will fulfill multiple needs in a demanding diverse market. The traveling styles will caress additional demographic factors in evaluating the customer's onsite behavior, having a limitless social and environmental cost for a destination recovery.
It's time to deploy city assets to respond to today's dilemmas from aspirational and educational perspectives. Learning from the past is desirable as we are still in the transition phase and the COVID-19 vaccine is yet to be announced for production. This will be an example of performance under uncertainty, driven by "intrinsic motivation" around travel businesses to think, innovate, and be ready to become irreversibly successful.
The new normal will bring accounts of complexity during travel and on-ground experiences. The only distinguishable factors will be making decisions about tourists by design thinking and in creating additional value compared to others towards the survival and growth of the enterprise. The stakeholder groups have to adopt new technologies avoiding bureaucratic complacency while being agile towards tourists and tourist behavior. It needs completely new thinking and brand fitment.
Tourism supports the development and exposes new ideas for bringing a strategic change, driven by customer demands. For example, my ten-year-old daughter created her own destination to live, named it as the 'rainbow island'. Imbibing the words 'local' and 'sustainable' at her tender age, she believes that every person should draw a fantasy map of the place where they want to spend the most time. In her desired destination, it is amazing to see a wishing well and magic potions stall. Vedika, my daughter, inspires me to disseminate complicated products in a simpler way as we deliver promises woven with history. The REDO focus here for me is to maximize possibilities and build something important that would have an everlasting impact on the world.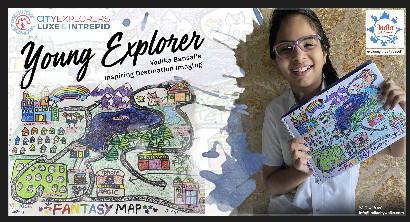 The product-related visitor profiles with assumed scenarios will add value to itineraries through real-life experiences. Identifying and developing core competencies to safeguard the health and maintain hygiene impact will bring reorientation nullifying tragic consequences. During the business journey, it will be a must to take proactive measures to discard elements of the travel business that have outlived their usefulness. The experiential stage is to capture niche markets and create belongingness, distinctive long-term social representation, wealth creation, and competitive positions. The environment warnings will keep on triggering us to be more meaningful, bring national consciousness while creating inspiring itineraries.
The time is now to rethink place and brand and REDO because of shifting attitudes.
The attention has to be directed towards some of the parameters that will drive growth. Each business situation is different, and no responsibility or representation should be considered when rules are broken. The demographic descriptors and regions' emergency services are to be available all the time for residents and travelers. At all times nothing should be indeterminate linking to tourist motivations. The business "to-do," "to-make," and "to-win" mindset needs a complete overhaul. The marketing efforts have to be aligned with 'Experiential Delivery in Tourism EDiT™' so that relevant tourism behaviors garner more sameness and shape the destination's economy, effectively.
The creation of safe environments in the form of identified tourist health care facilities should be upgraded to completely self-contained units wherein all the requirements for a complete trauma and virus care are satisfied as uncertainty will be very high. Also, food, water, and energy will be a constant requirement for the tourist and has to be balanced for a destination's economic growth.
The provisioning of insurance schemes has to be thought through and avoid any intermediaries. The layering of the resources has to be strategic, as consumption can be reduced, items can be recycled and supplies can be made more reliable for any destination that intends to be more effective to manage strong restrictions and movement permits. 
History brings our focus to yet another segment of travelers who conquered sickness and trauma and overcame all obstacles. Travelers of a different kind, history talks about sailors who faced physical hardships due to long sailing years and yet believed that the journey must continue. Be it Magellan and Cook, the ancient Greeks through the renaissance Europe, the ailments kept on and so did the exploration. The reason for digging out history is that no matter what we experience now, the human civilization finds an answer to turn around the situation, sooner or later. The trauma of COVID-19 too shall pass, the new order will be established. Being strategic is the only solution to the discovery of new and more convenient travel programs in travel retailing, through aggregation that will be completely tech consistent.
Travel will not halt, and the travel operations will emerge innovatively.
The act of traveling and ensuring a renewed interest in the destination will also be heavily dependent on dynamic yet practical thinking. In an example, a shoe manufacturer sent two of his employees, one a very senior one and the other an intern to an identified business market. After six months when both returned the senior one was complacent with his experience and narrated no requirement for footwear as none wore it, neither had money. On the contrary, the freshly minded intern reflected an immense opportunity as the entire market was virgin.  We at 'City Explorers Private Limited, India' (CEPL) see an unlimited potential on travel, which will be game-changing like everyone needs basic footwear. Human beings are social creatures and must come out of their cocoon, socialize, and challenge odds and embrace the new world. We are about to embark on an unprecedented change and in turn nurture new social relationships, collaboratively.
At CEPL we have been 'Resonating Experiential Delivery Outcome (REDO)™' since 2015 for every product or service offered through our flagship brands. We have always desired to be the most preferred enabler in the tourism sector in India and have achieved the same by connecting environments. Our foresight has been to support Indian youth and offer skill development for discovery-based India experiences. The brand delivery, especially by the front in line industry stalwarts such as tour guides, docents, enthusiasts, and explorers got meaningful every passing year. 
The brands 'India With Locals™', 'India Heritage Walks®', and 'Storytellers of India®' were started with passion and gave competitive environments a sense of opportunity too. All three brands operate for different consumer segments leading to consolidation and delivering, based on people's needs and values. While these brands were launched, we did not bring much attention to their operation due to innumerable factors. For example, 'India Heritage Walks®' was launched to align the deeper presence of historic research related exploration, however, we figured rampant imitation of our offerings. 

Word of Mouth Marketing
Distress in tourism is not just when travelers do not travel, but also when one's unique offerings are imitated by the budding co-competitors in the name of inspiration. There was an intentional or unintentional digital clutter where even the product offerings had similar names as ours to confuse clients. Owing to the confusion, we slowed down and went ahead with the traditional approach of word of mouth for business promotion instead of digital clutter. However, the current circumstances had to push our attitude towards Resonating 'Experiential Delivery Outcome (REDO)™'. We have honed 'India Heritage Walks®' enabled by 'City Explorers®' as a unique platform steered in an intrapreneurial manner. The intent is to bring the host communities and culture together for the globetrotter to experience our country through the entire spectrum of heritage tourism. 
Connecting Tourism & Residents at a Neighborhood Leval
Similarly, for another brand of ours 'India With Locals™', which was conceived to enhance neighborhood explorations has been aligned with the vision set by our honorable Prime Minister Narendra Modi, as 'vocal for local'. The brand vision of 'India With Locals™', is to bring locals and tourists together to celebrate the unique and diverse character of India. We believe post-COVID-19 connecting tourism and residents at a neighborhood and local level is important as real travel can never be experienced virtually.  It's time to reinvent a holistic network of stakeholders connected in experience environments and create impact to remain green and planet happy.
Virtual Exploration
Finally, with the world getting into a zone of virtual exploration, we tapped into one of our old brands 'Storytellers of India®' to bring the human touch in the digital world. This refresh of the brand is also inspired by our honorable Prime Minister Narendra Modi's call for an Atma Nirbhar Bharat (self-dependent India). We shall bring social cohesion, rootedness & identity leading to local immersion in India's diversity by aggregating storytellers from all walks of life. Our endeavor is to bring tangible & intangible heritage closer to its due recognition amongst the youth and the global citizens, beyond the purview of the past. The stories touch the human soul no matter spoken through which medium, keeping this in mind, the stories shared on 'Storytellers of India®' platform shall be our key strategy for engaging the tourists, who will derive the motives and consumption patterns.
Conclusion
Travel will be different, but the flexibility will glue us in expanding, confidently reinforcing our brand's delivery in alignment with our diverse portfolio. As quoted by Franklin D. Roosevelt "Take a method and try it. If it fails, admit it frankly, and try another. But by all means, try something."  
We aim for consolidation and creating a win-win scenario by reenergizing our tourism products for a changing world alongside, connecting people with their heritage and increase domestic tourism. We believe in 'Vasudhaiva Kutumbakam' an ancient saying literally translating into 'the world is one family'. Lastly, it's all about EDiT and REDO to nurture a bright future. We will be pleased to hear from you should you have an interest in the Indian market.  
About the author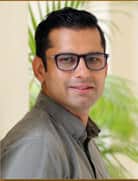 Dr. Sachin Bansal, is the Founder and Chief Explorer® of 'City Explorers Private Limited, India' and with two decades of experience, he has multiple flagships functional in the arena of community impact and destination product creation within the tourism industry. As a destination branding specialist, he has coined the conceptual acronyms and led the co-creation through 'Experiential Delivery in Tourism (EDiT)™' and 'Resonating Experiential Delivery Outcome (REDO)™'. You can reach Dr. Sachin Bansal on [email protected]
https://www.facebook.com/bansachin
https://www.linkedin.com/company/indiawithlocals